Stop what you're doing and drop what you're holding, because Afends's newest campaign is simply revolutionary. When I say amazing, I say this as in filled with awe of top-tier stylishness alongside genuine sustainability.
Fashionistas and style-enthusiasts, timeless yet contemporary outfits are possible- all whilst being helpful towards our planet with Afends.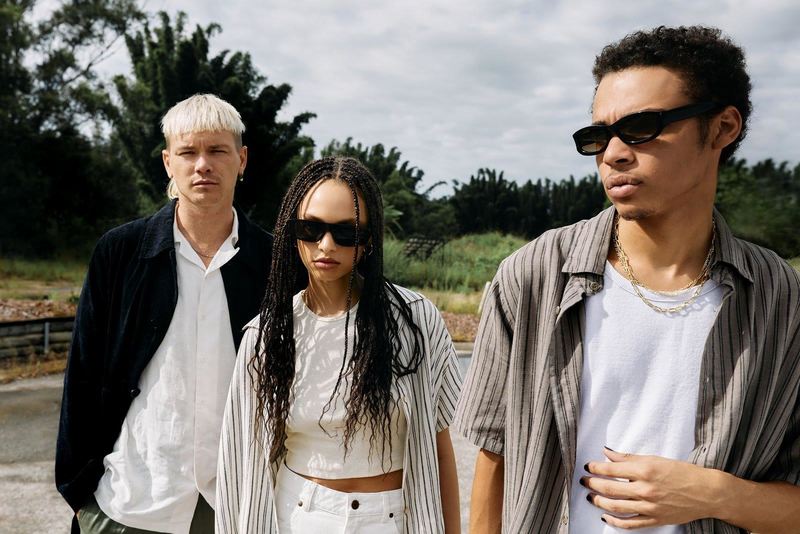 The newest release of Higher Supply takes this into a realistic approach of cutting-edge, unique styles that are suitable for everyday occasions with comfort and coolness at their best.
Remaining to the heart of their retro, almost vintage-like theme, Afends takes us into a newer world of how youth culture is illustrated. To tell you the truth, we seriously vibe with it.
Afends' latest campaign, Higher Supply, can be accessed here.

Shop Afends at afends.com.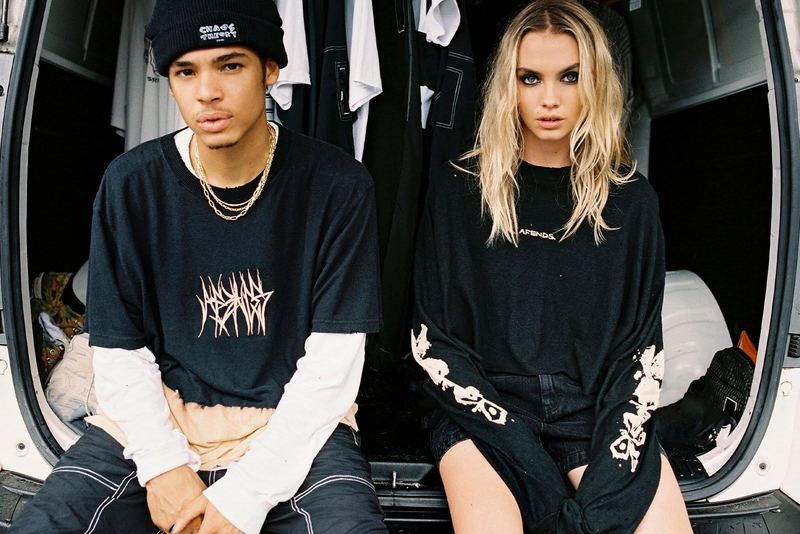 The Teen Magazine had the opportunity to feature some of our favorite picks from the newest campaign, Higher Supply, and an exclusive interview with Afends's founders, Jonathan and Declan, on everything Afends stands for and all about the newest collection.
The Shelby is The Definition of Denim Heaven
The world of denim can be tough, but the Shelby is in all aspects simply perfect. I imagine that if denim heaven were to exist, most certainly, Afends's Shelby would be there- because it truly is just amazing.
Afends has given the Shelby Twill a new sustainable lookover and the introduction to the paneled jeans (hopping on to the latest trend of patterned jeans, but make it so much cooler) says it all: the Shelby is exactly what we all need to have.

"Crafted from the premium blend of hemp and OCS certified organic cotton twill, these midweight pants are reminiscent of the namesake, only more sustainable and softer than ever," says Afends.
The Shelby in Black Hemp Twill
A classic piece and a fashion staple that is more than capable of making a statement, the Shelby in black with hemp fabric is surely a must for your wardrobe.
With the Shelby, you can wear it up or down, and it's suitable for every single day at any time. What might be the most comfortable pair of pants ever (I wish I could emphasize this and shout it out for the whole world to hear, because it really is that comfy), the Shelby offers a flattering pair to accentuate your fit of the day that's suitable and convenient.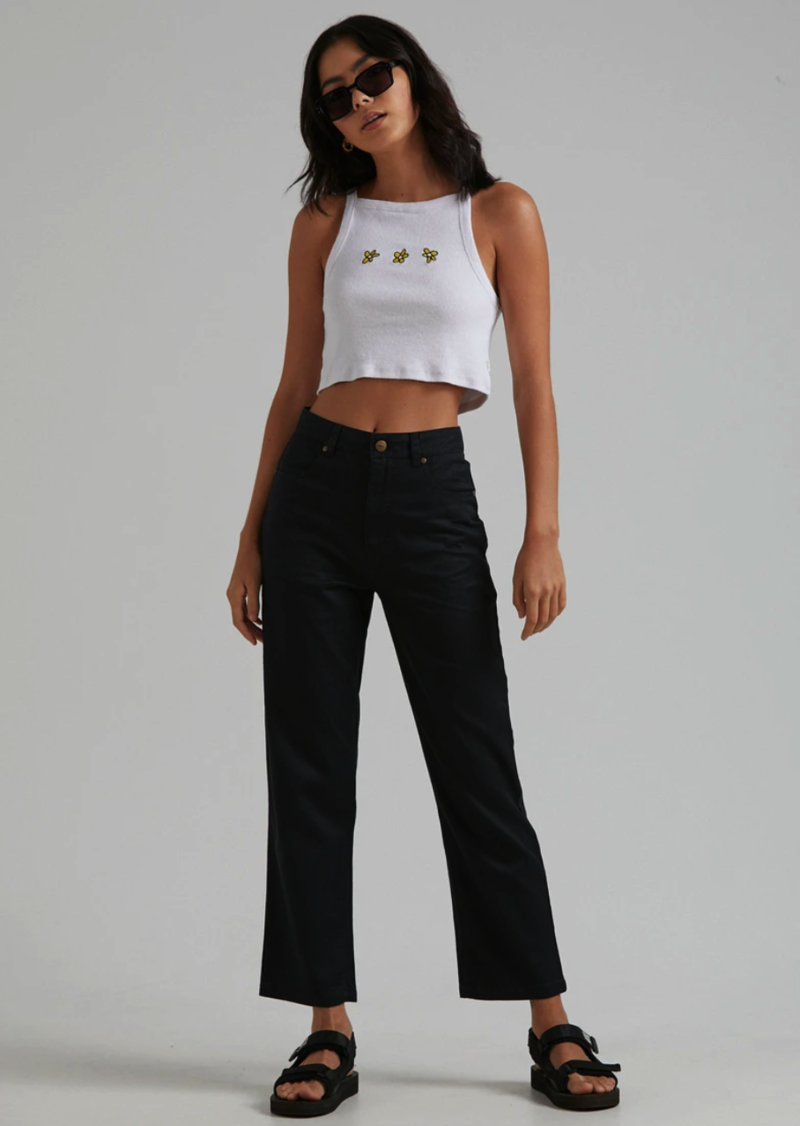 Shop the Shelby in Black Hemp Twill here.
The Shelby in black hemp twill is a flattering, slightly loose pair of jeans with a little fiery flare out that's subtle at the end. I love the way it truly brings out the best sides and hugs at all the right places.
These high-waisted bottoms make it perfect to pair with your favorite cropped top and have a belt-looped waist. The belt loops make it possible for you to accentuate your look to a higher level- no pun intended.
A focal point around the waist is the gold-brass shaded buttons, which are engraved with the Afends brand name. I love the small details that make this piece whole!
Also, let me just say: these have pockets! Fake pockets are a total goodbye, and these Shelby pants are not only stylish but functionally efficient, too. With these, you have dual front pockets that are big enough to snugly fit your phone (that's a big deal in terms of pants if you ask me!) and extremely roomy back pockets on both sides. This four-pocket style is just such a bonus that we can't help but love. Right by the main button fastening, the Shelby features a YKK Zip Fly.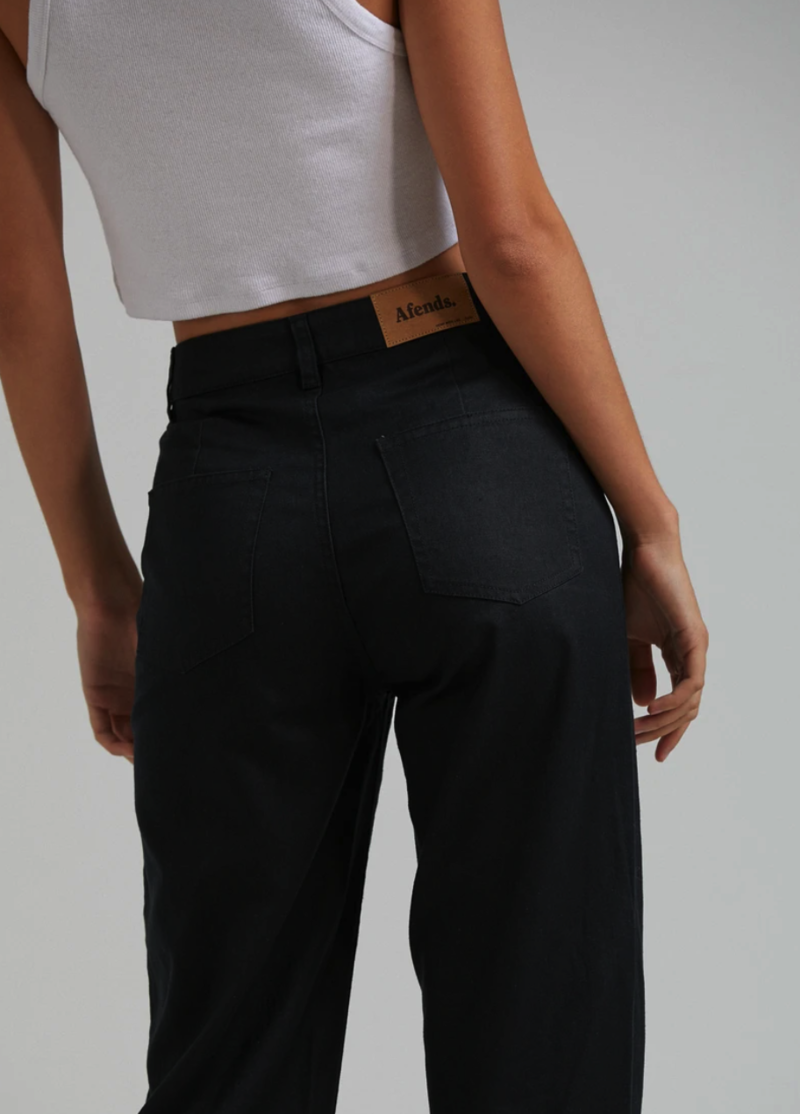 The back features a paper patch in a natural woody, grainy brown with Afends written on to make for great detail.
This high-waisted fit has a roomy-but-not-really fit. By this, we mean the skinny-straight fit, which allows for a flattering silhouette overall while still giving your legs moving room. These pants are wide-leg, but without being too overly so, and balance just the right amount of looseness to give you the perfect fit.
I absolutely adore the length of this particular Shelby, because it is not overly long nor too cropped. At just around ankle-length, this can highlight long legs and hits the end at the right exact spot you want it to be.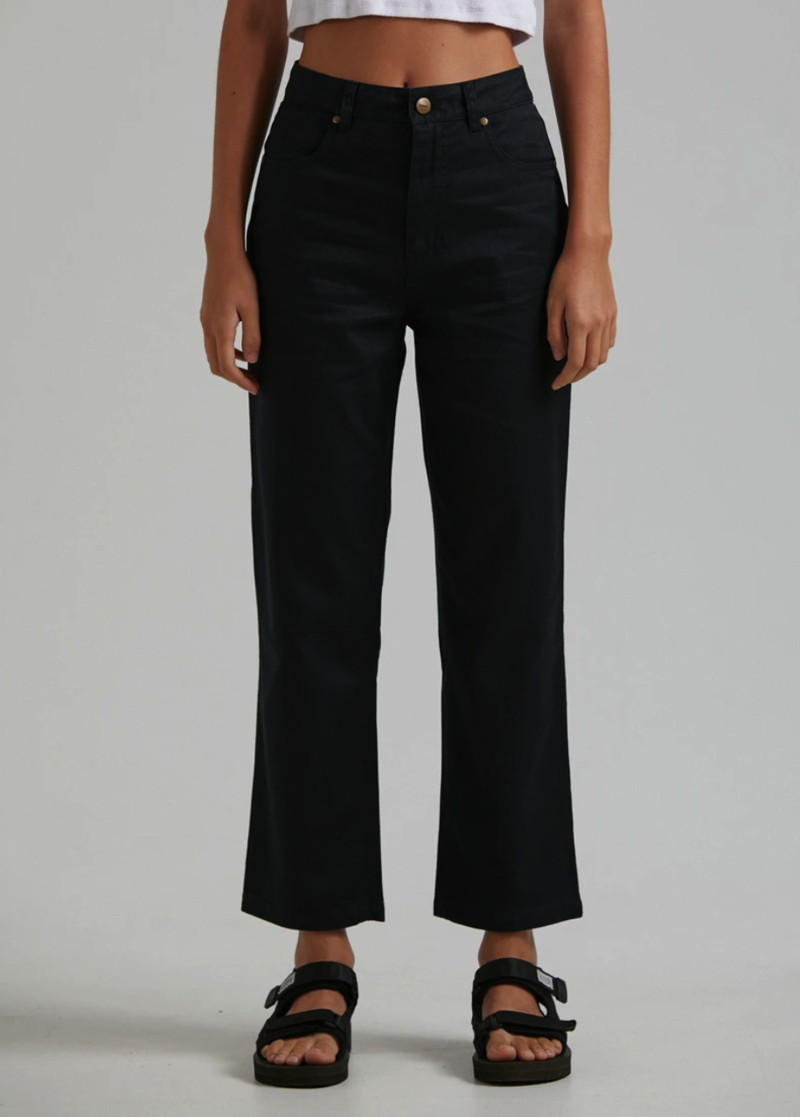 When I say the Shelby in black hemp twill is the most comfortable pair of pants I have ever tried on, I truly mean it- 100%. Made of 55% Hemp and 45% OCS Certified Organic Cotton Twill, Afends has brought on such revolutionary bottoms that give you maximum comfort.
These balances weight perfectly, and are pretty lightweight without being overly thin. They feel so soft- and that truly is the power of hemp. You'll be able to go about freely with these pants as they do not weigh you down; plus, in terms of pants, it's very breathable.
I love the jet-black color it comes in; it's effortlessly cool and casual, and has an all-over solid shade that feels complete. The dark color makes it simple for you to style with anything and is the perfect staple to rotate around in your closet.
If I truly want to emphasize one of my many favorites about these jeans, it's for sure the economical style. It's perfect to wear out to anywhere, no matter the occasion- and you'll look so good with it on.
The Shelby in Yellow Hemp Twill
Plain, simple pants are, well, boring. It's time to amp up your style game with the revolutionary, head-turning Shelby in yellow hemp twill.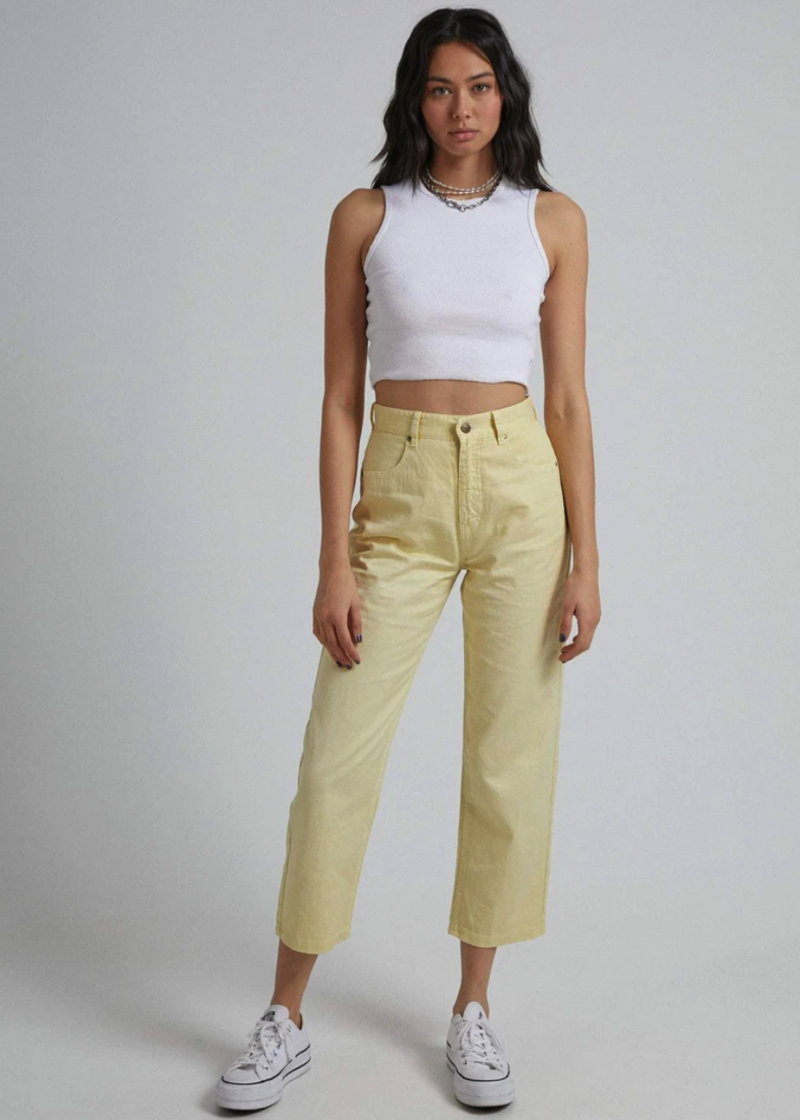 It's fun, bright, and simply radiant. Fashion is all about being weird and doing what's you- and there's simply no way to better express yourself in outfits than this particular Shelby.
Shop the Shelby in Yellow Hemp Twill here.
In a beautiful stunning canary shade, the hemp-twill blend of the Shelby gives way for the perfect spring-summery look. Greet the warmer, kinder weather with these special pants.
The waist here is belt-looped all around as well, which makes for just the right time to style with a bold, cool belt design. Nice and secure, these loops are also very unnoticeable when on and cause no discomfort.
The buttons attached here are more on the silvery side, which pairs incredibly well with the light yellow, giving the all-over look more of a brighter aesthetic. The main button is engraved with the signature Afends brand name- a small detail not to be overlooked. Beneath the main button is, of course, the YKK Zip Fly.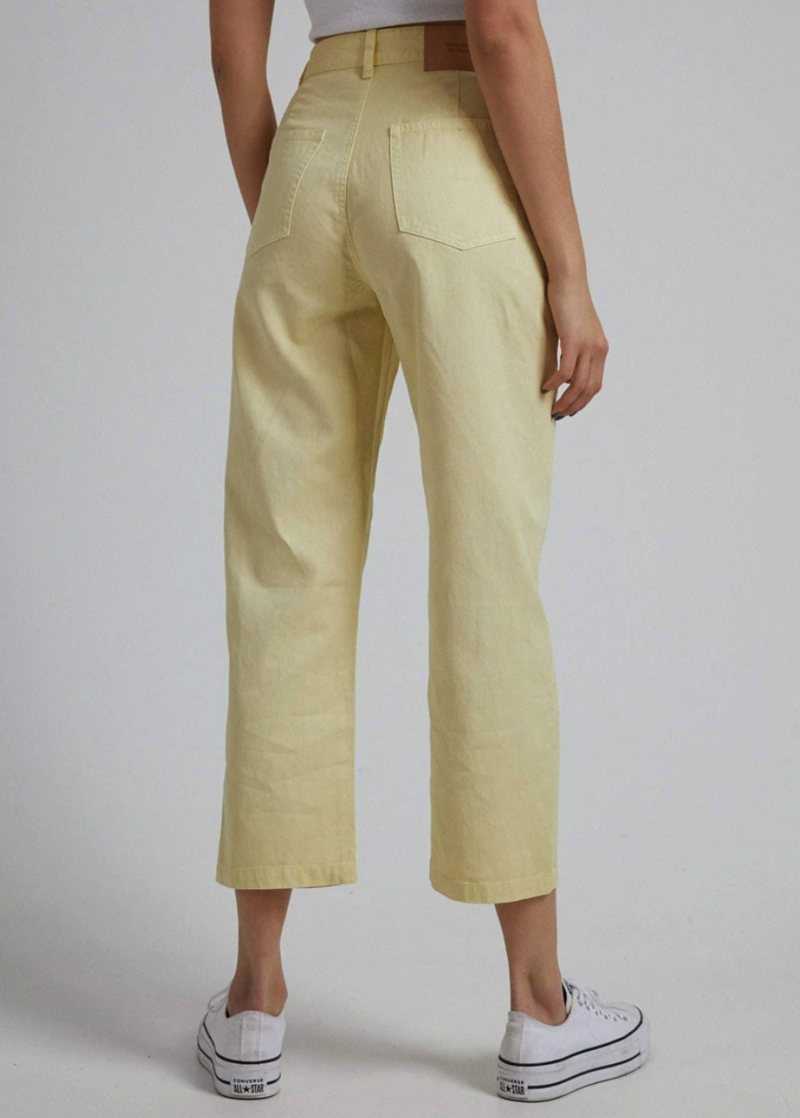 You also cannot miss the paper patch in the back, which you could say to be one of the highlights of the Shelbys. It's right on so you can't miss that it's proudly Afends, and it also has some credibility when it comes to the style. This texture adds a bit of extra dimension, which I just love!
When it comes to everything, Afends has already thought it out for you; you'd most definitely be happy to hear these pair of pants have fully functioning pockets as well! The front side may look small and casual, but it's much more than you'd expect- not to forget to mention the large back pockets.
The overall fit is just a chef's kiss. I couldn't imagine a pair of pants that fit better than the Shelby, because I really am that impressed. Let me let you in on this- I seriously don't think I've ever met a pair of pants that looks so flattering on.
With a high-waisted fit and slightly wide leg that has a bit of dramatic flair but tones it down with a slimmer fit (that still gives you space to be a bit laid-back), the silhouette that the Shelby highlights give us major heart eyes.
Slightly cropped, this is supposed to hit right by your ankles so you still have the space to show off the kicks you decide to pair with the lovely sunshine color. If you're average or below average height, don't worry- it won't be too long to the point where it drags on the floor. I love the length this gives and how it compliments everything!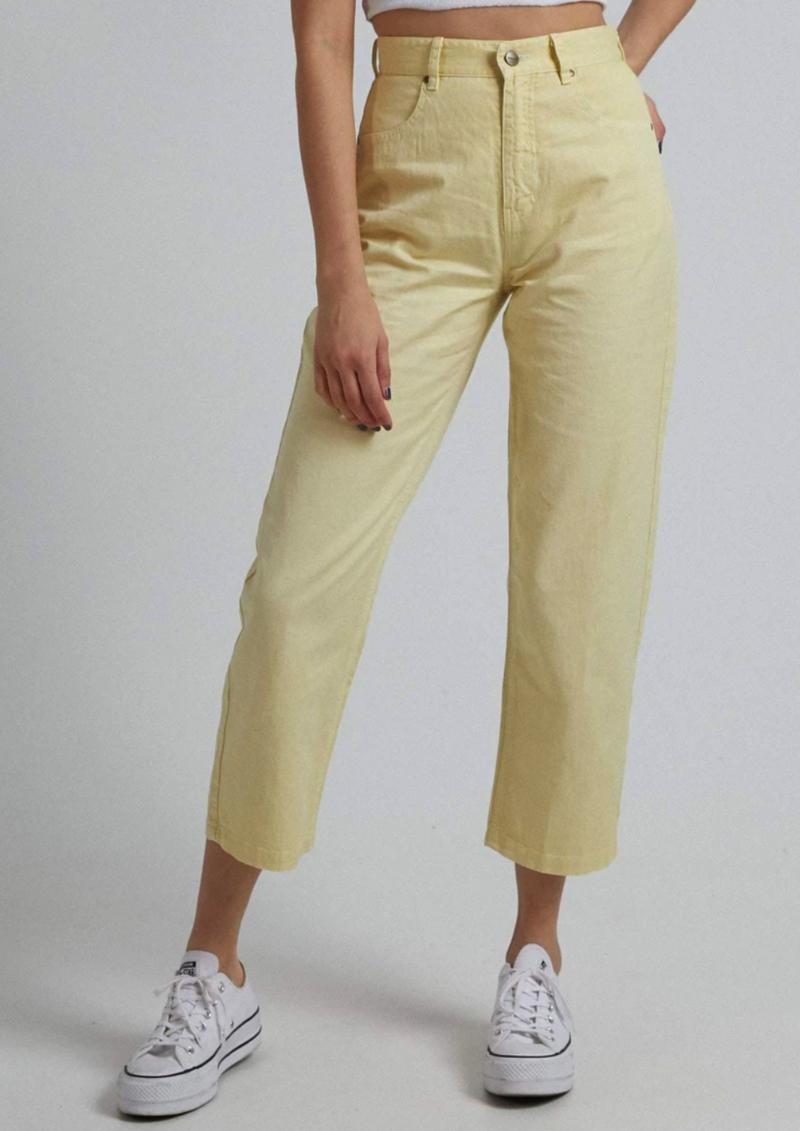 Majorly, the yellow color is pretty much everything. You are sure to have so much fun styling these pale yellow colored pants- imagine the possibilities! (I'm thinking a baby blue cardigan or a pale candy-like purple… styling has never been so much fun.)
A bright color that isn't washed out, but isn't too strong to come off as harsh, Afends has stunned us all with the amazing balance of color. In a style reminiscent of old vintage fashion but a contemporary pop of color and of course sustainable touches, we can't help but be impressed.
Kick off the upcoming summer season in these yellow hemp-twill Shelby- it'll get you feeling golden!
The Shelby Hemp Denim in Panelled Jeans
We all know jeans are hands-down an absolute must in our closets. Jeans are universal- pretty much anyone and everyone can rock them- but it's time to take rock'em denim to a whole new level.
That's right: meet the Shelby panelled jeans. Your new favorite pair of jeans ever is now here.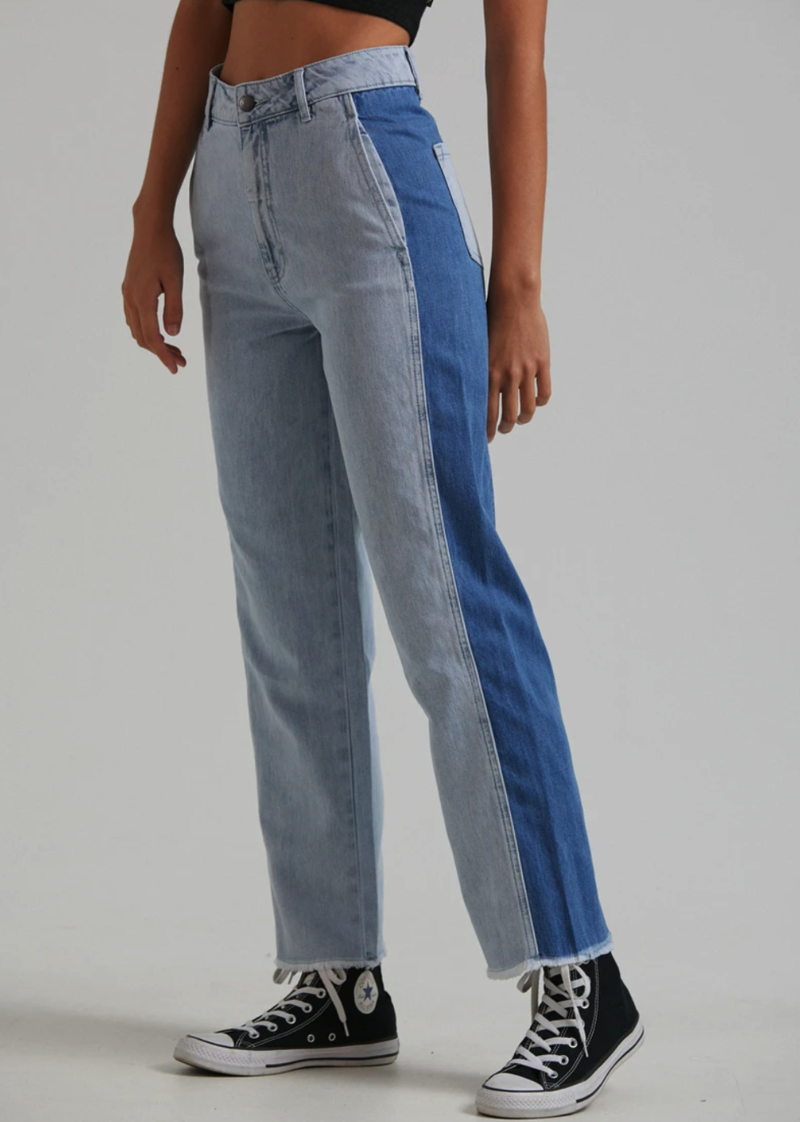 Shop the Shelby Hemp Denim in Panelled Jeans here.
With this particular Shelby, you have the vintage, oldies/goodies inspiration, but fueled by something off-the-charts-cool that doesn't detract from the energy it gives. "With a raw distressed hem and panelling down either side, these are a retro take on the namesake," says Afends.
In a hugging, snug waist that relaxes slightly down the leg with a wide leg design that creates a continuous flow to elongate the legs, the Shelby panelled jeans give a serving look. Make a statement with these pair of jeans- they're just so effortlessly cool that it's quite difficult to take our eyes away from them.
With belt loops added throughout the waistline, the high-waist makes it perfect for you to pair these unique, one-of-a-kind jeans with a cropped top.
The focal point button is placed right in the center up top in a light silvery color with the engraved Afends button- never to be missed. Right by the button fastening, the jeans include a YKK Zip Fly.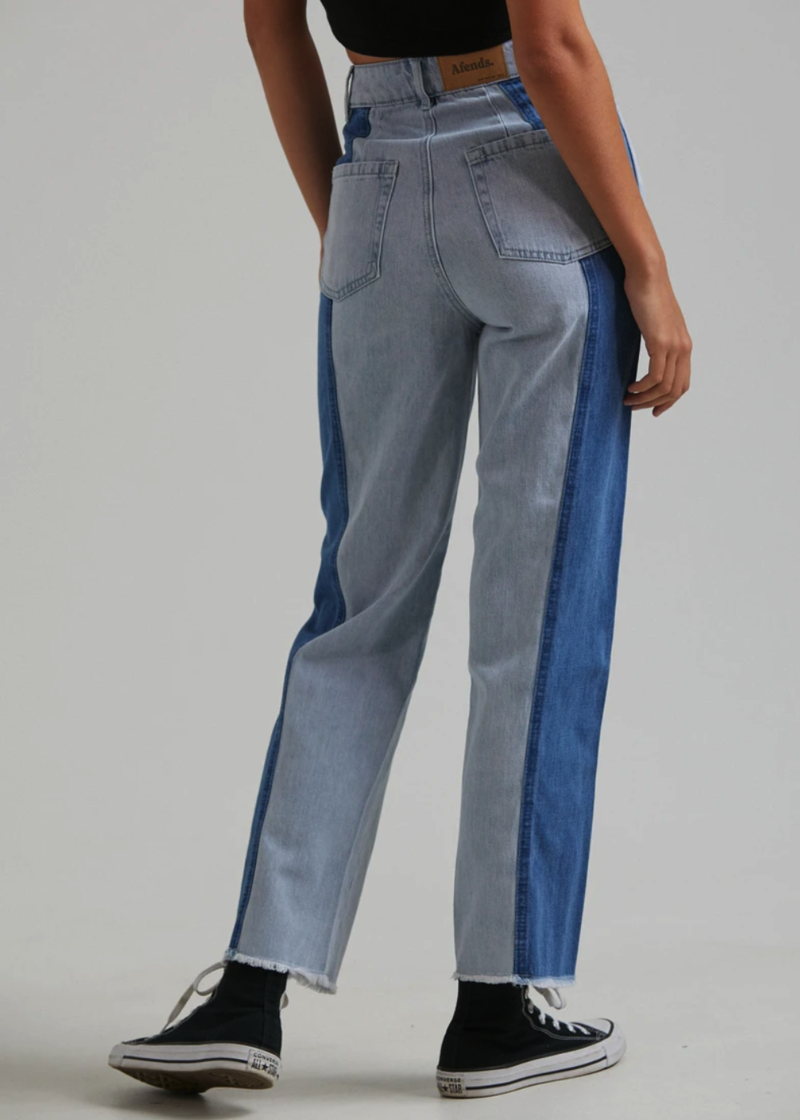 Right in the back on the top right, you'll spot the paper patch that's put on nice and securely with the Asfends brand name. It's a rectangle flap that's on without loose seams, and the retro yet minimalistic look is such a look.
We've all had that moment when the jeans didn't exactly have pockets that worked… but now, that is a thing totally in the past with Afends' four complete denim pockets. With dual side pockets and dual back pockets, you have enough space to store everything you need and possibly more- how exciting!
These panelled jeans remain to the classic Shelby shape, with a snug high-waisted fit that flows down; sticking to the trends of the past that resurface all the time, but cleverly staying with the present- and now, the side panels are giving us a huge wow moment.
In a royal blue shade that goes down the leg on both sides, these jeans highlight the gorgeous legs and created a covetable silhouette. The dark-medium coloring creates a lovely contrast with the main distressed, lighter blue-grey color, making for an interesting, cool look.
The end of the jeans has a slightly distressed hem, and it feels so classically vintage.
Most certainly, it is distinctive- but I say it's timeless at the same time, too. Such design will never go out of style because it is the style.
The jeans are heavier than the hemp-twill, coming in at 10.7oz, but it's still perfect for the warmer weather and in the bigger picture, for all seasons. "Crafted from OCS certified organic cotton and hemp denim, the jeans offer a lightweight and breathable design that will carry you through the seasons with ease," writes Afends. With confidence, I can definitely agree these are one of the most lightweight, breathable jeans around. The secret is in the fabric.
Made of 81% OCS Certified Organic Cotton and 19% Hemp Denim, I love how these jeans are very much sustainable and have our planet in mind. With that, it's a sure guarantee you're showing your love for our planet and of course, top-tier denim style that simply is unparalleled (no pun intended).
The Clover Balances Classy and Cool
As for tops go, it's always a great idea to have a staple piece that has the perfectly curated balance of something professional yet laid-back.
Afends' Clover top does exactly that, and much more. This casual polo is cropped and breezily boxy to allow for maximum comfort and ease as you go about.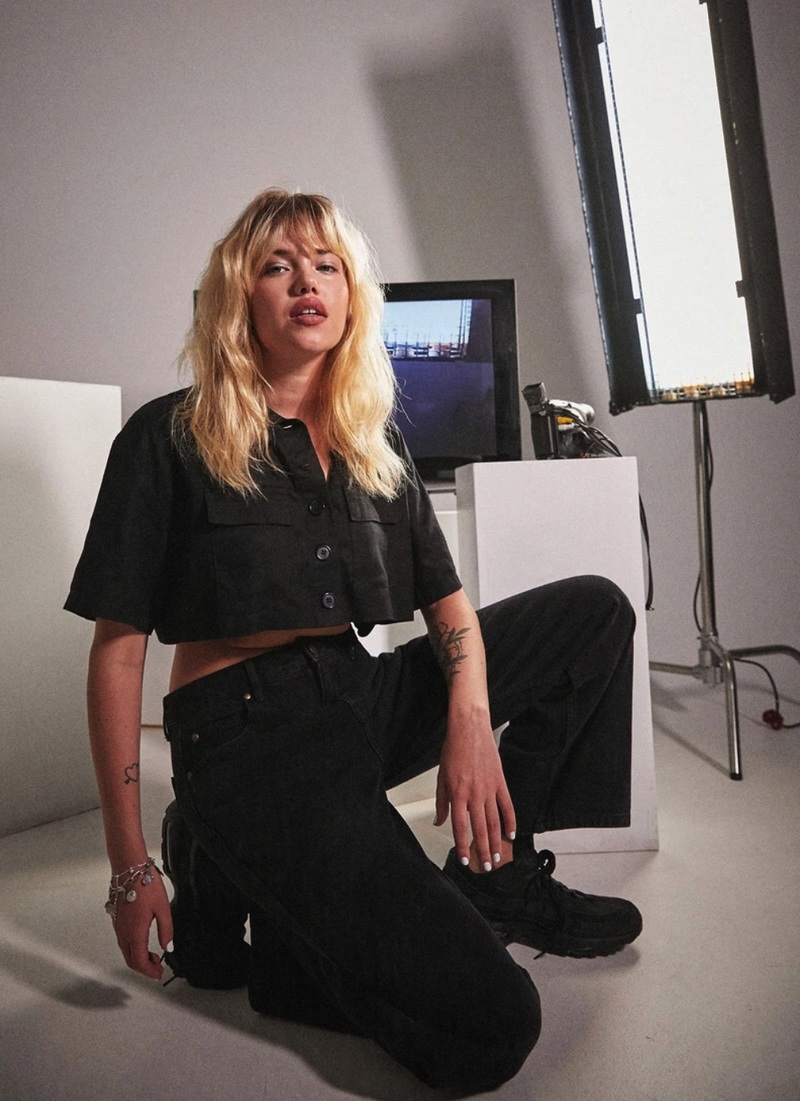 Looking for something that won't stop you and allows for total circulation when the warm weather comes around? The Clover has got your back.
Starting off the top with a pre-folded collar that isn't too thick and isn't too short, we begin business-like; however, the Clover allows room for something more playful with the buttons down the center.
Four large circle buttons line the middle, which we can't help but pay attention to. I love how the button-down doesn't feel stuffy at all, and this unique spin is wonderful! For the two color options of the Clover, the buttons will be the whichever color it is mainly, giving a clean-cut, uniform style.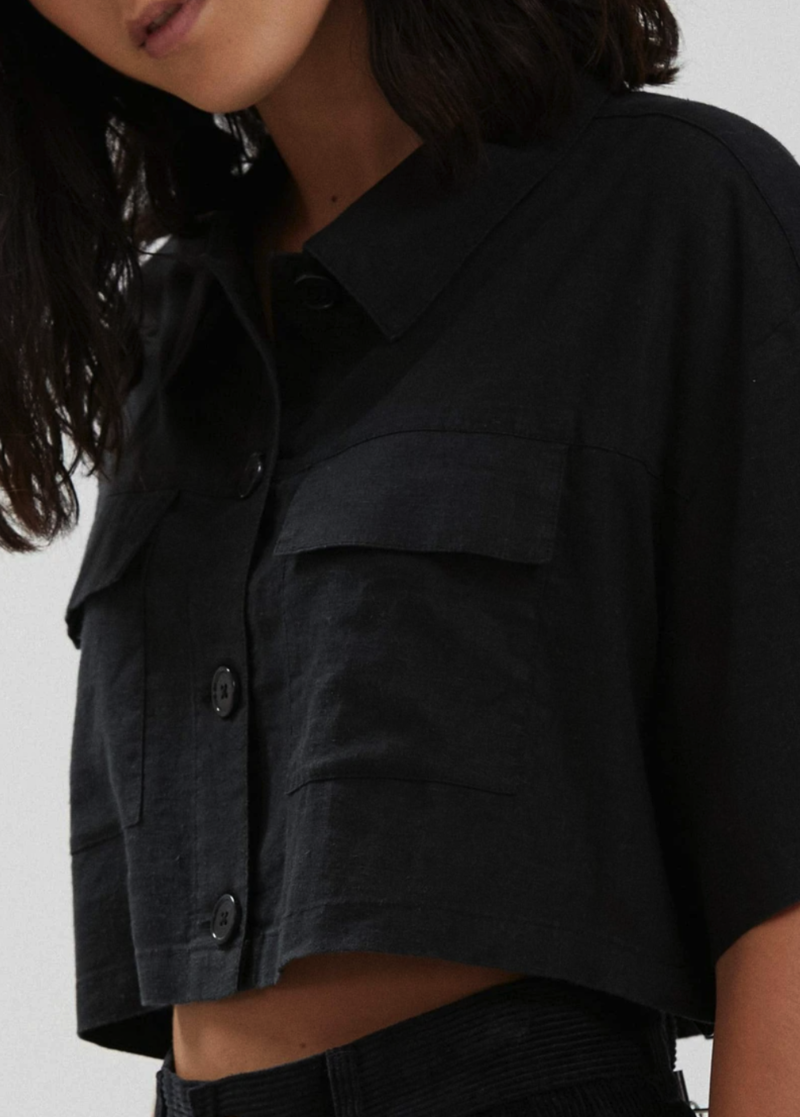 The sleeves are ample and go down to the elbow, which I just love! It's not too long, and isn't too short, either. I noticed how the shoulder line went past the actual line on purpose, giving the illusion of a slightly oversize, relaxed vibe.
The front has two roomy pockets on both sides, with a flap feature closing the pockets. It creates symmetry, and everything feels so in order.
The backside is simple, with just a simple seam design going across horizontally, and I have to say, I adore the breezy space that the back has. With such extra room, it even creates an overlap of the fabric during movement, which is such a bonus.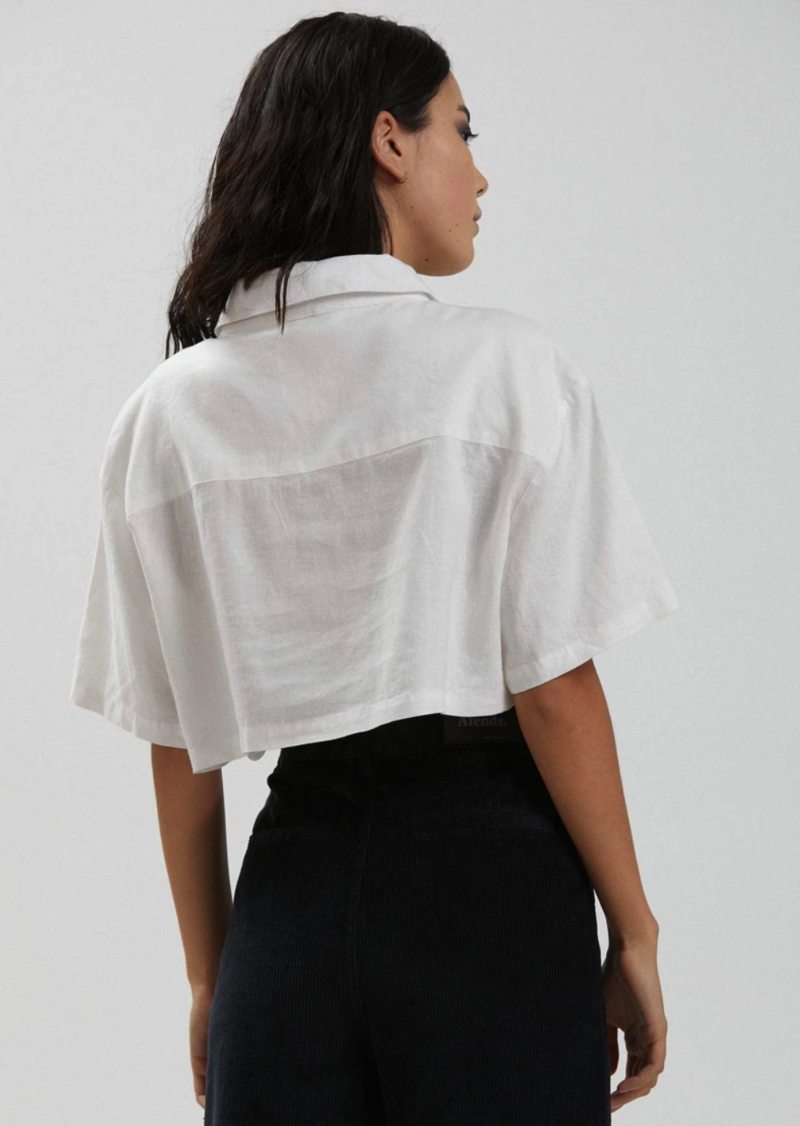 Here comes the fun part- the cropped look! The boxy shape doesn't cling to you or drag you down. It ends around 2/5 of your torso, which gives space for enough coverage but keeping it lighthearted. "Pair this shirt with anything high-waisted for a touch of class," recommends Afends. What a look!
I most definitely have to mention how in love with the fabric I am. "This short-sleeve shirt was made with a sense of ease in mind, offering a cropped design and boxy silhouette with a button-up front and collar, dual front patch pockets and a flat hemline," says Afends. And easy it is! Gone are the days you feel restricted by your top; you will love the freedom of movement you get with this piece.
Made of 55% Hemp and 45% Tencel, this top is extremely breathable and lightweight. It really is that light that you can barely notice it! It also is so comfortable that we could probably stay in this forever. "Consciously crafted from the organic blend of hemp and tencel, this sustainable shirt is soft, breathable and lovingly lightweight," writes Afends.
The Clover comes in two distinct shades- a classic black and white- and both looks are completely stylish and timeless.
Clover Hemp Cropped Shirt in Black
The Clover in black allows for a sleek, formal look. We're all about business here- but tinged with casualness, too. Amplify your wardrobe with the right balance!
This complete jet-black look has a nice solid all-over color and would be the perfect match for virtually any pair of pants. Not completely inky black but not a different coloration, we love the monotone style going on here.
Shop the Clover Hemp Cropped Shirt in Black here.
The Clover somehow makes the color black even cooler.
Clover Hemp Cropped Shirt in White
A clean white that has no off-color, this Clover is all about being minimal with added details.
This particular shade is giving us a linen-like vibe, and we're all for it!
Shop the Clover Hemp Cropped Shirt in White here.
A no-nonsense style, the Clover in white allows for no distractions and is clearly unspotted and polished.
Oh, P.S: it's not see-through, which is most definitely a plus.
A Talk With Afends' Founders
The Teen Magazine had the pleasure of speaking with Afends' founders, Declan Wise and Jonathan Salfield.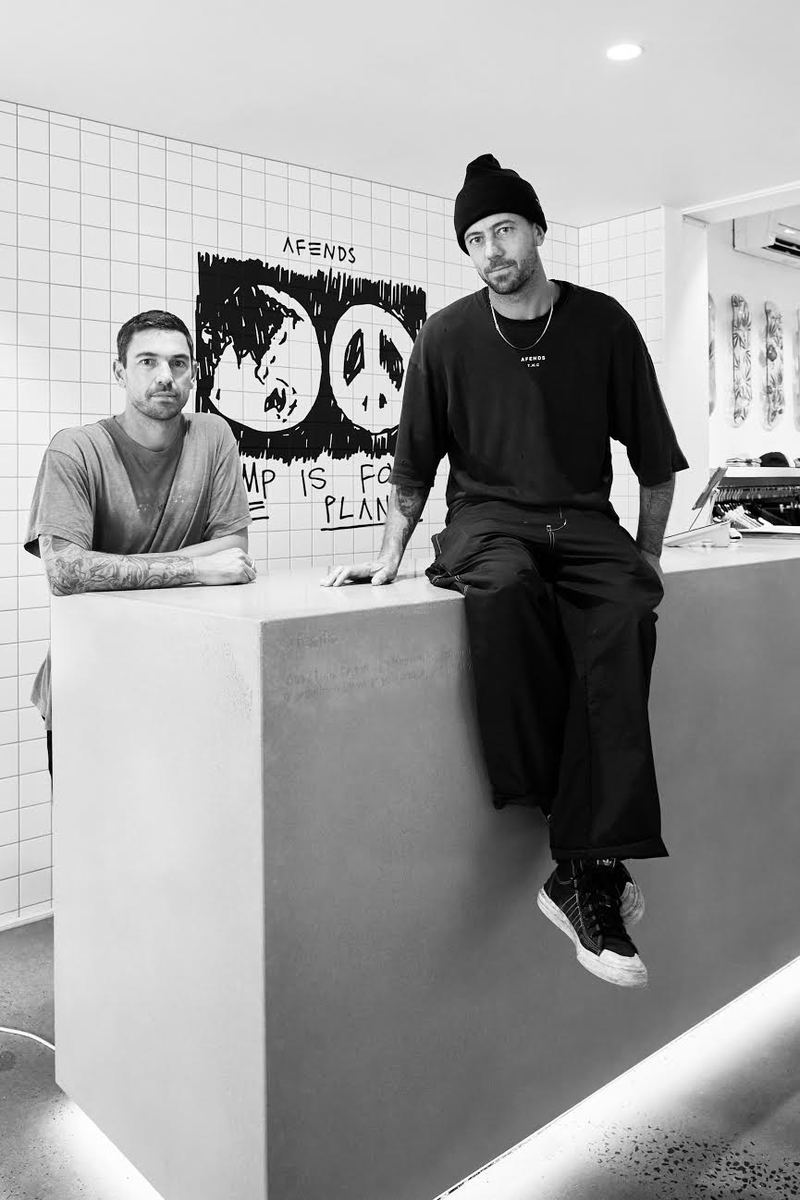 Here, we talk about everything Afends and of the newest collection- inspiration, leading in the industry on sustainability, enthusiasm for hemp, and love for the brand.
Born in 2006 in the small coastal town of Byron Bay, Australia, Afends was founded by Declan Wise and Jonathan Salfield off the back of a small screen printing business they originally created as 20-something year olds to print band merchandise for punk and hardcore bands.

– Afends
On The Newest Collection
Afends's newest collection is here- what was your inspiration for this S2 campaign, and what do you hope for wearers to take from it?
Our "Higher Supply" collection is targeted towards the youth culture, where street, skate, and coastal worlds collide. The collection truly represents the ethos of Afends, high-end multi-disciplinary fashion reaching its most sustainable potential, inspired by everything we love without forgetting our roots.
In 5 Words
If you could describe the new collection release in 5 words, what would it be?
Sustainable, Street, Multidisciplinary, Timeless, Progressive
Our philosophy 'Question Everything' is about inspiring people to question what they hear and see, to educate themselves so they can make their own choices, develop their own opinions and have their own unique voice.

– Afends

A Leading Pioneer in the Fashion Industry
Afends is a pioneer in leading a sustainable fashion industry- all while staying stylish and fashionable. Could you tell us more about Afends's sustainability efforts?
The fashion industry is not sustainable, but we believe there are more sustainable approaches. We make it our mission to consciously create clothing that will last, keeping the people and the planet at the forefront of design. Season 1 2021 saw our first collection containing 100% sustainable fibres, which was a huge milestone for us, but that's just the beginning. We made a promise to our people to continually search for the most sustainable fibres the earth can offer us.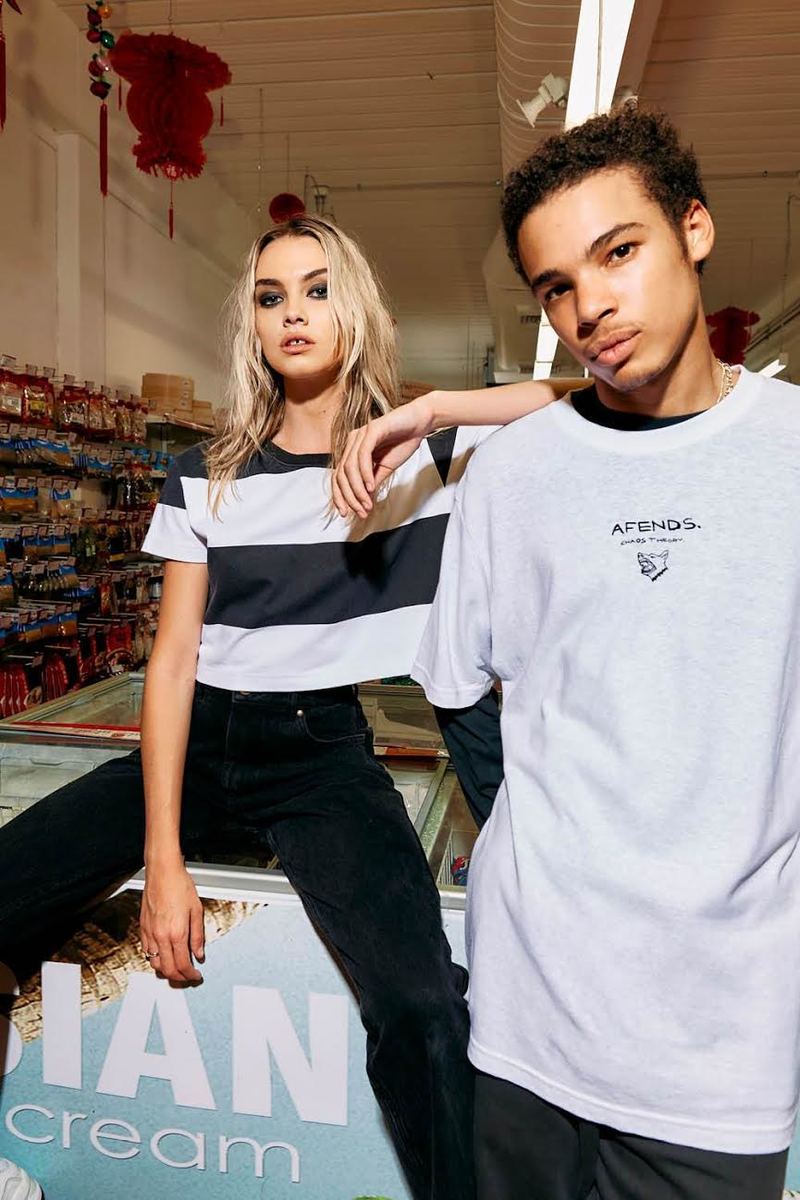 Some of our sustainability highlights from 2020-2021 include:
Receiving GOTS, OCS and GRS certifications for all of our fibres.
By the end of 2021, we aim to be certified carbon neutral
Giving $36,210 back to sustainability projects through sales activations
Being awarded a 4-star rating from Good on You
Eliminating single-use plastics from our company entirely
Introducing sub pods at the Afends HQ to help manage waste
Being a vegan brand because animals are our mates
We are stoked with what we have achieved, but we still have a long way to go and a lot in the pipeline. To give our customers complete transparency, we are working on a detailed sustainability report that outlines everything we do as a brand. As sustainability continues to evolve, we will always strive to do things better for the people and the planet.
Hemp Is For The People
As Afends says, "Hemp is for the people." What about Afends hemp is special, and could you tell us more?
Hemp is one of the strongest, most durable and economically viable all-natural threads. It was the super fibre that drove the world back before the industrial revolution until we hit a fork in the road in the early 1900s. We could have kept growing hemp and supporting greener initiatives but instead went down the dark, destructive path of the industrial revolution, adopting conventional cotton as the most widely used fibre.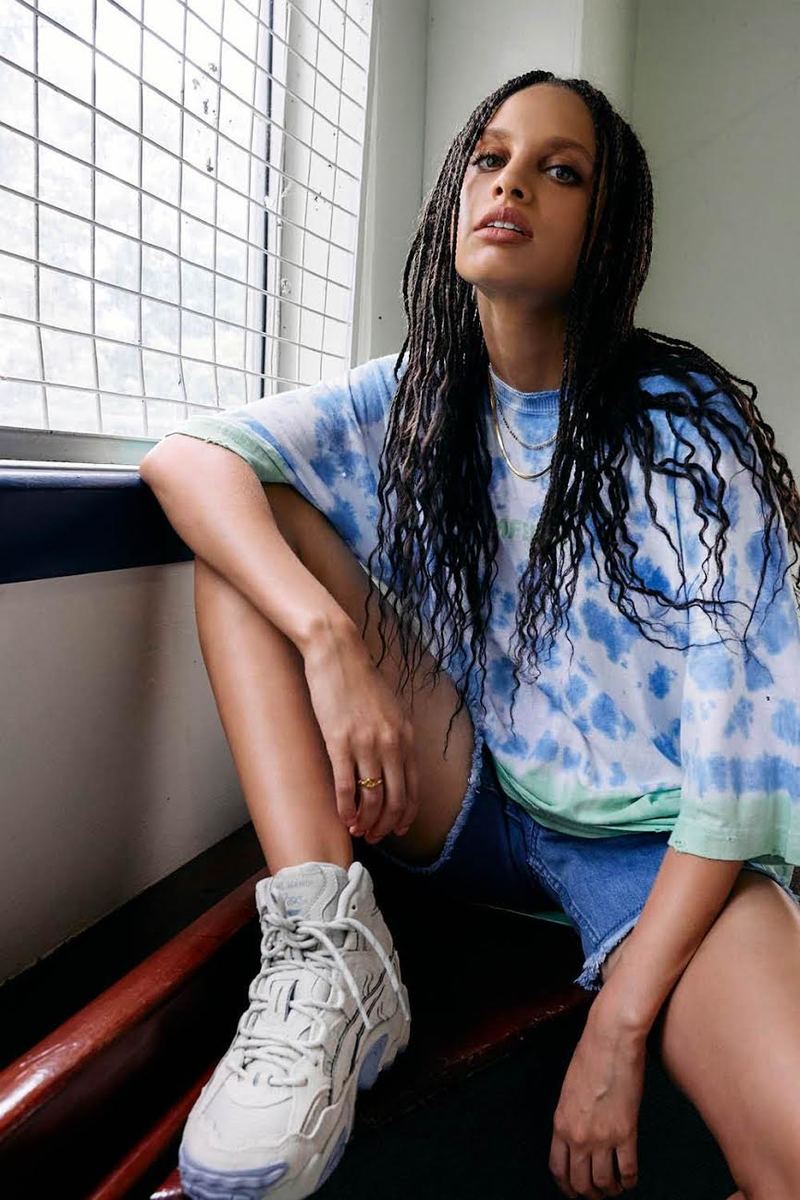 We have made it our mission to reignite the Hemp Revolution and help heal the fashion industry, and we believe hemp is the answer. Hemp is a renewable resource grown with zero toxic chemicals or pesticides, uses far less water, energy, emits fewer greenhouse gases and takes as little as 90 days to cultivate. You can check out our blog post on the seven benefits of hemp here.
The Best Part
What is your favorite part about being the founders of Afends?
We love being around super-talented people that care about the environment and fashion, with the same goal of making the fashion industry more sustainable. Our culture at Afends HQ in Byron Bay is like a big happy share house of like-minded, creative and caring people.
Keep Up
Be sure to follow Afends on social media- find them on Instagram @afends. Show them some love all the way to Byron Bay!
Also, pin all of your favorite styles and apparel to your Pinterest board from @afends!
View this post on Instagram