For everyday dreamers, summer days are adventures. With a love life perspective, this summer can't help but feel like such a dream. If that dream could be translated into complex yet individualistic pieces, it would stand as Free People's latest summer collection.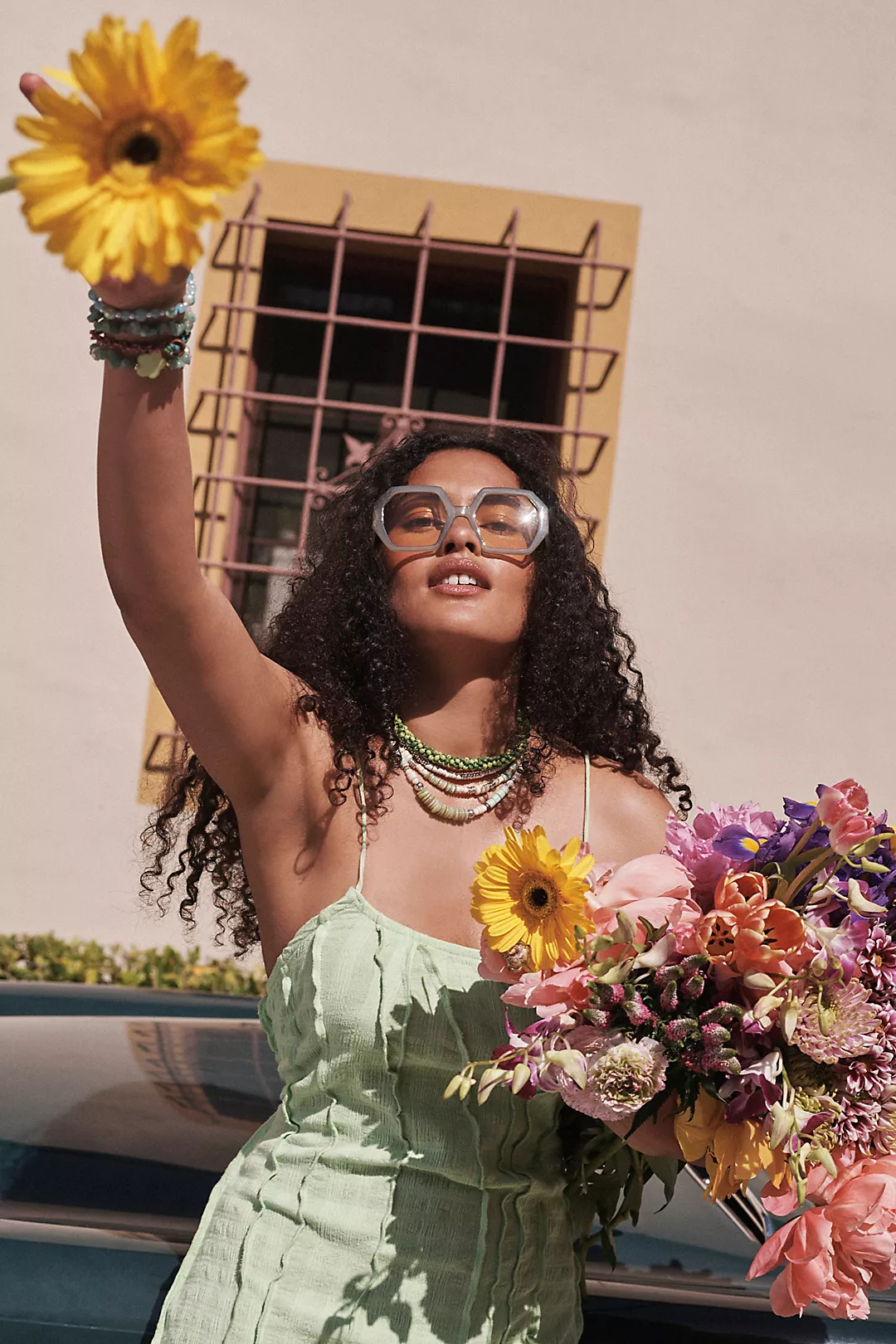 A collection well suited to those who live life to the fullest, Feel Free in Free People is one that embodies the carefree spirit with a touch of vintage hues and a romantic bohemian touch. Full of soft colors with bold color accents and muted neutrals, this collection impressively combines one-of-a-kind pieces with unparalleled aesthetics.
Shop the Feel Free in Free People collection here.
From delicate lace-embellished tops to eye-catching crochet ponchos, each piece at Feel Free in Free People exudes a carefree yet collected feel. Featuring stars like Ava Phillippe, Keiynan Lonsdale and Brittany O'Grady, this collection approaches today's modern fashion world with something different; it is a dream that dares to be free.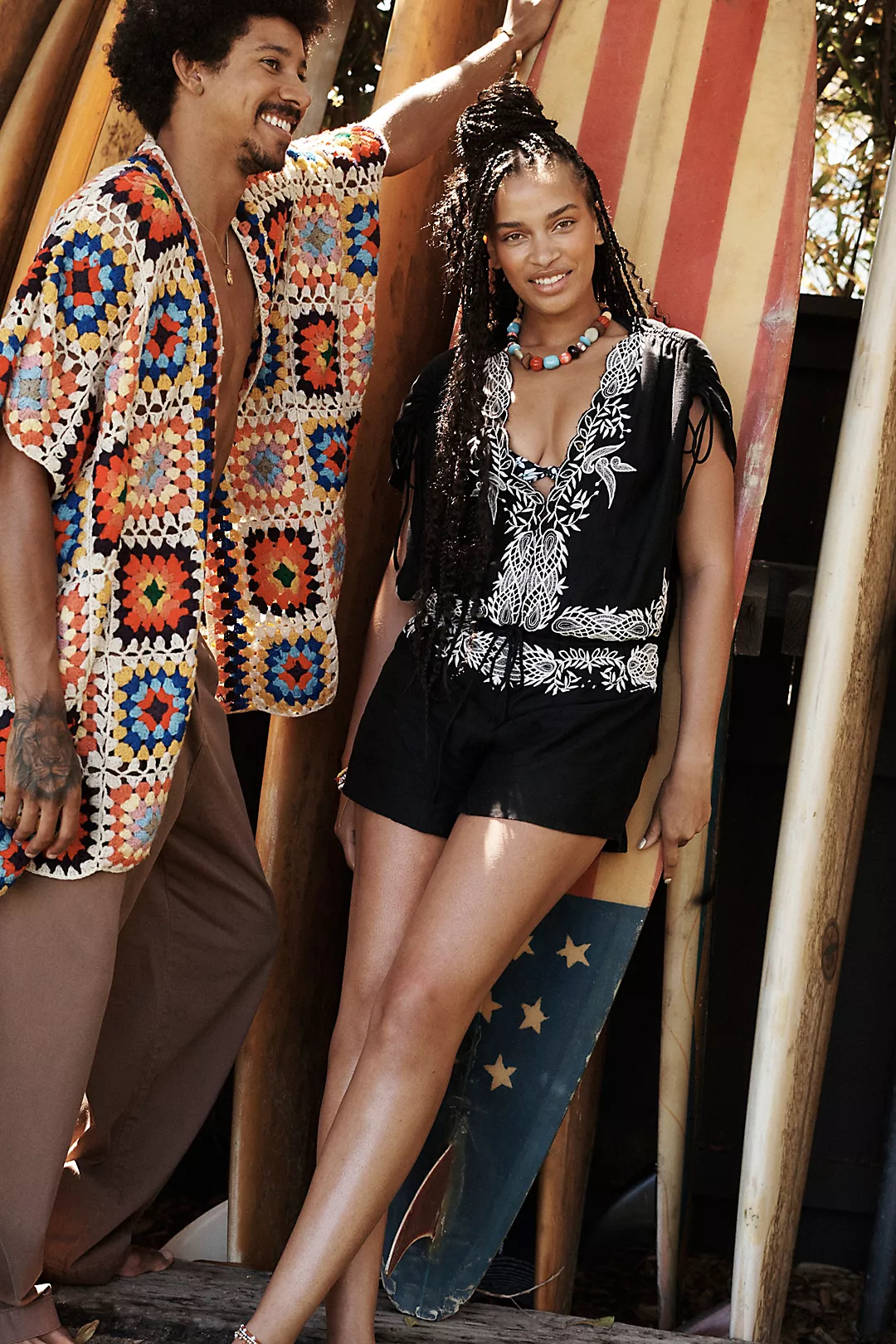 This season, give an ode to summer with Feel Free in Free People, and embody your inner spirit in style!
Ruffles at maximum
You can't have too many ruffles, and the Sawyer maxi skirt takes it to another level. This gorgeous maxi skirt is all about an elaborate silhouette with a keen eye for detail.
Shop the Sawyer Maxi Skirt here.
The skirt immediately catches the eye with its tiers; each tier has a slight crease, giving it a mesmerizing texture. Under each of the tiers are ruffle detailing, which makes this dress so elegant. Its long length skims the floor and looks stunning when you spin it.
Not only is it impeccably pretty to look at, but it's also comfortable to wear! With a smocked waistband, you just have to put it on.
The Sawyer maxi skirt is the kind of must-have beachwear that looks flattering no matter what type of top you pair it with and is great to wear for both casual and dressy events. It is a versatile piece that will look stunning all the time.
The Vanilla Combo is a tropical print that accentuates the beauty of the orange hue. The pale orange color is combined with a red-orange floral pattern. Light and airy, this skirt is the perfect piece to wear on the beach!
Everything about this skirt is so effortlessly feminine; from the way the dress moves with you to the way it combines delicate detailing with easy-to-move functionality, the Sawyer maxi skirt is obsessed.
Pair it with your favorite light-colored blouse or a simple white bodysuit, and you'll be ready to enjoy a glistening drink as the sun goes down.
Float and Flare It
A timeless wardrobe always includes a pair of fun and whimsical flares – and with the Just Float On Printed Flare Jeans, take the vintage-inspired style with an abstract pattern to give it a modern update.
Shop the Just Float On Printed Flared Jeans here.
From the house brand We The Free, Free People, these flared jeans are resolutely fiery.
These high-waisted jeans adapt perfectly to you thanks to their flared silhouette. Final flares start right from the knees and have a dramatic flare that catches everyone's eye. I love that it fits nicely around the thighs to give that exaggerated flare at the end and really accentuates the most flattering curves!
The Black Paisley Discharge print is a silver gray swirling abstract design on a black background. It's perfectly edgy while still being bohemian and feels experimentally cool.
The Just Float On Printed Flare jeans are also available in different prints, such as Psychedelic Combo, Chocolate Combo, Red Combo, Indigo Combo, Bright Combo, Midnight Combo and Barcelona Combo.
I really appreciate the comfort of these pairs of jeans; Crafted from semi-stretch denim, these jeans are super soft and won't keep you from moving.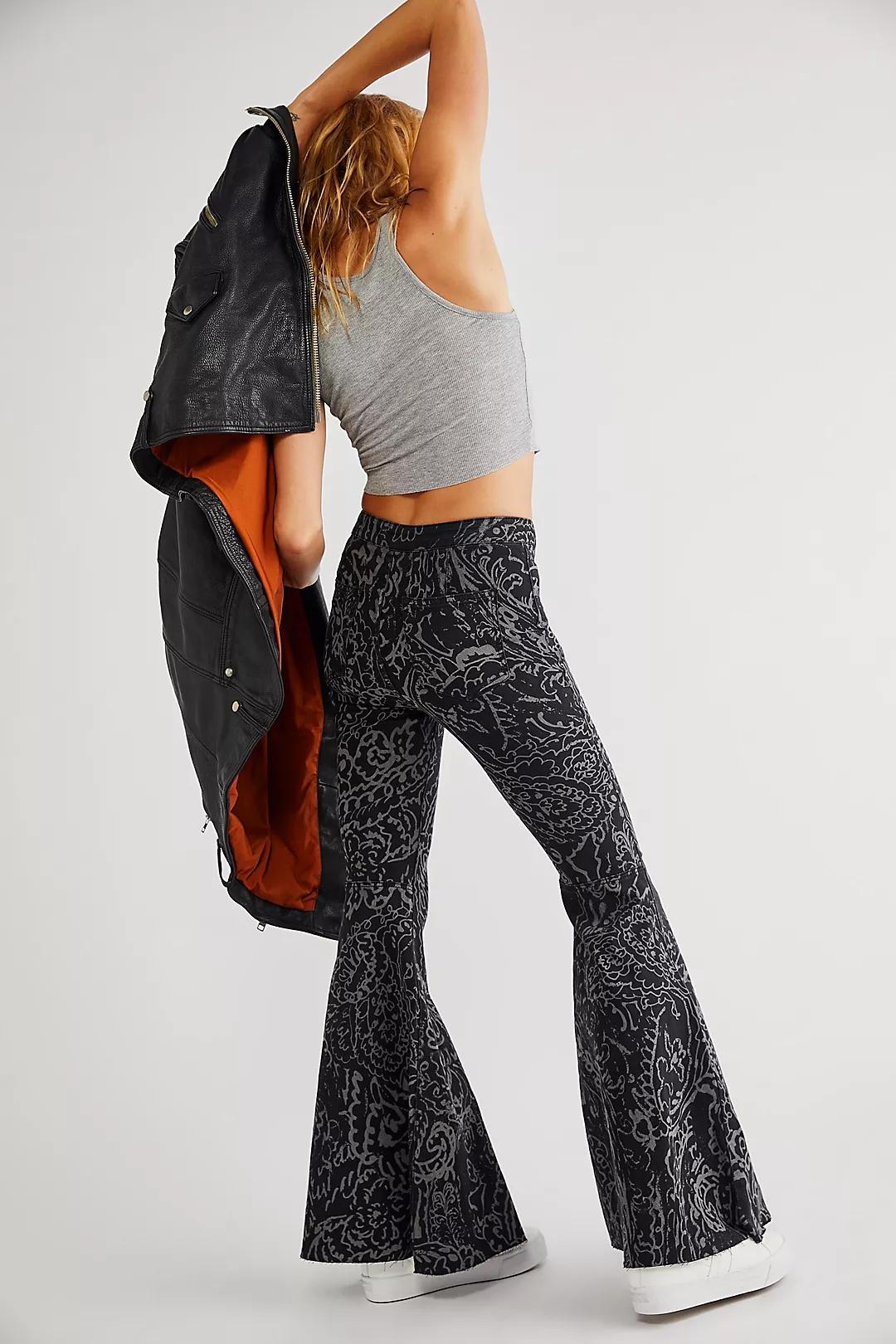 Wear these flares for a special night out and pair them with your favorite solid color top and a stylish studded leather jacket to accessorize and complete your look!
A mini flirty for the night
If there's one thing essential for a memorable night out that you'll remember forever, it's going to be an adorable mini skirt to make you feel your best.
The Sammy mini skirt is literal perfection turned into a skirt: ruffled and girly with the most seductive print, this skirt is sure to make the night even more special.
Shop the Sammy mini skirt here.
This stunning mini skirt is both playful and alluring. With a reasonably cropped length, this skirt has a higher waisted hem that makes it perfect for pairing with your favorite going out crop tops.
What really makes this skirt so wonderful are the textured layers. Just up the skirt down horizontally is a ruffled front tie feature that defines the design for asymmetrical layers crisscrossing the skirt. I love how the mesh fabric makes the skirt so mesmerizing and almost magical!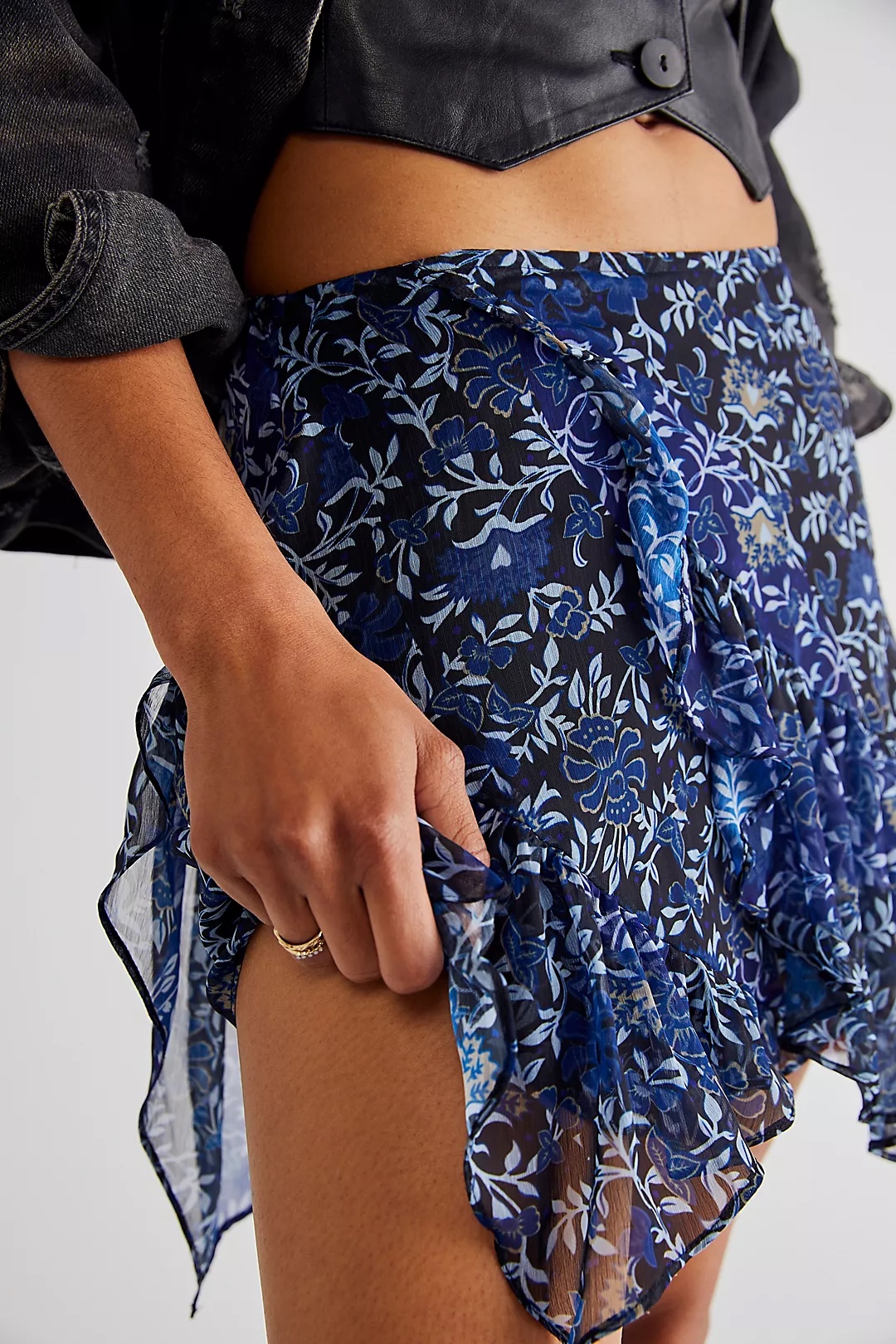 The Black Combo print is a blue gemstone color with a vintage inspired floral print all over. I love how striking the blue is, and the more navy hue makes it perfect for pairing with your favorite neutrals, be it black or classic white.
The vintage floral print features different shades of blue, ranging from a pale sky color to gold accents, and the floral designs are also one of a kind.
The Sammy mini skirt is also available in the Sapphire Combo and Granite Combo print colors.
I love the lightness and fluidity of this skirt; the mesh fabric makes it perfect to wear during the summer. This is the perfect place for brunch or a romantic evening!
Make a sophisticated statement
Recently on the fashion host list, the ever-iconic cowboy boots. With its surprisingly high height and intricate detailing, these shoes cannot be missed.
Shop Brayden tall boots here.
The Brayden Tall Boots are a dreamy take on Western-inspired styling fused with a quintessentially European feel. These Italian-made boots are made with quality details and a timeless feel.
These boots do not hold back their horses; with a mid-calf height and stacked heel, they're as sturdy as they come. I love the luxe leather upper and the soft yet quality leather, and I love how the structure of the boots gives them a gorgeous silhouette.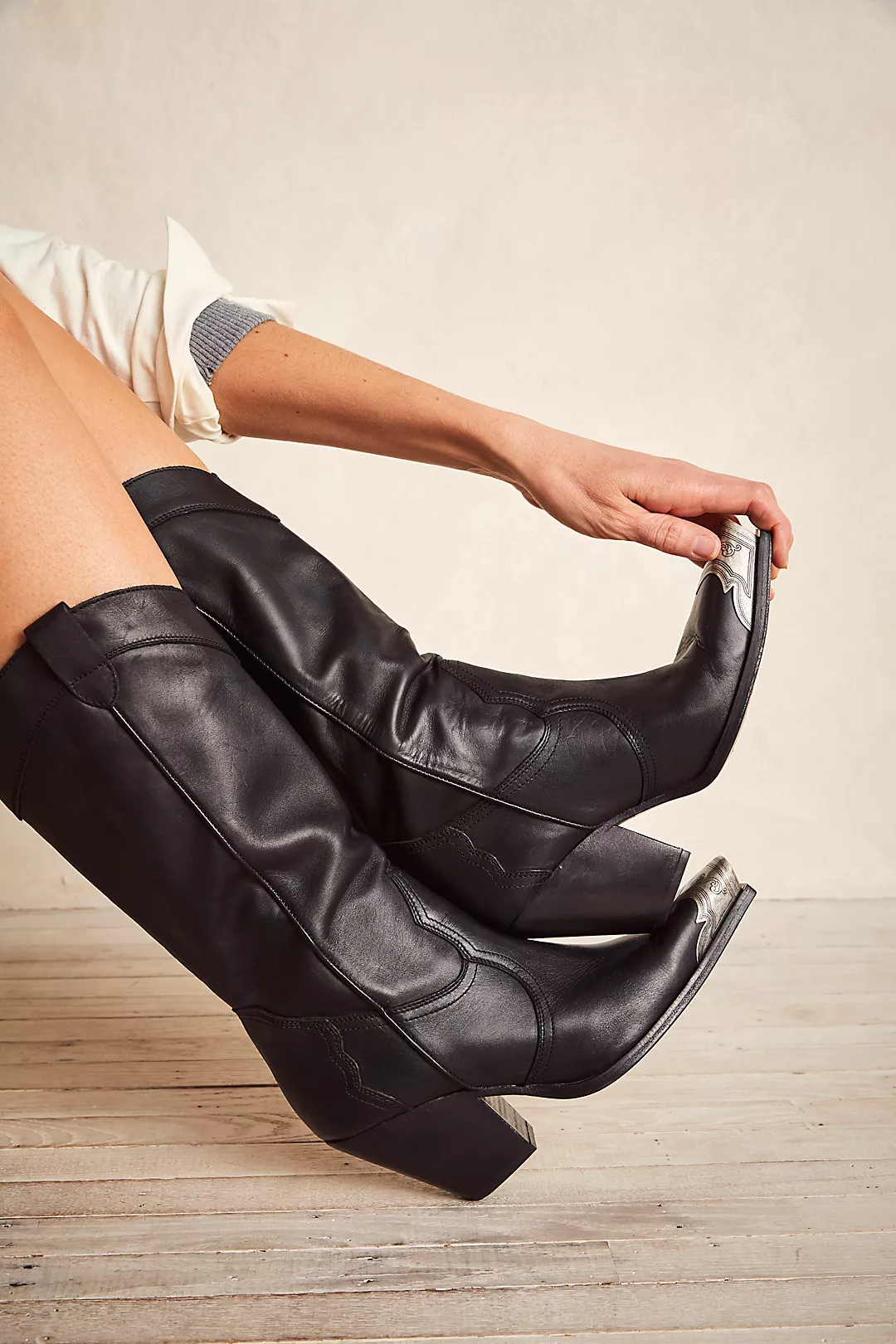 The most eye-catching design is for sure the engraved metal end cap. They almost look like centuries-old inspired crests that have a curved dip towards the front of the shoe and are etched with swirling patterns. I love how the contrast of metal and black leather really brings this pair of boots to life.
The functionality of these boots cannot be missed; With their pull tabs and cushioned insole, these boots don't trade comfort with fashion.
The dark black color gives it an intriguing yet vintage aesthetic that goes with just about any look. Whether you decide to lean into something cool with a leather jacket and matching cowboy hat or a dreamy white dress, Brayden tall boots will accentuate your look.
Sashay in a sarong silhouette
For tropical vacation dreamers, a new way to style after-swimming dinners is now here: check out the sarong, especially the rustic and elegant Imogen Sarong skirt.
Shop the Imogen Sarong Skirt here.
This gorgeous mini skirt features a wrap silhouette that accentuates your shape in the best possible way. The fully printed skirt creates an intricate optical illusion that is held together by a dramatic tie.
What catches the most attention is the tie detail on the front; This stunning sarong consists of two ties that you can tie yourself to create a beautiful wrapped and slim look.
The Midnight Garden Combo print is the definition of stylish beauty; This lovely, breathtaking print features earthy, mature tones. Against sepia and clay-red colors, accents of light orange and gray really make this skirt a work of art.
The back of the skirt features the same print, with the continuous border of dark red and orange textile patterns.
Its high waist makes it perfect to wear with your bikini top from the beach or with your favorite swimsuit cover-up. It's also great to wear off the beach and simply for any outdoor events.
Whether you choose to dress it up or down, the Imogen Sarong Skirt is sure to complement your style.
follow free people
Be sure to follow Free People on all social media for their latest launches and dreamy images to inspire your next effortless put-together outfits. Find Free People on Instagram at @freepeople, Twitter at @free peopleYouTube on @FreePeople, Pinterest @freepeople and Facebook on @FreePeople.