Jewelry is a staple accessory that everyone absolutely needs- and hands down, there's quite nothing that measures up to Ana Luisa.
With glamorous pieces that can ensure you high quality, ethical and sustainable focuses, and genuine craftsmanship, Ana Luisa will enhance and captivate every look. These investment pieces are simply stunning and will last forever.
I'm here to tell you this: as an avid believer and supporter of pretty pieces of jewelry, Ana Luisa might just be one of the best I've ever seen. Sincerely.
View this post on Instagram
Dazzling… purely dazzling.
Upcoming Sale: Keep An Eye Out!
Also, they've got a major Valentine's Day Sale going that's calling your name- yes for price cuts and double yes for beautiful, charming jewelry!
Something your loved ones will always cherish… or for yourself, because self-love matters, and you deserve it.
Browse the entire brand at analuisa.com.
The sale is occurring right now- get 15% off sitewide right now, with codes automatically applied for you at checkout.
Michael Bold
From Ana Luisa's new release, the Michael Bold bracelet is everything you need to make a simple yet resounding statement.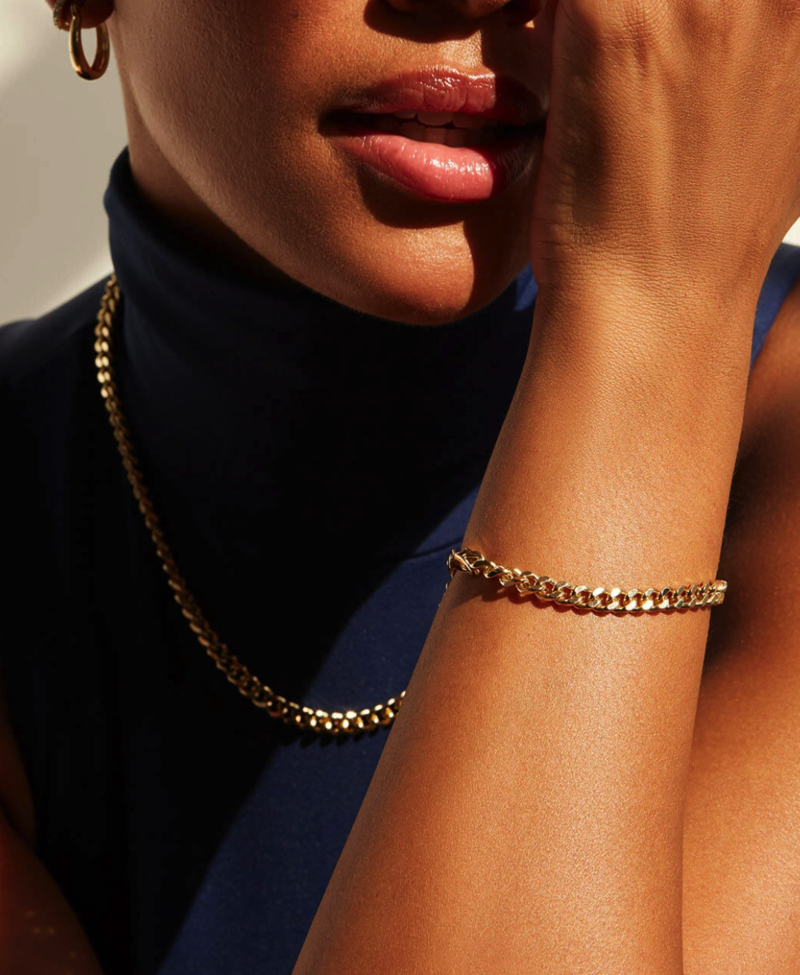 This curb chain bracelet is great in thickness without being overly done; it's not dainty, yet it is elegant. It is the perfect balance in terms of jewelry that creates an excellent stand-out bracelet.
The coloring is pale light-yellow gold that is solidly done. I love how it isn't of deep yellowy color and is truly a shade that's simplistic yet in touch with extravagance. It could almost be seen as a white-like gold, although the gold shade is very much visible. That's how much the color isn't a deep, dark yellowy shade- this is a definite premium grade, and quality you can trust in.
Michael Bold's attention to detail is delightfully crafted. Each beginning side of the gold bracelet are ended in a teardrop-like shape that connects to the clasp and clasp chain.
The teardrop attached to the clasp features a small, elegant carving in the letter "a". A wonderful symbolization of the brand is on there to make its mark.
On the other side, the teardrop attached to the clasp features a tiny embedded clear white gem, cubic zircona. This small design feature is just so adorable.
The clasp can be connected to an extender so this bracelet may work with all wrist sizes.The Michael Bold Chain magnificently integrates subtlety and simplicity with bold and empowering chains.
This chain is so sturdy- I am so impressed by its quality (like all Ana Luisa pieces). A favorite point of mine about this: you can't tangle this! You heard that right: the Michael Bold chain is designed so it's pretty much near impossible to get into a knot.
To shop the Michael Bold, click here. The 15% Off Valentine's sale applies for this!
The Michael Bold bracelet comes in two options: the small, which measures at 6.1″, and a large, which is soon to come!
From the color to the chain, and the details on the clasps, the Michael Bold looks just as it does in the below image; on the wrist, it absolutely is a stunner.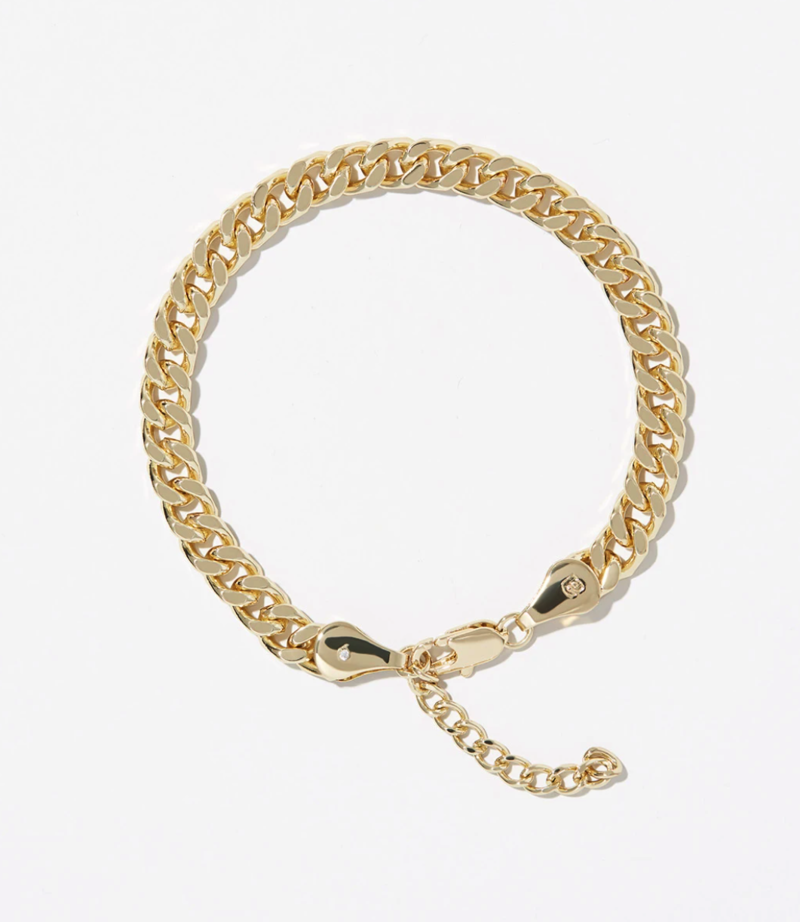 Meesh Necklace
I think the Meesh necklace might hold some power. Made with Gold on Brass, Green Aventurine, Cubic Zirconia, this special necklace carries a specific energy; green aventurine is said to be the "Stone of Opportunity" and is a pretty lucky stone, if not the luckiest.
Maybe crystal powers tickle your fancy or maybe not, the Meesh certainly does carry a beautiful meaning- and also a beautiful design.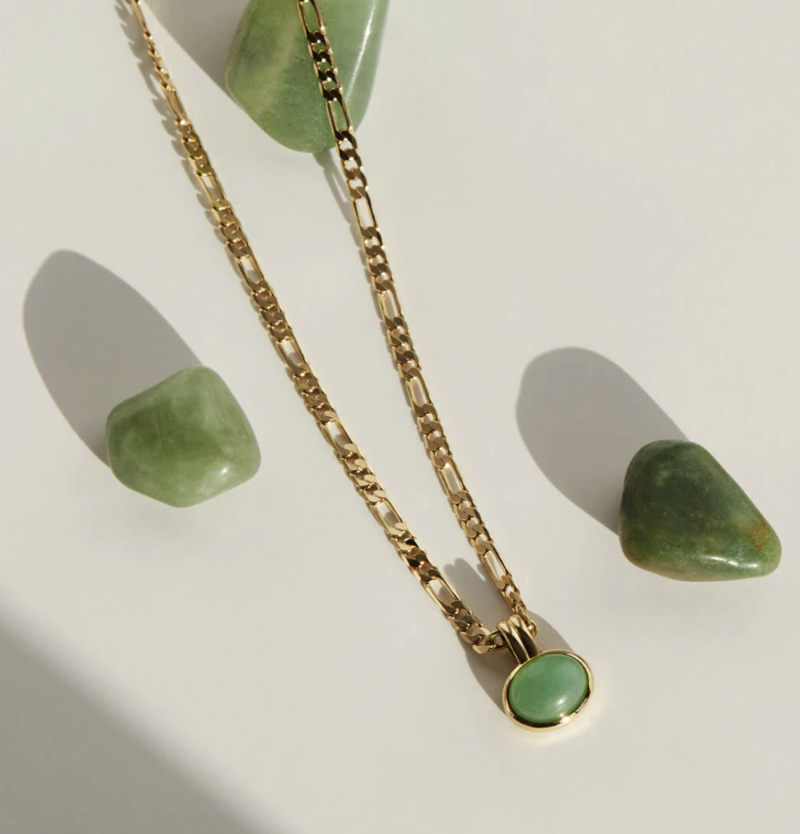 Designed in a collaboration with Michelle Choi, this necklace is to be one of your favorites.
The pendant features an oval, rounded crystal in a brilliant shade of medium-hue green. The gem is overall solid in color, giving it great placement upon the golden plate it is rested on. Ana Luisa states "due to the unique nature of precious stones, exact colors and patterns may vary slightly from the picture shown."
The bezel setting gives further attention to the green aventurine that is just captivating.
The Meesh features 14K Gold plating and Gold on Brass; the coloring is a light yet mature shade of a pretty daffodil yellow. I absolutely loved how it wasn't overly yellow, and will go along great with everyone.One of the things I liked about this necklace was the freedom of adjustment.
This length is incredibly versatile and offers a vast range for where to rest your crystal to your liking and your way. I was able to clasp it onto a collarbone length and even to a much lower style. Specific measurements are listed on the details with the length being 19.7″ (50 cm) and the pendant length to be 0.6″ (1.5 cm).
I also loved how the necklace was incredibly light without being overly light. It carries a certain weight to where you can comfortably feel the necklace- just the right amount.
The golden chain gives just enough contrast to the green aventurine, but not much to clash. Instead, they go well together flawlessly.
The chain is flat but well sized where it does notably shine in the light, and the pendant is a sure eye-catcher, radiating positive energy.
To shop the Meesh Necklace, click here. The 15% Off Valentine's sale applies for this!
The entrancing green crystal necklace is suitable for any time, anything, and anyone.
Whether you choose to dress up or dress down, the Meesh will match and compliment perfectly.
Pareja Ring
Elevated classics are always a must- and that includes a double band ring.
Why stack multiple rings uncomfortably on the same finger when you can have the Pareja? The Pareja ring will shock you with how well-crafted and stunning it is.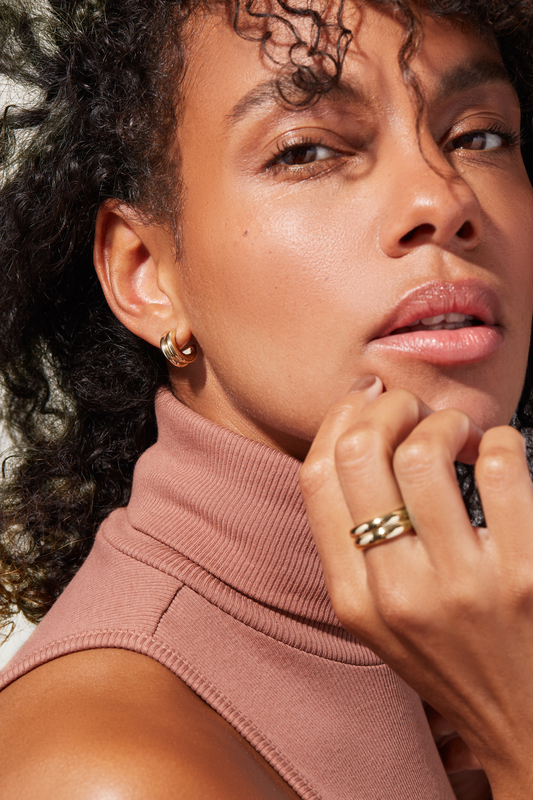 If you know some Spanish (¡Hola!), you know Pareja means "couple". And couple is right, with its unique two-ring amalgamate!
This gorgeous and distinctive ring is of a band dipped in 14K Gold with a fine polish texture. It's so smooth and well-rounded that you might just do a double-take at its perfection.
Details, details, details! I'm quite literally squealing in delight at the brilliant designs that are small yet appealing. Inside the Pareja ring are engraved words of "ana luisa" and the letter "a" in Ana Luisa's signature font. It is such a beautiful touch!
The ring carries a distinct weight that is on the light side, but this isn't cheaply light, which goes about to show its authenticity.
cAt first look, I really had to marvel at the quality. As I emphasize each time, quality is something Ana Luisa takes seriously- and they really are on top of the game with it.
I also love how this ring isn't over the top, yet still maintains its glamorous and majestic tone. It's simple yet unique and is a beautiful marriage of two different styles perfectly merged into this creation.
The photo may seem too alluring to be true- I mean, it looks no-flaw perfect– but it really is that grandly remarkable in person.
This is absolutely suitable for any occasion- wear it out every day, whether it be informal or formal, and it will sure to dazzle alongside you. This could also be worn alone as a statement ring, or paired with others for multiple layering.
I can say this wholeheartedly: any simple ring will pale in comparison to the Pareja, and I really mean it.
The two rounded bands are flawlessly connected together and are made as one. If there's a ring that's a stunner, it's for sure this one!
To shop the Pareja Ring, click here. The 15% Off Valentine's sale applies for this!
Looking to pair the Pareja? Match it with some gorgeous double band hoop earrings. (Psst… that's the Pagosa!)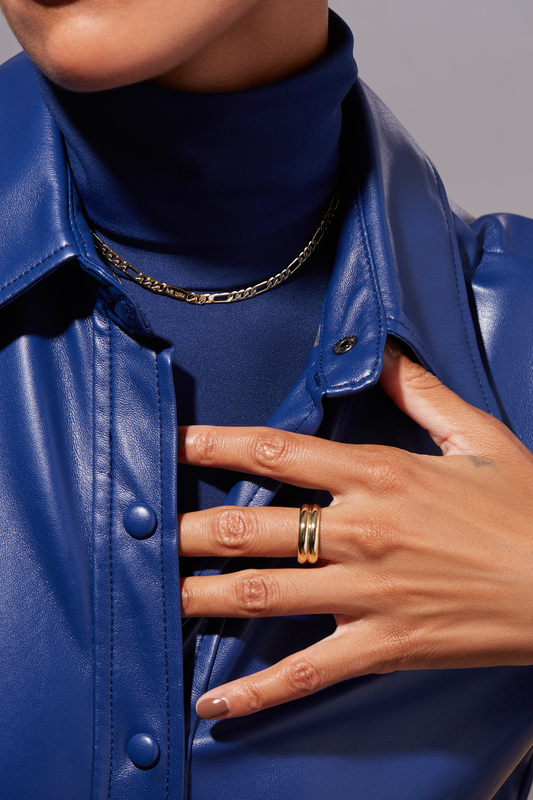 Know Your Ring Size
On a further note, I absolutely must include how Ana Luisa's ring measuring system might be one of the most helpful and accurate I've ever encountered.
A lot of us don't actually know our true ring sizes, but Ana Luisa's easy, 3-step simple calculation can do it all for you.
To visit the site, click here.
All you need are scissors (to cut the paper), a strip of paper, a ruler, and a pen. Simply cut a strip of paper with scissors, wrap the paper around your desired finger, make a mark with your pen, and measure with your ruler!
Ana Luisa advises that you "measure your ring size at the end of the day, when your finger is the largest, for the most accurate measurement" and to measure multiple times to make sure.
Then, enter your finger circumference in milimeter into the Ana Luisa Calculator, and voilà!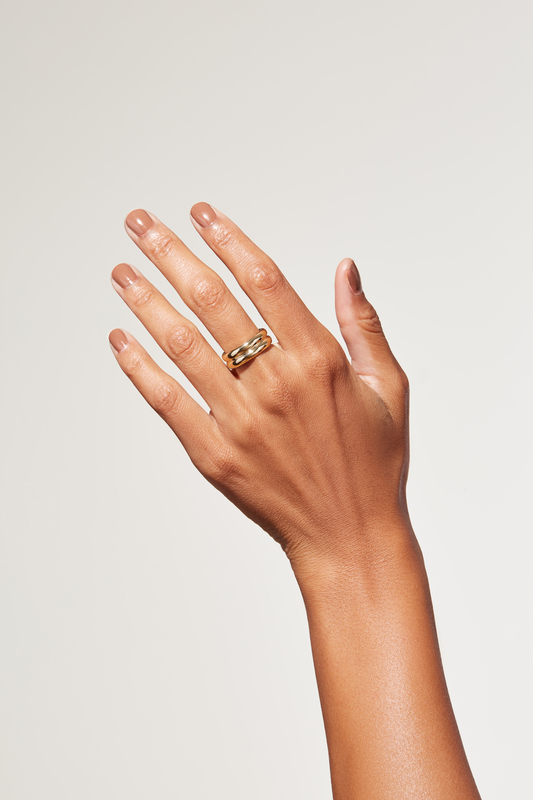 Willow Necklace
At first sight, the Willow Necklace will capture your heart.
In a minimalistic approach, two delicately dainty necklaces are perfectly layered upon each other, complimenting and having each other stand out.
Fashionistas know layering is the trick to everything- and this goes for accessories, too.
The first necklace is a ball chain, with a multitude of tiny ball beads that are in the same solid gold shade.
There is space in between each ball that is connected in a plainly mesmerizing chain, with is a brief stint that meets another ball in the next, a simple but attractive pattern.
The second layer is a coin pendant, which is overall very straight to the point. The size of an imprint of a pinkie, the coin is flat, perfectly round, and is of the same consistent gold hue. The surface of the coin pendant reflects, adding to the charm.
The two necklaces give each other enough space that is carefully calculated to give off the best look possible. It's not too close to one another yet not too far.
When on, the Willow necklace is incredibly lightweight and you won't feel any weighing down.
The Willow is certainly fancy, with no doubt, but you could even play it down by pairing it with simple white tops and classic jeans. It is so incredibly versatile that the rules don't exist.
When thinking of the Willow, a particular word comes to mind: dainty.
It's not fragile, it's not fierce, but it feels as though the necklace itself carries itself with poise.
To shop the Willow Necklace, click here. The 15% Off Valentine's sale applies for this!
Could you believe this is handcrafted? The quality is unbelievable, and the care inputted into the Willow shows right away.
If anything, the Willow is a must for starters to add to your growing collection. The layering necklace is timeless and very in the moment currently, and it wouldn't ever go out of style.
Stance on Sustainability
We love our earth, and Ana Luisa does, too.
They're taking the extra step forward to show their genuine care for sustainability into actions that are applaudable. I say, major points to add how ethical and sustainable efforts towards the jewelry pieces you'll wear every day will be with pride!
Quotes from Adam Bohbot and David Benayoun, Ana Luisa's founders
i. Carbon neutrality
"We have been carbon neutral since January 2020. In other terms, this means we offset 100% of the carbon emissions of our products from the sourcing of materials to the disposal of our pieces.
We transparently disclosed our carbon footprint methodology here.
To offset our carbon footprint, we partner with Cool Effect, a 501(c)(3) nonprofit in the San Francisco Bay area. More information about our commitment to the Massachusetts Tri-City Forest Project- [click here.]
This is only a first step and not an end in itself, and our goal for 2021 is to find ways to reduce our carbon emissions in the first place."
ii. Recycled Gold And Silver
"Our gold and silver come from post-consumer materials, electronic components, previously owned metals, materials from in-house recycling too. We're constantly working with our suppliers to try to increase the availability of recycled materials. There is just not a single option and solution for more sustainable jewelry.
Some businesses will use Fair-trade gold, some will support initiatives for responsible mining. We're currently looking into certifications and being part of organizations like the Responsible Jewellery Council."
iii. Going Further in 2021
"Our main focus in 2021 will be to dig into our alloys and plating standards to better understand how much more ethical and transparent we can go here.
Gold plating is very often a part of the jewelry process that is ultimately outsourced for cost reasons. We chose to work with jewelers that use in-house plating, rather than outsourcing to places with dubious working conditions.
We exclusively use Swarovski lab-grown diamonds (no mining required!), meaning their background is traceable and earth-friendly."
Fair Prices
Ana Luisa's pieces are honestly (and I really do mean this genuinely) such a deal because of the fair prices they ensure.
"By cutting out any middle men, we guarantee fair pricing on all our pieces," Ana Luisa states.
They also do not do luxury markups (although their pieces are pretty luxurious and spectacular), and pieces start at $39.
Most of all, Ana Luisa's pieces are not just your average jewelry- and this is something I really hope to emphasize. They truly are of exceptional quality, and just about any of the other golden necklaces, rings, and bracelets will have a hard time measuring up to Ana Luisa.
As their meticulously crafted pieces are so well done, Ana Luisa's jewelry is a serious investment that can last you forever.
Check out Ana Luisa's Gifts Under $79 here.

Basics (but much elevated) are essential to growing a collection. Check out the Essentials here.

Gift cards are available here; your special someone will truly love it.
How To Take Care
Caring for your jewelry the right way is important, but no need to worry- Ana Luisa will guide you right through it.
"Keep your jewelry away from perspiration, water, perfume and cosmetics. This is especially important for our gold-plated pieces which are more prone to oxidation and tarnishing.
Be sure to remove your jewelry before sleeping, showering/bathing, swimming or engaging in any other activity that is subject to friction or contact with moisture.
Store your jewelry in your original Ana Luisa pouch (and keep it in a cool, dry spot) to maintain luster and prolong life. If you need to clean your jewelry, only use a non-abrasive cotton or microfiber cloth."
Want to read more? Click here to read more about jewelry care down to the very specifics. It is so informative and thoughtful!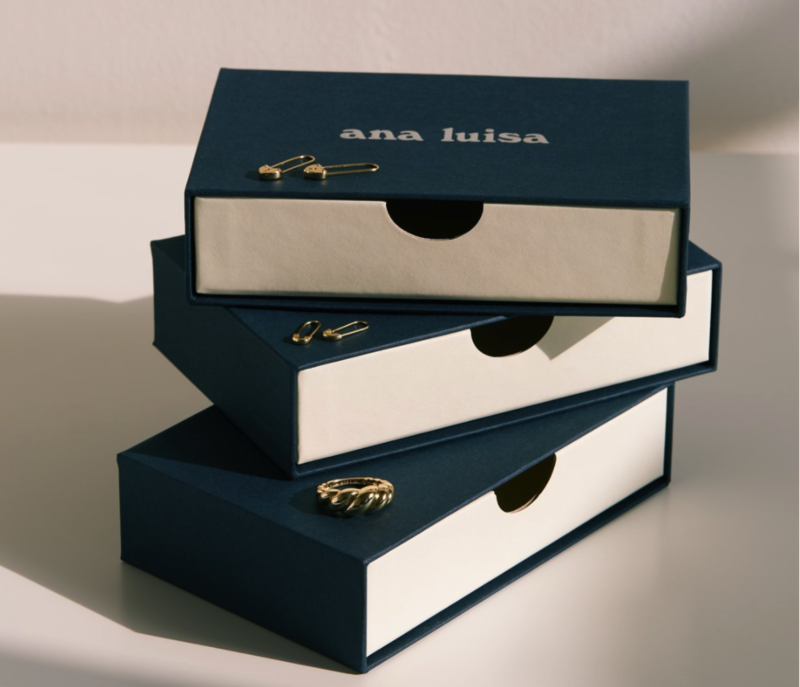 Valentine's Gifting
If you're on the lookout to gift a special someone (hey, that includes yourself- you're special!) thoughtful jewelry, Ana Luisa will help you make Valentine's Day easier with free shipping, 30-Day returns and exchanges, as well as an option to add a gift box and gift note.
The stunning jewelry on top of the lovely, thoughtful packaging will have your loved ones in absolute joy- and those pieces will be there forever.
Keep Up
With the most aesthetically pleasing jewelry visuals in lined grids, you'll love Ana Luisa's Instagram at @analuisany.
Are you a Pinterest user? You'll totally have to pin @analuisany to your accessories and jewelry board!
View this post on Instagram
Copyright for all visual content is (c) Roxana Bazgoneh.