Walking into that daunting beauty section of the department store, seeing customers staring at products like they know exactly what to look for, can be a challenge when you don't know much about skincare. Believe me, we were all there once.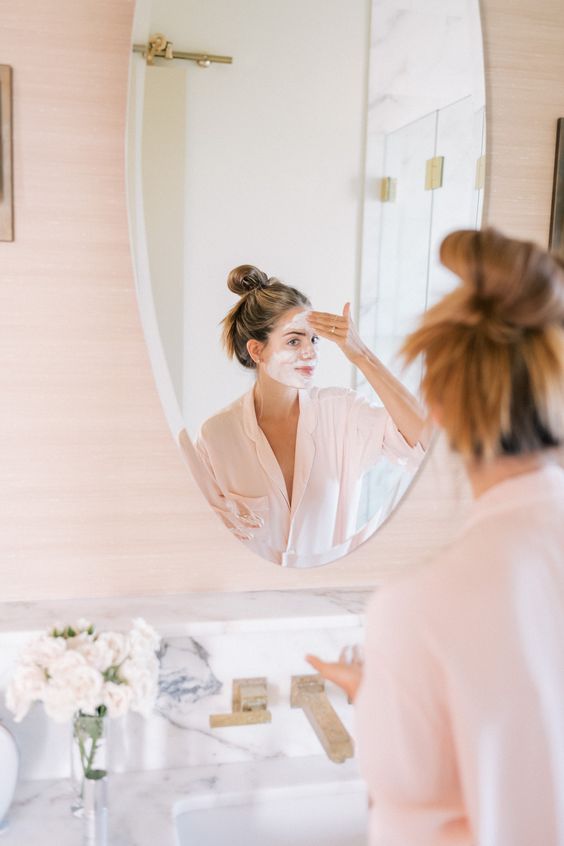 Finding a skincare routine is one thing, but finding one that works for you and your skin is a whole new mountain to climb. You want reliable products that improve your skin but aren't a waste of money. It is important to do research before giving in and buying products. Companies promise you that their product will give you the best skin, but instead sell you a small bottle of pure perfume.
A few friendly reminders
Adolescents and young adults are targeted differently; we don't need to add anti-wrinkle eye cream to our routine, but we do need to add products that reduce breakouts and acne because these are the years when we are most prone to it. It is important to know your skin type: oily, dry, sensitive, normal or combination. This will help you identify the products you need and weed out the ones you don't.
It's easy to go overboard and try to create an extremely complex skincare routine seeing the endless products in stores only to see influencers having masses of products lined up that they "can't live without." ". In reality, you only need a few good products that work for your skin rather than following a time-consuming routine.
The minimalist 3-step routine
The minimalist 3-step routine is a great routine to start with before embarking on a more complex routine tailored to your skin type. It gives the skin the necessary nutrients and ensures that it is clean without stripping it too much or overloading the skin with serum.
Cleanser, cleaning your face is a very important step in removing any dirt or grime from your face. If you wear makeup, this is an especially important step!
Moisturizing, using a moisturizer day and night helps prevent facial dryness and rejuvenates your skin.
SPF, adding SPF to your skincare routine is a step that many miss and need to do to protect your skin.
TIP: To simplify even more, some moisturizers include SPF in their product!
Other additions
Adding additional steps such as toners and serums is highly recommended. I also always do a face mask twice a week and alternate between Kiehl's Avocado Mask and the Freemans line of masks. Using face masks has always been part of my skincare routine, and I find that it always leaves my skin looking refreshed and healthy. It is important that if you use face masks, you find one that does not irritate the skin. I use clay masks over sheet masks quite often, as I have found that they cause inflammation and breakouts due to high levels of fragrance.
To combat skin issues like puffiness, I highly recommend investing in a rose quartz roller and pairing it with a serum or cream to reduce puffiness. The jade rollers warm the skin on contact while the rose quartz cools it. Remember: if you use this method, learn how to handle a facial roller properly and only roll it upwards on your face!
If you suffer from blemishes or annoying pimples, a very common must-have product is Mario Badescu Drying Lotion. Pat the targeted area with a dab of this product and let it act all night and it dries it out. A product sent from angels!
Brands to discover
There are millions of companies out there, but which one should you buy? Considering potential liability, price and quality is tricky. Some brands have established themselves as relatively reliable in the beauty community. To get you started in the world of skincare, here are some highly recommended brands.
the ordinary
Neutrogena
drunk elephant
Cerave
Clinical
It's essential to remember that what works for someone else may not work for you, and vice versa. Our skins are different and may react differently to certain products. Skincare isn't just about what you put on your face, it involves other factors that play an important role in our skin, such as hormones and genetics. Don't be ashamed if a product recommended by a friend didn't work for you if it worked for your friend great! But again, your skin is not like theirs.
How long will it take?
Another key factor in developing a skincare routine is not thinking that once you have a skincare routine your skin will clear up overnight. Taking care of yourself and your skin means eating well, exercising, drinking enough water and taking care of your face. Just because you have a skincare routine now doesn't mean you're no longer prone to breakouts and bad skin days. It's a process: you have to let your skin heal and rebuild.
Product testing is actually where your skin is at its highest rash stage. If you push on products that your skin has never worn before, it can cause a reaction. Don't worry, just make sure you don't try a bunch of new products in one sitting and give each product time to work. Otherwise, you'll find yourself the next day with bad skin and the unanswered question…which product did this?
If you return to this beauty department, be sure to be prepared, search online for well-reviewed products that are recommended by dermatologists and specialists. Chances are there is someone in your household who might have a good recommendation for you. Remember never to buy products with a high level of fragrance, counterfeit brands or from stores that are not pharmacies, pharmacies, department stores or a chain beauty store like Sephora, ULTA or Mecca . Purchasing products intended for the skin from anywhere else that appear unsafe to use should not be purchased or used by the consumer.
No more freaking out when you see the word "Skincare". If you follow the 3-step routine and add your own twist to it, you'll have clear, healthy skin in no time.