Denim is one of those pieces that will always stay in style until the end of time. Feel free to mark my words on this.
Timeless and classic, but also often coming in cool stylish patterns and twists- jeans are most certainly a staple of our closets. I pretty much step out in jeans a few times a week, and I've become a denim enthusiast. The only problem? Finding jeans is, well, kind of hard.
The perfect jeans should be durable with high-quality fabric, look flattering when on, and of course, promote sustainability. Not to mention how it has to stand by the myriad of trends that go by quickly- meaning, a good timeless pair of jeans. I thought I could never find jeans that checked all the boxes- but like a dream, I found Nobody.
The best thing about Nobody Denim is that it's a true sturdy piece of investment for everyone. Whether you're searching for the right fit (calling all short people… yes, they do carry petite sizes!) or a pair of jeans that are in it for the long haul, you're in the right place if you're reading this.
Nobody Denim Will Transcend All
So, who's Nobody? Nobody Denim is a premium denim brand that will exceed all your expectations of what a good denim piece is- with the utmost stunning design and craftsmanship focused on sustainability.
"Born in 1999 in Melbourne, Australia, Nobody Denim has long been celebrated for making women feel more confident in their world and themselves. Designed from the details up, we believe style is as much about the attitude as it is about the purpose – constantly refining and defining," says Nobody Denim.
With a strong dosage of contemporary street style with effortlessly put-together femininity that exudes confidence, Nobody Denim is here to make a statement.
"We believe in the longevity of our country as much as that of our collections, which is why our longstanding commitment to ethical manufacturing principles offers a unique vision of responsible design."

-Nobody Denim
Shop Nobody Denim at nobodydenim.com.
The Classic Grey: A Vintage Modernity
Blue jeans are deemed the most classic, but I say add grey jeans to the list, too. The vintage-inspired yet contemporary style pairs fabulously with the rugged, monochromatic style of the Lou Jean.
"Inspired by the classics and embracing vintage modernity, the Lou Jean Crop Charcoal is a straight-leg profile offering the ultimate balance of heritage and modern. The perfect stance as a more relaxed take on the everyday jean," writes Nobody Denim.
Shop the Lou Jean Crop Charcoal here.
If you love looking put together without the hassle and looking like you're on top of your game minus all the stuffy formality, the Lou Jean is just right for you. With a flattering, lightly loose figure that flatters your legs and a gently distressed crop style, the Lou Jean makes you look just look like a fashionista.
The super-high rise waist makes it perfect to pair with a simple, easy tank or top, and the straight leg means you will be on top of the leg style trend that's been dominating the denim world lately.
Ankle crops can either play it all up or down, and, in this case, it's oh-so-casual without being too laid back. It's the perfect look that conveys a comfortable look- because comfort is key to practically anything.
The stormy grey color of the Lou Jean is vintage-inspired with a touch of modernity. By the waist, the grey color has some light touches of white and silver to give it some edge.
The waist is adorned with Antique Copper hardware, and the engraved button detail might just be my favorite. I love that Nobody Denim really puts in their all to the little things because that is really what makes their denim like nobody else.
The ankle crop features details such as the grinding at the hem with clean details. I have to say, I really am impressed with the expert level of distress at the ends of the jeans. You'll either find jeans that went way overboard with distressing or too little, and the Lou balances that perfectly.
Made of 100% Cotton, this rigid denim is here to last forever. I love the quality of the denim- it's absolutely evident from just a touch that it is a durable material. This feels just right with its medium weight and is a great staple piece for all seasons.
Styling these classic grey jeans are easy as can be. Above, the Lou Jean is styled with the Chelsea Long Sleeve Polo Slate- for a pair of kicks, Nobody suggests styling with "combat boots for an effortlessly edgy yet feminine look."
Petite People, Rejoice! Meet The Bessette
If you're 5'4 ft or under, you've probably struggled to find the right size of jeans. The tiny ones just simply don't work, and the regular ones definitely don't. Petite jeans that actually look good are hard to come by, but Nobody Denim is here to make life so much easier.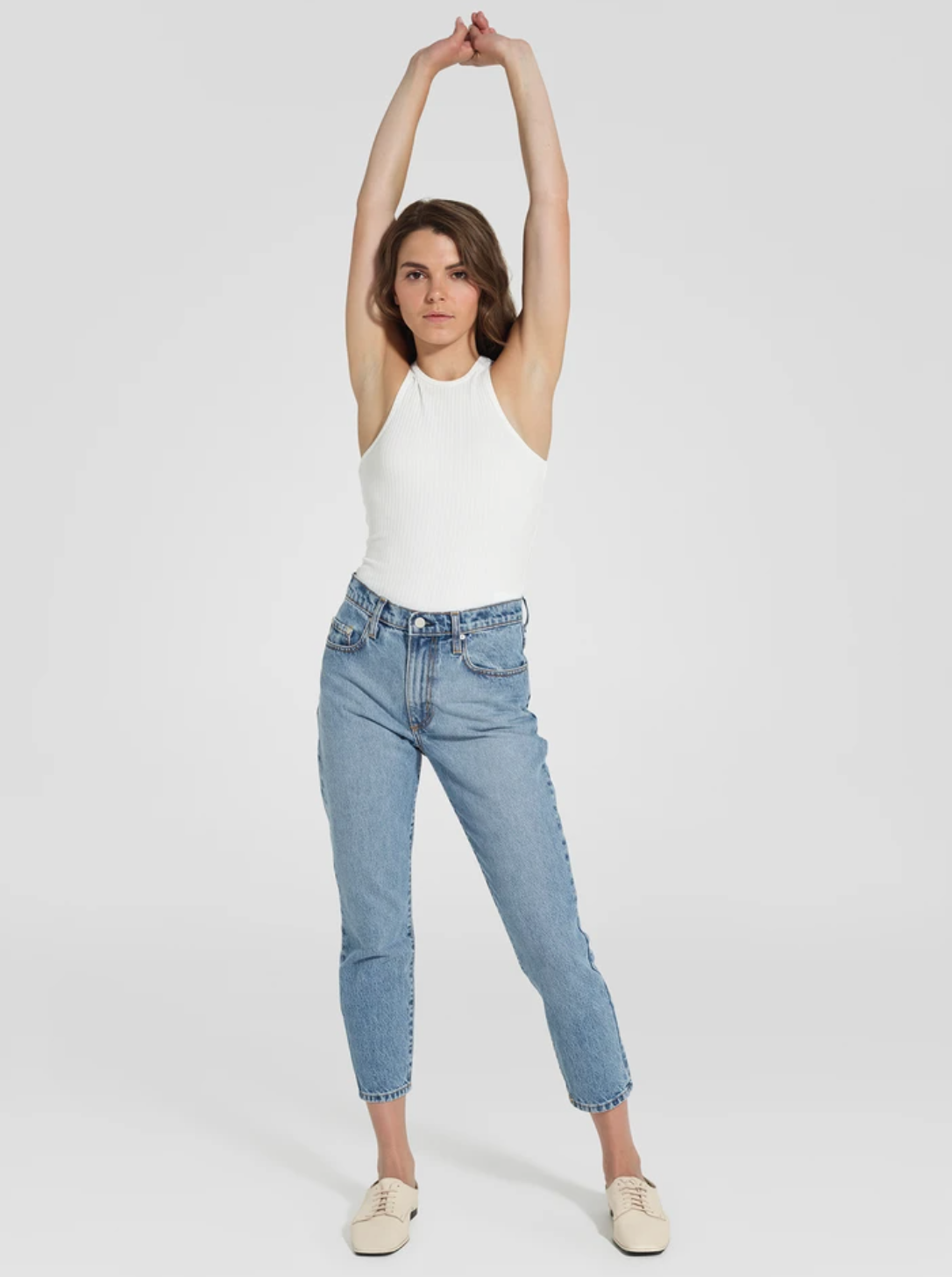 "Aptly named after muse Carolyn Bessette Kennedy – the Bessette Jean Petite Forever embraces simplicity with a high-rise, slim tapered leg jean and ankle length for the petite figure of 5″4′ or under. Crafted from a 100% cotton rigid denim, the Bessette will quickly become your favourite due to its timeless versatility," says Nobody Denim.
Shop the Bessette Jean Petite Forever here.
These high-rise jeans are the staple piece ever for those in search of petite denim. With a slim silhouette through the hip and thigh- think of it almost as Skinny Jeans 2.0- but a slim tapered leg at the end allows for some "roominess."
It's honestly so classic and refined. This pair of jeans may seem simple, but it's the kind of elevated, graceful simplicity that truly makes these jeans such a fashionable pair. Call it effortless but with an effort, if you will.
These jeans aren't tight but are close to being a very slim-fitting style compared to baggy mom jeans. I suppose you could consider this style reminiscent of skinny jeans-inspired mom jeans!
The Bessette Jeans are a light blue that isn't too pale nor too blue. I love the basic color, which makes it a great fit to pair with any top and accessories.
Featuring Japanese Brass and a silver-like engraved button, the Bessette includes sturdy belt loops all around the waist that makes belting possible. The hem details include: "Clean Hem, Clean Leg and Tobacco Stitching."
The back pockets of the jeans are large and roomy, and the right pocket features a stitching design in a navy blue color. This pop of detail is eye-catching in a subtle way.
The Bessette is most definitely made for all-time seasonal wear, but be sure to especially wear them in the autumn season. Made of 100% Cotton, there's nothing that does Rigid Denim better than this one. I love that it truly feels sturdy and strong because it doesn't feel flimsy whatsoever. Just because it's rigid doesn't mean it's not comfortable, though- the Bessette molds to your legs perfectly while making you feel your best.
Not sure what to wear with the Bessette? No worries. "Styled with our Luxe Rib Cutaway Tank in Natural, pair with anything from sneakers to boots for a timelessly chic feel," recommends Nobody Denim.
But really- the Bessette is so versatile and fashion-forward that it won't be difficult at all.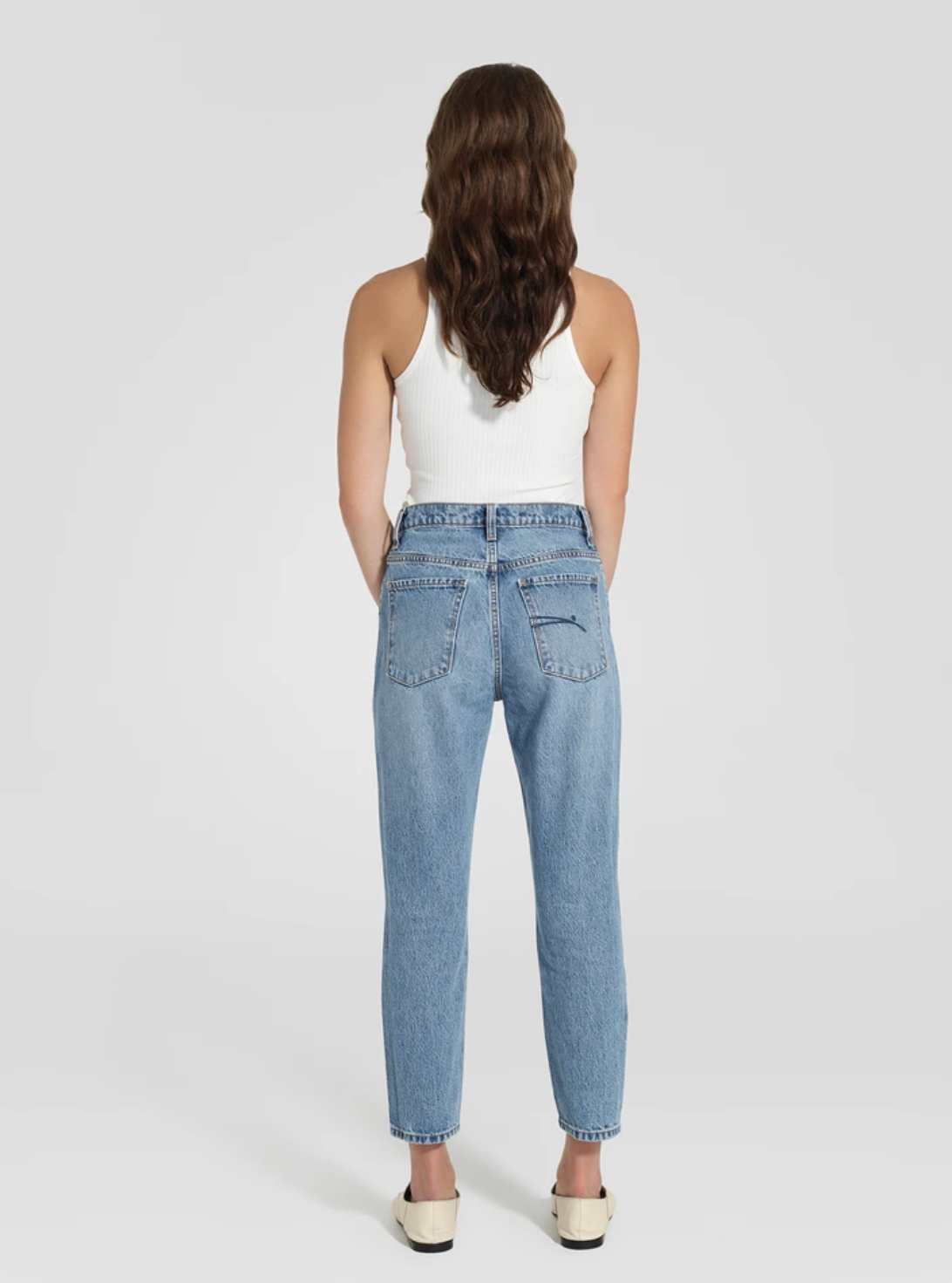 Not Only Summer But Seasonal Denim Shorts
Jeans are classic, but so are denim shorts. Especially now that we're in full swing of summer, denim shorts are absolutely a must-have. I personally found it harder than expected to find the perfect-fitting shorts- but the Stevie is here to save the day with its flattering silhouette, light distressing details, and light color.
Plus, did I mention? Summer may seem like the only time to ever wear denim shorts, but the Stevie shorts prove that denim shorts can be timelessly seasonal, too.
"Crafted from fully traceable rigid denim, the journey of this fabrication can be tracked from seed to store. The Stevie Shorts high rise and extra length make it a seasonal staple, completed with light distressing and a raw hem," writes Nobody Denim.
Shop the Stevie Short Ripple here.
The Stevie shorts are the one pair of jean shorts that you can really wear anywhere and everywhere. Coming in an A-line silhouette, the shorts cinch comfortably at the waist, giving it a defining look, and come down to a longer length comfortably.
One of the points I love most about the Stevie Shorts is how relaxed and loose the shorts overall are. It also has an extra length, making the denim shorts longer than most- which is really what makes these shorts so open to any circumstances with their more appropriate length. To give it some extra flair, I love folding up the ends slightly to add to the vintage style.
I love that the shorts don't have any gaping holes or distressing, but the ends of the shorts have light distressing. It doesn't feel overdone or under-done and has such a great balance.
Featuring light copper hardware and a brand-name-engraved button, the Stevie Short also comes with belt loops if you prefer to add some extra accessories. The back pockets are large and roomy and are on both sides.
The Stevie shorts genuinely have one of the best fabric feels ever. This denim is made of 100% Australian Cotton and doesn't feel uncomfortable whatsoever. Gone are the days of stiff, restrictive denim- Nobody Denim is the perfect intersection between rigid and accommodating, and is always comfortable to wear.
Adding onto the fabric, the denim shorts don't feel heavy at all- and aren't too lightweight, either, making it perfect to wear any season.
I love the light blue color of the Stevie shorts- they are naturally varying in color and has that carefree, lighthearted spirit. To style this piece, a simple white top will complete the look- but getting creative would also make an outfit truly pop with the Stevie!
Indigo Jeans Are Simply A Must
If you really want to make your denim game strong, indigo jeans are the way to go. The Hutton Jean Profound is navy-colored denim that appears nearly black with its midnight shade with a pop of modernity with its golden details.
"The classic straight leg is redefined with contemporary appeal. The Hutton sits higher on the waist with a Super High-Rise and a true straight leg finish from hip to hem. Dark Authentic Indigo with yellow contrast stitching is combined for a contemporary take on the classic indigo jean," writes Nobody Denim.
Shop the Hutton Jean Profound here.
What really makes the Hutton Jeans so special is the gold stitching; paired with the dark and deep indigo shade, it truly makes the piece look alluring.
The super high-rise waist makes it easier to show off the entire length of the jeans, and the straight leg outline is just right without being too tight or too loose. It's the perfect balance of fitting just right.
With a slightly longer inseam of 70cm (longer than the Petite or the Crop, to compare), the Hutton is the perfect length that elongates the legs in the best way possible. The visual effect of the high rise definitely helps in that department as well.
With details of Japanese Brass on the waist of the jeans, the silver-like color of the buttons and hardware make the denim feel so elevated and elegant.
Unlike the other jeans, the Hutton Jean does not have distressing, and rather features clean details and clean hem. The Hutton Jean makes you feel so sophisticated and is the perfect "formal" jeans to wear with any outfit without being or feeling overdressed. On top of it all, you get to be at comfort's best when it comes to jeans while feeling put together!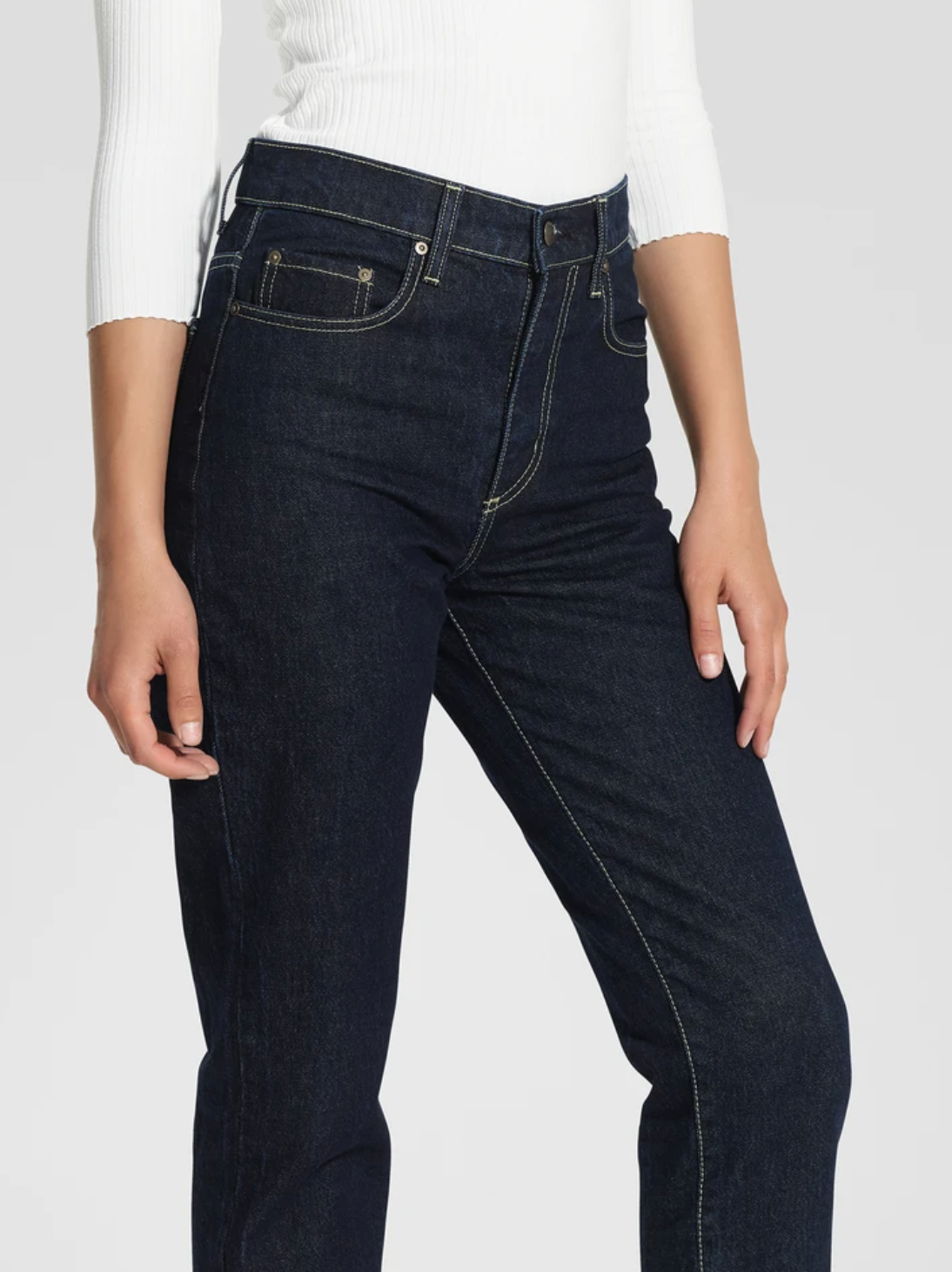 Like all others, this denim piece is made from 100% cotton and is rigid denim. I love the way it really isn't so thick, and it definitely is not lightweight or thin, either. Even Goldilocks would approve of this expert balance!
It's also very neat and intriguing to know that the Hutton Jeans feature denim sourced from Turkey, was garment assembled in Fiji, and was washed & finished in Melbourne, Australia.
Like all other jeans, the Hutton for sure is a part of Nobody Denim's extensive and impressive sustainability efforts- and as Nobody informs us, "This garment is manufactured in line with Ethical Clothing Australia accreditations and is ethically produced in Melbourne, Australia. Our jeans are manufactured carefully and sustainably to maximise resource efficiency and minimise wastage. Natural enzymes and fibres are used, creating a safer environment for you and the globe."
Sustainability Is A Core Key To Nobody
Most importantly, Nobody Denim is an investment and a style with purpose. Nobody Denim is completely transparent with us, truly proving to us that they positively exceed expectations with our trust.
"At Nobody Denim, Sustainable business is good business. Ethics are at the heart of what we do. We're on a journey to be a leading advocate of good business practice. We believe in a triple bottom line approach that sees people and the planet as integral to our decision-making and direction," writes Nobody Denim.
How does Nobody go about ensuring sustainability and ethics are a core key to the brand? First and foremost- local manufacturing. "Majority of [Nobody Denim's] denim garments [are manufactured] in Melbourne"- making it a true Australian brand- while "guaranteeing the maintenance of fair working conditions."
They also make sure that the workplace is completely ethical. "Accredited with Ethical Clothing Australia (ECA) and working closely with The Textile Clothing and Footwear Union of Australia (TCFUA) – Nobody Denim maintains an ethical workplace, provides fair wages and operates under Australian Worksafe approved conditions," Nobody Denim shares with us.
Nobody Denim loves our planet and takes into account the environment- with efforts at conserving water and becoming energy efficient. Their accomplishments span far, and the depth of the impact they are making is truly impressive. As for water, they have thus far:
"Since 2017 we've reduced water use by 50% in our stone washing and bleaching processes.
We're currently exploring other ways to save water, including steam recapture."
That's not all. Nobody Denim shares with us: "We support the Paris Agreement on climate change and aim to decarbonise our business and supply chain, aligning with the global goal to achieve net-zero emissions by 2050."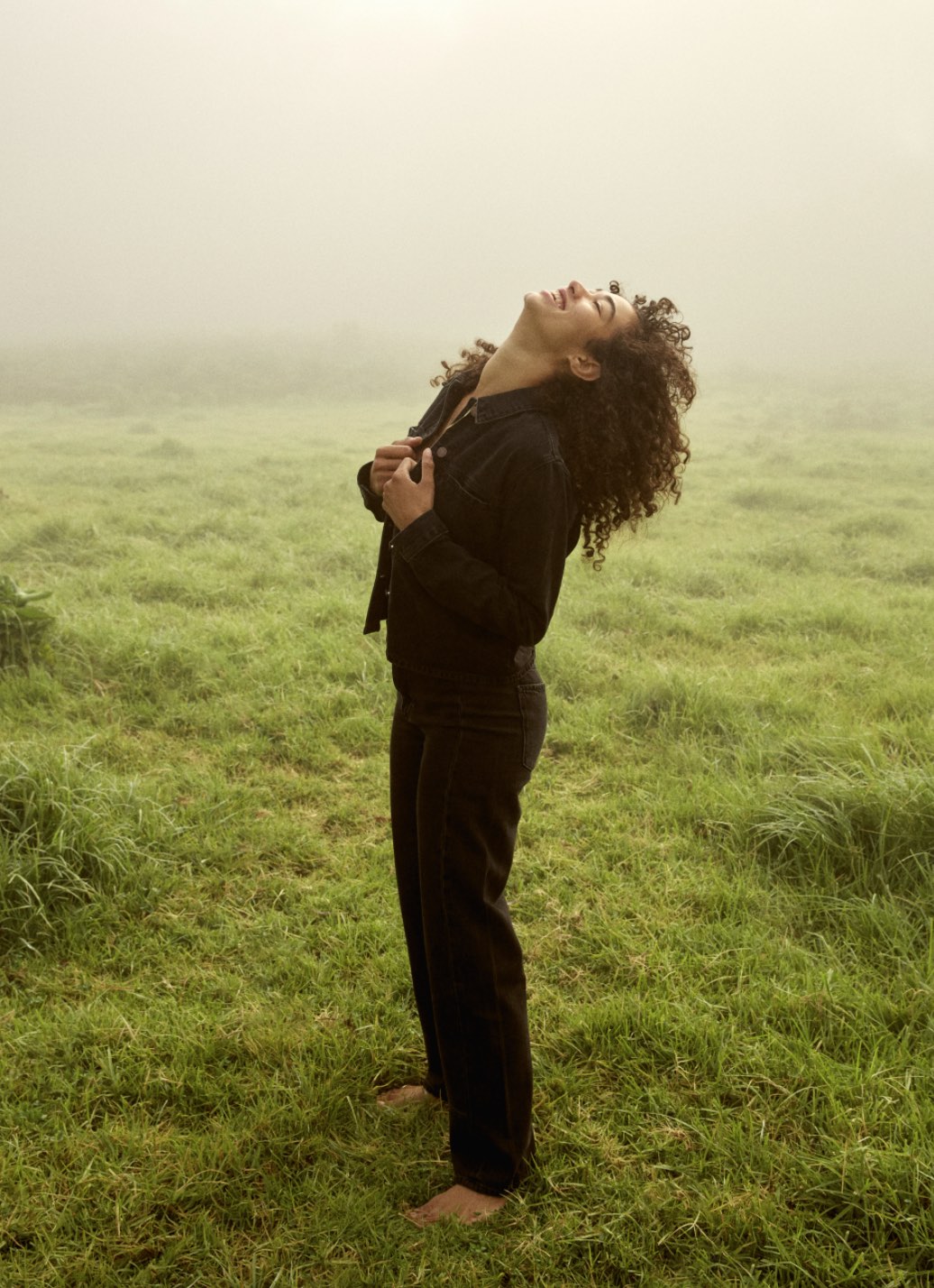 Plus, they make sure that whatever denim piece it is you have on, that it's good for you. "When sourcing raw materials we aim to avoid harsh chemicals and instead opt for safer options," writes Nobody Denim. "We're committed to reducing waste across the supply chain, from production to extending garment life cycle and giving "waste" a new life."
To learn more, visit Nobody Denim's Sustainability Page for more information.
FibreTrace x Nobody Denim
"Nobody Cares – we care about our impact, and we want to empower our team and customers to contribute to improved environmental production standards. We can't do this without the power of transparency," says Nobody Denim. "We are proud to partner with FibreTrace, an indestructible transparency technology that follows our product from raw fibre source right through to finished product."
What is FibreTrace? I'm glad you asked. According to Nobody, "FibreTrace technology is embedded into the raw cotton, and then through the power of blockchain technology is scanned at every stage throughout the supply chain right back to our Melbourne facility where our Nobody Denim designers and makers proudly make and launder the finished product just for you."
The first carbon positive denim is available here, and a number of the denim pieces I raved about above are a part of this, too. To learn more about FibreTrace, click here.
Keep Up With Nobody Denim
To keep up with Nobody, make sure to give them a follow on Instagram at @nobodydenim. For all the Pinterest users, you can add Nobody's pieces to your boards through @nobodydenim. You can also give Nobody Denim a thumbs up on Facebook- because if there's a denim brand to truly be obsessed over, it's this one!
This publication is a sponsored press article. Mentioned prices are accurate and items in stock as of the time of publication.
All images courtesy of Nobody Denim.