Who is a Koch girl? Koch girls run the world and embody what it means to be a joymaker and risktaker. There's no one that does empowerment and encouragement for young women better than Koch!
If you know Koch, you definitely know Ms. Nicole, too — the head of the brand with the warmest persona.
@shop_koch

What women & achievements inspire you? 💙 ##womenempowerment ##womenownbusiness ##shopkoch ##kochdallas ##womenshistorymonth ##fyp ##feellikeawoman ##grlpwr

♬ Man! I Feel Like A Woman! – Shania Twain
Oftentimes, Koch's official TikTok videos land on the For You Page algorithm and there you'll spot Ms. Nicole with her kind greetings and warm words. She truly embodies the mission statement of the Koch girls, and even through a fifteen-second video clip, you'll feel her warmth straightaway.
The Teen Magazine had the opportunity to chat with Ms. Nicole Mussleman, CEO of Koch, on everything Koch and what it stands for… alongside featuring some of our favorite Koch pieces ever. (Of course, the iconic Erica skort and Cece top make an appearance!)
The Creation of Koch
How did you come to create KOCH, and what was your journey like to create the brand of Joymakers and Risktakers?
I was raised to dream big. I believe that ordinary people can do extraordinary things and in order to accomplish great things you have to believe in yourself and the world at large.
By having a vision, using your voice and focusing on hopefulness, young women can change the world for good. With determination, resilience, and happiness – anything is possible.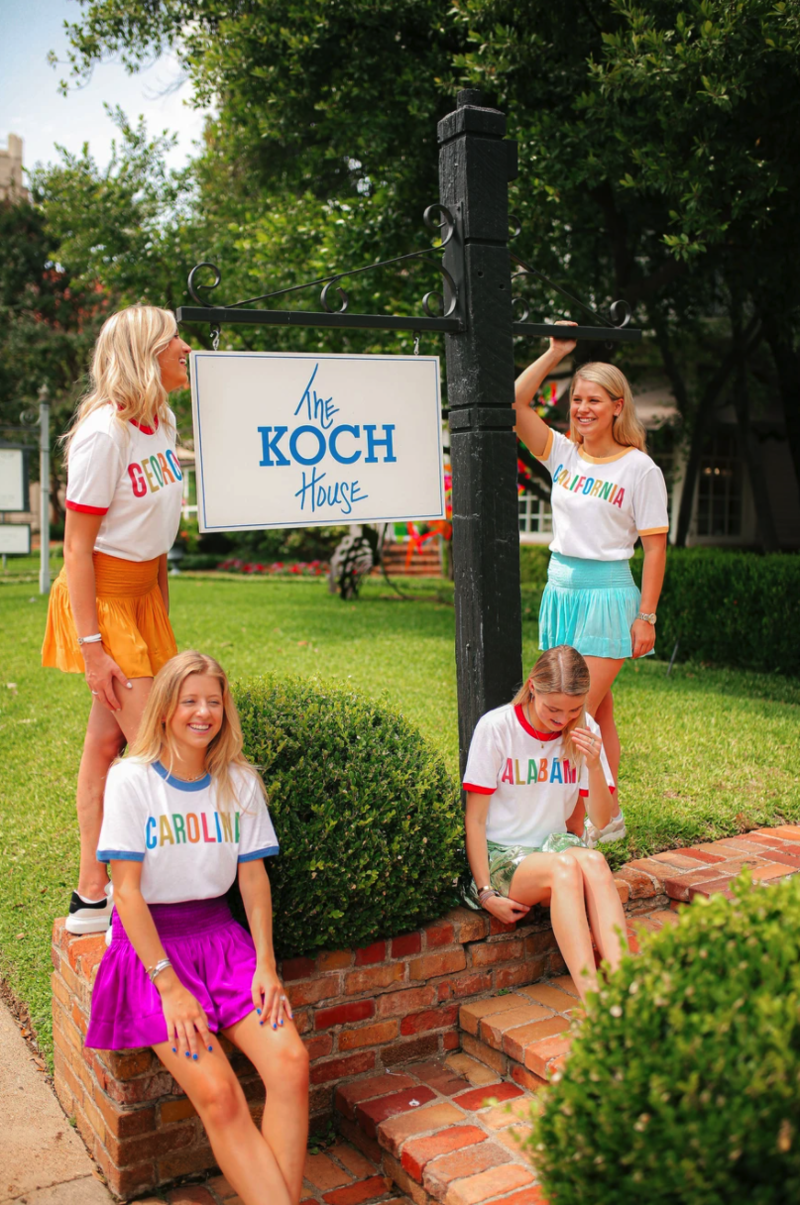 I believe this applies to my entrepreneurial journey with KOCH, and my journey through life as a whole. I am most proud of our mission, which is to get girls to make their mark on the world by being joymakers and risktakers.
I am not a product of the fashion world, and I wanted to create a place and community that imparts to young women that the girl in the clothing is more important that the clothing itself. I wanted to build a community that co-creates together and encourages people to be a force for good so that good could come to them.
By having a vision, using your voice and focusing on hopefulness, young women can change the world for good. With determination, resilience, and happiness – anything is possible.

– Nicole Mussleman, CEO & Founder of Koch
Joymaking and Risktaking
Koch's philosophy is all about "joymaking" and "risktaking." What do those things mean to you?
We believe that when you identify what brings you joy every day, you will usually find that it is on the other side of hard work and is made up moments that make you feel connected to the goodness and humanness of world. We also believe that when young women make friends with their fear of failure, and start with small acts of courage, they are on the road to feeling a sense of joy.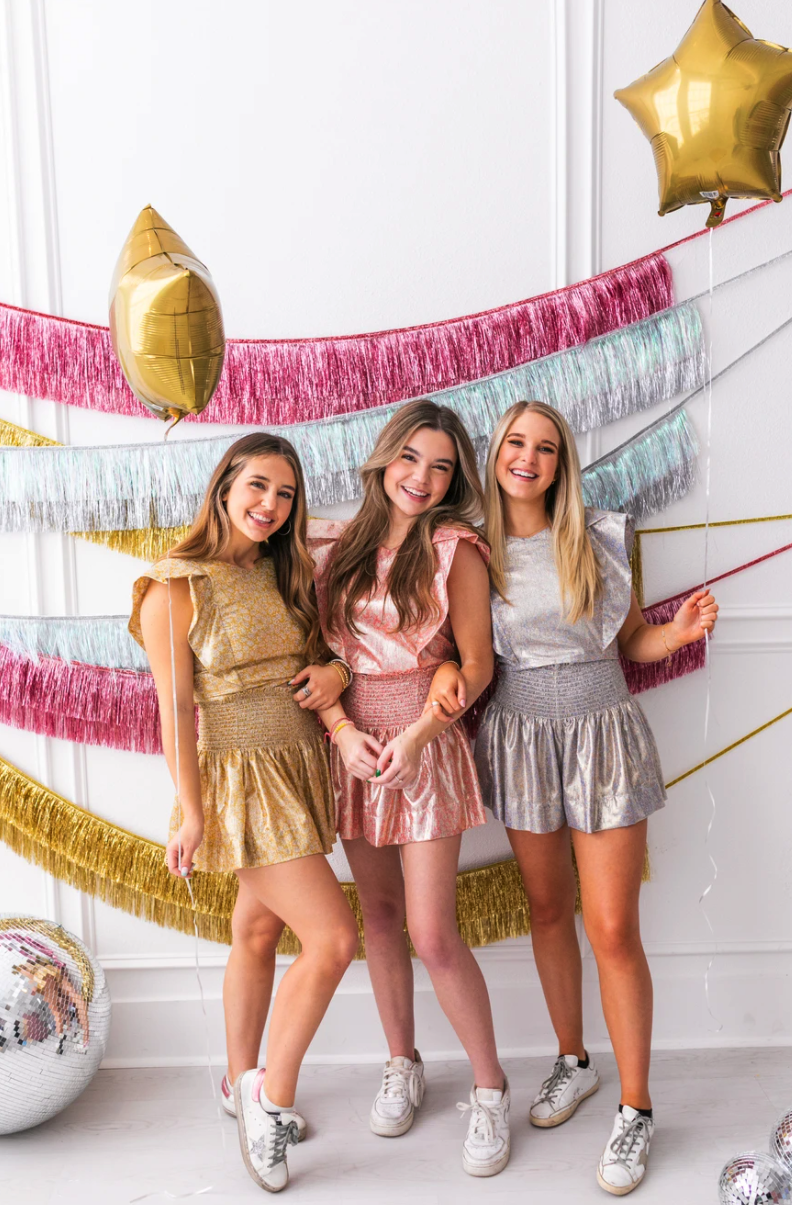 We celebrate girls taking risks, and it is important to encourage them to fail, laugh, and repeat. We are on a mission to get girls to push themselves out of their comfort zone and try new things.
We believe in girls and their ability to make things and build companies that will change the world. We are on a mission to get girls to make their mark on the world by being Joymakers and Risktakers.
Proud American-Made
Notably, Koch is American-made and is also consciously and sustainably made. Could you tell us more about this?
KOCH is made in America and we are proud to be part of the 2% of clothing made in the America.
We do it because it connects us to our community We also get to work with local workrooms who help produce our product with incredible workmanship and quality. We get to be in the workrooms with them overseeing everything and connecting with them as part of our family.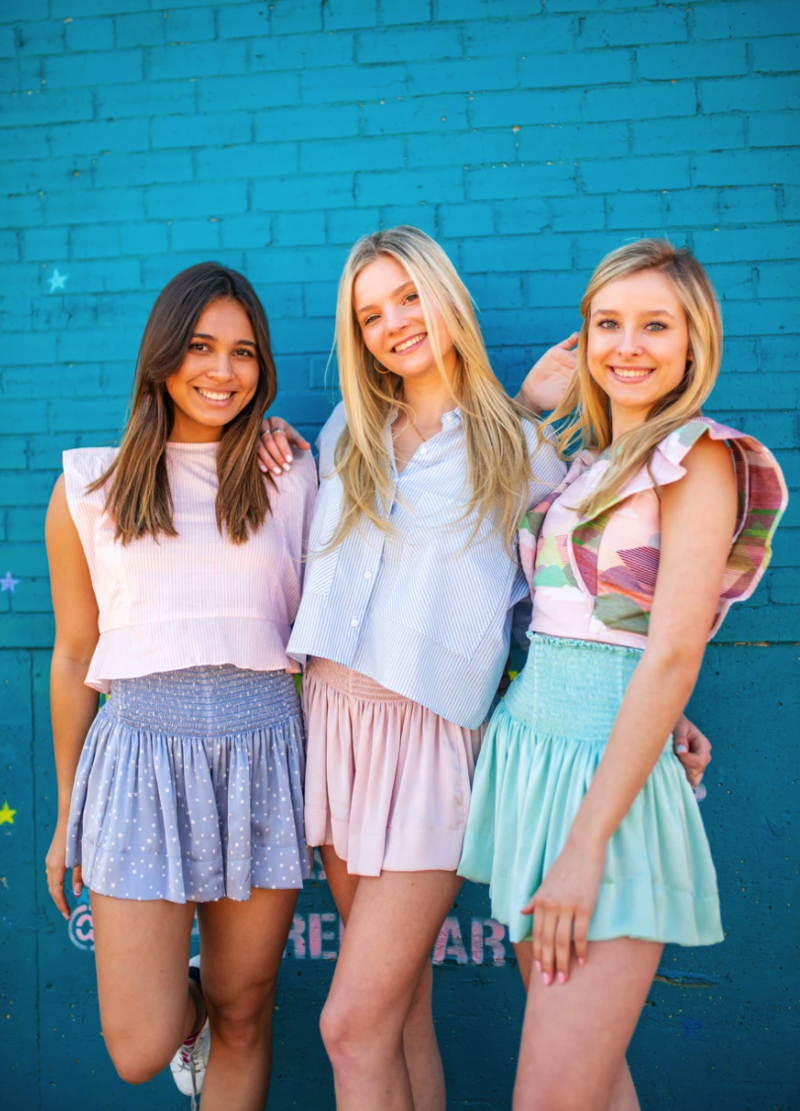 Every day, we feel lucky to be creating an American fashion brand with family-run factories. We believe it is important to be an integral part of the American economic engine and to ensure that we provide meaningful jobs to families within our community. It also allows us to create small batch production runs every week, bringing our customers something unique and new rather than mass-produced. It also helps create an infrastructure for other young entrepreneurs to tap into so they can build a company and brand right here in America, thereby repeating the cycle.
Frankly? It is hard for women to raise money, and I want to do my part to change that for the next generation of women in business.
View this post on Instagram
Currently, only 3% of venture capital money is infused in women-owned businesses. Most of all, being American-made allows us to create and produce an American-made product with people who believe in our mission to get girls to accomplish great things.
On Empowering: Advice From Nicole
Koch is the powerhouse for girls on empowering and encouraging- what would be a piece of advice you'd like to share with them?
I believe the key to life is to be curious and a life-long learner. A large part of my daily routine includes listening to podcasts, reading and writing in journal form.
My advice to young women is this:

Have your own voice. Know who you are.

Believe that life is always working for you, regardless of how things transpire throughout the day. Be willing to fail and understand that resilience is the chance to play the game again in the morning.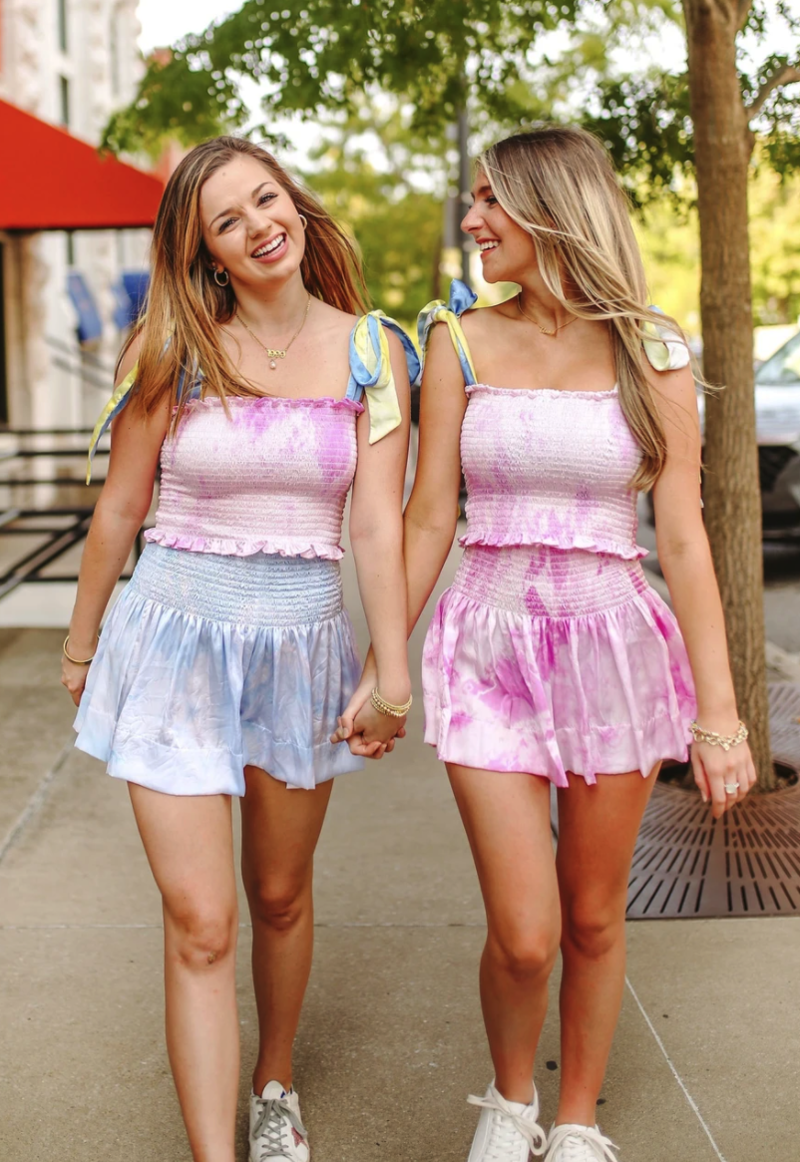 We all need to develop our individual plans and then work on our plans. You will need to do this over and over and dedicate yourself to something bigger than you.
It's crucial to be 100% in fully immerse yourself in your dreams and imagine a better future – and then go create it!
We all must hold on to the belief that we have the ability to create our own destiny – and that no one person or other obstacles can stop us. That we stand up for one another – despite our differences – and believe in each other.
It is our job to deliver hope to the people with whom we cross paths, especially when they are feeling hopeless. We have to believe in the spirit of Americans and humanity as a whole. No matter what kind of technology we have, the things that connect us today are no different than they were in 1890: love, loneliness, courage, loss, fear, laughter, and joy.
We are all connected, and we all have gifts from God that make us unique and can change the world if we utilize them in the proper way.
Thank you, Ms. Nicole, for your amazing interview! Now, we share some of the best pieces ever for the upcoming spring season…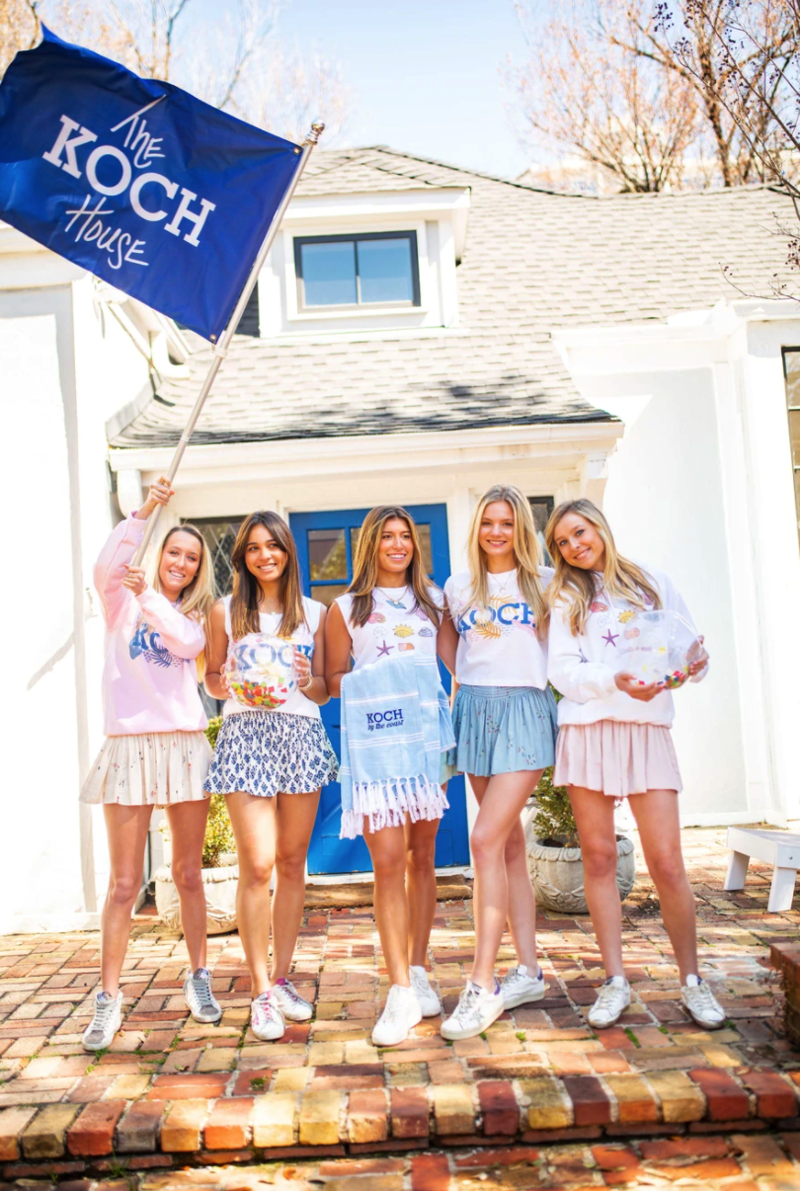 Koch's Spring 2021 Collection
Spring times call for bright, cheerful, and lovely pastel-hued pieces, and this is most definitely one of the expertise of Koch.
The warmer season brings in floral patterns done right, muted but brilliant shades of pastel in blue, pink, turquoise, and many more colors.
View this post on Instagram
With delightfully unique, comfortable, and dreamily feminine, Koch's Spring 2021 Collection is absolutely a blessing to our eyes.
Shop the Spring 2021 Collection here.
The Koch Girl Experience
Koch goes the extra mile to make your Koch Girl experience feel like no other. It's genuinely to fall in love with, and the extra thought and care that goes behind each one are heartfelt.
Every package is hand-wrapped safely, as seen in Koch's TikTok videos (@shop_koch) which makes it extra special.
@shop_koch

##ASMR pack an order from our new collection with us! 💌 ##asmrpackingorders ##packingorderswithme ##shopkoch ##kochdallas ##asmrpacking ##onlineorders ##fyp

♬ Put Your Records On – Ritt Momney
You also get to receive free Koch stickers that arrive with the box- with the positive and empowering statements of "Joymaker", "Risktaker", and of course, the iconic KOCH sticker (perfect to stick onto your laptop)!
Shop Koch at shopkoch.com
The Cotton Candy Titanium Erica Skirt
If you're a fan of Koch, you most definitely know what the Erica skirt is. It's so iconic that even from a distance that if you see it, you know it's Koch's ever-popular skort.
This spring season, Koch released the prettiest spring shade ever in cotton candy titanium, and this Erica skirt is giving me literal heart eyes.
In a lighthearted creamy pink (think somewhere along the lines of Pantone shades of Barely pink and Heavenly pink), if there's a skirt your springtime wardrobe needs, it for sure is this beautiful color.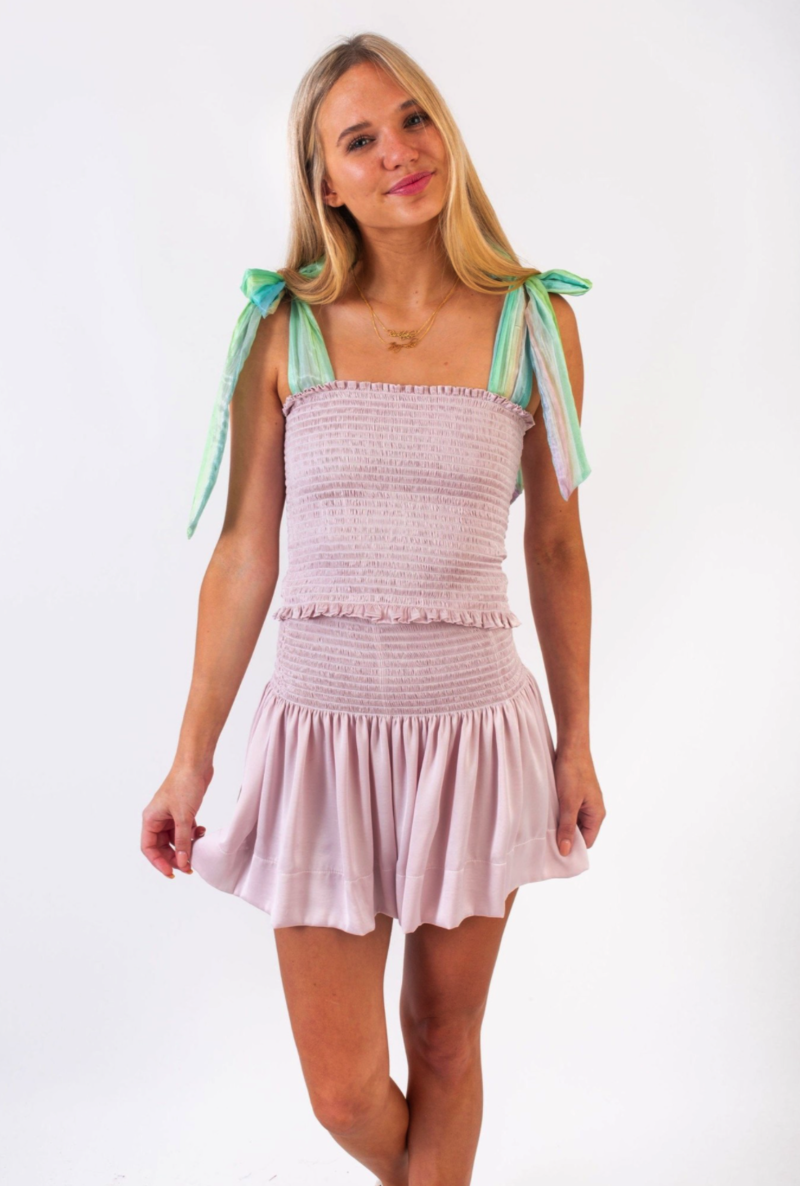 The Cotton Candy Titanium Erica is what we call warmer weather bliss- the satin-like, breezy skort is perfect for all springtime occasions. Brunch, picnics, anywhere and anything, this skirt is just so dreamy.
Starting off with a wide width of the shirred waist made of elastic, the skirt looks so flattering. In a total of twelve (!!) columns, each layer features vertical overlayered elastic that creates a stunning visual.
The elastic waist is about five inches long, and I absolutely love how it fits snug around, allowing the skirt to be flowy. It's also super secure, so you won't ever have to worry about slippy skirts.
The top of the skirt is made of intricate ruffle detail, which looks so adorable. It's the perfect little added touch. You could definitely pair your Erica skort with a cropped top to show off the details!
The skirt then flows out with a swingy style and is so gorgeous. I absolutely love how the skirt overlayers with each step you take and the beautiful sashay-ing, shimmering effect it gives.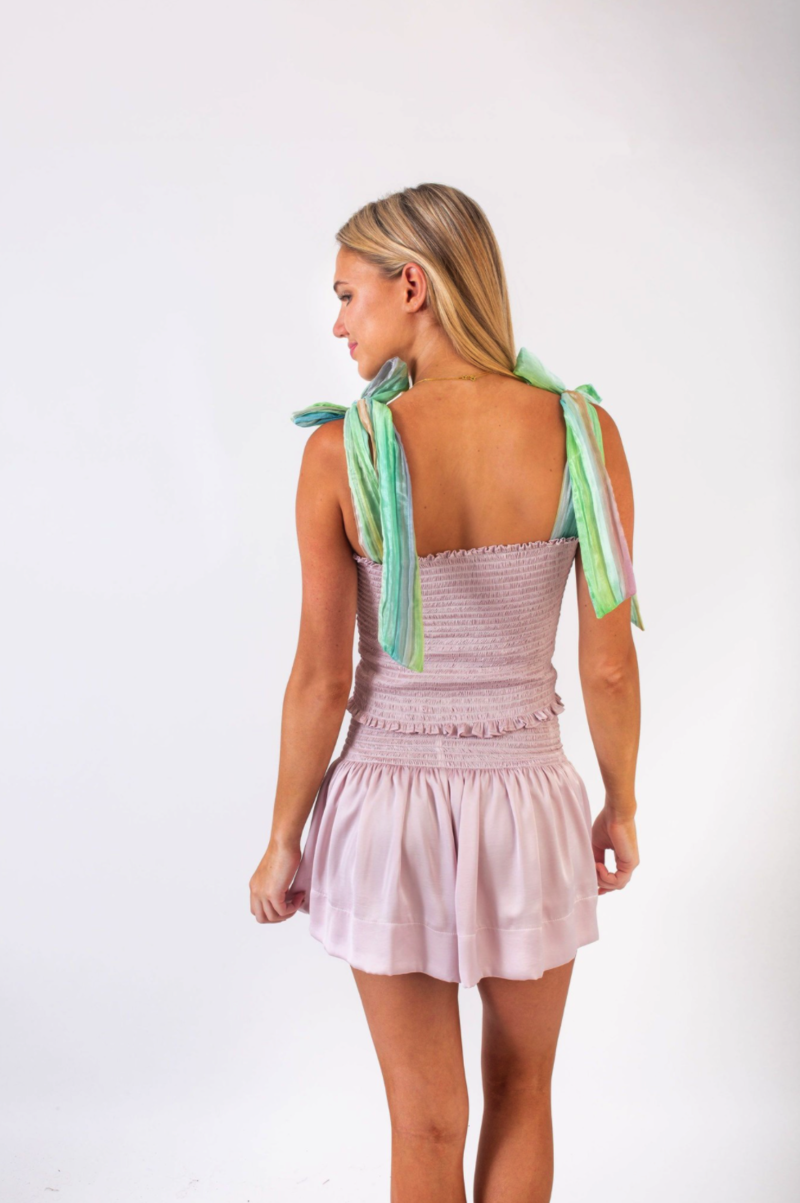 Also, shocker: this Erica skirt is technically a skirt but is actually a skort! That's right; inside the skirt is a loosely attached short in the same pink-champagne color that's not even noticeable at all.
These unnoticeable shorts are meant for you to move around freely. Perfect to go about unrestricted in your everyday routine of being a joymaker and risktaker!
Another thing I must mention is the amazing quality of this skirt. Specifically the fabric; it feels so silky and looks like satin. Made of 100% Polyester, the skirt fabric so smooth and cool to the touch.
I'm just totally admiring the Erica skirt. It's truly to obsess over!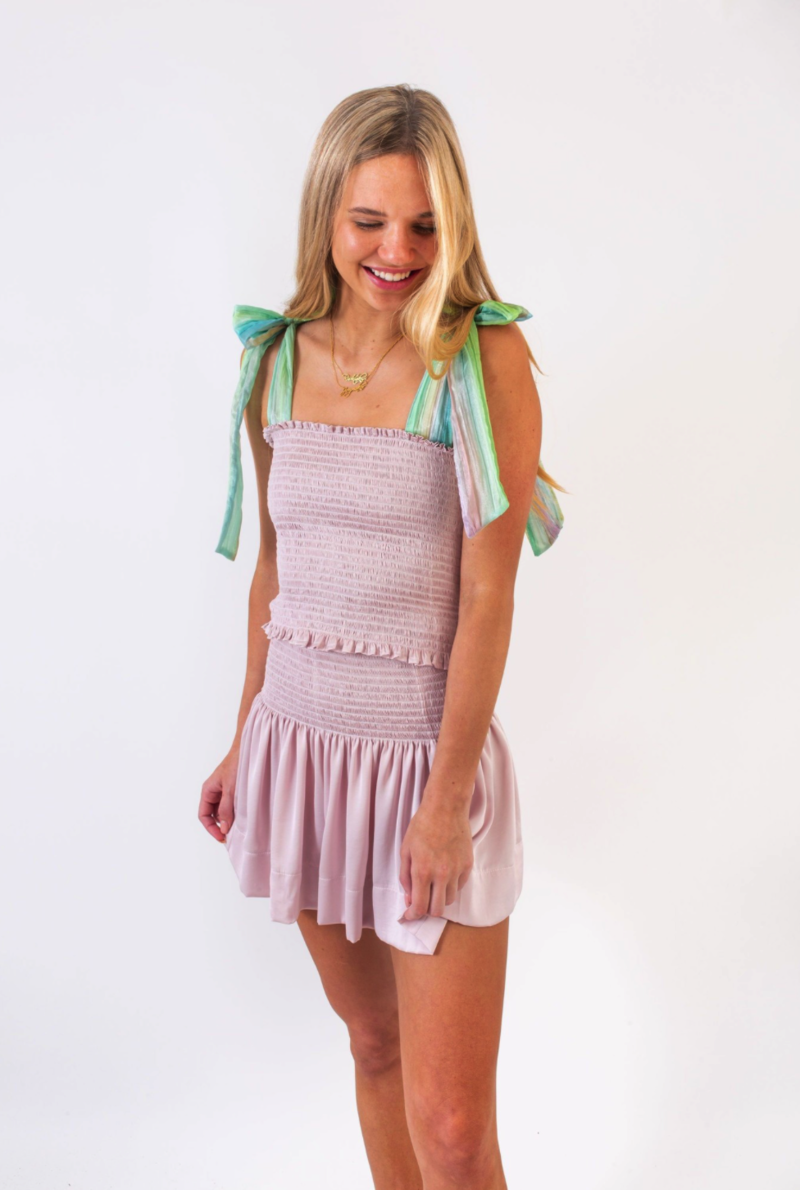 The length of this skirt is about halfway down your thigh. It's shorter, like a mini skirt, and I just love how it gives off summery vibes.
To care for this skirt, Koch advises that you "hand wash, hang to dry."
A lovely pastel-but-muted neutral, this color will complement any look. To style the Cotton Candy Titanium Erica skirt, match it with the matching Koch Cece Top or Cecelia Top Metallic Flower. There you have it… what a stunning look!
To shop the Cotton Candy Titanium Erica Skirt, click here!
The Titanium Polysatin Erica Skirt
In any wardrobe is a need for the perfect neutral base skirt- and the Titanium Polysatin Erica Skirt is exactly it. Move over, boring skirts, this is the perfect neutral!
This takes the iconic Erica skirt to a gorgeous shade of titanium. More grey in life, think of this color somewhere in between the lines of skate grey, chateau, and fiord. This lovely skirt highlights the light perfectly, giving off a mystique silver vibe- and I am totally here for it.
The color of this skirt makes it perfect for all-around seasonal wear. Not limited to a certain season, you can definitely wear this piece anytime you feel is the right moment!
Like the Cotton Candy Titanium skirt, this particular Erica too has a twelve-column shirred waist. It hugs around your waist perfectly and that elastic-waist moment here is style alone! To be frank, it doesn't even feel like it's a thick band because it's truly so comfortable. It also stretches and accommodates to your liking.
The waist here is also topped off with ruffle-layering. Definition of dainty details and fancy factors, this is perfect to show off with a tucked-in top or a cropped top.
After the waist section is the ever-flowy, signature Koch-style skirt that is so unconfined and elegant. Every movement and twirl is a moment with the lovely Erica skirt!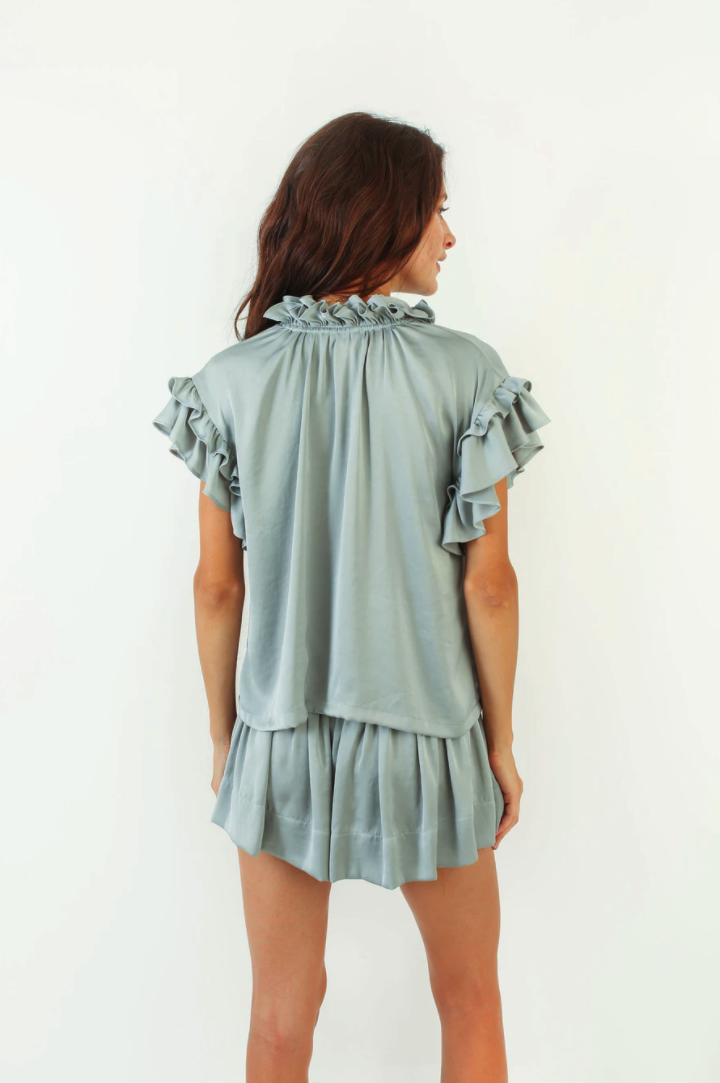 Also attached here are the subtle shorts.
Since the fabric doesn't weigh you down, the flowy skirt just pirouettes so simply and easily. I most definitely have to mention how lightweight these pieces are- that is a bonus we all appreciate. Just purely dazzling!
The fabric of the Titanium Polysatin Erica skirt is also 100% polyester. The amazing feel of the fabric is hard to capture in words, but think glossy but muted, and a lustrous, satin-like material. I can say with confidence that Koch's skirts feel like no other!
The length of this skirt is also briefer and is a mini-skort. It's like a little shimmery (but solid, all-over colored) skater skirt!
To care for the Erica skirt, Koch recommends to "hand wash, hang dry."
You can't go wrong when styling this slate grey skirt- the perfect base for anytime, anywhere. To match this piece with a top from Koch, go for the Pixie Top in Titanium Polysatin or the Bret Top in the same color. You can always mix and match with the iconic Cece tops as well!
To shop the Titanium Polysatin Erica Skirt, click here!
The Cowboy Caviar Cece Top
This gorgeous Cece top is limited edition- and it is absolutely breathtaking.
I'm all for the summer-vibes radiating Cece top! Featuring a funky, groovy pattern of neon-bright lobsters, cherries, artwork snippets, and various playful shapes, the Cowboy Caviar print takes design to a new level. All the eye-catching vibrant shades of the rainbow are present here, which I just adore.
Even when on, the beautiful colors are distinctly present. The base of white of this Cece top completes the look all-around.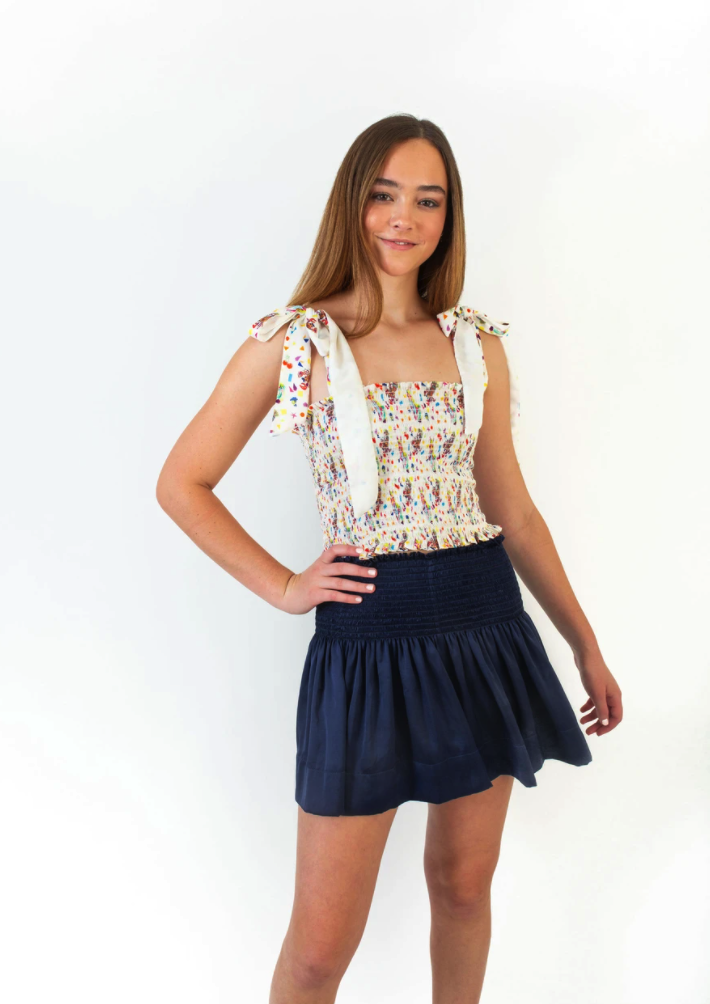 The Cece top is mainly of a shirred tube top which is connected with tie-on fabric straps. Each shoulder has two on both the front and back which you can tie together to create a ribbon of your choice- and also to your liking. You've got the creative freedom here!
Each ribbon is of a lightweight satin-like fabric that feels so silky. The front side of the ribbon features the vibrant design and the backside a neutral white. This makes it perfect for you to tie the ribbon to switch it up a bit!
I loved how the ribbon tie straps gave it the feel of a wrapped present. So pretty, and so unique!
The main bodice is the shirred tube top. It is cropped, which makes it perfect to pair with any of your favorite bottoms.
The top and bottom of the tube top feature the ruffled overlayered design featured on top of the Erica skirts. It's so cute and balances the overall look so well.
The shirred fabric of the elastic torso is incredibly secure. Unlike other tube tops, this one holds on tight and of course, has the backing of the tie-on straps on the shoulders.
The shirred style is like the one we saw in the waist of the Erica skirts, and the design is just so gorgeous. When on, the specks of colorful Cowboy Caviar print are visible throughout the weaved-like pattern of the tube top!
The back is exactly the same, and the eclectic, one-of-a-kind pattern continues throughout. This one is all about having fun- and The Koch Girls note, "This fun top is perfect for a night out with the girls!"
The fabric of this top is made of 100% Polysatin. The shirred tube top does not feel scratchy at all and is definitely slip-proof. I just really appreciate how steady and firm it stays on- as for tube tops, that is most definitely notable.
To care for this top, Koch says to "hand wash, hang dry."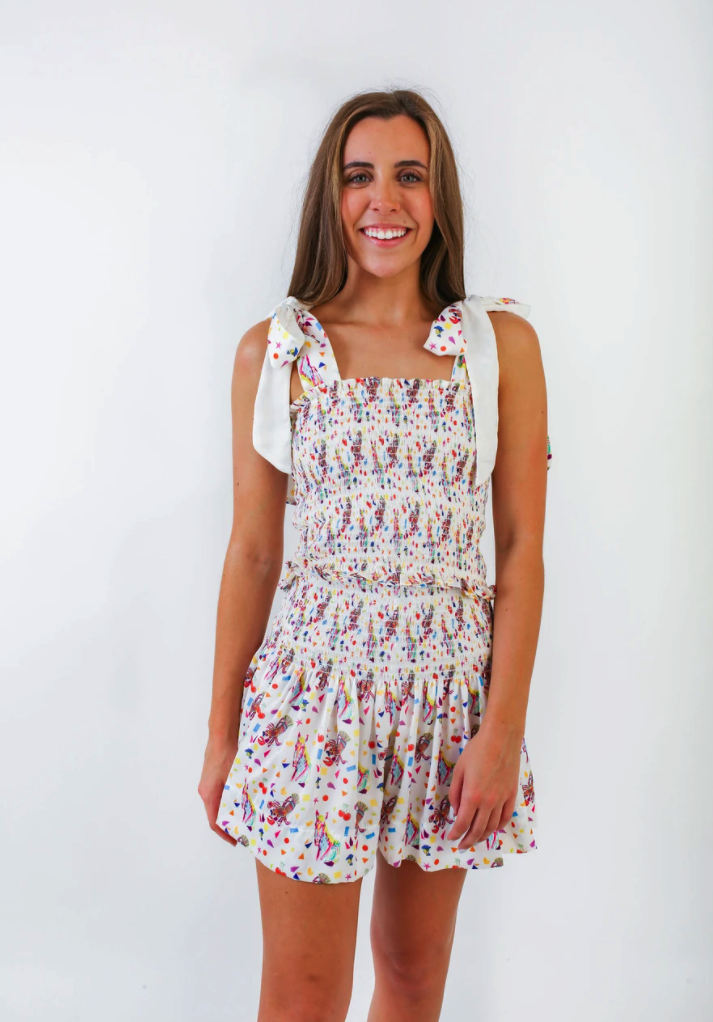 The Cowboy Caviar Cece Top covers the majority of your torso and leaves slight room for a high-waisted bottom.
The multi-patterned top is perfect to pair with a neutral, solid bottom- or a matching Cowboy Caviar Erica skirt to give a coordinated ensemble! Top it off with an adorable Koch Joymaker hat.
To shop the Cowboy Caviar Limited Edition Cece Top, click here!
Nicole's Notes
CEO and Founder Nicole Mussleman also has a blog, which you can access through the Koch website.
I'm truly in awe of the words shared with us on Nicole's Notes; the small stories Ms. Nicole shares with her from her own experiences and occurrences in her life, as well as doses of empowering quotes are truly heartwarming. That's not all- she even shares her favorite podcasts of the week!
View this post on Instagram
Nicole's Notes are soul food and take Koch's mission statement to action through words you should hear.
To read Nicole's Notes, click here.
Visit The Koch House
If you happen to be in Dallas, be sure to stop by The Koch House!
The location can be found at 2600 Fairmount Street, Dallas Texas, 75201.
View this post on Instagram
Hours are as follows:

Monday-Friday 10:00 AM – 5:00 PM

Saturday 11:00 AM – 2:00 PM
if you need to reach The Koch House, give them a call at 214-964-0933.
Keep Up
Go follow Koch on Instagram at @shop_koch.
Koch's official TikTok account can be found at @shop_koch, which often hosts frequent giveaways. Be sure to check them out!
View this post on Instagram