Finding the perfect skincare fit can be confusing sometimes. Farmacy Beauty makes it simple, just for you.
With farmer-cultivated, scientist-activated products, Famacy brings on the perfect collision of nature and science. They are also sustainable and conscious- with their phrase "respect our roots". All in all, Farmacy is a brand that will wow you on every aspect.
View this post on Instagram
Let's get right into talking about the natural, clean products to be absolutely obsessed with- this is your sign to add Farmacy to your skincare must-have list.
shop Farmacy at farmacybeauty.com
Whipped Greens Makes Your Face Fresh
You know that refreshing feeling you get after cleansing your skin? That's exactly what Whipped Greens feels like.
Cleansers can be harsh for your skin, and especially since it's a skincare product we use every day, you want to ensure it's safe enough for your skin. Whipped Greens is a soap-free, oil-free, and pH-balanced foaming face cleanser that is perfectly suitable for your everyday regime.
shop the Whipped Greens here.
Cleansers are to wipe away the grime, dirt, oil, and nasties we encounter throughout our day- and Whipped Greens effectively takes them away without irritating your skin or over-stripping it. (Some natural oils are good for our skin- so you don't want to get rid of everything!)
This is perfect for those to use with combination or oily skin, and I found that it worked perfectly for normal/sensitive skin, too. It felt very relaxing and pure. I love how gentle it is, all while effectively exfoliating and ridding of the impurities.
Want to cleanse your face the right way? Whipped Greens can help control your acne and breakouts and keep your face free of the unwanted.
Want to know the secret to how? It's all in the ingredients.
Whipped Greens is prominent of moringa and papaya- the moringa is meant to remove those impurities and give your face the refreshing, oh-so-clean feel.
Papaya enzyme is capable of cleaning out the pores and giving your face a thorough wash. It also gives you a very soft exfoliation that won't irritate nor harm your skin.
This also includes green clay, which "gently removes surface buildup without stripping skin", and sodium PCA, which "helps maintain skin hydration and promotes a supple, healthy-looking appearance."
The Whipped Greens comes in a pastel, earthy green color, which I absolutely love. It has a nice texture to it when applying to your face, and feels mild.
I also love the light scent that this cleanser has- it's such a delightful, fruity smell that is not overpowering at all. It's subtle and such a great touch.
To use the Whipped Greens, apply this every morning and night to your everyday skincare routine. Farmacy advises that you "avoid direct contact with eyes" and possibly use "as a second cleanse following Green Clean Makeup Removing Cleansing Balm."
When you rub it in, it kind of feels like a medium-thick white cream- which then makes a thick, foamy lather after applied to fave with water mixture. It's kind of frothy and goes along so smoothly along your skin. It's well-fit to give your face the thorough wash that you're looking for!
A little goes a long way because this will build up a great amount of lather.
When done, pat dry swiftly with a towel, and you'll be left feeling refreshed, clean, and hydrated!
View this post on Instagram
Also, I definitely have to mention: I am so impressed but how big and full this cleanser is! This is definitely going to last you a long time, and you'll just adore that feeling you get after a cleansing face wash.
Psst… this product is also safe and completely clean! No toxic ingredients are here. Whipped Greens is paraben-free, formaldehyde donor-free, synthetic fragrance-free, phthalate-free, mineral oil-free, and cruelty-free.
I love that Farmacy is taking a big step forward in being sustainable. The tube is composed of recycled post-consumer resin!
Cheer Up, Because Bye Dull Eyes
Waking up to dull, tired eyes can be, well, tiresome. It's time to say goodbye to that, because Farmacy's cherry-infused, vitamin C eye cream is here to take care of you.
When I tell you eye creams are a must in a skincare routine, I truly mean it. Once you step into the game of eye cream, you won't be able to step back out because it is so essential and crucial!
The skin around your eyes needs care too, and because they're extra sensitive, you want to give them extra care. When it comes to that, Farmacy's Cheer Up eye cream is one of the best in the game!
shop the Cheer Up here.
The Cheer Up is filled with vitamin C that will give your tired eyes a whole makeover, alongside an incredibly hydrating formula to keep them happy and bright. This "helps reduce the appearance of fine lines and dark circles" and can bring out the glow and radiant skin of the eye area within a short amount of time since application.
The Cheer Up is all about brightening up. Waking up, your skin has undergone a lot over that night, and it's time to prep everything and give it that boost. "This potent formula visibly firms and smooths the look of fine lines with 4% vitamin C, natural peptides, and caffeine," writes Farmacy. That's pretty much the perfect formula to actually make your eyes wide awake and bright.
That's not all. Every single ingredient listed here is so powerful and sincerely effective. This isn't just your average eye cream or those that start to show effect after hours- this one is fast and quick.
"Hyaluronic acid and three types of vitamin C, including acerola cherry, rejuvenate the eye contour and help reduce the appearance of dark circles," says Farmacy. (Hyaluronic acid? Vitamin C? And infused with cherry to kiss dark circles goodbye? This is to be obsessed with.)
View this post on Instagram
Another thing I just adore about this eye cream is how fast-absorbing it is, and how it doesn't feel greasy at all. The formula is very lightweight, and a pretty color of light pink. If you need to apply makeup afterward, it won't pill, which is a huge bonus. It also works perfectly if you apply moisturizer!
It has a very light scent of cherry but isn't too noticeable. I love that it's fragrance-free because especially to a sensitive area like the eyes, the fragrance would be a big no-no.
The texture of this is very creamy, and doesn't feel too thick- that way, your eyes won't feel heavy. It's lightweight but carries a nice consistency that feels almost jelly-like and kind of bounces back; I love it!
I really enjoyed how the cream feels very hydrating and soft. Usually, a lot of eye creams will leave a residue afterward, but with this, the lightweight eye cream won't have the effect.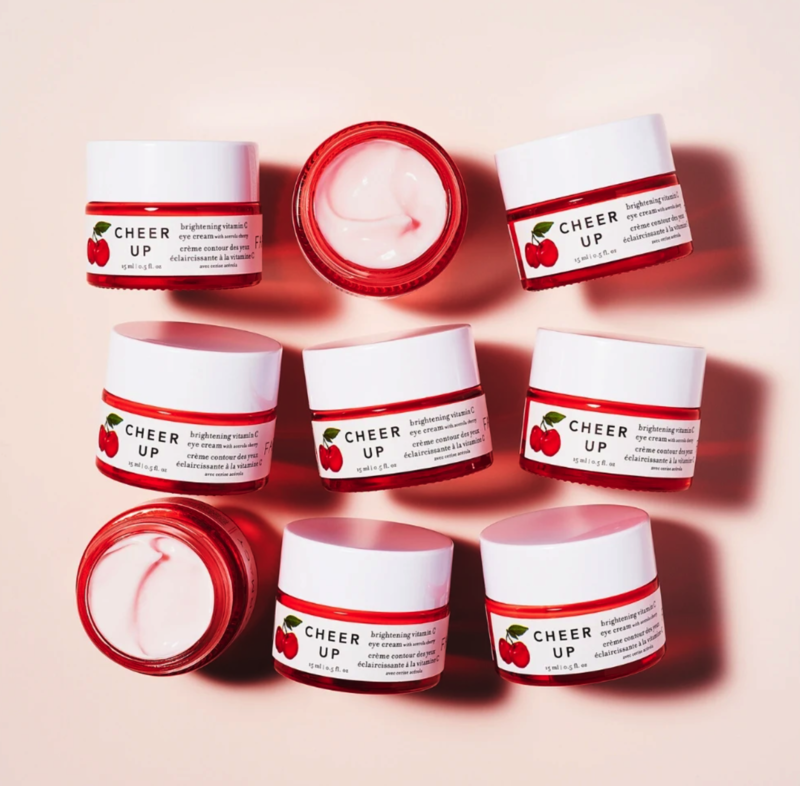 With the Cherry Up, you'll find your puffy morning eyes gone, dark shadows gone, and the under eyes firming. Within a week of usage, I found that the dark crescents under my eyes have significantly decreased, and so have the puffy lids! The Cherry Up is also capable of removing the fine lines by your eyes. Goodbye, eye crinkles!
Basically, here's the thing: if you want powerful, visible results to improve your eye area instantly, the Cherry Up is your best bet.
To apply the Cherry Up, Farmacy advises that you "tap and gently smooth around the eye area." They also recommend you "apply to brow bone for additional radiance" if wanted.
I love applying the Cherry Up right when I wake up and also right before I go to bed. It's a great product to include in both of your AM and PM skincare rituals!
You can bet this is also a clean-ingredient skincare product, too! Farmacy ensures that no harmful ingredients are used, and the Cherry Up is paraben-free, formaldehyde donor-free, synthetic fragrance-free, phthalate-free, mineral oil-free, and cruelty-free. You won't catch any of the bad ones here!
Honey Grail is the Holy Grail
Face oils are a step in the skincare routine you simply can't skip. Don't miss out on the Honey Grail, because this is exactly what you need to hydrate your face completely.
Dry skin will be a thing of the past with the Honey Grail and will leave you with such a glow that you won't believe it's not a filter.
Facial oil fans, this one's for you- you'll never meet one like the Honey Grail!
shop the Honey Grail here.
The Honey Grail is packed with antioxidant-rich properties that bring your face hydration and glow to the fullest, all whilst without being greasy nor heavy. This works for a lot more properties than you'd think; you can apply this gem to your face and hair, too.
The secret is really what's in it to make this facial oil such a favorite. "Our proprietary honey, sea buckthorn, and five-flower oil blend replenish skin with omegas, vitamins + amino acids," writes Farmacy Beauty.
View this post on Instagram
This facial oil is incredibly high-absorbing and might be the key to achieving glowing skin. I love how it doesn't feel greasy at all, and replenishes your skin completely with hydration.
Your fine lines and wrinkles will be smoothed over with the Honey Grail, and you'll be able to have that intense moisturization with a few drops in no time!
I also love that this is very helpful in ridding redness and sensitivity on the skin. You'll be able to note the difference, as the Honey Grail brings on fast results.
That's not all: this product is non-comedogenic. "Honey Grail has been thoroughly tested by an independent research lab and confirmed to be non-comedogenic so it won't clog pores," writes Farmacy.
Facial oils can be uncomfortable sometimes and feel overly thick, but with Farmacy's Honey Grail, you can have amazing effects with a non-greasy, and non-pore-clogging formula.
Your face will be left feeling so soft, glowy, and full in no time- but it also works for your hair, too.
That's right- this is great to use for multiple purposes! "Use this oil alone or mixed in with your favorite moisturizer or foundation for intense, targeted hydration. Work through hair to tame flyaways + boost shine," recommends Farmacy. You could even use it for other areas like your cuticles for intense hydration!
I love the bright golden color that the Honey Grail comes in. It's pretty much like honey and smells amazing. It carries a light honey-like scent and is very gentle.
The texture of the oil is thick and has a heavier consistency, which I really liked. However, it's also very lightweight at the same time, too. It really adds to the effect of drenching your skin so you can genuinely say goodbye to dryness.
This moisturizes like a thick night cream, which is perfect to use right before bed. It adds to a spa-like experience and is such a soothing, redefining step you can't miss out on!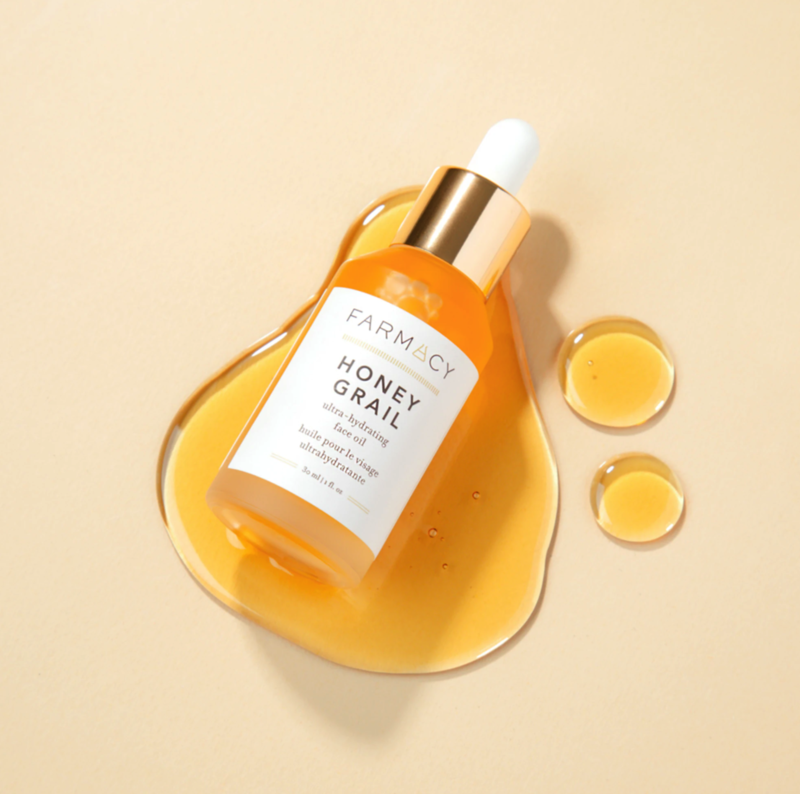 To use the Honey Grail, Farmacy writes:
"Apply to face or targeted areas of body as needed for intense hydration morning and night.
Work through hair to help tame flyaways and add shine.
Blend with foundation for a dewy glow."
Yes, you read that right- this is the perfect way to add some moisturizer to your makeup, too!
The Honey Grail is also made of clean ingredients. Like all others, this is paraben-free, formaldehyde donor-free, synthetic fragrance-free, phthalate-free, mineral oil-free, and cruelty-free.
If anything, you really don't want to miss out on the Honey Grail, because I'm speechless.
Mask Up!
Face masks are not only fun to put on but can boost your skin health, too. Farmacy's sheet masks will bring on a glow to your face you've never experienced before.
View this post on Instagram
We all need our own little do-it-yourself spa days every once in a while- and the Coconut Gel Sheet Masks are the perfect way to unwind and give your skin some radiance!
shop the exclusive Coconut Gel Sheet Mask 4 Pack here.

at $24 value, you can shop them for just $16 for this entire pack!
The Coconut Gel Sheet Masks are drenched, and are of coconut water-infused (think completely absorbed with lots of serum- you're definitely getting your worth here. Thin, dry sheet masks? Never heard of her, not at Farmacy!) sheets that go perfectly over your face.
Need to hydrate your face? Check. Give it a little boost and some glow? Check. How about some radiant skin that looks flawless and healthy? Check again!
Dry, dull faces are a thing of the past with these sheet masks. You can even use them to target spots, but as the sheets cover the entire face, it has all aspects in consideration.
"These coconut water-infused gel masks hug the contours of the face better than conventional sheet masks for intense hydration, exceptional comfort, and enhanced delivery of essence," writes Farmacy.
Yes, we all know that feeling of dread when the sheet masks start to slowly slide off of our faces… but with this, the gel-like texture allows for better absorption of the ultra-hydrating formula. Coconut water is perfect to give you that natural hydration to give you a glow like no other.
View this post on Instagram
You might be thinking, wait, is this sheet mask magical or what? But it's really all in the ingredients!
This has your all-time hydration and moisture-locking best friend, hyaluronic acid. Pretty much every skincare guru's BFF, this ingredient can "[hold] up to 1000 times its weight in water, [and] binds to skin for intense moisture and hydration."
That's not all: it has your favorite, plant-based collagen. Collagen is key for supple skin with complete moisture and elasticity, and I love how this also harnesses the power of nature. According to Farmacy, this "helps promote firming benefits for a more youthful looking appearance." Hey, it's never too early to start caring for your skin to maintain the youth of the skin!
The sheet mask also uses cucumber extract and purple broccoli extract. This means calm skin, clarification and brightening, as well as added chlorophyll, vitamins, and minerals. Your skin will thank you, I promise.
View this post on Instagram
Okay, before I dive into the amazing effects of this mask, let me tell you this: the Coconut Gel Sheet Mask is no ordinary one. You'll seriously be so impressed with the effects that can happen within minutes!
When on, the mask fits so snugly and perfectly. I totally have to mention how this mask isn't just thin and slightly doused with serum- this is completely dripping with the formula that's pretty much skin food for hydration.
The sheet itself is also pretty thick, which is highly impressive. You can't find one as good as this anywhere!
Your skin will seriously be at its happy place- it will drink up all that hydration in no time. I love tapping in the leftover serum, and I would definitely recommend going over the sheet mask with a roller tool for some extra absorption.
To use the face mask, simply follow the six steps to achieve glowing, radiant skin:
"Remove mask from package and unfold completely.
Remove one blue protective mesh and smooth over clean face.
Either side of mask may be applied to skin.
Once on face, remove the second layer of blue protective mesh.
Leave mask on for 10–15 minutes for best results.
Remove mask and massage any remaining essence into skin."
View this post on Instagram
Your skin will be left feeling so incredibly smooth- it's so good, that I kind of had trouble believing it. This sheet mask is such a life-changing and huge must-have for sheet masks.
It feels very soothing and doesn't bring up any redness or irritation. It can also be such a great way to cool down your face when it needs a little help. I can't think of a better way to unwind with these on and after that fifteen-minute mark, voila- my skin is feeling at its best ever.
The sheet masks also carry a wonderful scent, which is actually pretty light. It feels clean and natural, which really adds to the experience.
I just love using this face sheet mask every once in a while when I really need to refresh and recharge my face in a fun way. Intense hydration can come with a little pampering and self-care!
Farmacy never stops to wow us- these masks are made of clean ingredients, too. This product is paraben-free, formaldehyde donor-free, synthetic fragrance-free, phthalate-free, mineral oil-free, and cruelty-free.
Brightening Coconut Gel Sheet Mask
This vegan-friendly mask is about to be your all-time favorite. It's time to get that dull skin in a state of glow!
The Brightening mask is majorly based on purple broccoli extract and plant-based collagen.
shop the single Brightening Coconut Gel Sheet Mask here.
"Brightening formula revitalizing dull-looking skin with purple broccoli extract and clarifies with antioxidants, chlorophyll, vitamins, and minerals. Vegan-friendly plant-based collagen is known to help visibly firm and promote a more youthful looking appearance," writes Farmacy.
Hydrating Coconut Gel Sheet Mask
Hey, come to say hello to your best friend and best ingredient ever for hydration- hyaluronic acid!
This also is infused with natural cucumber extract to soothe and repair that dry skin, so you'll be left with the softest skin ever.
shop the single Hydrating Coconut Gel Sheet Mask here.
"The Hydrating formula delivers intense moisture with hyaluronic acid, a moisture magnet that has the ability to hold up to 1000 times its weight in water. Cucumber extract also helps maintain moisture levels, plus it calms skin by reinforcing its natural barrier function," writes Farmacy.
Keep Up
Farmacy Beauty can be found on Instagram at @farmacybeauty. Be sure to give them a follow!