Breakfast is the most important meal of the day. A healthy breakfast gives you energy, improves your mood and allows you to maintain a healthy weight.
Choosing cereal on a regular basis looks easy – considering it usually takes less than five minutes. But spending more time (even just ten extra minutes) preparing a healthier, protein- and nutrient-dense breakfast has a host of benefits.
Many strive to eat healthier meals and put time and effort into it, but they don't know what to do. Eating the same meal every day is exceptionally tedious, so here are 5 breakfast ideas, ranging from quick and easy five-minute meals to ones that require a bit more effort – but are totally worth it!
Healthy oatmeal pancakes
Not only are these pancakes easy to make, but they are also healthy and delicious! Containing only three ingredients, oatmeal pancakes require minimal effort and have an exceptional result.
Ingredients:
1/3 cup oats
1 banana
2 eggs
Method:
Mix all your ingredients together until a smooth paste forms.
Pour a little oil or a knob of butter into a frying pan and heat over medium-high heat.
Pour two to three tablespoons over the heated pan and wait for small bubbles to form. Go back and wait another minute.
Remove pan and repeat with remaining batter.
Serve with your favorite toppings and enjoy!
Recipe by: Eat Sensibly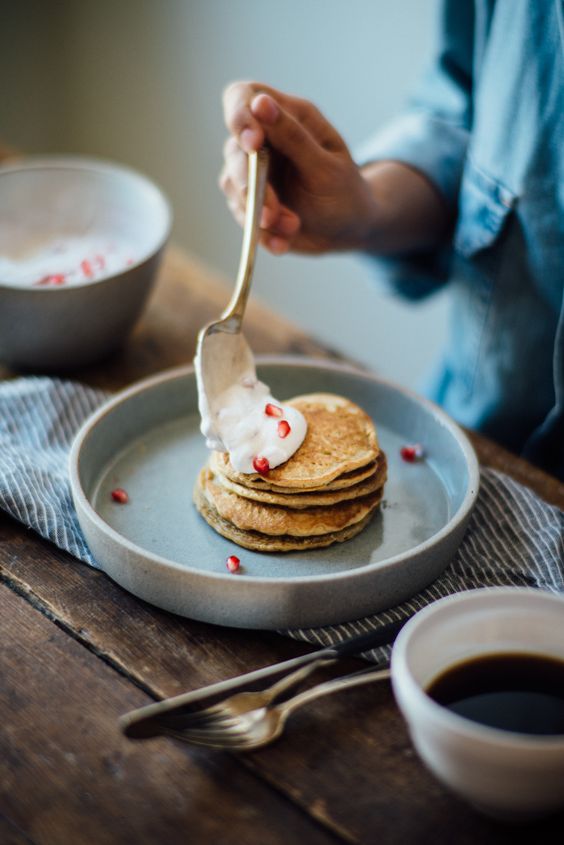 Three Way Toat
Topping your toast with these healthy ideas is a perfect way to incorporate protein and your daily dose of fruit. This breakfast is exceptional if you only have a limited amount of time.
classic avocado on toast
Ingredients:
1/2 avocado
1 teaspoon lemon juice
A pinch of salt and pepper
1 egg
1 slice of wholemeal bread
Method:
Start by making the avocado filling. Add the avocado, lemon juice, salt and pepper to a bowl and mash with a fork. Put aside. Toast the bread
If desired, poach the egg. Start by filling a saucepan a saucepan with water and put on medium heat. Once boiling, add the egg and wait 2-3 minutes.
Garnish your toast with the avocado, then add the egg.
Toast topped with berries
Ingredients:
1 cup berries of your choice
1 slice of wholemeal bread
Method:
Toast the bread. Pour all the berries into a saucepan over medium-high heat. If it starts to produce too much steam, reduce the heat.
Stir occasionally with a wooden spoon. After five minutes, the berries should release their juice. Once the berry jam has reached the desired consistency, pour it over the toast.
if you choose a smaller fruit, such as raspberries or blueberries, the mixture will be much runnier than a cherry or strawberry jam (which tends to have bits of berry in it)
Peanut Butter Banana Toast
Ingredients:
A large spoonful of peanut butter (or any other nut butter)
1 banana
A pinch of cinnamon
1 slice of wholemeal bread
Method:
Toast the bread and spread the peanut butter on it.
Slice the banana and put it on the PB toast. Sprinkle with cinnamon for extra flavor.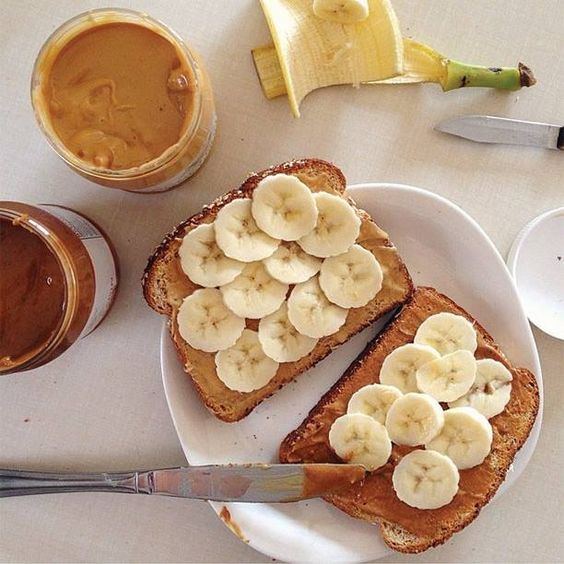 Overnight oats
Prepared the day before, oatmeal is perfect for a busy morning. Although this breakfast only takes a few minutes to prepare, it is an exceptional meal packed with nutrients and fiber.
Ingredients:
1/2 cup oats
1/2 cup of water
1 teaspoon of chia seeds
1 teaspoon of maple syrup
Supplements and toppings:
cocoa powder
Peanut Butter
Vanilla extract
Fresh or frozen fruit
Cinnamon or any other desired spice
Method:
The night before eating, mix water and oats. Then add the chia seeds and maple syrup. If the mixture is too thick add an additional tablespoon of water. Or, if too runny, add more oats until you reach your desired consistency.
There are many ways to prepare and dress oats overnight – the possibilities are endless. Whatever flavor you want to go for, whether it's chocolate (cocoa powder), peanut (peanut butter) or fruity oats, they all taste delicious.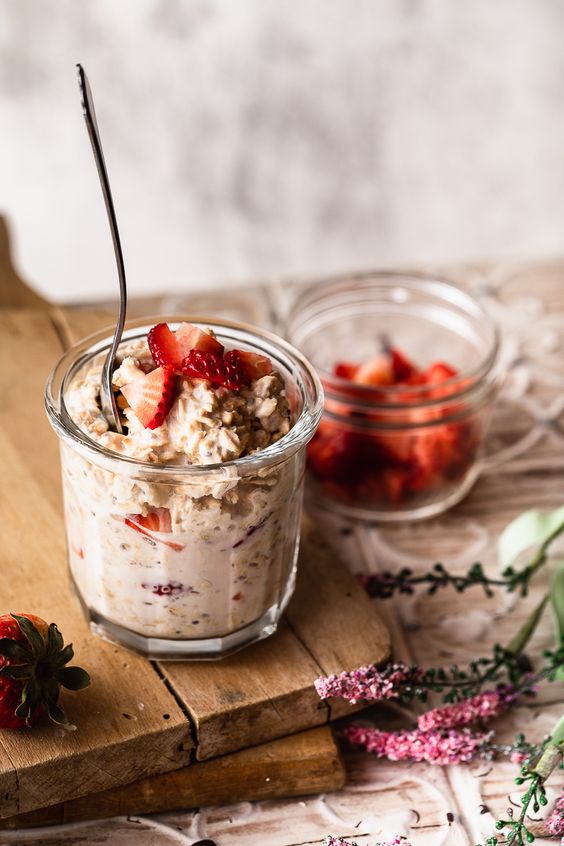 smoothie bowl
Amazing on a hot day, smoothie bowls can be plentiful with myriad variations. A healthy, nutritious and fruity breakfast can be prepared in just 10 minutes! All it takes is mixing the ingredients and adding a finishing touch with your favorite toppings.
Summer Berry Smoothie Bowl
Ingredients:
1 banana
1 cup frozen summer berries
1 tablespoon peanut butter
1 teaspoon of chia seeds
1/2 cup of milk
For the toppings:
1 banana, sliced
A handful of your desired berries
chia seeds
granola
Method:
Combine banana, berries, peanut butter, chia seeds and milk. The consistency should be thick enough to eat, like ice cream. If too runny, add extra milk. Put the smoothie in a bowl.
Place fruit, chia seeds and granola on your smoothie or add any other toppings of your choice.
tropical smoothie bowl
1/2 mango, cut into pieces
1 cup pineapple, cut into chunks
1 banana
1/2 cup milk (although you might need a little more, depending on consistency)
1 tablespoon peanut butter
Toppings:
a handful of mango pieces
a small handful of blueberries
granola
coconut flakes
Method:
Biltz the mango, pineapple, banana, peanut butter and milk in a blender. Once it has reached the desired thickness, put it in a bowl.
Top with mango, blueberries, granola and coconut flakes, or choose your favorite toppings
Chocolate Banana Smoothie Bowl
Ingredients:
2 frozen bananas
2 tablespoons cocoa powder
1 teaspoon of honey
1 tablespoon peanut butter
1/2 cup of milk
Toppings:
1 banana
cocoa nibs/dark chocolate chips
oats
nuts (almonds, peanuts)
Method:
Combine frozen banana, cocoa powder, honey, peanut butter and milk. Put in a bowl once smooth.
Put the banana, cocoa nibs, oats and nuts on the smoothie, or choose another topping.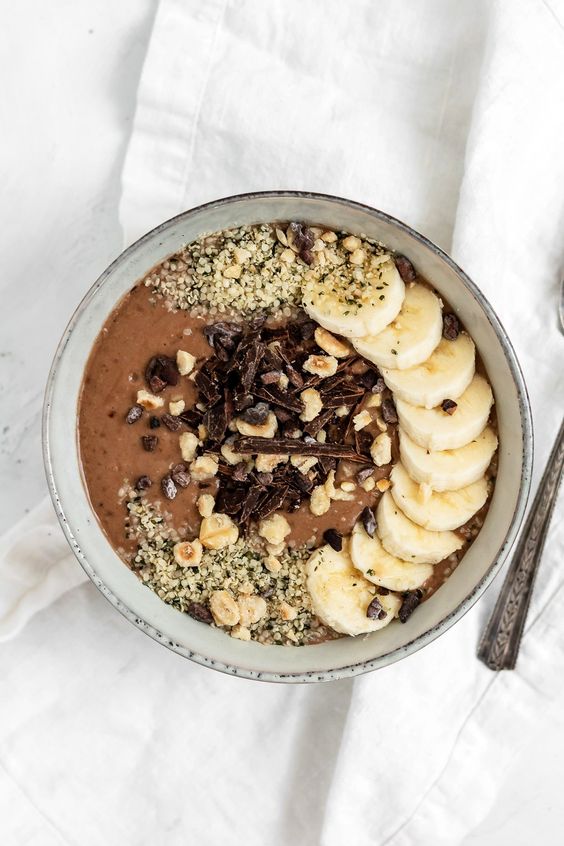 3 ingredient oatmeal cookies
Breakfast cookies seem like the most unhealthy thing you can eat, but these oatmeal banana cookies are far from it. Containing only banana, oats and maple syrup, this healthy breakfast includes fibre, nutrition and vitamin C. Although this breakfast takes 15 minutes to prepare, the time past is rendered in the form of deliciously wholesome cookies.
Ingredients:
1 cup oats
2 bananas
1 tablespoon of maple syrup
A dash of cinnamon (optional)
Method:
Preheat the oven to 180°C and line a baking sheet with parchment paper.
With the back of a fork, mash the banana until a lumpy mixture forms.
Add the rolled oats, then the maple syrup (and cinnamon).
Once everything is combined, roll into balls, then flatten and place on the prepared baking sheet.
Cook 10 to 12 minutes and enjoy!
Recipe from veryveganish.com