Although summer isn't here yet, it's never too early to start preparing and enjoying delicious seasonal recipes. There's nothing that says "summer" more than sitting outside in the sun with your feet in the pool while enjoying a refreshing and tasty meal. These quick and easy recipes are perfect to get you ready for the coming season.
1. Watermelon Feta Salad
Image courtesy of Delish
If you've never thought about combining the unique flavors of watermelon and feta, now is the time to start. Simply putting together chunks of fresh, sweet watermelon, crumbled feta and fresh mint, with a squeeze of lemon juice, will make for a quick, light and refreshing salad.
2. Fruit Sorbet
Image courtesy of Taste of Home
Of course, you may be confused as to how you could possibly create sorbet at home. Well, it doesn't take much to create the perfect summer dessert. To make fruit sorbet, simply throw some of your favorite frozen fruits into a blender with a little milk. This ridiculously simple recipe will be your go-to treat all summer long.
3. Pasta Salad with Cherry Tomatoes and Herbs
Photo credit: Delish
Pasta is an easy, quick and simple meal for everyone that never fails to taste delicious. However, pasta salads are the best choice for summer. After boiling pasta as you always would, combine the other ingredients in a bowl while the pasta cools. Cherry tomatoes and fresh herbs such as basil and mint are by far my favorite combination to mix with noodles.
4. The best peach treat
All summer, I crave sweet seasonal fruits that always satisfy my cravings. Peaches are hands down my favorite summer fruit. Although peaches are delicious on their own, they can be the main ingredient in a dessert that is easily reminiscent of summer. Start by cutting a peach in half and searing it in a skillet. Once the peach begins to brown slightly and caramelize, top it with a little Greek yogurt, a drizzle of honey and a pinch of cinnamon.
5. A rainbow wrap
Image courtesy of Foodie Crush
Summer is the time to fill your meals with a plethora of different colors of vegetables and other refreshing foods. Filling a wrap with a protein source, like chicken, along with a few of your favorite veggies and even fruit will make for a satisfying, energizing meal that's perfect for enjoying by the pool. I frequently opt to add cabbage, bell pepper, avocado and kale to my wraps.
6. Caprese Salad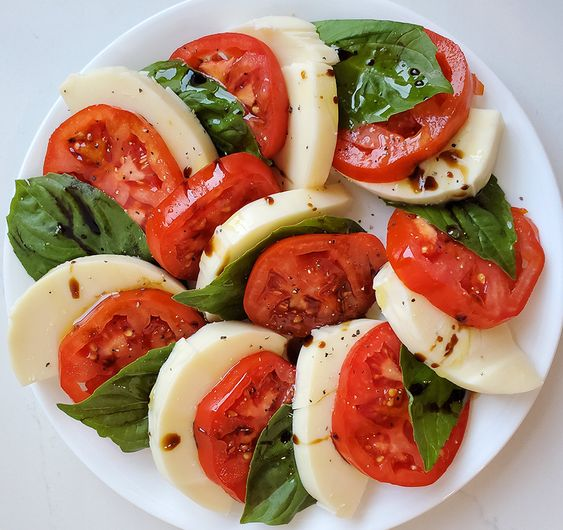 Image courtesy of Poosh
There is no better combination than tomato, basil and mozzarella. Start by slicing some tomatoes with mozzarella, before topping your salad with basil and a drizzle of balsamic vinegar glaze.
7. Roasted colored carrots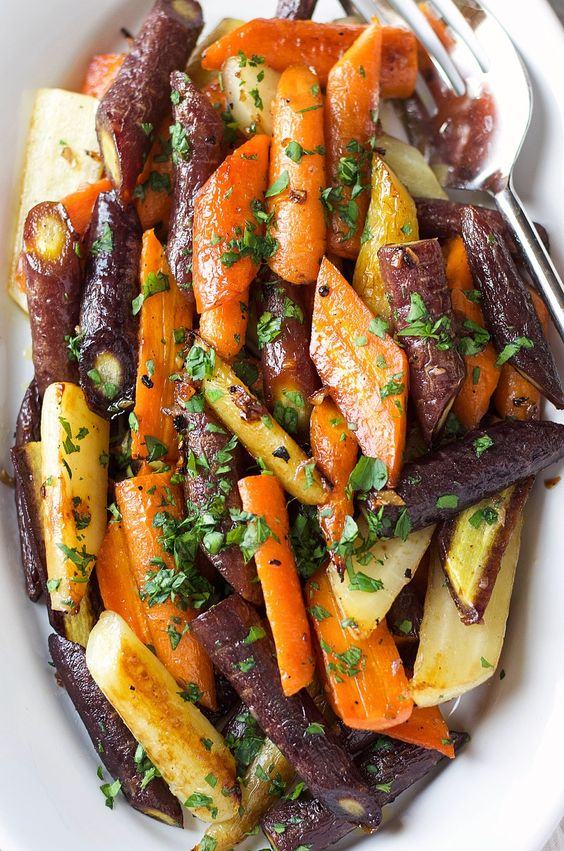 Image courtesy of Garden in the Kitchen
Roasted carrots are the best side dish, with the sweet vegetable flavor that enhances any meal. Toss a batch of carrots in a little oil and season before roasting them in the oven. By choosing to add a few other ingredients, you can intensify the flavors of the dish. Chopped nuts such as almonds and mint are great choices that will bring out the delicious natural flavor of carrots.
8. Cobb Salad
Image courtesy of Natashas Kitchen
This seemingly simple salad has completely different flavors in the summer with an abundance of seasonal vegetables. Start with a base of romaine lettuce, to which you add a boiled egg, shredded chicken, cucumber, tomatoes, avocado, blue cheese and bacon. Finish your salad preparation by adding your favorite dressing, whether it's ranch or a light dressing.
9. Strawberry Banana Smoothie Bowl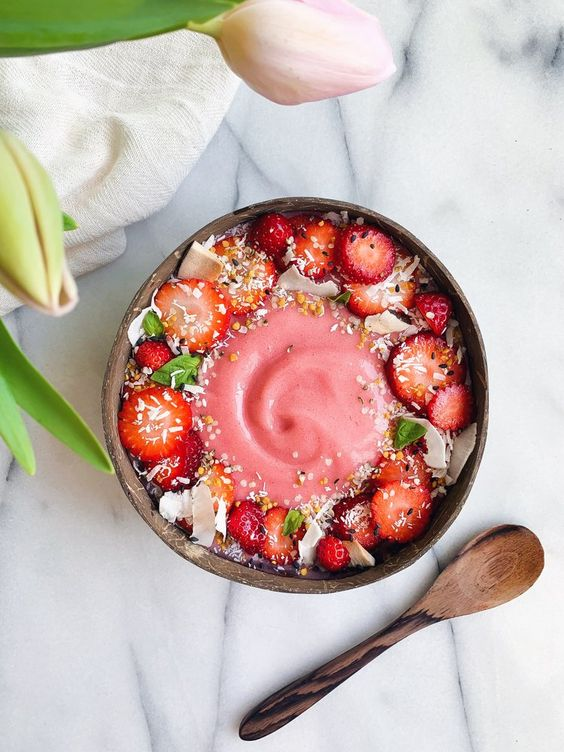 Image courtesy of Foody First
Smoothie bowls are my favorite meals or snacks during the summer. All a smoothie bowl calls for is the blending of frozen fruit with some of your favorite toppings, such as dried coconut shavings, granola, and your choice of nut butter. While smoothie bowls give you a lot of freedom, a strawberry and banana smoothie bowl is unmatched. Simply blend a frozen banana and a cup of frozen strawberries, with a splash of milk, to create a creamy, filling smoothie bowl.
Summer is a time for swimming, relaxing with friends and family, and good weather. However, food is an integral part of enjoying all that the season has to offer. These recipes are there for you when you want to make the perfect summer snack or meal.