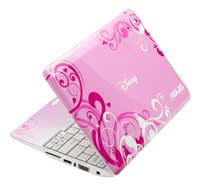 If you think Lap Top will have a "girls special", be sure to check it out 🙂
ASUS Disney Netbook; From the vibrant Disney graphics on the LCD cover to the Mickey-shaped webcam to the exclusive Disney apps, it perfectly captures all the magic of Disney. Children's desktop computers; They can dress up with cute characters like classic Disney characters, Disney fairies, Disney princesses and Mickey Mouse. Disney Notebook, as well as entertainment design; It also offers advanced Disney applications such as Disney Mix* for music and media management, Disney Pix* and Radio Disney* for photo editing. With the Disney Pix* app, kids can place various images on their bodies and turn them into videos and postcards or create animated dance scenes for fun. Disney Netbook also includes car games, memory games and a photo album.
Click now for the technical specifications of this PC candy or candy. Even if you say you don't understand technical stuff, definitely show it to someone who does 🙂 The technical specifications are on the next page!