2022 has come in fast and what better way to start off the new year with a good book? At the beginning of 2021, I made a huge list of books I wanted to read that year but haven't had the time to read them all. Here are some books that are definitely worth reading… and who knows? You might just come across your new favorite read.
Here are 15 books you should add to your 2022 TBR (To Be Read) List.
via GIPHY
The Paper Girl of Paris by Jordyn Taylor
View this post on Instagram
As an avid reader of historical fiction, The Paper Girl of Paris immediately caught my attention. It shifts perspectives between two teenage girls: Alice, a 16-year-old from New Jersey in present day, and Adalyn in 1940s World War II-torn France.
Alice's grandmother died two months ago and left her with an apartment in Paris. The only problem is that the apartment has been locked up for more than 70 years and "Gram" hadn't mentioned anything about her life before the war — including the fact that she was French. With the help of Paul, a French student, Alice is determined to uncover the truth and dig into the forgotten mysteries of the past… even though she keeps hitting dead ends. In the 1940s, the Nazis have invaded France and Adalyn feels as though she doesn't recognize her own city anymore. Then she meets Luc, the leader of a resistance group, and Adalyn will do anything to fight back… even if it means risking her safety, her reputation and her family's trust.
The story is emotional and heavy at times and really makes you feel with the characters. Full of suspense, high stakes, mystery and a bit of romance, you simply won't be able to put it down.
The Hitchhiker's Guide to the Galaxy (Volume one in the Trilogy of Five) by Douglas Adams
First edition cover 1979, fair use, Wikimedia Commons
With over 15 million copies sold worldwide, The Hitchhiker's Guide to the Galaxy, a funny and warm-hearted novel, is a classic must-read for all ages. Arthur Dent, an ordinary man living in an ordinary small English town, sees his house get demolished. The Earth is demolished shortly after to make way for a hyperspace bypass, and his friend, Ford Prefect, is an alien. With him, Ford carries a guide to the galaxy with the words "DON'T PANIC" on the cover. These events trigger and unravel a story of friendship, comedy and an inter-galactic adventure that will have you laughing until you can't breathe.
One of Us is Lying by Karen M. McManus
TW: drug use/addiction, death, murder, bullying, emotional abuse, mental illness, suicide
View this post on Instagram
One of Us is Lying is a thrilling series and a must-read for anyone interested in murder mysteries. As a side note, it does talk about some heavy topics that may be difficult for some readers (please check the trigger warnings).
Pay close attention and you might solve this. One Monday afternoon, five students at Bayview HS entered the detention room.
Bronwyn, the brain, is Yale-bound and never breaks a rule.
Addy, the beauty, is the picture-perfect homecoming princess.
Nate, the criminal, is already on probation for dealing.
Cooper, the athlete, is the all-star baseball pitcher.
And Simon, the outcast, is the creator of Bayview High's notorious gossip app. By the end of detention, only four make it out alive.
On Monday, Simon died. But on Tuesday, he'd planned to post juicy reveals about all four of his high-profile classmates, which makes all four of them suspects in his murder. Or are they the perfect patsies for a killer who's still on the loose? Everyone has secrets, right? What really matters is how far you would go to protect them. (Goodreads)
I loved this book, and it kept me on the edge of my seat until the very last page. So far, two books have been published (One of Us is Lying and One of Us is Next), but the third (One of Us is Back) will be available in 2023.
All the Light We Cannot See by Anthony Doerr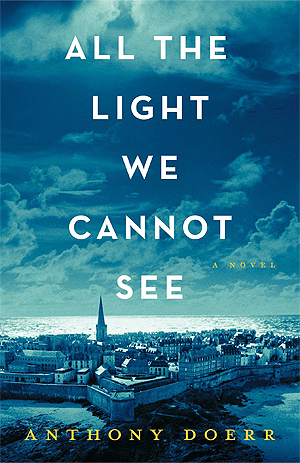 Low resolution image (fair use), via Goodreads
All the Light We Cannot See is a story that takes place in World War II-torn France. It's about Marie-Laure, a French girl who lives with her father near the Museum of Natural History, and Werner, a German orphan boy who grows up with his sister and learns how to fix instruments such as radios, a talent which eventually gets him enlisted to track down the resistance. Both lives get intertwined, illuminating "the ways, against all odds, [that] people try to be good to one another."
A book by award-winning and New York Times bestselling author Anthony Doerr that I will definetly be reading in 2022.
Bewilderment by Richard Powers
Low resolution image (fair use), via Goodreads
An Oprah's Book Club pick in 2021 and a winner of the Pulitzer Prize, Bewilderment is the story of an astrobiologist struggling to raise his son Robin after the death of his wife.
The astrobiologist Theo Byrne searches for life throughout the cosmos while single-handedly raising his unusual nine-year-old, Robin, following the death of his wife. Robin is a warm, kind boy who spends hours painting elaborate pictures of endangered animals. He's also about to be expelled from third grade for smashing his friend in the face. As his son grows more troubled, Theo hopes to keep him off psychoactive drugs. He learns of an experimental neurofeedback treatment to bolster Robin's emotional control, one that involves training the boy on the recorded patterns of his mother's brain… With its soaring descriptions of the natural world, its tantalizing vision of life beyond, and its account of a father and son's ferocious love, Bewilderment marks Richard Powers's most intimate and moving novel. At its heart lies the question: How can we tell our children the truth about this beautiful, imperiled planet? (Goodreads)
This is on my 2022 TBR list and I can't wait to read it.
Monday's Not Coming by Tiffany D. Jackson
TW: child abuse and neglect, death, addiction, bullying, trauma, grief, homophobia, mental illness, PTSD, racism
Low resolution image (fair use), via Goodreads
I read this book in November 2021 and finished it in the span of three days. To say it was amazing is an understatement. Monday's Not Coming, which tackles real-life issues, is a suspenseful book with compelling characters, a believable plot and lots of plot twists.
Monday, Claudia's best friend, goes missing, but only Claudia seems to notice. Before her disappearance, Monday and Claudia were inseparable and when Monday doesn't show up on the first day of school or the next day or a week after that, Claudia knows something is wrong. As she digs deeper into the mystery of her friend's disappearance, she realizes that people can't seem to remember the last time they saw Monday. Monday's mother and sister, April, are even less help. How can a teenage girl just vanish without anyone noticing that she's gone?
I would recommend this book for people who are at least 13 or 14 years old because of the emotionally heavy topics it carries, but otherwise, it's a must-read for teens all over the world. Easily one of my favorite reads.
American Born Chinese by Gene Luen Yang
Low resolution image (fair use), via Goodreads
American Born Chinese is a graphic novel with the stories of three characters coming into one: Jin Wang, the Monkey King and Danny.
All Jin Wang wants is to fit in. When his family moves to a new neighborhood, he suddenly finds that he's the only Chinese American student at his school. Jocks and bullies pick on him constantly, and he has hardly any friends. Then, to make matters worse, he falls in love with an all-American girl…
Born to rule over all the monkeys in the world, the story of the Monkey King is one of the oldest and greatest Chinese fables. Adored by his subjects, master of the arts of kung-fu, he is the most powerful monkey on earth. But the Monkey King doesn't want to be a monkey. He wants to be hailed as a god…
Chin-Kee is the ultimate negative Chinese stereotype, and he's ruining his cousin Danny's life. Danny's a popular kid at school, but every year Chin-Kee comes to visit, and every year Danny has to transfer to a new school to escape the shame. This year, though, things quickly go from bad to worse… (Goodreads)
This is a funny, action-packed, poignant and quick read that will have you thinking about how negative stereotypes affect Asian-Americans. All three stories collide seamlessly, communicating a message about learning to love and accept your culture. This book defies the assumption that graphic novels "aren't real novels." A must-read for everyone, regardless if you are a teen or not.
Little Women by Louisa May Alcott
Low resolution image (fair use), Goodreads
A classic which everyone should have on their bookshelf, Little Women is the story of the four March sisters as they grow up from children to adults: Jo (the tomboy and author-to-be), Meg (the beautiful one), Beth (the tragically frail but oh-so-kind pianist) and Amy (the spoiled and romantic one). Each has a strong character that will draw you in from the very start and keep you guessing until the last page. The March sisters face many challenges along the way, including having to survive in New England during the Civil War and the death of one of their beloved sisters (whom I will not name to prevent spoiling the book). Follow along on their journey of self-discovery, love, sisterhood, resilience, and above all, having to choose between their family or their own personal growth.
As a child, my favorite character was Jo. Her strong determination, perseverance and independence helped her through having her work rejected as a woman and making a living out of her writing. She inspired me, and I hope Jo, along with the other characters in the book, will inspire you too.
Anne of Green Gables by Lucy Maud Montgomery
Low-resolution image (fair use), Goodreads
Anne of Green Gables is a Canadian classic but a worldwide-renowned work of fiction. It's the story of the orphaned Anne as she grows up with Marilla and Matthew Cuthbert, two senior siblings who had always wanted to have a boy to help them around the house. What they get instead, is Anne: a free-spirited, kind and imaginative girl.
This heartwarming story has beckoned generations of readers into the special world of Green Gables, an old-fashioned farm outside a town called Avonlea. Anne Shirley, an eleven-year-old orphan, has arrived in this verdant corner of Prince Edward Island only to discover that the Cuthberts—elderly Matthew and his stern sister, Marilla—want to adopt a boy, not a feisty redheaded girl. But before they can send her back, Anne—who simply must have more scope for her imagination and a real home—wins them over completely. A much-loved classic that explores all the vulnerability, expectations, and dreams of a child growing up, Anne of Green Gables is also a wonderful portrait of a time, a place, a family… and, most of all, love. (Goodreads)
You will fall in love with Anne's character, determination and kindness. Full of imagination and wonder, her stories will draw you in and her adventures will have you asking for more. This classic needs a place on your bookshelf in 2022 and beyond.
The Book of Lost Names by Kristin Harmel
View this post on Instagram
I haven't yet read this book, but I'm already in love with it. It's a story of love, resilience and bravery in the face of evil during the Second World War. (I'm obsessed with historical fiction, can you tell?) It goes through duel timelines: Eva during WWII and Eva in the present. Holocaust stories are never easy to read, but they play a crucial role in educating current and future generations so that none of the horrors of WWII ever happen again.
Eva Traube Abrams, a semi-retired librarian in Florida, is shelving books one morning when her eyes lock on a photograph in a magazine lying open nearby. She freezes; it's an image of a book she hasn't seen in sixty-five years—a book she recognizes as The Book of Lost Names.
The accompanying article discusses the looting of libraries by the Nazis across Europe during World War II—an experience Eva remembers well—and the search to reunite people with the texts taken from them so long ago. The book in the photograph, an eighteenth-century religious text thought to have been taken from France in the waning days of the war, is one of the most fascinating cases. Now housed in Berlin's Zentral- und Landesbibliothek library, it appears to contain some sort of code, but researchers don't know where it came from—or what the code means. Only Eva holds the answer—but will she have the strength to revisit old memories and help reunite those lost during the war?
As a graduate student in 1942, Eva was forced to flee Paris after the arrest of her father, a Polish Jew. Finding refuge in a small mountain town in the Free Zone, she begins forging identity documents for Jewish children fleeing to neutral Switzerland. But erasing people comes with a price, and along with a mysterious, handsome forger named Rémy, Eva decides she must find a way to preserve the real names of the children who are too young to remember who they really are. The records they keep in The Book of Lost Names will become even more vital when the resistance cell they work for is betrayed and Rémy disappears. (Goodreads)
This eye-opening, informative, sentimental and lighter WWII novel will touch your heart and make you cry. I will be reading The Book of Lost Names in 2022.
Elatsoe by Darcie Little Badger
TW: death of a loved one, animal death, racism
Cover page, Goodreads
Elatsoe, written by a Lipan Apache author, is a fantasy, speculative fiction and futuristic novel about an Indigenous Apache girl living in dystopian America. She has to solve the murder of her cousin before it's too late.
Imagine an America very similar to our own. It's got homework, best friends, and pistachio ice cream. There are some differences. This America has been shaped dramatically by the magic, monsters, knowledge, and legends of its peoples, those Indigenous and those not. Some of these forces are charmingly everyday, like the ability to make an orb of light appear or travel across the world through rings of fungi. But other forces are less charming and should never see the light of day.
Elatsoe lives in this slightly stranger America. She can raise the ghosts of dead animals, a skill passed down through generations of her Lipan Apache family. Her beloved cousin has just been murdered in a town that wants no prying eyes. But she is going to do more than pry. The picture-perfect facade of Willowbee masks gruesome secrets, and she will rely on her wits, skills, and friends to tear off the mask and protect her family. (Goodreads)
As someone who doesn't always enjoy fantasy novels, this novel definitely caught my attention with its twisted tales, strong and Indigenous characters, and futuristic yet believable plot.
The Listeners by Jordan Tannahill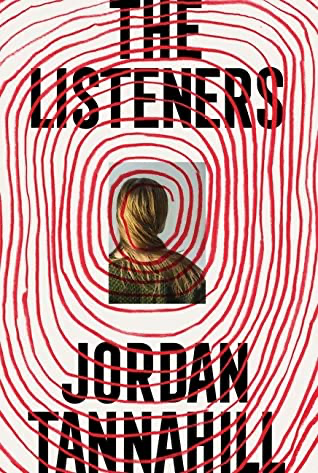 Low-resolution image (fair use), Goodreads
One night, Claire Devon suddenly hears a low hum that won't go away — and that none of her other family members can hear. This innocuous sound has no obvious source or medical cause, but it begins to upset the balance of Claire's life. When she discovers that one of her students can also hear the hum, the two strike up an unlikely and intimate friendship. Finding themselves increasingly isolated from their families and colleagues, they fall in with a disparate group of people who also perceive the sound. What starts out as a kind of neighbourhood self-help group gradually transforms into something much more extreme, with far-reaching, devastating consequences. Compelling and exhilarating, The Listeners forces us to consider how strongly we hold on to what we perceive, and the way different views can tear a family apart. (Goodreads)
Not only is the cover of this book gorgeous yet captivating, the story itself is fascinating. You'll be pulled into Claire's small world and the hum that just won't go away… a hum that could tear her whole world apart.
The Little Prince by Antoine de Saint-Exupéry
Low resolution image (fair use), Goodreads
Originally written in French, The Little Prince (or Le Petit Prince) is one of my favorite books ever and a must-read classic. It's quite short (only about 100 pages) but it's packed with a story of love, loneliness, friendship, wonder, and loss. Being a pilot himself, Antoine de Saint-Exupéry wrote this novel in 1943, drawing inspiration from his own experience as a pilot, and specifically, an event where he had crashed his plane in the desert.
A pilot stranded in the desert awakes one morning to see, standing before him, the most extraordinary little fellow. "Please," asks the stranger, "draw me a sheep." And the pilot realizes that when life's events are too difficult to understand, there is no choice but to succumb to their mysteries. He pulls out pencil and paper… And thus begins this wise and enchanting fable that, in teaching the secret of what is really important in life, has changed forever the world for its readers. (Goodreads)
I don't like re-reading books because I know that the time I spend re-reading a certain book, I could be spending reading and discovering the world of another. However, this book is different. I read it every few years, and every time, the meaning of it changes for me. This beloved tale is a favorite of children and adults alike. Long into my senior years, you will likely find me with a copy of this book, flipping away in lamplight.
What Strange Paradise by Omar El Akkad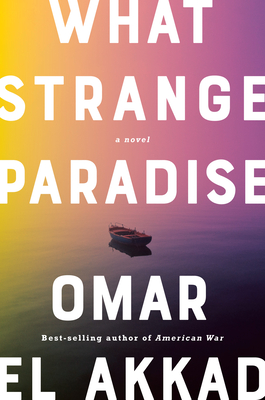 Low-resolution image (fair use), Goodreads
Omar El Akkad is the winner of the 2021 Scotiabank Giller Prize for his book What Strange Paradise which is a must on everyone's TBR list.
More bodies have washed up on the shores of a small island. Another overfilled, ill-equipped, dilapidated ship has sunk under the weight of its too many passengers: Syrians, Ethiopians, Egyptians, Lebanese, Palestinians, all of them desperate to escape untenable lives back in their homelands. But miraculously, someone has survived the passage: nine-year-old Amir, a Syrian boy who is soon rescued by Vanna. Vanna is a teenage girl, who, despite being native to the island, experiences her own sense of homelessness in a place and among people she has come to disdain. And though Vanna and Amir are complete strangers, though they don't speak a common language, Vanna is determined to do whatever it takes to save the boy.
In alternating chapters, we learn about Amir's life and how he came to be on the boat, and we follow him and the girl as they make their way toward safety. What Strange Paradise is the story of two children finding their way through a hostile world. But it is also a story of empathy and indifference, of hope and despair–and about the way each of those things can blind us to reality. (Goodreads)
People We Meet On Vacation by Emily Henry
Cover page, Goodreads
The winner of the Goodreads Best Romance category, People We Meet on Vacation is a lighthearted book you will be bringing to the beach this summer in 2022.
Poppy and Alex have been best friends since forever, and each year they take a vacation together—a glorious, uncomplicated summer holiday. Except that last year it got complicated, and this year it's weirdsies for all. Poppy has everything she should want, but she's stuck in a rut. When someone asks when she was last truly happy, she knows, without a doubt, it was on that ill-fated, final trip with Alex. And so, she decides to convince her best friend to take one more vacation together—lay everything on the table, make it all right. Miraculously, he agrees. What could possibly go wrong? (Goodreads)
via GIPHY
These 15 books will inspire, stimulate and move you with their emotional plots, twisted stories and valuable lessons. Make sure to add them to your TBR list for 2022 and get reading!