Q: What do you call three average white people having a midlife crisis?
A: A podcast!
Now I started with this fabulous, brilliant, splendid, wonderful (insert your favorite synonym for awesome) joke, let's be serious. I'm just kidding. Who wants to be serious?
But no, seriously, I'm not mildly hilarious or immensely sarcastic for no reason. The joke above is true. We live in an age of podcast overpopulation, and this poses a problem for many people who don't have time to find great podcasts on their own because they're too busy wasting time effectively.
Human beings have always had the attention span of a goldfish, and living in this age of information overload has ensured that no one spends more than a minute on anything in their life that doesn't. isn't the thing that keeps an aesthetic roof over its head. heads and a Starbucks Pink Drink in their hands (this is me throwing shade at people who care too much about the color of their drink, and if you're one, I'm sorry for being mean. fact, I'm not mean, it's just a long-standing habit of stigmatizing, which I can't control no matter how hard I try).
But that's what I'm here for, o amazing, aesthetic, rosy people who love to drink. Consider me your friendly neighborhood podcast list curator. So before I got into podcasting myself, I was a big podcast listener. But I don't have a favorite show. This is a lie. It's CRIMINAL, which is my guilty pleasure, but no one knows. I usually cover the trail by listening to a few episodes of Science V/S, and no one will ever know.
I'm still a big podcast listener, and I've spent hours finding the best podcasts to listen to too, so you don't have to. Here are my top five picks for the best podcasts to listen to in 2022.
1. Real Dictators
This is one of my more recent discoveries, and I found it to be the maraschino cherry on top of a classic chocolate milkshake. Real Dictators by Noiser is a gem of a podcast discovery for a history buff like me. This is one of the BEST history podcasts I've ever listened to, and it's all you want in the form of amazingly told anecdotes about historical figures who brainwashed and killed way too many people for one person, all backed by suspenseful music and snippets of sound effects here and there. I mean, who wouldn't love to listen to a British dude talk about the bloodthirsty monsters disguised as avenging angels, who have ruined people's lives and made them live in a dystopia they think is a utopia? Nope? So just me? Well, if you're like me, I'm sure you'll love RD. My recommendations for this podcast are the episodes on Kim Jong-il and Colonel Gaddafi.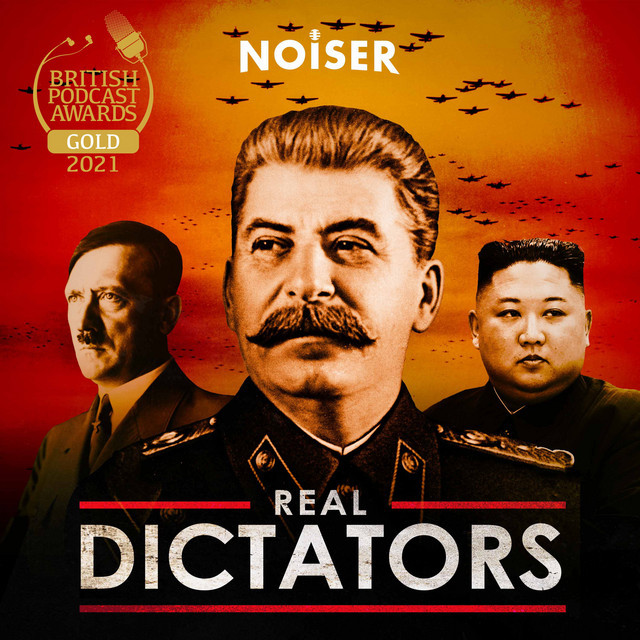 2. The Freakonomics Radio Book Club
Freakonomics radio is kind of a cult classic, and most podcast listeners must have heard of this podcast narrated by our favorite guys who tell us about economics in a weird way. But have you ever heard of their spin-off podcast, The Freakonomics Radio Book Club? This is a podcast of selected episodes of The Freakonomics Radio, but for book lovers and podcast listeners. The episodes are all literature-related in which the host talks to the authors of mind-blowing books, and it's just a great podcast for people who want to listen to the book-related episodes of The Freakonomics Radio. I would suggest The Mom Who Stole the Plans for the Atomic Bomb, and How to Get Anyone to Do Anything if you want to start listening to the Freakonomics Radio Book Club.
3. How I built this with Guy Raz
My dad introduced me to this podcast. How I Built This with Guy Raz is a podcast that dives into the stories behind some of the world's best-known companies. Guy Raz interviews people who have achieved the best innovators, entrepreneurs and idealists. It's a podcast about success and brilliance – blood, sweat and tears included. The host has also written a book based on the wisdom he gathered from his interviews. It's called "How I Built This: The Unexpected Paths to Success of the World's Most Inspiring Entrepreneurs" and you can buy it on Amazon. If you want to start listening to How I Built This, I would recommend the following episodes: Wisdom From The Top: Bonus Episode (Indra Nooyi), Khan Academy: Sal Khan, Wikipedia: Jimmy Wales and Steve Madden: Steve Madden.
4. Little Woman: A Modern Audio Drama
This podcast is a real dream for me. How did the world know I needed a modern adaptation of Little Woman!? I can't justify my love for the book in a paragraph, so I'll just let you know it's my life. Little Woman: A Modern Audio Drama is the perfect podcast for lovers of the best feminist literature ever written, and for everyone else. Also, theme music is the best podcast theme music in the history of podcast theme music. I don't have any recommendations for this podcast as it is an eighteen episode audio drama based on Marche life, so listen to it in full. Believe me, you won't regret it.
5. The Donut Shop Murders
For fans of true crime, The Donut Shop Murders is a podcast exploring the murders perpetrated by the McCrarys, a psychopathic co-dependent family led by a deranged patriarch and his depraved son-in-law, Sherman killers Ramon McCrary and Carl Taylor. When the two East Texas natives got together, their brains formed this strange chemical bond in which they tried to outdo each other in criminal acts, ranging from simple theft to full-blown murder! The podcast also includes one of the two killers' taped confessions. Scary, spooky and spooky, this podcast is sure to activate those uneasy feelings in all the body parts mentioned.