It's officially fall, and that's more reason to be obsessed with cozy and cute bedroom decoration! Dormify can completely transform your bedroom into a soft and cozy haven in which you will feel your best.
From the softest weighted blanket to LED strips to make your room feel like a whole new place, Dormify is the place to be for all your decorating needs.
buy Dormify at dormify.com
Set the mood with a single button
Generation Z has definitely been excited about LED light strips. All around social media you might have seen these multi-colored, light-up pieces – and they just look so cool. Don't miss this trend, because it's totally here to stay.
As Dormify says, "Perfect for any mood. Let's light up the room. LED strip lights are the perfect addition to bring light into your room without taking up space."
Buy the multicolor LED light strips here.
Have you ever wanted to lie on your bed and contemplate the universe? These LED strips can come close, with their bright neon colors and otherworldly aura.
The lights come in a plastic wheel, which secures them during shipping. It's so easy to apply these strips to your wall; all you have to do is peel off its adhesive backing, and you're done!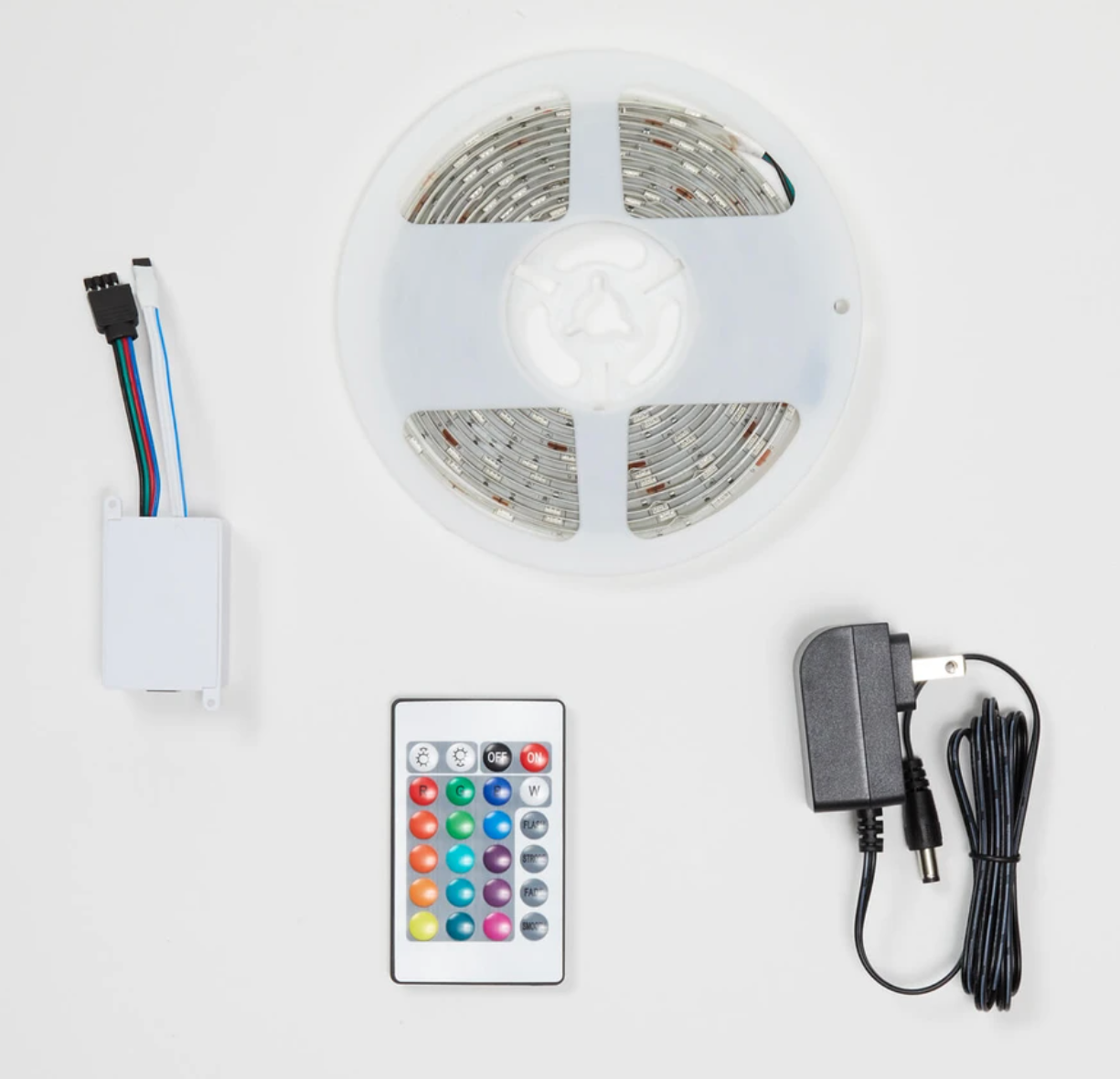 The lights also come with a remote control, which allows you to easily change colors to suit your mood, all at the touch of a button.
These LED light strips have fifteen colors available, with options to alternate colors at different speeds and frequencies. Every color should be obsessed with – the colors are saturated and alluring, and every one of them is so beautiful.
Plus, this LED strip is 13 feet long! It creates so much potential due to its great length and is definitely a bonus in my book.
To care for this product, take note of Dormify's instructions: "Unplug when using liquid cleaner. Spot clean with mild soap and water." Click here for additional instructions.
Your sleep will never be the same again
I'm serious when I say this: I don't think I've ever slept so well until I got a weighted blanket, and now my life has completely changed forever.
Everything about the blanket is to fall in love with: its cozy weight that makes you feel so comfy, its super soft fuzziness, and its lovely neutral look that matches any room style.
buy the weighted blanket here.
I didn't understand the rave behind the weighted blanket before, but now, after experiencing Dormify's weighted blanket, I'm now definitely its #1 fan.
This may be the most soothing blanket I have ever come across. The weight of the blanket is perfect for feeling like a constant hug throughout your night without being too heavy.
Especially with the winter cold coming, this weighted blanket is simply designed to stay warm and toasty. Imagine sitting in front of a fireplace, sipping hot chocolate, wrapped in this amazing blanket…what a dream!
In addition, this blanket is extremely soft. The quality is impressive and the blurring of this cover is unparalleled.
Drape it over your bed and duvet and you'll achieve a cool, neutral look that feels functional and cute, all at the same time.
The cutest bangs for a chic vibe
There's nothing quite like a pretty moment of fringe, and this dreamy pastel throw pillow will completely brighten up your room.
Dormify says it best: "Boho baby. Effortless and beachy. Our Woven Fringe Pillow is the perfect combo to bring all the good vibes into a bedroom."
Buy the woven fringe cushion in yellow here.
In a beautiful pale yellow color, this pillow is the exact definition of sunshine. I love how delicate and pretty it is, and it makes the room so bright and happy!
The fringe is a darker yellow, with its golden threads resembling sunbeams. Seriously – it looks so good. There are plenty of fringes to entirely line the pillow and look so chic!
The pillow itself is incredibly sturdy yet soft enough to serve as a nice cushion to rest on. The texture of the pillow has a nice criss-cross hatch pattern and adds such a pretty look.
I must say that I was pleasantly surprised by the large size of this pillow. Compared to your typical accent pillow, this pillow is generous in size, measuring 20 inches by 20 inches square.
To care for this pillow, please note Dormify's care instructions: "To keep this square pillow looking its best, stay out of the washing machine. Please only spot clean. Additional instructions are available here.
Study with an elevated gaze
If a lamp could change the way you study, Dormify's Antique Task Lamp certainly would.
This beautifully timeless desk lamp has the perfect elements of dark university, hints of gold and a tone of elegance. As Dormify says, "The spotlight (tasklight) is on you. This matte black lamp is understated and sophisticated."
Buy the antique work lamp here.
I think it's fair to say that this lovely lamp will make you feel like Rory Gilmore. This lamp will make your study space much more serious in a good way, like a space of comfort and productivity.
This lamp is all business. Made of metal, the lamp is sturdy and carries weight, which makes it very stable. Gold notches on its foldable body allow you to maneuver the tilt. This way you can choose the angle you want the light to be directed at, which is incredibly handy!
The lamp includes a bulb that produces a beautiful ambient light. Nothing like having a bright place!
Complete your room with faux cowhide
This beautiful rug is so pretty that pictures can't do it justice. Don't leave your floors cold and empty – this rug will make it completely modern yet timeless, and absolutely sophisticated at its finest.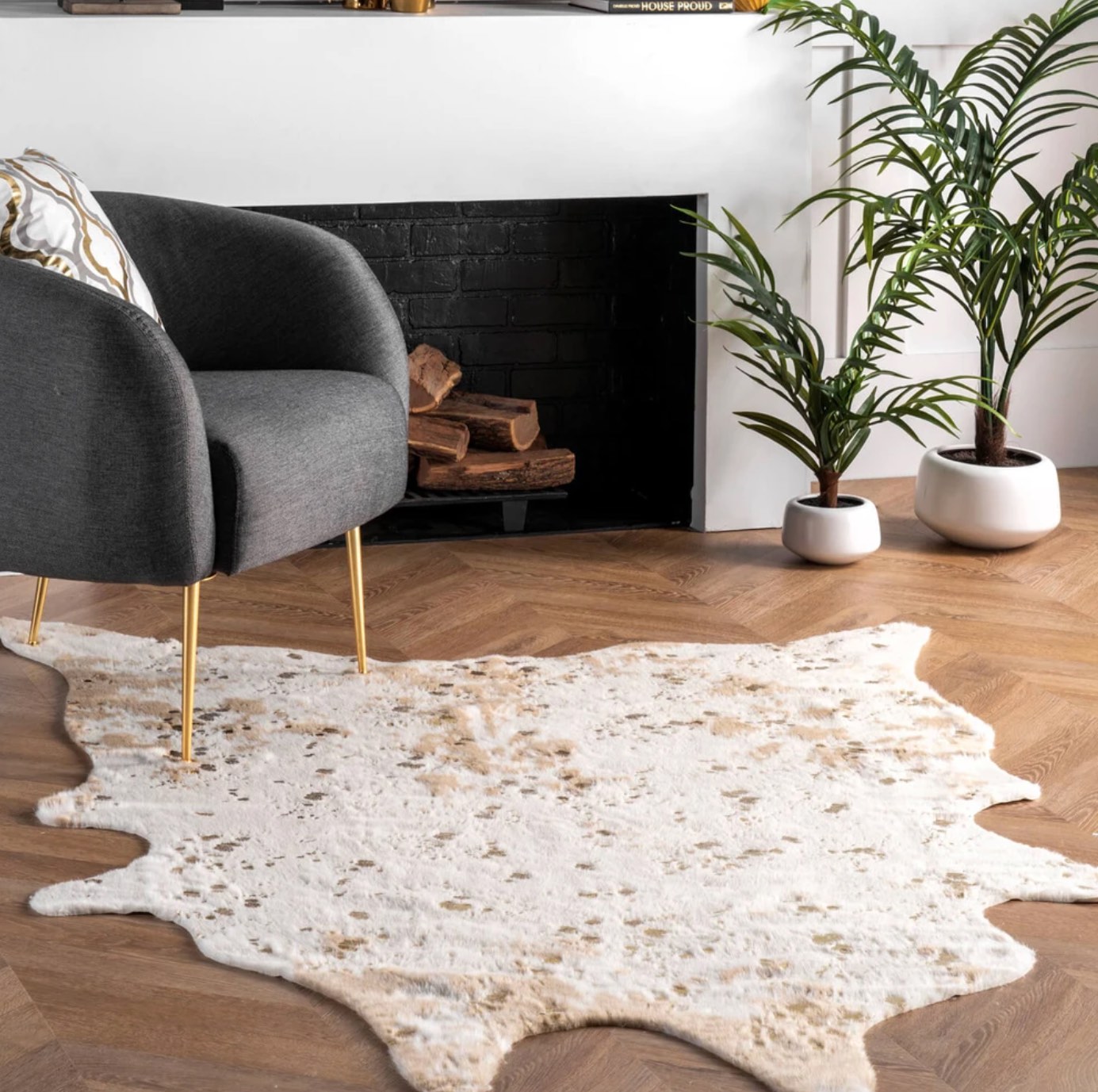 Buy the natural faux cowhide leather rug here.
You don't have to have real cowhide in your room to make it cute – you can use faux cowhide! Taking on the classic shape of a cowhide rug, this beauty is sure to be a great addition to your room, making it truly complete.
The rug's fur colors are cream and tan, giving it a nice neutral look. Above the cream and tan fur are metallic streaks and flecks of gold patterns. He makes the rug look so chic and cute – he's sincerely obsessed!
This rug is also the softest thing ever. It is completely covered in synthetic fur, which makes it soft to the touch and perfect for winter days. Its coat is short, which makes it less dusty.
The mat takes its quality seriously, with a faux leather backing on the back.
The faux cowhide rug is also available in black and brown. All include its characteristic metallic sheen. In addition, to adapt to the different sizes of the endless possibilities of pieces to combine, Dormify offers different sizes.
Follow Dormify
Be sure to follow Dormify on social media! Find them on Instagram @dormify and on TikTok @dormify.