I'm a sucker for sweet but healthy things. If this also applies to you, Sara's Cosmic Cookie Dough is exactly What do you need!
Not only is the cookie dough so delicious it's unreal, it's also vegan/plant-based, paleo-friendly, grain-free, dairy-free, and egg-free, low-glycemic, and made with quality products and GMO free. some products.
Handmade in Colorado, USA, you can eat it raw and/or cooked. It can't be better than that! Of course, being the cookie dough aficionado that I am, I decided to give this amazing brand a try and give it an honest, thorough, and descriptive review on chocolate chip cookie dough, oatmeal chocolate with hot chocolate chips.
See this post on Instagram
The chocolate chip
Without a doubt, the chocolate chip is Phone a classic. It's the definition of intimate, gooey, delicious, dreamy, straight out of the oven…and overall perfect. I chose to eat this raw; the taste was deep in its dough taste (if you know what I mean – delicious dough flavor!) and I fell in love!
Although I chose to go raw on this cookie dough, I truly believe it would be just as amazing baked. The crazy thing is, I've never really tried raw cookie dough yet without feeling a little off – but tell you what, with Sara's Cosmic Cookie Dough, I'm smelled absolutely great – if not, thrilled with this amazing appetizer of the world! (no pun intended on her "cosmic" cookie dough!)
You can't go wrong with the Chocolate Chip. There was absolutely no flaws with this dough, and that's sure to delight cookie lovers.
Oatmeal Chocolate Chips
For those of you who want to take a step closer to sweetness and health and go deeper on the healthy part, this is for you! All of Sara's Cosmic Cookie Dough is gluten-free, including this one too. Oatmeal Chocolate Chip Cookie Dough is made with organic, gluten-free oats.
To me it tasted like a different version of the original chocolate chip with the addition of oats. Sometimes other makers have incorporated grains and oats that feel brittle and overmixed into the dough, but Sara's Cosmic Cookie Dough had the perfect balance of the ratio!
Look how amazing it looks!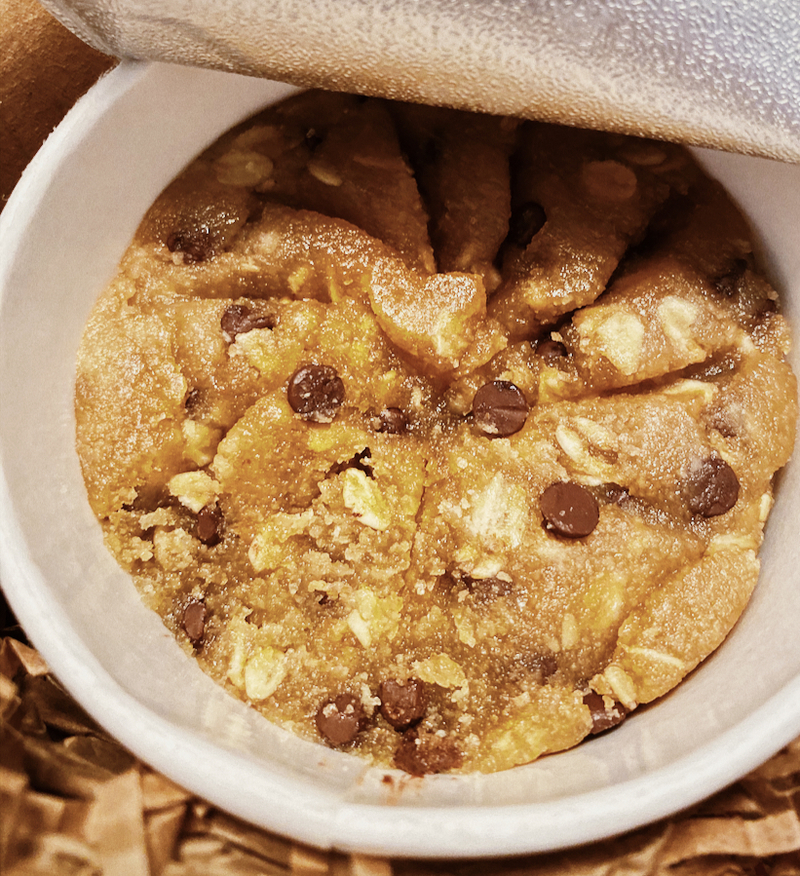 Hot chocolate chips
It was honestly the cookie dough with the richest, creamiest chocolate embedded in the dough. Chocolate lovers, rejoice! If you're looking for something to satisfy your sweet tooth, this is the one for you!
The hot chocolate chip cookie dough was completely chocolatey, but without feeling overly sweet. I was pleasantly surprised to find the perfect combination of sweetness – the slightly bittersweet chocolate resembling cocoa, but fueled by sweetness – no sugar, but a mild sweet taste.
Honestly, I had a slight doubt, like, will I really like an all-chocolate cookie dough, coming from someone who personally can't handle too Chocolate? My answer is wholeheartedly yes: Absolutely! After trying this, I was able to come to the idea that it really can be enjoyed by anyone, with the constant symmetry of flavor and taste.
Overall review
I'm RAVING about Sara's Cosmic Cookie Dough! It's really something you have to try at least once in your life. I'll be honest here – sometimes once in a while when you eat something sweet and classified as overloaded with sugar – you tend to feel a little bad about it. But it's something you can eat without guilt.
Personal Ratings – Disclaimer: It's just me, not you!
It's a tough contender – but if I had to rank my personal favorites – Chocolate Chip would come first, because it's a classic. Nothing can quite beat the power of good old chocolate chip cookie dough.
Second would be the oatmeal chocolate chip; the oatmeal portion didn't feel gritty at all and combined perfectly with the batter mixture.
Last but not least would be Hot Chocolate Chip – but only because I'm someone who loves the taste of the original batter with a bit of chocolate. Hot Chocolate Chips are especially perfect for extreme chocolate lovers and have a rich, smooth taste. I really have to add here that this comes with a gigantic, huge disclaimer – everyone has different taste buds, and there are no exceptions. I fell in love with every flavor I got to try of Sara's Cosmic Cookie Dough.
Nothing is perfect, but this one is
I enjoyed that Sara's Cosmic Cookie Dough was perfectly balanced in flavor. It was sweet to appeal to a sweet tooth, but it wasn't overly dramatic in that aspect. It tasted rich and creamy, and left me wanting more until I unfortunately reached the end of the container – but that won't be a problem at all, as I'm going to try the cosmic cookie dough again from Sara, hopefully soon!
I've never tried a dessert with the perfect balance and ratio in its flavor before, but this one definitely makes the list.
There's really nothing wrong with the cookie dough itself – it really is perfect – and I can't find fault with Sara's Cosmic Cookie Dough; I am in love and addicted to their cookie dough.
Attractive pricing
We have one more thing to add to the long list of why Sara's Cosmic Cookie Dough is the best: it's seriously affordable for that delicious goodness! Each flavor sells for $12.99 (US) per 12-ounce jar. A jar will make a dozen cookies for a baker.
See this post on Instagram
FAQ via Sara's Cosmic Cookie Dough
Cookie dough can be at room temperature for 4 days, good for 45 days in the refrigerator, and can be frozen for 3 months. However, you should definitely check the date label on each individual container, as it can offer a more accurate overview. You can choose to eat them raw or cook them. Via the website, the cooking instructions are:
Preheat the oven to 350°. Shape into balls and place 1″ apart on a parchment-lined baking sheet. Flatten the dough with a spatula into the perfect cookie shape. Bake for 9-10 minutes. Let cool and enjoy.
More information can be found here on Sara's Cosmic Cookie Dough FAQ page.
Get yours (you really must try!)
You can purchase your cookie dough here on their website, https://cosmiccookiedough.com/. Sara's Cosmic Cookie Dough ships to the Lower 48 US States and the State of Hawaii with 2-3 day priority shipping. For details on select Colorado retailers, click here.
Moreover, they are also available on Amazon; shop on Amazon here.
Be sure to stay up to date with this amazing cookie dough company via social media! Sara's Cosmic Cookie Dough can be found on Instagram here at @cosmiccookiedough.
See this post on Instagram