It doesn't take much to change your everyday appearance. There are lots of things you could do, like maybe putting on some new jewelry, trying out a hairstyle you've never done before, or subtly altering the way you do your makeup! Believe it or not, it makes a difference! You don't need to make a significant change to change things up a bit with your appearance. Here are ten different ways to change the way you look through makeup.
1. Blush under the eyes
Some might like this unusual way of putting on blush, and for others… not so much. But for those of you who are interested, under eye blush (also known as Igari Blush) is a makeup trend that originated in Japan, notable for the rich color that is applied directly under the eyes and on the upper cheek area. It was originally meant to make you look hungover, but it has grown in popularity because of how cute and innocent it can also make you, it just depends on how you make it. take. It's not for everyone, but for those of you who want to try something new with your blush application, Igari is worth a try!
2. Drawn crease and lower lashes
Reminiscent of Twiggy and the Mod scene of the 60s, drawing on the crease of the eyelid and lower lashes is a unique way to change up your look. They're pretty rare these days, but who says you can't bring it back? It makes your eyes stand out and it's very easy to do with any type of eyeliner and small eye brush. Maybe try not to overdo it so it doesn't look too natural. If you're feeling daring, pair it with a defined pleat and you'll be channeling the 1960s in no time!
3. Ombre lips
It basically involves blending two colors of lipstick to create a two tone gradient or blending one color from the center of your lips outwards. It's perfect for those of you who want to wear two colors at once, or if you're looking for a more subtle look to wear your lipstick on if you opt for the second technique. It is extremely popular in K-Beauty (short for Korean Beauty) trends, and many Korean makeup companies have created a product specifically for this purpose, called lip tint, where the texture is more suitable for mixing to create a gradient.
Lip tints are available in different textures depending on what you prefer. Some are watery, some look like liquid lipstick, and some look like gloss. However, they are all used the same way. But if you prefer using lipstick for this look, that's fine!
4. Luminous eyeliner
Who says eyeliner always has to be black? Experiment with using bright colors to line your eyes. You don't have a colored liner? Take a small or angled brush, put some eye shadow on it and apply it thickly near the upper lash line like you would an eyeliner. It would be helpful if you have a white pencil eyeliner to base the eyelid on before applying the eyeshadow, as this will help make the color pop and also help it stay on longer.
If you don't want to use a colored pencil on the upper lash line, but still want a pop of color, you can use it on your waterline with a black pencil on the upper lash line or with a bold yet neutral eyeshadow. A tip to make it stay on your waterline longer without smudging is to dry your waterline with a cotton swab before application.
5. Sparkling Cut Pleat
If you want something more dramatic, preferably for casual night events, a sparkly pleat would be a great option. All you need is a glitter eyeliner. Close one eye and apply a thin line with it on your crease on the part where the colors are cut. Wait for it to dry before opening your eyes so it doesn't drool. For the day, you can do this too, but choose lighter, more natural colors for your eye shadow.
6. Fake Freckles
Freckles are absolutely adorable! If you weren't naturally born with it, you can create your own freckles using makeup. If you just want it for a day, you can use light brown eyeliner and a small brush, or use a product specifically designed for fake freckles. But if you want it to last a little longer, make it with henna! Leave the henna on your face longer if you want the freckles to look bolder and more prominent, or just leave it on for a short while if you prefer a more subtle look. Don't forget to rinse or scrape thoroughly!
7. Puppy eyeliner
Instead of pulling your eyeliner up, try pulling it down for a change! Puppy eye makeup has gained great fame for its ability to make your eyes look cuter and more innocent. It is the opposite of the cat eye which is known to give you a fierce and bold look. If you want to look sweeter and more adorable, try this! Pair it with an equally soft eyeshadow to complete the innocent theme.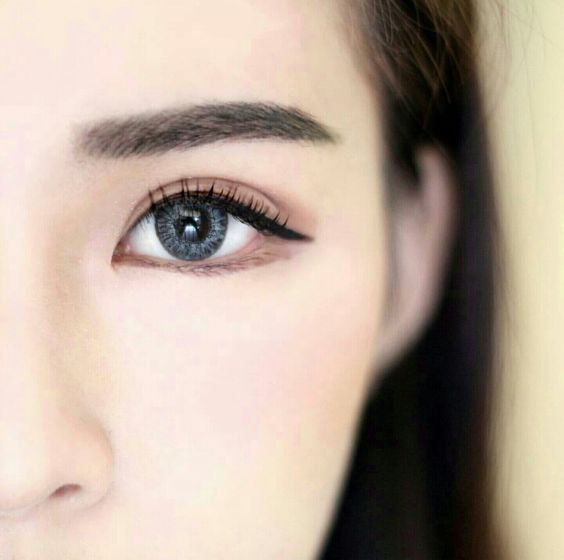 8. Eyebrow mascara
If you're tired of taking a long time every day to get your brows perfect with brow pencil or brow gel, or if you don't like the bold brow look that's everywhere these days, try applying a thin layer of mascara on your eyebrows. . Simply apply it with the applicator and you're done! It's absolutely a lifesaver for busy mornings or when you're late for a place that requires you to put on makeup to look presentable.
If normal black mascara is too dark for you, try getting a good brow mascara that comes in a variety of shades and with a smaller applicator. They're everywhere these days, with plenty of brands launching their own take on eyebrow mascaras. They are convenient, quick and don't take much skill to put them on. No more worries about balancing the shape of your eyebrows! If you don't have natural brow hair, or you have extremely thin brows that won't work with mascara but still don't want to take a long time to do your brows, the next one might be for you!
9. Eyeshadow to fill in the eyebrows
It may take more time and skill than just using mascara, but it's quicker than using a pencil or gel, and due to its finer pigment, mistakes won't be too noticeable. . Use an angled brush to pick up the eyeshadow and apply it to your brows, following your natural shape or a shape you desire. Clean up the edges and corners with a concealer, and your brows are done!
Choose a color that suits your hair color, preferably a lighter shade. It's also a great choice for those of you who have dyed your hair an unnatural color but still want to match your eyebrows to your hair without having to fight to get an eyebrow pencil in your hair color. . Eye shadows come in so many colors that there will always be one to match your hair, no matter how wild your color is.
10. Short Cat Eye
It's good for those of you with droopy eyes that need to be lifted without wanting to overdo it every day. Keep the wings short and the whole line minimalist and thin, and your eyes will get the natural lift you want! It will save you time and won't take as long as a regular cat eyeliner.
These are all the things you can try to change your makeup every day! They're simple and most of them only require a little effort to change the way you apply your makeup or an extra product or two to get. Try doing one the next time you do your makeup.