If you like beautiful, delicate and delicate spring clothes – aren't we all?– You have come to the right place.
Romantic and dreamy, Dress Forum's pieces will make you swoon. You could also swoon at affordable prices that won't break your bank but with amazing quality as well.
See this post on Instagram
Dress Forum is based in Los Angeles; since its launch in 2014, it has stood out for its free and dreamy aesthetic. "We specialize in beautiful prints with a timeless color palette in soft, airy silhouettes," says Dress Forum.
Ivory Floral Miniskirt
If you're looking for a skirt that just screams "It's spring!", it has to be the ivory floral mini skirt.
This skirt comes in a creamy white hue that has a gorgeous floral print all over it. The print features delicate florals in shades of bright sunshine yellow, lavender and muted lilac. The opposing color wheels make a delicious combination and complement each other. The color combination gives it a level of lightness that makes it a perfect match for spring and warmer seasons.
photo via Urban Outfitters
The A-line silhouette of this skirt is perfect for a little flare like a skater skirt and is so flattering. The cut of the skirt is also high waisted.
I'm so in love with the fabric feel of this skirt – seriously, everything about this skirt is pretty much spring-like!
Made from 100% polyester, the skirt fabric is cool to the touch and feels a bit silky. It's so light, which I love; spring is for light and airy pieces, and that's exactly what we're going for this season.
Plus, this skirt really emphasizes that you don't have to sacrifice comfort for fashion. The floral mini skirt comes with attached shorts underneath that look barely there, making it so much easier to wear!
The attached shorts are an understated ivory color and not noticeable at all. When you put the skirt on, the attached shorts are very loose around your legs and give you more than enough room to move as you please. Its cut is actually so free that you could even run in this skirt if you wanted to!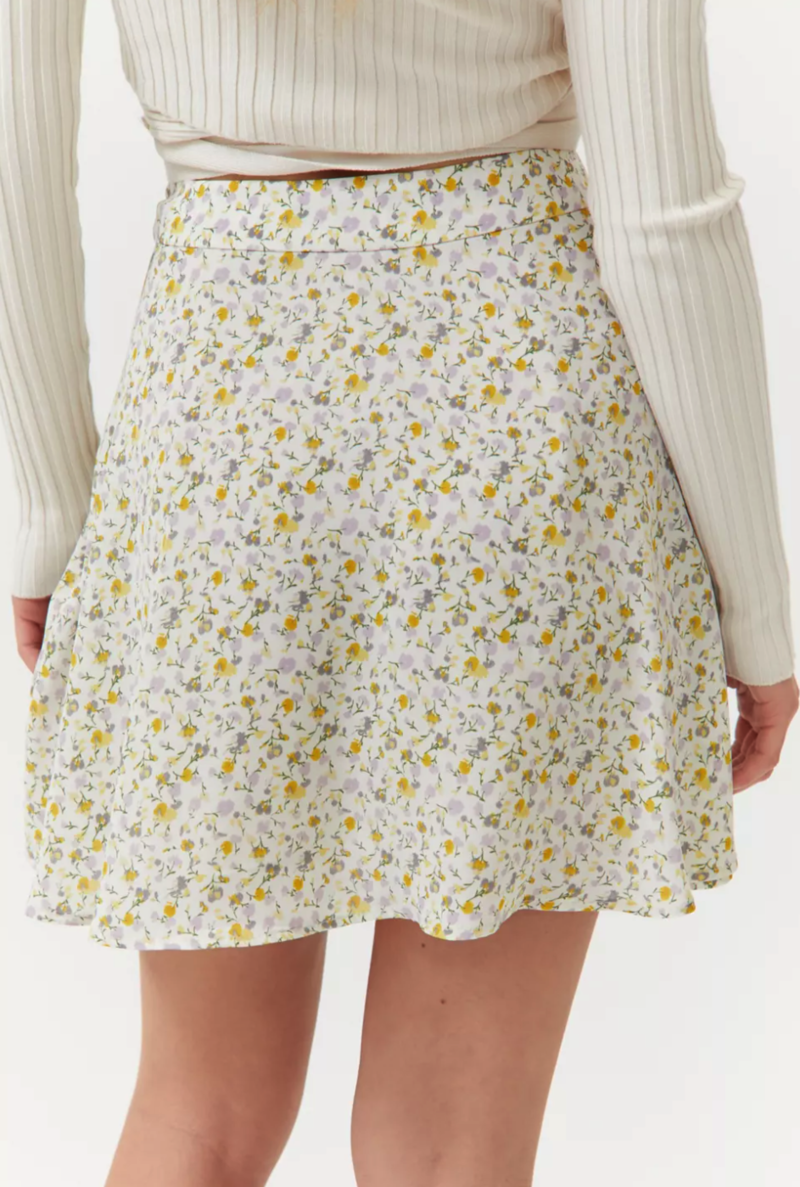 photo via Urban Outfitters
The skirt does not have an elastic waistband, but rather a side zipper. For added security, there is a small silver hook on the top of the zipper that snaps in place to ensure it is securely fastened. I love the thoroughness of this skirt in every way!
The skirt length is 16 inches (in size Small) and hits just above the knee. It's not too short considering it's a mini skirt, so this one is perfect for any appropriate occasion.
Another thing that I absolutely must point out is the freedom of versatility when styling this skirt. Go for a darker toned top or a pale creamy top, like a little blouse or tank top, and voila!
Sangria Ditsy Mini Skirt
Ruffled skirts are so trendy right now, and the Sangria Ditsy mini skirt is just what you need.
The dark brown colors give it a hint of dark colors, making it perfect for all seasons and not exclusive to spring.
photo via clothing forum
On the dark red base are small roses in orange hue variations with beautiful muted green leaves. Again, the colors come together perfectly and offer a bolder but still romantic style.
The Sangria Ditsy mini skirt is two-tiered, and the second layer stands out subtly from the end. It's so beautiful when you give it a little twirl! Psst…did I already mention, ruffled skirts are this right now, and Dress Forum's Sangria Ditsy Skirt is definitely the cutest.
The level of ruffles gives it the perfect amount of bounce and has a layered style. The details all over this skirt are exquisite!
Also made from 100% polyester, this skirt is cool to the touch and slightly silky. I really like that it doesn't feel scratched at all.
Only one layer of the skirt is semi-transparent, although stronger. As it is layered in two tiers, the vast majority of the skirt is well covered, but the lower part gives a nice visual.
This mini skirt is also high waisted and elastic. The shirred elastic fits really snugly like a hug, preventing any possible slipping, and looks really cute!
The elastic section takes up a long area of ​​the skirt, and it's actually quite flattering to know where you don't have to hide your skirt bands – really, it's this cute – which can sometimes be hard to find in skirts. The ruched band is also lined with smaller ruffles on the top and bottom of the band, giving it a touch of texture.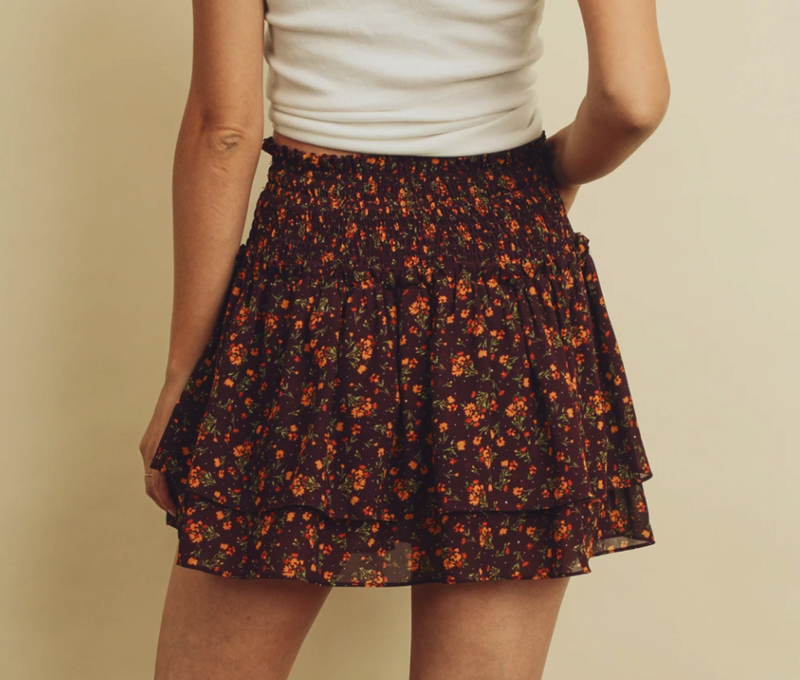 photo via clothing forum
Just like the other skirts, the Sangria Ditsy skirt comes with attached shorts. The fabric is silky smooth and is a completely solid dark red color. It feels very loose and does not restrict your movements at all.
The Sangria skirt is shorter than the Ivory Floral skirt and hits just over half of the thigh. It really comes as a "mini-skirt" and looks absolutely adorable. The ruffles definitely add dimension and layer to the overall look.
Like all Dress Forum pieces, this skirt is also incredibly easy to style. Opt for a lighter colored top to give a little contrast to the darker red!
Ditsy Floral Flared Mini Skirt
The Ditsy Floral Flare Mini Skirt is a classic take on a school skirt, but totally reinvented with a navy blue look with gorgeous florals and more style. Why a schoolgirl skirt, you ask me? This skirt has an understated pleated design that is incredibly stunning when you give it a little twist and swirl.
The skirt is pale blue in color and has an all over print of white and pink flowers with pale sage leaves. It looks so cute together and mostly looks like a darker, more understated blue ensemble!
photo via clothing forum
When turned on, the ruffled hemline puckers slightly and with every step it is mesmerizing. Although the skirt has two layers, it is not layered like the Sangria skirt. It flares out and the more sheer fabric of the second layer pops underneath, which is beautiful.
The Ditst Floral Flared Mini Skirt is super high waisted and finished in a dramatic, eye-catching flare. It's a bit of a skater skirt, always flattering.
The waistband of the skirt is not elastic but is secured by a zipper. The zipper is very subtle and is on the left – it's so unnoticeable when on which I really liked. Above the zipper is a small metal clasp that goes the extra mile to make sure it's nice and secure.
Made of 100% polyester, this skirt is also cool and won't overheat on you. It's absolutely meant for warmer weather, although you can wear this beautiful blue skirt in the fall as well.
This too has a hidden shorts liner. The shorts are in a muted blue hue and are just as airy and roomy as other skorts. I love that this skirt has it all covered!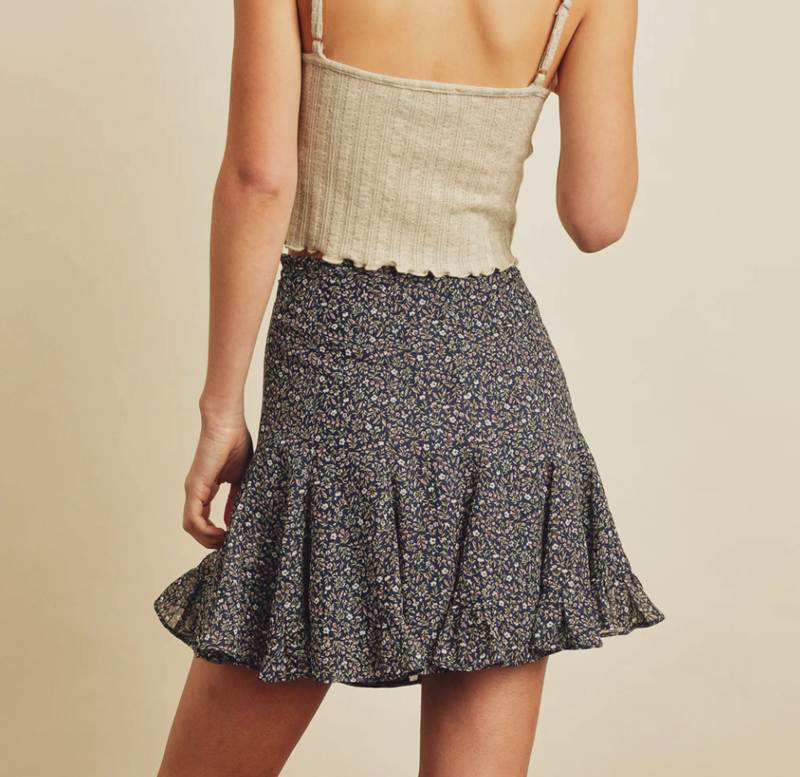 photo via clothing forum
If you are looking for a mini skirt that is neither too long nor too short, this is the one for you. It just hits the halfway point where it's good enough to wear to school or other dress code events, but not too extensive.
To style this skirt, consider opting for a brightly colored top in lighter shades like pale blue, pink, white, etc. This piece, like all the others, is pretty easy to pull off for a Pinterest-worthy fit.
Buttoned knit cardigan top
What might actually be the softest cardigan ever, when it comes to knitwear, Dress Forum's Button Down Knit Cardigan is a must-have.
In a gorgeous and mature sage colour, this top is perfect for every season, whether it's this spring or fall. The sage shade is closer to a deep oatmeal color than a solid green and is so pretty.
photo via clothing forum
The top of the cardigan has a knit pattern all over; vertical patterns criss-cross throughout the top and come in delicate and subtle prints that show it's truly knitted. It's such a lovely detail and complements the room perfectly.
The back of the top also features the same vertical knit from top to bottom. This top is all about simplicity, but also about details!
The top has a deep V neckline. It tends to sit a little lower than most and would look great with a tank top layered underneath if you prefer some coverage. The V-neckline is lined with knitted edges.
Along the v-neckline is the lined button closure. There are six delicate circular buttons in an ivory-sage color with a darker, cooler pattern. It adds a cool point to the cardigan which I love.
I'm so thrilled with how soft this cardigan really is. The fabric is made of 50% rayon, 28% polyester, 22% nylon. It really is so cozy!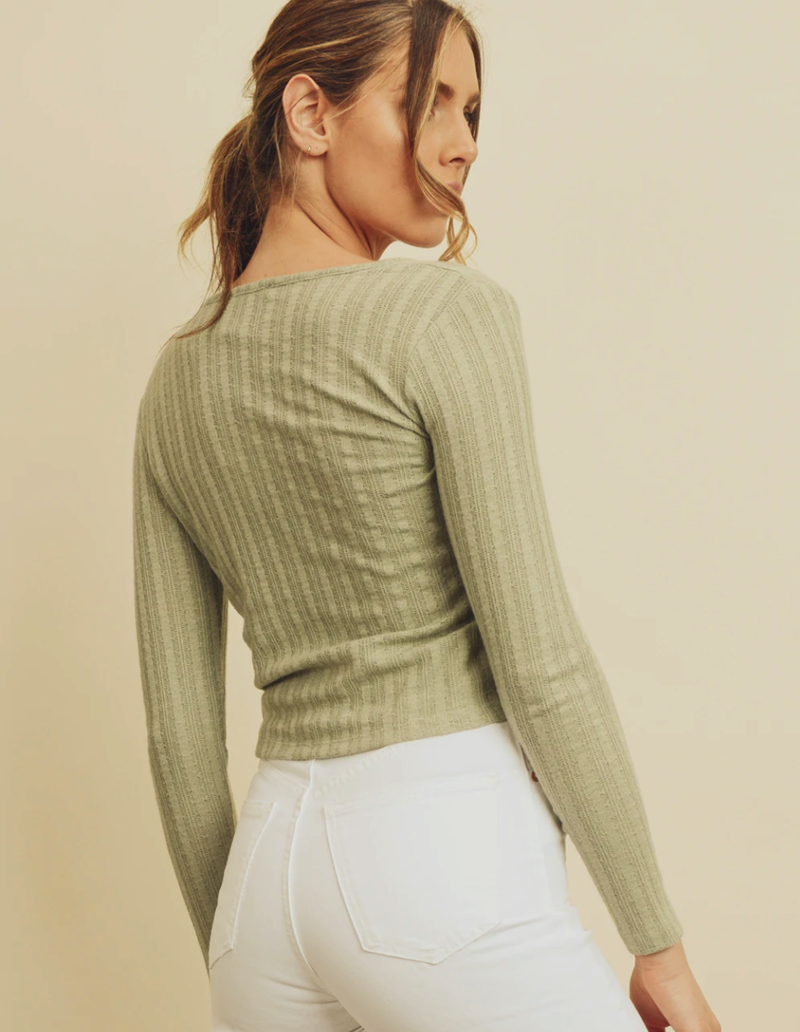 photo via clothing forum
The mesh top is quite fitted. It is well suited for the warmer seasons, but also works when it gets slightly chilly, as this top is great for keeping you warm. (As for sizing, if you're between sizes, it may be okay to go up a size, as it's quite snug. It's not a must, though.)
This cardigan is cropped and hits just above a high-waisted bottom. It's perfect to pair with any jeans, pants or skirt!
To style this versatile and elegant cardigan, opt for white pants or a colorful and bright spring-themed skirt!
Comfortable and cute
The Dress Forum pieces are an absolute dream and perfect for the weather ahead.
These truly versatile pieces are perfect to wear to any event, whether you choose to dress it up or down. These are appropriate enough to wear anywhere and look so effortlessly flawless.
See this post on Instagram
Plus, it's really easy to style them so you always look so good and together!
Absolute quality
I am so thrilled with the amazing quality of Dress Forum. I'm really happy with the fit of the pieces – they hit all the right places and flare out in all the right places!
The fabric is so amazing and is truly of the highest quality. The skirts are cool to the touch and the cardigan so cozy.
I love that I feel comfortable wearing these pieces; you don't have to sacrifice comfort to stay stylish with Dress Forum!
Dress Forum is such a dream, and her pieces are the true embodiment of a free-spirited romantic dreamer.
Or buy
Dress Forum is available at a wide variety of brands and stores, such as Pacsun, Urban Outfitters, Cool Hour and more.
When you browse online to shop for the cutest spring outfit and see it's Dress Forum, you can be sure it's going to be the highest quality, flattering piece worthy of a compliment.
Dress Forum is also hosting a real-life meetup where you can buy these dreamy pieces in Dallas, TX. If you are in town, be sure to visit the World Trade Center, Dallas Market!
Continue
Dress Forum can be found on Instagram at @dressforum.
If you're a Pinterest user, Dress Forum's Pinterest boards are so pin-worthy. Be sure to add them to your fitpo board!
See this post on Instagram