It's the middle of a hot, sunny summer, and Arlo Swim is just what you need. There's no better way to spend the summer cooling off by the water, and Arlo has it all: cute, trendy, and affordable bikinis. Say goodbye to spending over a hundred for a pair and say hello to Arlo!
About Arlo
Arlo is a relatively new swimwear brand that launched in 2017, but the company has already released many distinctive collections that have received many positive reviews. The brand is keen on creating adorable and fashionable beach suits that won't leave strange criss-crossing tan lines. Another winning factor, of course, is that they are not very expensive!
See this post on Instagram
I decided to try out two from Arlo's collection: The Stassi and The Sofia. I immediately fell in love with The Stassi because it had an innovative feature – a two-way style – and with The Sofia I really found its fitted top and bold color options beautiful and unique.
The Stassi set
The Stassi top is reversible, which means it can be worn two ways. The first way is a smaller, more revealing top, and the second option shows off a strappy bandeau with a cute keyhole cut on the bottom. In other words, you get two for the price of one – and that's what I call stealing!
I chose the white color option (from red, white and black) because I liked the bright and classic feel it gave. The fabric was cool and creamy, and perfect for lounging comfortably in the sun.
The photo below shows a very creamy color, but in reality the color is more white. I'd say it's not a crisp white-canvas, but not a deep ivory-cream; the shade is more of a balance between the two and really pops well against all skin tones.
The liner is also triple lined, giving you the perfect support for all your fun water activities.
Version 1
This style from Stassi is a sporty style top with a keyhole cut in the middle. I loved that the keyhole wasn't too big, but also that it wasn't tiny either. It was just the right size!
On the back, a clasp unites the shape of the back with a V cut (which forms version 2). The straps do tend to stretch a bit as the v-shape moves to accommodate the rear window, but I'm here to assure you that won't be much of a distraction or concern.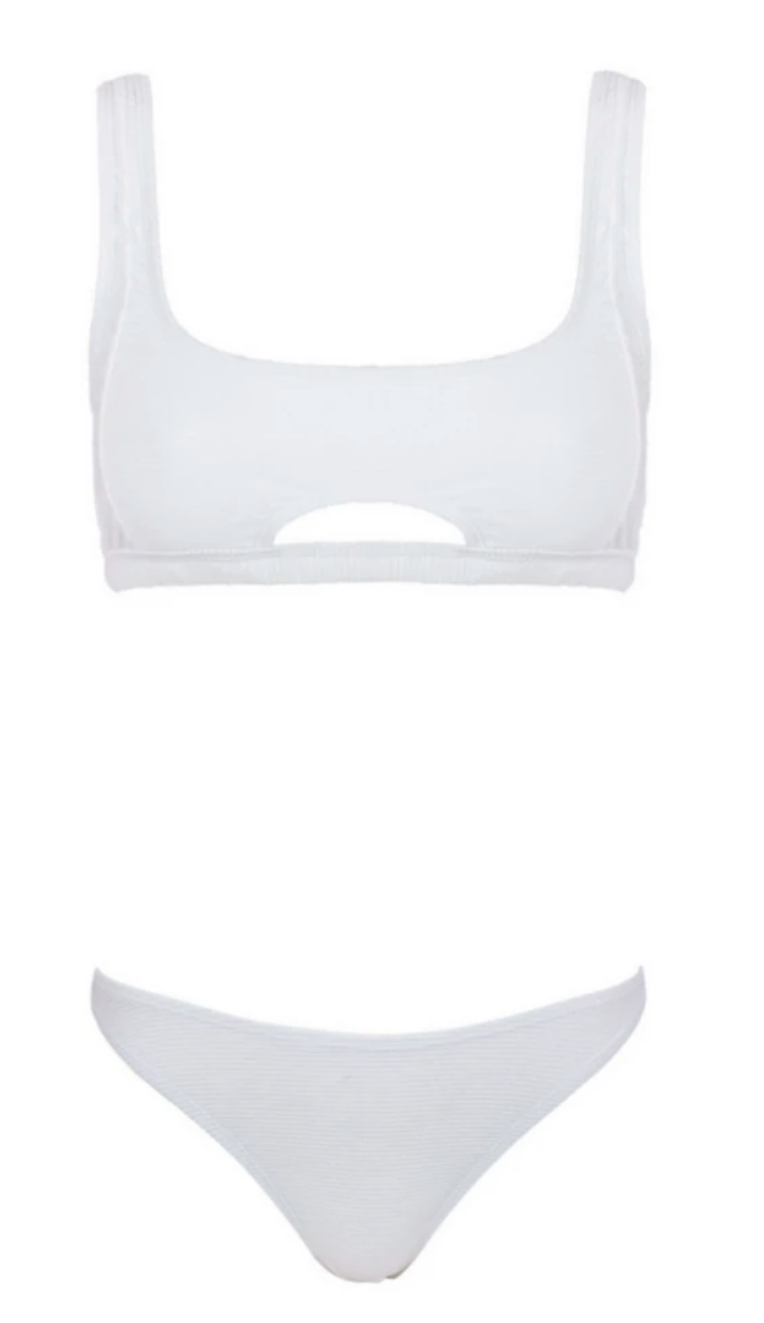 Stassi Version 2
Style #2 from Stassi brings you the V-shape in the front and the keyhole in the back.
This version is nude and while accentuating the front part, it was snug and perfectly fitted. It's a very revealing look – a bold style, if you could say so – and I would most definitely say it gives you the solution to terrible tan lines – you won't have to worry at all!
Stocking Stassi
Bottoms are thinner than your typical cups. I have found it beneficial for better tan lines (goodbye annoying lines!), but I wouldn't call it a form-conserving. I would rate it on a 5.5 scale, with 1 being the thinnest and 10 being incredibly full.
Arlo's website lists their style as slim/naked for supportive adventures and fun in the sun without the nasty consequences of light – so slimmer cuts are to be expected!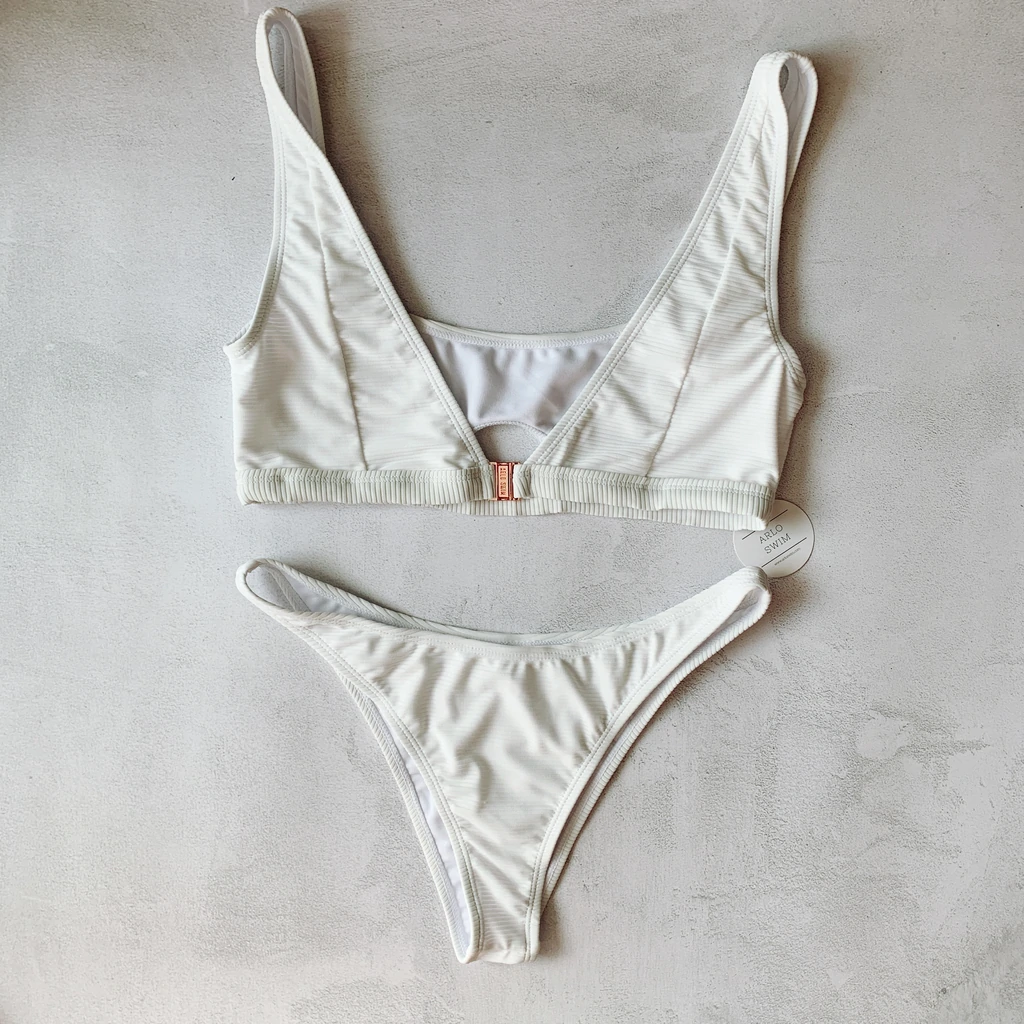 Order Stassi
With Stassi, you can order just the top or the bottom, or the complete set. Each top and bottom sells for $25 each (what a steal!) and the full set is $45. There are three color choices: Ivory White (creamy ivory shade), Midnight Black (jet black shade), and Scarlet Red (bright, fire engine red). To shop the same ivory Stassi as mine below, check out the collection here.
The Sofia set
The Sofia comes with a top with a tied strap in the middle and a triangle cut bottom that elongates the legs. The fabric is ribbed which was a plus. The color I chose was Citrus Love, although it was a tough competitor with the beautiful pink shade of Candy Pop.
With Citrus Love in particular, the site comes across as a brilliant neon green – and I wasn't disappointed! This shade really popped against my tan and was a special, bubbly color. Even with a few dips in the pool, the color didn't fade and stayed bright as ever.
Sophia top
The top comes with many adjustable strings. There is one for the bare back, one wrapped around the back, and one in the middle of the top that crosses over to give the top a ruched look. I thought it was incredibly cool that you could pull the gathered top strings up or down to control the amount of tightness. It was so innovative, and I was pleasantly shocked and delighted!
Sofia stockings
The bottoms for here were a cut thicker than the Stassi – I would scale it to 7.5, with 1 being the thinnest and 10 being incredibly full.
I absolutely loved that Sofia's bottoms were high cut. As you can see in the picture, it is placed in a light but defined V-shape cut, which definitely elongates your legs. This feature was so unique, and I absolutely loved it!
Order Sofia
The Sofia only sells in pairs and only costs $50 for the top and bottom. Color choices are Citrus Love (neon green) and Candy Pop (medium-dark pink). To shop the same neon green Sofia as mine below, check out the collection here.
Overall review
I definitely have to mention that one thing about Arlo that I found useful was their feature allowing customers to buy different sizes for tops and bottoms. extremely considerate of those with different body types.
Another aspect of Arlo that I liked was that the most expensive fixed price in the store was only $55 (in US dollars). For some brands, this is just the top half of a set! Arlo, however, has proven that swimwear can be high-quality and fashionable while keeping your bank intact.
I must also say how much I love, love, to like The quality of Arlo's bikini fabric. To be honest, I don't think I've ever come across such a softest quality swimwear brand – already! I'm totally hooked, and it's so soft and gentle on your skin. I'm in love!
Stay logged in
I highly recommend Arlo – I was seriously shocked by its quality, design, and price. You will surely fall in love with it and your trips to the beach will be even more perfect.
To follow Arlo on social media, be sure to follow @arloswim and check out their brand here at https://www.arloswim.com/.
See this post on Instagram