We tend to forget how polluting our addiction to shopping can be: the textile industry is one of the biggest polluters in the world, and the development of fast fashion in recent years has only increased the carbon footprint. According to the World Bank, nearly 20% of water pollution worldwide is caused by malpractice in the textile industry. Companies like ZARA and Forever 21, popular for their cheap and trendy fashion, have often been condemned for their unethical labor practices and wasteful production practices.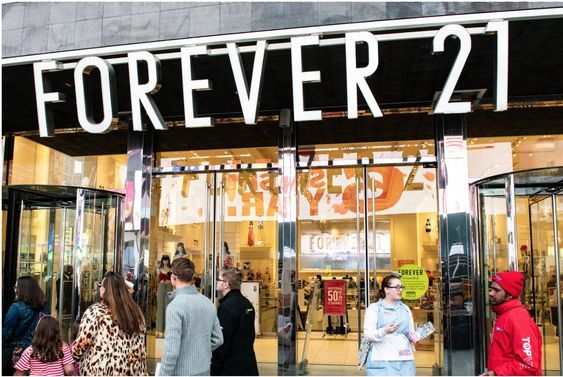 As the state of the environment continues to deteriorate, there has been an outcry against big business imploring them to make progress in their environmental and labor practices. Forever 21 is a prime example of the blow these big companies have taken as they filed for bankruptcy earlier this year. As many businesses move towards change, young fashion geeks have turned to buying second-hand clothes from thrift stores or finding smaller alternatives with sustainable and ethical working practices. . One such alternative is the small "Cool is a Construct" brand, and it's a must-have for anyone looking to buy sustainably while still maintaining the trendy look.
The Cool is a Construct brand was created by an FIT student who struggled to find her style in local thrift stores, a style she identifies as eclecticly Parisian with a touch of the city. The brand offers a selection of pieces that recall both Paris and the bustling city of New York, a unique mix that is impervious to passing trends.
The lightweight, silk silhouette of the Jeanne top is perfect for a night out on the town, while pieces like the Bridgette dress are perfect for a picnic in the Luxembourg Gardens. Cool is a Construct is the ultimate one-stop-shop for it-girls, and all production and design is done in-house in New York.
I was able to talk to the designer about her work and her time in the fashion industry, and learn more about her and her brand.
Why did you launch Cool is a Construct in the first place?
I'm going to be a junior at FIT this year, but I really should be a senior. I went to Vanderbilt after high school, but dropped out after spring break in sophomore year because I was miserable there. After a while I wanted to go back to college and I wanted to go to New York. Honestly, FIT wasn't on my radar. This happened to be where I could apply without a teacher's recommendation, so I just decided to drive into town and figure it all out later.
I started at FIT and wanted to do something creative. I did an internship while at Vanderbilt and felt suffocated. I felt devalued and looked down upon as an intern, and wanted to have a voice that mattered.
I guess I always had the idea of ​​launching my own brand; I've had instagram since I was a freshman in college. I have a very specific style and look that is very hard to find. It's very French, vintage-inspired. Thrift store, vintage store, that's where you would find me. I couldn't really find this anywhere, so I started making it myself.
When did you find the aesthetic/style behind Cool is a Construct? What inspired the brand?
I think the aesthetic and style behind Cool is a Construct is basically my own style, and it's been fused with influences from what my friends and followers love. It's really unique and definitely reflects my own style.
How did you amass your social media followers?
We try to post every day, and the influencers have certainly been very helpful. When we launched, I had 1,000 followers, and now we have about 11,000. Maddie Ziegler wore it, Danielle Bernstein wore it. Seeing great influencers wearing the clothes is so satisfying and has definitely helped us grow as a brand.
Do you have a favorite piece in your collection? Which is it?
My favorite piece is the Jane dress. I love it, like I have a square tan from the neckline. And it's definitely not a bestseller. The reason it's my favorite is because that's why I started designing in the beginning: I saw the dress on Jane Birkin and wondered why nobody made it . I couldn't sew, I couldn't draw. I just decided to make this dress and that was it.
How would you describe your style?
It's easy. A dress with sneakers, a dress with boots. I wear dresses all the time and I'm from New York. You're not supposed to wear dresses in the winter in New York, but I'll just put on a pair of tights and go. Rompers, jumpsuits. I hate pants.
It's definitely a little more edgy than you think. I like flowers, but I also like black leather. A dress with a small black leather satchel, ankle boots.
How does the design process work? How long does it take to produce each part?
Usually our things are inspired by vintage pieces. I will play with different styles from vintage pieces. I would like a neckline or a cut with sleeves. My seamstress is amazing, so I'll send her some inspiration and she'll come out with this amazing piece. Once that happens I see the part and then have a fitting session to perfect the fit. I produce a lot more plays than I honestly release. Everything has to be perfect, so sometimes either the fit won't be right or the fabric will be off, and I'll just put the design aside until I'm convinced it's perfect.
How does Cool is a Construct work towards sustainability?
When we started, we used vintage fabrics. It is difficult because the quantity is not enough. We now use dead animal tissue. It's a fun hunt: I'm going to find a print I love and hunt it down in cult boutiques across the country. We also have an entirely ethical production: we produce everything in New York and we pay fair wages. I attach great importance to a working environment where everyone feels safe.
Either way, we try to keep our footprint minimal and our employees happy.
What designers/brands did you draw inspiration from?
Personally for my style, I am inspired by Faithful the Brand, Maison Cleo. Many small French brands. Red. Lots of brands from Copenhagen too. I find so many brands on instagram, and that's perfect because then I get all these unique pieces and also support smaller brands and people.
For high-end staple pieces, I love my Dior saddle bag. I like to feel boujee.
What would you say to other students who are considering attending fashion school/trying to enter the fashion industry?
Being from New York, I started doing internships when I was very young. Honestly, my internship in the fashion industry turned me off, it was office work and it was pretty boring. I didn't like fashion for a long time. I think creating my own opportunity in Cool is a Construct is what got me into the industry completely.
Create your own opportunities. Also take advantage of the people you meet; the best part of FIT isn't even the school, it's the people. There are so many creative people who are so inspiring and helpful, who have always wanted to help me with my brand and help me grow.
Who is your style icon?
Jane Birkin. I am obsessed with her. But also, just a group of girls on instagram. I find their profiles and I love their aesthetics and their style.
Who would you like to work with in the future?
There are so many girls I would love to see in Cool is a Construct. Of course, I would die if Bella Hadid wore our stuff, Kendall Jenner, Dua Lipa, Nicola Peltz. It would be so cool to have one of these A-list models in our clothes. Madison Bailey wore our dress, which was so cool, and I would love to see it on Madeleine Cline too. I just watched Kissing Booth 2, so if Joey King wore our stuff, that would be super cool! Young Hollywood is everyone's obsession right now and I would love to see the brand grow within that audience.
Cool is a Construct is the perfect mix that offers fashionable clothing while practicing sustainable and ethical production practices. Put on one of their pieces and you'll feel like the main character in a coming-of-age movie set in Paris. The brand is definitely worth a look for anyone looking to expand their wardrobe and maintain the same uniqueness that the business owner is always looking for.
Find Cool is a build on instagram @coolisaconstruct.