There's nothing better than picking out the perfect outfit for the day, and there's simply no better destination than Princess Polly. The absolute cutest fashion brand to exist, everything about Princess Polly is to be obsessed with.
If anything, this Australian brand knows exactly how to turn heads with stunning unique looks.
View this post on Instagram
shop Princess Polly at princesspolly.com
I ♡ You, Princess Polly
Trendy is Princess Polly's middle name- every single outfit from the brand is exactly what's in right now, and is so stylish that it's bound to make a seasonal return every once in a while. Every single piece feels special with its one-of-a-kind design, and the flattering cuts and graphics are totally compliment-worthy.
Plus, Princess Polly cares for our planet. Introducing to you the Princess Polly Earth Club- where stylish fits are also ethically sourced, sustainable, and making great progress to positively impact our wear! To learn more, click here.
View this post on Instagram
We are devoted to making continual progress towards our commitments and being transparent along the way. Earth Club is your go-to resource to keep up to date on all of the initiatives and programs we're working on. Because doing good is more than a mood!

-Princess Polly
A Casual Colorblock For The Win
Let's talk a cute back-to-school moment, but ten times cuter. The Georgia Cropped Sweater is serving looks all in a minimalist, timeless way with the ever-cool colorblock design.
Shop the Georgia Cropped Sweater in White here.
I have to say, sometimes, less is definitely more. This sweater is more like a loose-fit, relaxed long sleeve with a casual polo-style neckline and small, dainty wooden-textured buttons.
The bottom half of the top is a pale pastel green- a color I'd call eucalyptus- which completes the overall vibe of the top so well. Everything about it feels so laid-back and simply pretty.
With a drop shoulder, the sleeves have the perfect amount of roominess and the cropped fit of the Georgia Sweater makes it all-around cool. The boxy feel of the top makes it feel very casual yet on top of everything.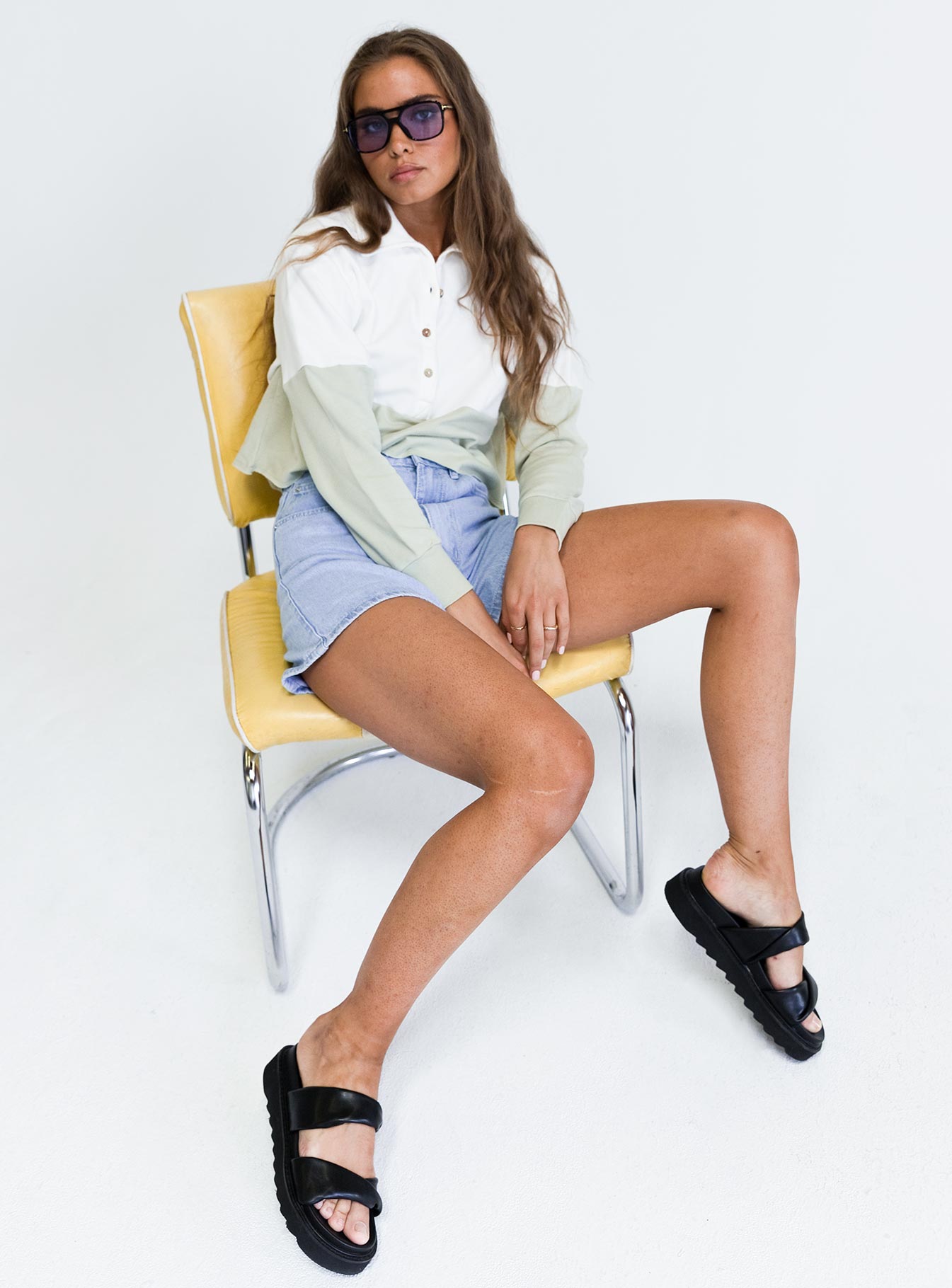 All on the softest cotton fabric ever, this unlined top with soft lining is the perfect staple for fall and spring. Pair this top with a solid pair of jeans and your favorite white sneakers, and you're good to go!
Light, Airy, and Flowery Jeans
These gorgeous yellow jeans are so dainty and gorgeous. Even Gen Z's beloved fashion icon, Emma Chamberlain, is a fan of it!
Shop the Ivy Floral Straight Leg Jeans in Yellow here.
These denim jeans are a Princess Polly exclusive, and are very high-waisted (perfect to wear with your favorite crop tops!) and have an all-over floral print on them.
The yellow wash of the jeans creates a beautiful pastel shade that feels so bright and positive like sunshine. The floral prints are tiny, dainty lavender flowers.
The silhouette of the jeans is a straight leg with a subtle flare- so nothing too dramatic, but the details and looks are there. The top part of the pants fits snugly but later turns into a looser fit. It has a slight stretch to it, and the jeans can be enclosed with a zip & button fastening.
If you want to adorn these jeans with a belt, you've got it: the belt loops at the waist make it super easy for that. These jeans tend to be on the longer side with a long length, so for tall girls, this is perfect for you!
These flowery jeans are so pretty that they'll turn heads. The lovely pastel shade of it doesn't make the yellow feel bold at all. Pair them with a classic crop top in any color that goes well with this beautiful yellow, and you're all set!
Need some inspiration? Emma Chamberlain knows what to do!
The YouTube mogul pairs the Ivy Floral Jeans with a clover-green crop top. (This is also from Princess Polly- get your Tessa Long Sleeve Top in Green here to match with Emma!)
The Classic White Top I Swear By
If you're calling for a classic white tee that goes along with anything, the Organic Cotton Crop Tee's going to answer it.
Shop the Organic Cotton Crop Tee in White here.
This super cute crop top knows how to master simplicity. Minimalistic but the perfect top to make an outfit truly pop, this slim-fitting tee is the perfect baby tee that's been making waves in fashion lately!
The top features a rounded neckline and has short capped sleeves. The top has a vertically lined texture and is incredibly stretchy- if you want a more fitted look, stay the same size, but for a slightly boxy fit, size up. With a crop that ends right above your waist to give it that "baby fit", Princess Polly's classic white crop is actually my favorite wardrobe staple ever.
The top is on the thicker side with a high-quality feel, so you won't have to worry about it being see-through.
The fit looks so flattering and is the perfect complimentary piece to go along with your favorite high-waisted pants or skirts. One of the best things about this top is that it goes along with anything and makes it look actually cute.
Just when you thought this must-have tee couldn't get any better, this organic crop tee is part of Princess Polly Earth Club. too! Made from 95% organically grown cotton and 5% elastane, the top is from "cotton grown [materials] with no non-organic pesticides, herbicides & fertilizers."
I'm telling you, this one crop tee is the one I swear by and is an absolute must for your closet! Anything and everything goes so well with this piece.
Holographic Print is Totally In Right Now
I mean, hello? This might just be the coolest print ever! With the Addison Printed Jeans, it was truly love at first sight. From the slim fit of the jeans to the out-of-this-world cool holographic print, I knew that the Addison Jeans were simply meant to be for our closets.
Shop the Addison Printed Jeans in Blue here.
The printed design of the holographic pattern looks just like the sparkling surface of a pool on a hot summer day. The slight variation of the light blue of the pants creates a stunning visual. If anything, the Addison Jeans are like no other and totally stand out in the best way possible.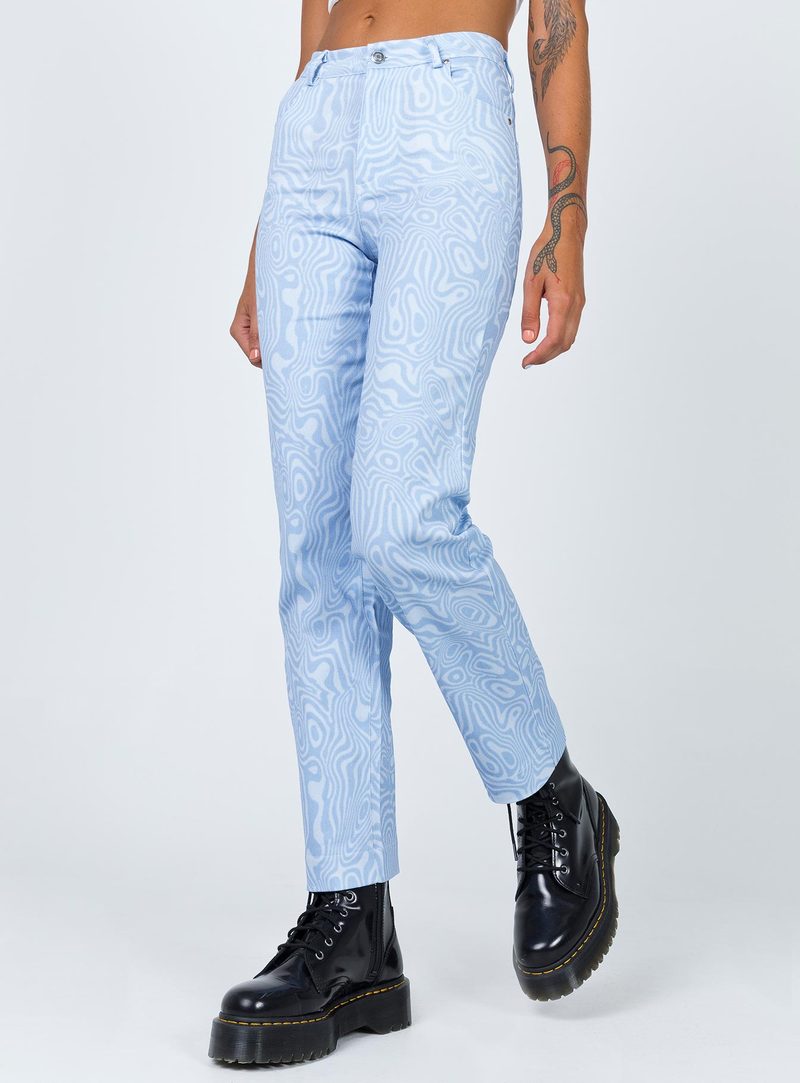 These stretch denim jeans are the lightweight versions in an easy zip-up style. The slim fit of the jeans feels a lot like skinny jeans, but the slight tapering and flare of the pants give it a cooler edge. It's a lot more of a skinny-jean fit by the thighs and a straight-leg style on the calves.
I would personally recommend sizing up (you could even size up by two sizes), as the Addison Jeans are a bit tighter than your standard ones- it's the perfect time to show off your silhouette!
The waist of the jeans isn't too tight and is slightly loose, and the belt loops at the waist give you an opportunity to add in a belt accessory. Plus, it has pockets! The five-pocket design allows you to store anything and everything you need.
Since the bottom half of your outfit will be busy with this gorgeous print (I mean, I really can't stop marveling at how cool and awe-striking it looks), I would advise going with a more simple top. A simple white crop tee will do- and you already know which one I'll be sporting on with this: the classic white from Princess Polly's Earth Club!
Scooby-Doo, Where Are You?
Scooby-Doo was my favorite cartoon of all time when I was little, and there's no cuter graphic tee that has your favorite character on it. Jinkies, it's just so cute!
Shop the Scooby-Doo Tee in Black here.
With a large Scooby-Doo print on the front, a graphic of Scooby on the run is shown against the classic purple flowers that are often shown throughout the cartoon on the Mystery Van. The flowers form a large heart to show our love for this adorable shirt!
The Scooby-Doo t-shirt is very oversized (so don't size up!) and is made of super-soft cotton. The oversized look just makes it the perfect go-to to throw on for casual moments.
The shirt has a slim crew neckline and has a drop-shoulder, adding to the baggy effect. The tee also has a vintage look and a good stretch to it.
I just love the way the cartoon brings back that sweet nostalgia of searching for clues and solving mysteries with Scooby and his squad. This shirt also looks great with anything, whether it be easy leggings or carpenter jeans.
Forest Green Flares? I'm In!
These high-waisted flares are the definition of the hottest pants that'll have all the attention! The deep forest green color is a gorgeous shade to have in your wardrobe to go for an effortlessly cool look (with an effort, of course).
Shop the Nadia Pants in Green here.
With a thin cord texture, these pants aren't just your regular pants. The forest green easily makes it pop, and the color itself is a fashion statement. I just love the smooth feel of the pants, and they are such a look!
These slim-fitting pants end with a flare-out that makes them just like a bellbottom fit. These flared legs are so adorable, and to direct all focus on the flares, I'd recommend going with a cropped fit top.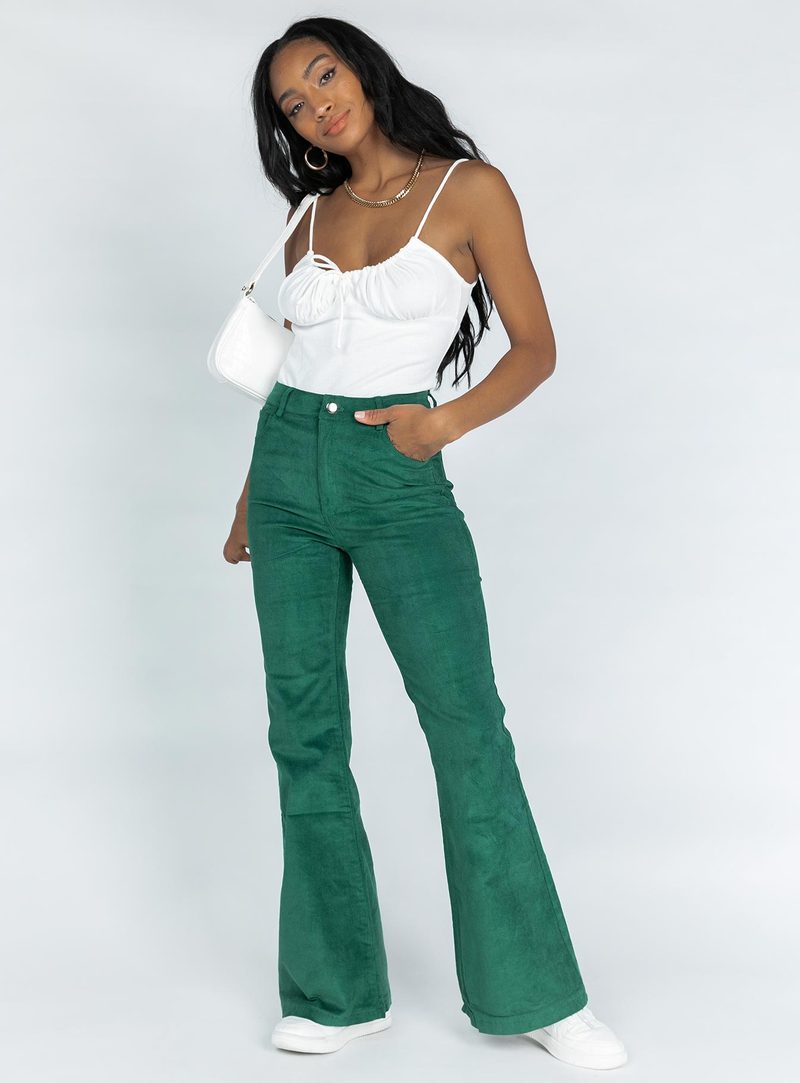 Complete with a zip & button fastening, belt loops, and a five-pocket design, the Nadia Pants are simply the dream pants for anywhere and everywhere while being stylish at their best.
The length of the pants tends to be a little bit longer than most, so these are perfect for taller girls! For shorter girls, with a pair of your favorite platforms, these pants are good to go.
The forest green shade makes it a fit for all seasons and will be perfect especially in the spring and autumn. A good pop of color is a must in our closets, and these Nadia Pants are no exception!
Tongues Out For The Rolling Stones
If you love the band The Rolling Stones, there's no better graphic tee for you! This fierce, cool cropped tee is perfect for summer days.
Shop the Rolling Stones Many Tongues Crop Top here.
With the iconic tongue symbol of the band, this graphic takes the design approach a step further on the back. Featuring the coolest swirl design ever with many tongues- hence the name- this particular Rolling Stones tee is easily one of the coolest.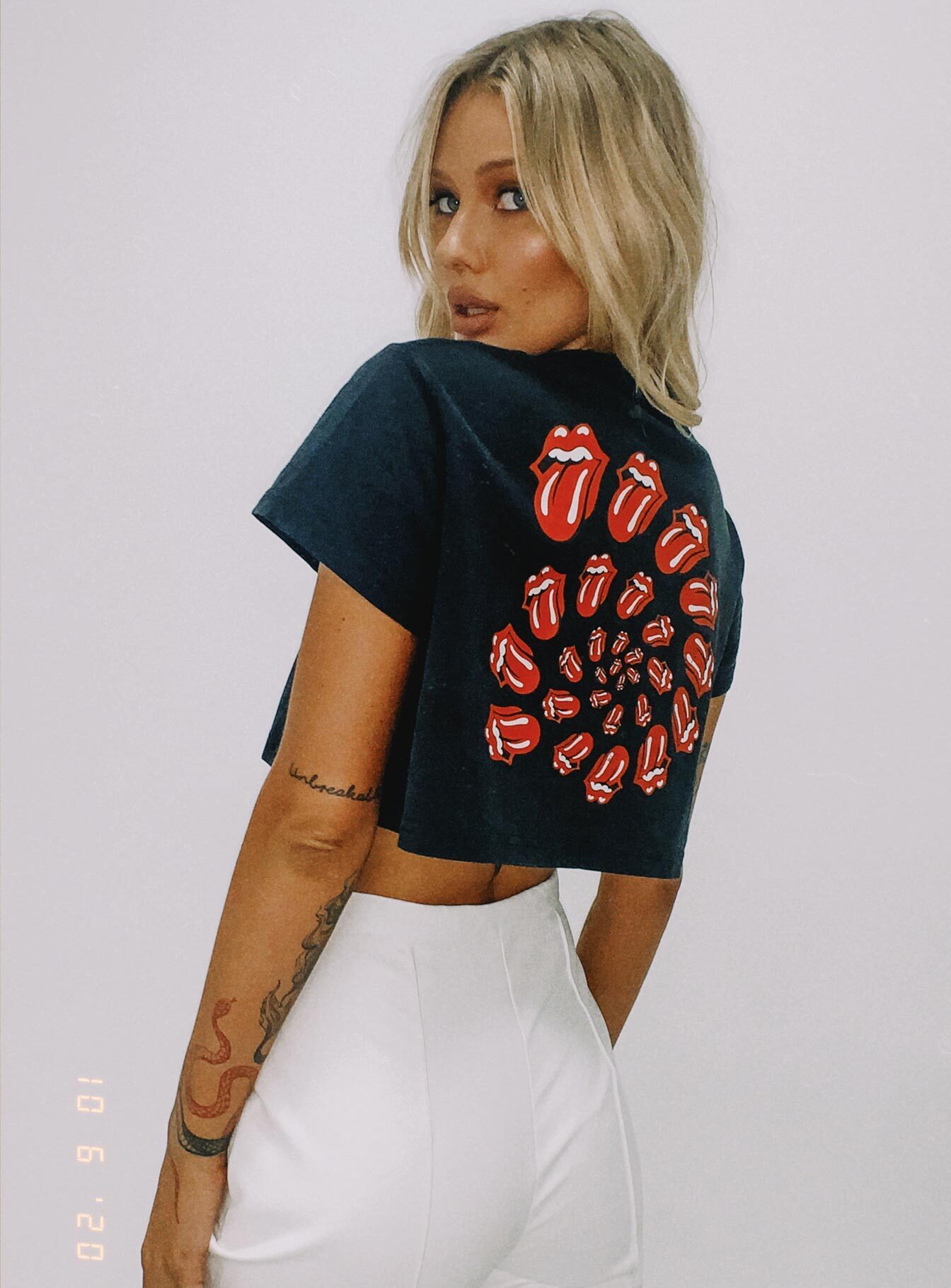 The front also has a tongue design as well, right where a pocket lapel would be. With a crew neckline and a drop shoulder, this top has a very carefree attitude.
The tee is super soft and comfortable and is made from 100% cotton. With a cropped fit, this tee is very light and airy and perfect for warmer weather. The relaxed fitting makes the top have a boxy cut.
I love the vintage feel that this tee has, and it makes it have a timeless feel to it with a pop of modernity. Pair this with a pair of distressed, much-loved denim shorts, and you're good to go!
An Adorable Lime-Green Top For Days Out
Need a cute top for brunch or for a cutesy picnic in the grass? Well, looks like you've found your answer: meet the Laguna Top!
Shop the Laguna Top in Green here.
This gorgeous crop top is really cropped, so you know it's meant for the outdoors or cute hangout spots with your best friends. This top has a slim fit, so it fits quite closely, and has a pretty floral design on printed material.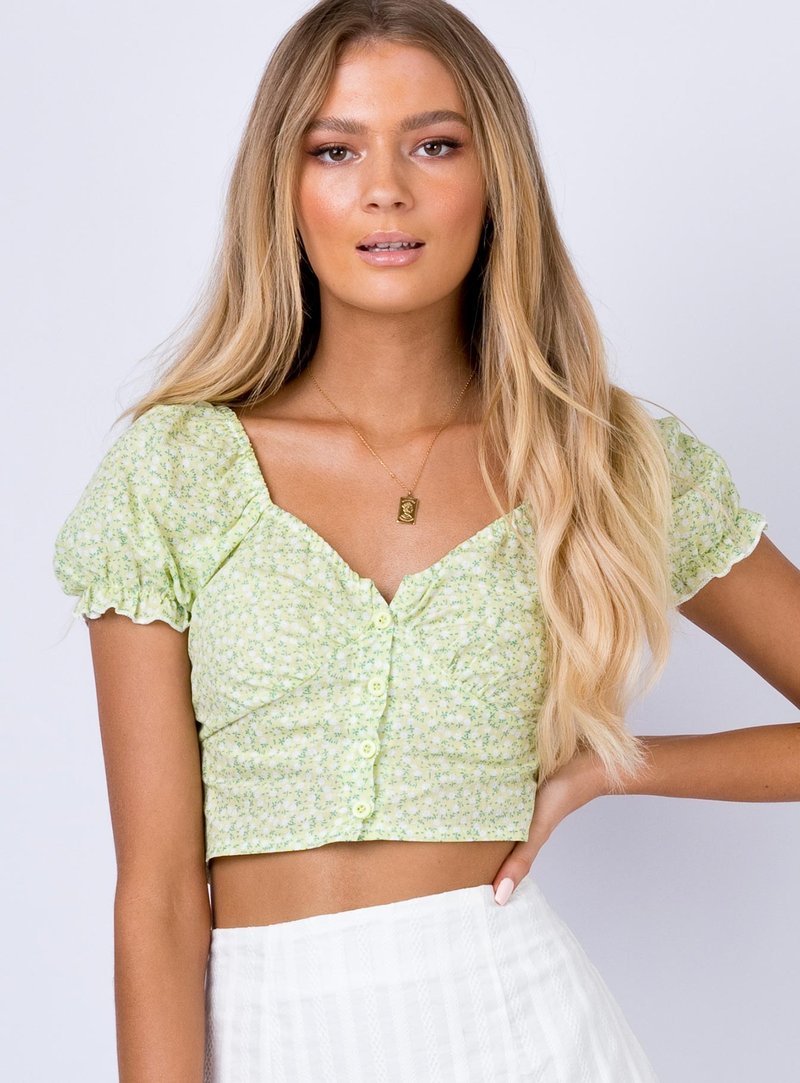 This might just be the most lightweight top I've ever seen- so you know it's super comfortable!
Featuring a button-up front with pastel green buttons, the Laguna Top has short puff sleeves that make it feel like a princess top. The short puffs have little ruffles at the end, and the details on the top are immaculate. You can even pull down the puffs to make it an off-shoulder look!
The back of the top features a square neckline on the back as compared to the v-neckline on the front, and has a shirred backband. The design is simply just so cute.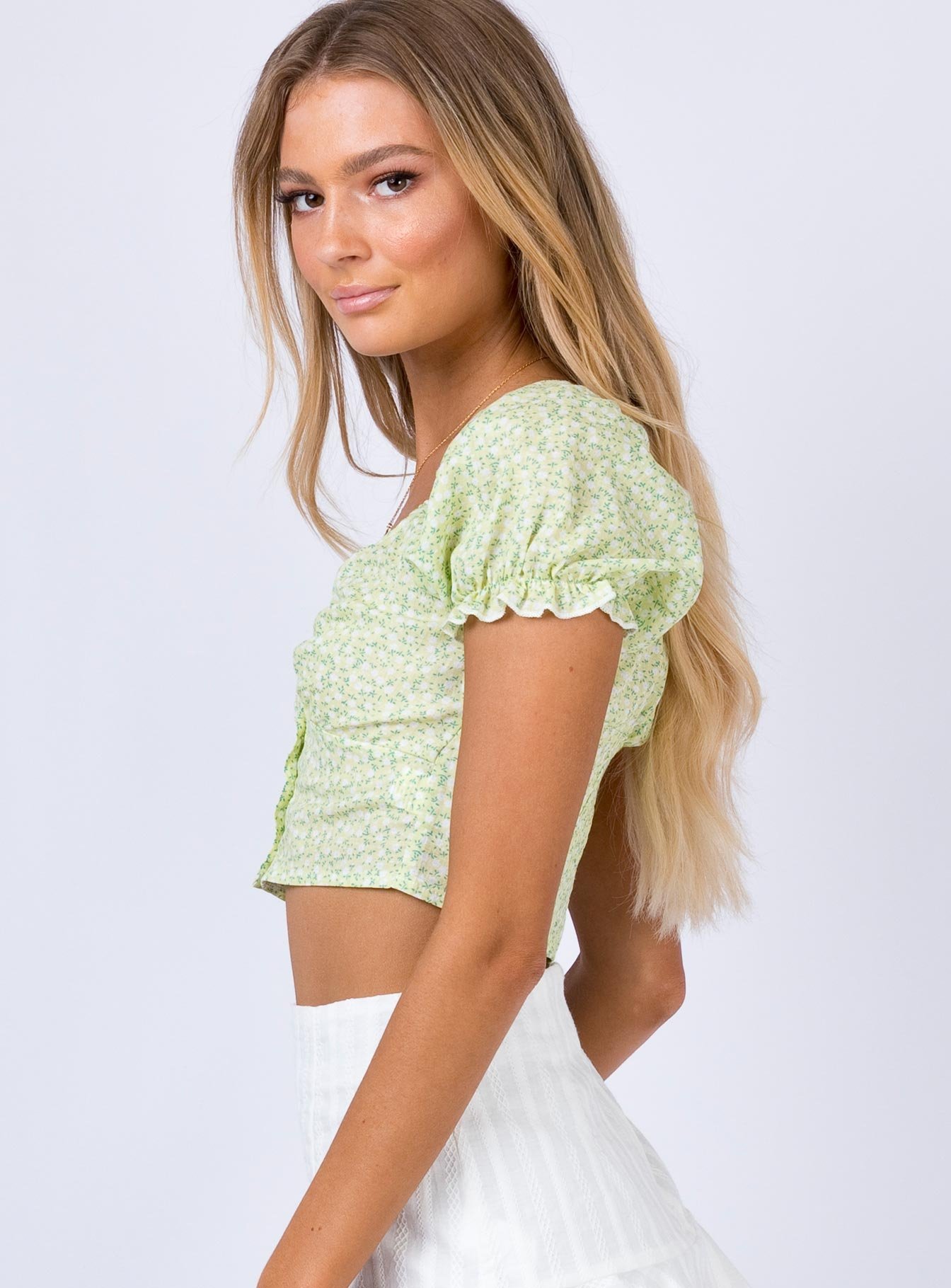 The top is a gorgeous lime-green and is a little more saturated than in the images, and the bright pop of green makes it so cute! Paired with the dainty white floral in the print, this top is perfect to go with white jeans or ruffled skirts.
How To Feel Like A Rocketman
Sir Elton John is most certainly a legend, and his music has had such a great impact on pop culture.
Princess Polly's exclusive Elton John Rib Fit Tee is the cutest little top that showcases your love for him in this band merch!
Shop the Elton John Rib Fit Tee in White here.
This crop top is made to be a slim fit, and actually fits so well, and is very comfortable. With a crop that isn't as short as all the other ones, this tee features a crew neckline and short capped sleeves. The fabric is super stretchy and makes the top look so flattering.
The large print on the front steals all the attention; in a classic black-and-white design of Sir Elton playing the piano that's been stretched out to form a ring around him, the words Elton John are in large red and blue block print.
Complete with the design of the "1974 Tour", this highlights one of the greatest moments of music.
I absolutely adore the vintage look that this top has, and it just feels oh-so-cute. The white background of the to makes it really easy to style- you could go with different colored jeans, pants, to even leather trousers. The possibilities are endless!
Pastel Purple Pants Are Perfect
Pastel purple pants are the three P's that work magic to an outfit. The prettiest lavender-shaded pants ever, the Dalia Pants look effortlessly sophisticated.
Shop the Dalia Pants Purple here.
The Dalia pants are tailored pants that have a relaxed, loose-fitting overall shape. The pants are very high-waisted and serve the perfect moment to wear with a crop top.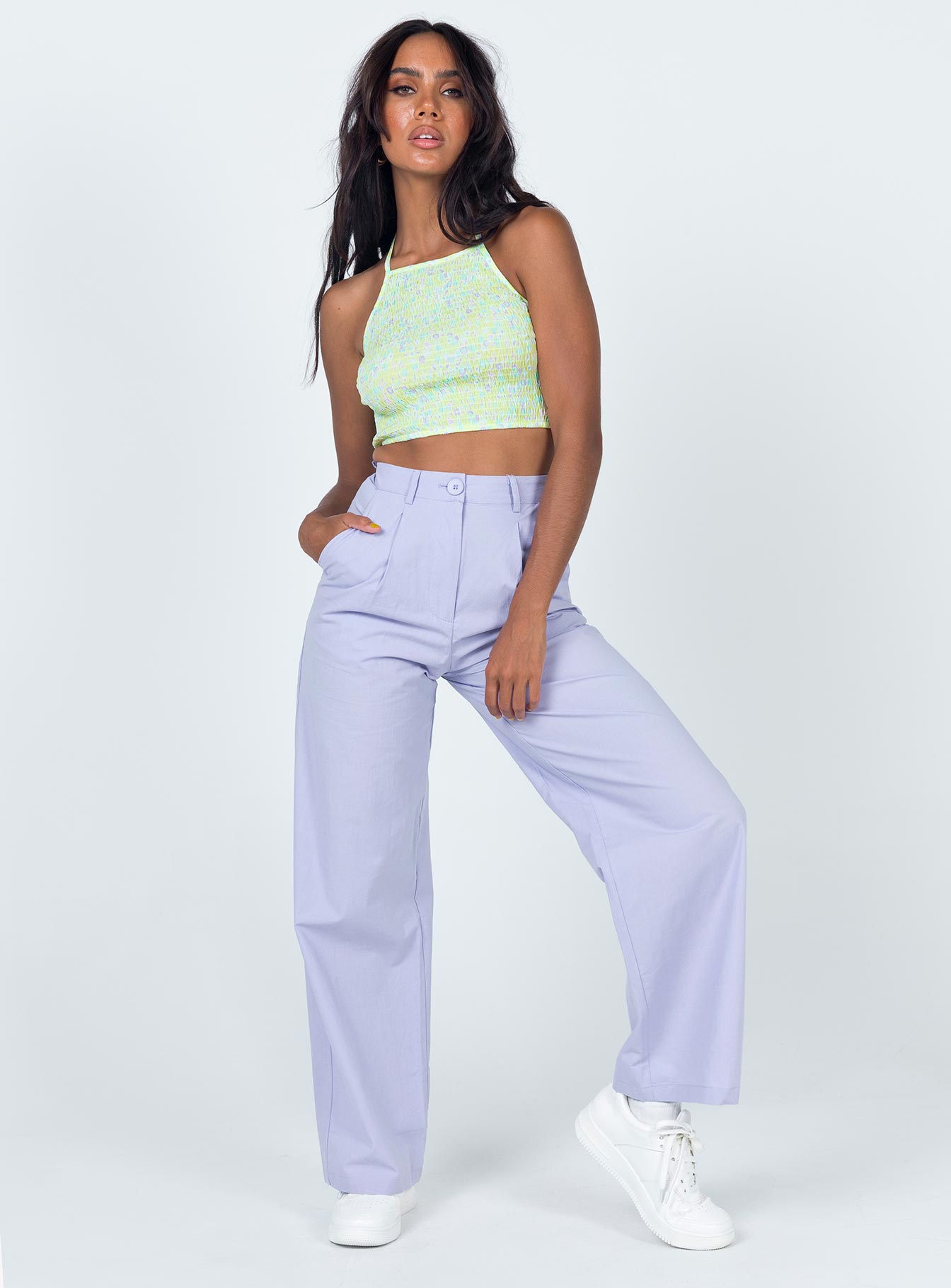 The waist of the pants has subtle pleat designs, which makes the pants interesting to look at; alongside its large feature button that is also a lilac color (part of the zip & button fastening), the Dalia pants also have belt loops at the waist and twin hip pockets. The pockets are actually pretty generously sized, so it's perfect to keep little knickknacks without having your hands busy.
Also, I just have to mention: these pants are the most lightweight pants ever. If you don't want to wear shorts all summer, let it be these pants, because they are seriously so light and airy.
The pants have a longer length, and the super-wide legs really dramatize the sweeping look. Pair the Dalia pants with your favorite form-fitting top, and you're good to go!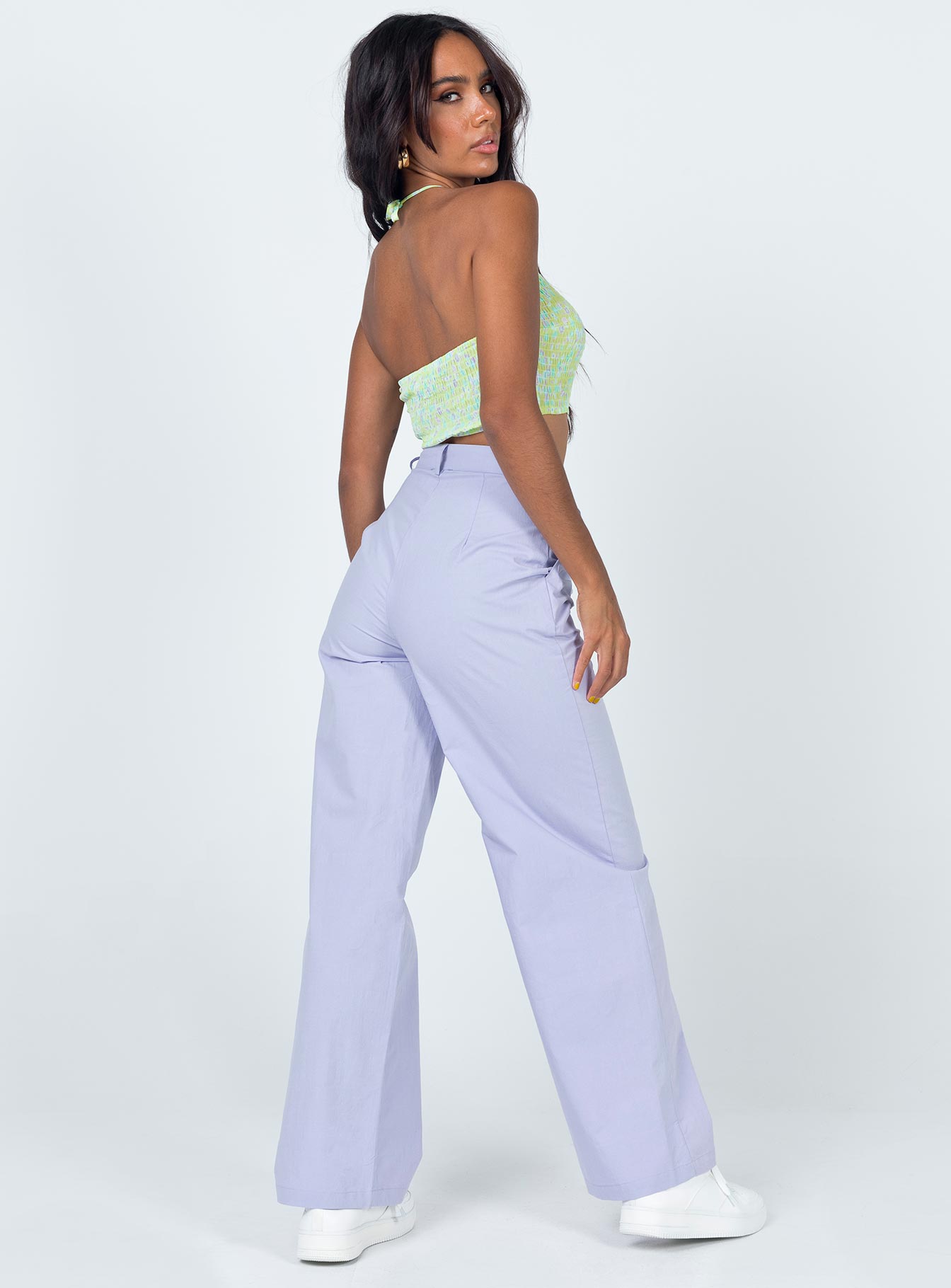 Keep Up With Princess Polly
Princess Polly's got all the socials with the cutest outfits styled by our favorite influencers; an easy follow leads to Princess Polly outfit inspirations right on your feed!
Be sure to follow @princesspollyboutique on Instagram and @princesspolly on TikTok. You can even Snapchat Princess Polly at @princesspollyau.