All over our social media feeds, there's been a huge skincare craze for gold masks and lighting devices. It's so common in the skincare world that it seems almost every skincare enthusiast has one.
From these under-eye masks in the prettiest rose gold color to futuristic high-tech masks, these are all groundbreaking innovations from Dr. Maryam Zamani, Certified Consultant Oculoplastic Surgeon and Founder of MZ Skin.
Buy MZ Skin from www.mzskin.com.
The MZ skin is the trendy skincare brand everyone loves: rave reviews are everywhere, and all your favorite celebrities and influencers seem to be posting online with their fancy face masks. We knew we had to put it to the test and we were totally blown away.
See this post on Instagram
The actual results were much more than our hopes: trying the masks really put into perspective the effectiveness of MZ Skin's masks. You could even say that "game changer" is the middle name of the brand because with MZ Skin you can have the youngest and most radiant skin.
Discover MZ Skin
Founded by Dr. Maryam Zamani, MZ Skin was created to bring out the best in a luxurious experience and powerful, effective skincare. Drawing on her experience as a world-leading aesthetic physician and oculoplastic surgeon, Dr. Zamani has applied her skills to create something for everyone to enjoy: MZ Skin.
See this post on Instagram
"MZ Skin is an alchemy of medical know-how, feminine passion and determination", writes the brand, "It was a journey of research and innovation, combined with pioneering ingredients and established and reliable assets, to deliver the essence of beautiful skin – luminosity in simple synergistic combinations."
"It is imperative to fully understand the actives, how they interact with the skin and what they can accomplish to formulate powerful results."

– Dr. Maryam Zamani
Wear gold on your face: the Hydra-Lift mask
This is possibly the most luxurious face mask I've ever come across – and nothing else compares when you consider how effective these masks are.
If you're hoping to smooth your skin, lift sagging areas, and reduce hyperpigmentation, this mask is perfect for you. Other benefits of this mask include hydrating and brightening your skin.
It sounds so magical, but the secret is in the ingredients. The mask is "saturated with gold nanoparticles, Niacinamide, Vitamin C and Collagen to plump and firm the skin", specifies MZ Skin. The result? Visibly better skin. The mask "brightens and restores radiance, hydrates and smoothes fine lines and wrinkles for a rejuvenated complexion".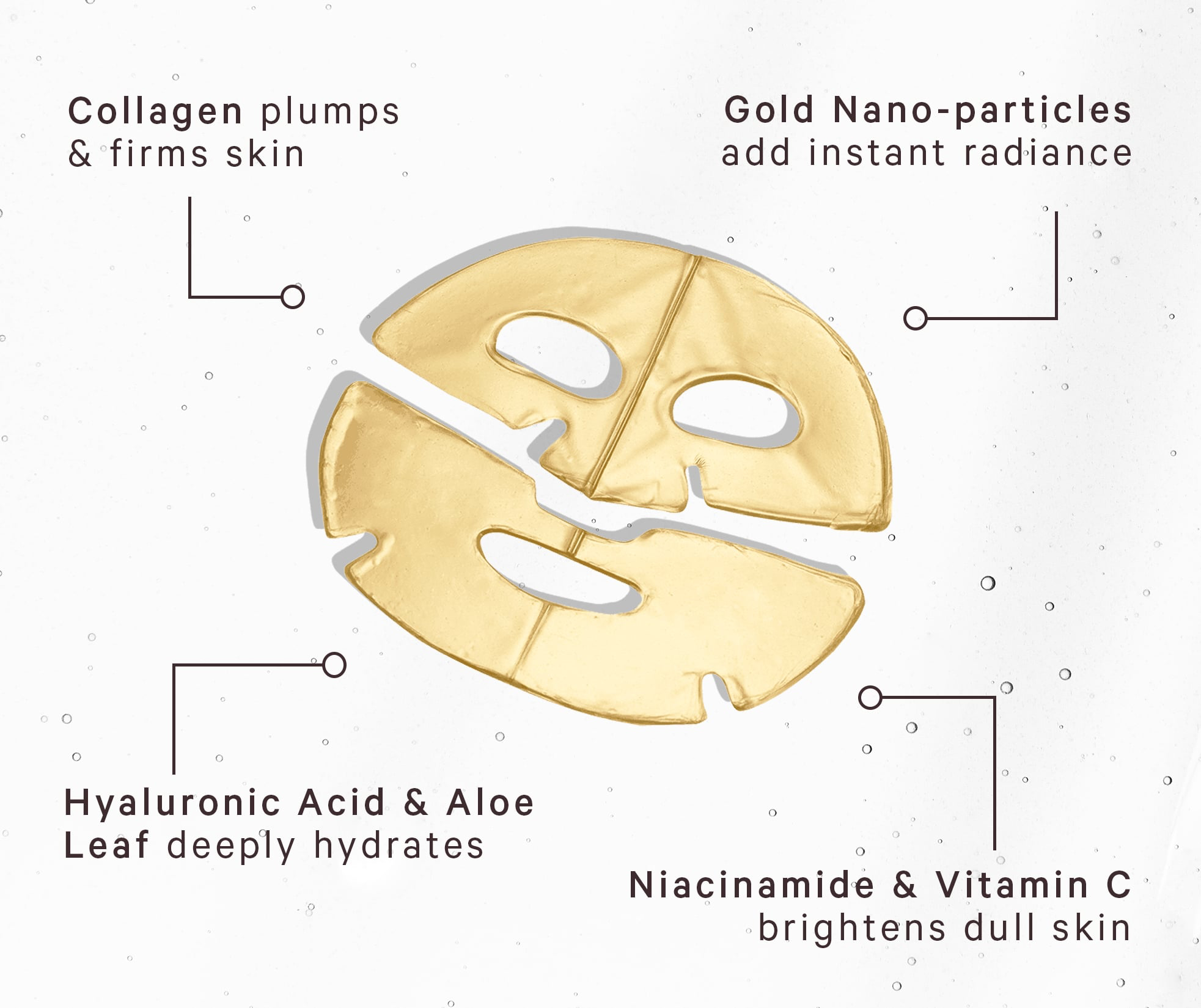 Buy the Hydra-Lift Gold face mask in a 5-pack here.

You can also buy the masks individually.
To use the Hydra-Lift Face Mask, follow the instructions below from MZ Skin:
"Place and press the mask onto the face.
Leave on for 20 minutes and massage gently to promote the absorption of the active ingredients.
Peel off and remove any excess with lukewarm water.
Use up to twice a week and place in the fridge for 5 minutes before use to add an extra cooling effect to the ritual."
I loved putting these masks in the fridge before using them – I would even chill them for 24 hours. The coolness of the mask felt so nice on the skin, and definitely woke it up and brightened it up. The glow after using it was unlike anything I had seen before!
I absolutely loved that the mask was split in two. It was so much easier for me to conform to my face and keep it from creasing and slipping. The quality and texture of the mask itself is also so luxurious.
See this post on Instagram
After applying the mask to my face, I made sure to gently pat the serum on my face for better absorption. I felt so radiant inside and out – it was like going through a beautiful spa session, only from the comfort of home!
Gold patches under your eyes to match
You've got the gold mask to apply all over your face – now Hydra-Bright Gold Eye Masks are here to specialize in bringing back depuffy, brightened eyes.
These patches are "a gold-infused anti-aging eye mask saturated with a complex of active ingredients to smooth and minimize the appearance of fine lines."
It's cute and easy to type after a long day (or morning!). We could totally imagine a moment of relaxation in a bubble bath with these patches and a good book in hand.
Shop the Hydra-Bright Gold Eye Mask 5-pack here.

You can also buy the masks individually.
Small but mighty, these eye patches can do some serious work. After using them on tired days, they brought my dull eyes back to life!
The power of these eye patches is in the ingredients. The mask "contains collagen, hyaluronic acid, and seaweed to lighten dark circles, reduce puffiness, and restore moisture," says MZ Skin, "[It is designed to improve] elasticity and firmness around the eye."
How does it work exactly? Ask for the shimmering gold of these masks! Each patch "contains Nano Gold particles for better penetration to add shine and luminosity."
The result? The puffy mornings are all gone, and those pesky little lines and wrinkles around the eyes are gone too! I love that these masks work quickly; personally my eyes lit up in less than an hour, all quite noticeably too. All of my dark circles were almost gone or barely there, and my eyes felt so much less tight and strained.
To use, follow MZ Skin's instructions: "After cleansing, gently place the mask under the eyes and leave on for 15 minutes. To soothe and cool, place the eye mask in the refrigerator 5-10 minutes before use. Use twice a week for maximum results."
These eye patches are perfect as a little pick-me-up and personal care. Tired eyes, bye bye!
Contour your face: tone and lift
This tool is about to become your new best friend. The Tone and Lift Tool is a facial roller designed for lymphatic drainage and a well-contoured face.
The benefits are impressive; this wand is able to balance "overexposure caused by aging positive ions". Additionally, he "uses acupressure to gradually stimulate key healing points in the body."
Overall, your face will be full of life and awake to the max, with revived skin and smooth circulation.
Buy the Tone and Lift tool here.
It may seem like this tool is completely magical, but as MZ Skin tells us, it's really just cutting-edge innovations powered by technology and science.
"The device is made with Germanium, a key ingredient for activating and balancing positive and negative ions responsible for aging, while protecting the skin from surrounding environmental aggressors," says MZ Skin, "Its added acupressure capsules apply an gentle pressure to stimulate the body's natural self-healing abilities, resulting in less puffy, more even and permanently glowing skin.
I love the little bumps on the tool that really allow you to feel the stimulation. I feel so much more awake and energized in the morning after rolling the cool metal tool over my skin – and I love how elevated everything is, from the little velvet pouch that comes with it to the golden handles!
Even model Elsa Hosk is a big fan and uses the tool as part of her skincare routine. To work on Tone and Lift, follow the steps below:
See this post on Instagram
Gently roll the massager over the desired area upwards for 30-60 seconds.
When finished, clean with alcohol, rinse with warm water and pat dry for next use.
Avoid using in the middle of the throat, injured or irritated skin or with active skin conditions such as psoriasis. Discontinue use if you find yourself sensitive to germanium.
Please note that if you "have a pacemaker, electronic metal allergies, cancer, epilepsy, seizures, or are pregnant" you are advised not to use this product.
Detox The Bad: Anti-Pollution Masks
This beautiful serene rose gold mask is everything. The light pink color of the mask is so delicate and pretty – and it works wonders.
The Anti-Pollution Moisturizing Face Mask is a "detoxifying and refreshing hydrogel mask that revives dull skin and defends against visible inflammation and redness," says MZ Skin, "Instantly, skin appears even, glowing, and deeply hydrated, with continuous antioxidant protection against the damaging effects of pollution and blue light."
Buy the anti-pollution moisturizing masks in packs of 5 here.

You can also buy the masks individually.
As we go outside, we are bound to encounter bad things, such as polluted air, grime and dirt on our skin, and unwanted grease. With the Anti-Pollution Mask, you can give your skin a moment of soothing well-being and give it time to come back to life, softer and smoother than ever, and of course, free from impurities.
This "protects against environmental stressors and urban pollutants" thanks to the key ingredient: vitamin C. "Anti-inflammatory vitamin C brightens and neutralizes free radicals", explains MZ Skin.
The result? Hydrated, happy skin that is glowing with joy! I love how my skin feels so hydrated and perfectly cleansed. The coolness of the mask also makes my skin feel fuller and healthier.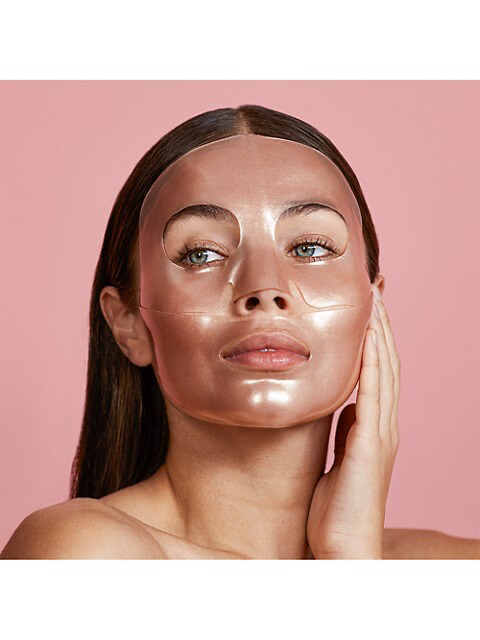 To use this mask, follow the instructions from MZ Skin:
"Before use, remove the front and back panels of the mask. Gently place the mask on the face and adjust its position for comfort around the eyes and mouth. Press gently with both hands to adhere.
After 15 minutes, remove and massage remaining serum into skin for maximum absorption. Apply morning or evening to clean, dry skin up to twice a week. The unopened mask can be placed in the refrigerator for a more intense and refreshing treatment.
Get ready to have glowing, healthy-looking skin within minutes of removing the mask!
It's Magic: Effective and Effective
When I say MZ Skin is life changing, I mean it. Within minutes, my skin was already brighter – and continues to get brighter as I incorporate MZ Skin into my daily routine.
Follow the evolution of MZ skin
Be sure to follow MZ Skin on all social media. Find them on Facebook, Twitter, Pinterest and Instagram. Stay up to date with their new product launches and jaw-dropping results!