Your personal style says a lot about who you are, and with Arlokea you can add the words empowerment, change and one of a kind. This beautiful brand aims to bring social change while remaining elegant with ethical and sustainable pieces.
buy Arlokea on arlokea.com
Jewelry is essential to make your outfit shine and express yourself through accessories. With Arlokea, there are so many possibilities for everyone: from timeless stone necklaces to adorably chic bumblebee earrings to unique sculpted rings, Arlokea offers a variety of pieces you won't find anywhere else.
Go beyond expectations for change
"Sustainable and ethical fashion is not just about recycled materials, it's also about greater ecological integrity and greater social justice," says Arlokea. "At Arlokea, we are dedicated to thoughtful sourcing of materials, artisan groups and suppliers who support marginalized people, are committed to sustainability and have give-back initiatives that truly impact lives and good. -to be people."
See this post on Instagram
With each of Arlokea's pieces, the brand incorporates a unique vision: with distinct style and magnificent craftsmanship from artisans around the world, Arlokea's jewelry makes a fashion statement like no other.
How Arlokea was born
Arlokea's mission is truly impressive, and it all comes from the personal experience of the brand's founder. "In 2018, our founder Joelle Cowie learned she was a carrier of sickle cell disease," the brand shares, "Finding out she is a carrier changed her outlook on life. She felt a new energy and determination to use resources to help others."
With Joelle's newfound determination to make a tangible impact, she drew on her experience in supply chain management and nonprofit organizations to "develop a brand centered on recognizing our ethical and social responsibility to contribute to our global community, whether or not we are directly affected by a particular disease or social problem."
See this post on Instagram
Ethical branding is about having positive impacts through activism and fighting against social injustices. To do this, the brand has partnered with many non-profit organizations, suppliers and artisan groups who have the spirit of Arlokea at heart. With its commitment to creating social change, Arlokea is here to make a difference.
Single Pieces of the Heart
Arlokea offers a wide variety of styles, from earrings, bracelets, necklaces and even rings. Each of them has a unique story behind them and supports various artisans and nonprofits.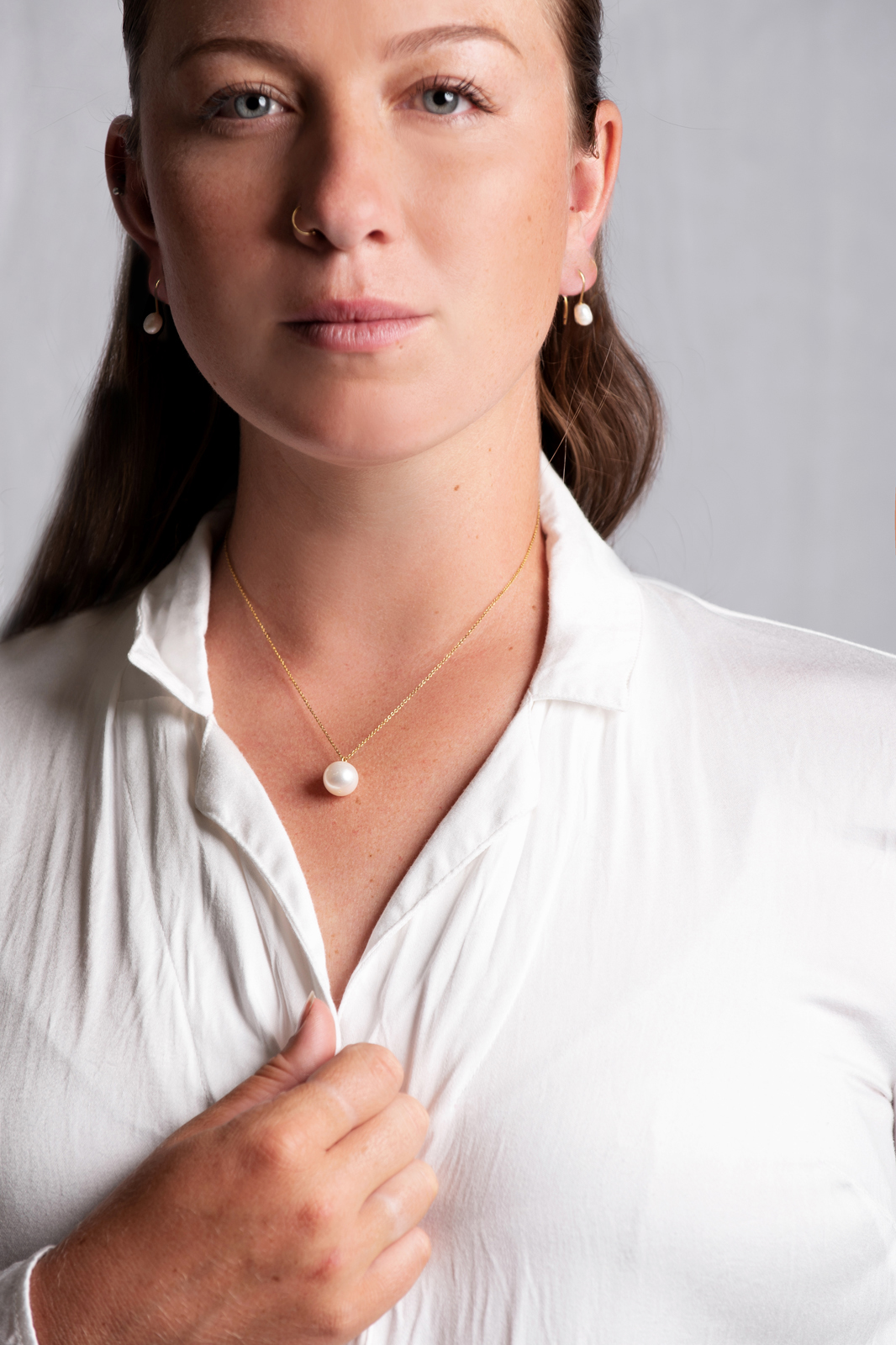 Dance With Me leather earrings
This gorgeous teardrop earring has a beautiful combination of leather and brass that looks so earthy. These flashy earrings are here to grab attention with their golden drop feature.
"In line with our mission of sustainability and ethical sourcing, these glamorous earrings are made from recycled and sustainably sourced leather and 100% recycled brass," says Arlokea.
Buy the Dance With Me leather earrings here.
Dance With Me leather earrings are made in Ethiopia, where a group of women make these fair trade jewels. "Many of the pieces in this collection were made from recycled bullet casings by women in Ethiopia," Arlokea shares, "They collect bullet casings from the Ethiopian/Eritrean war, melt them down into simple beads and create beautiful jewelry. They also use recycled leather in jewelry." To learn more, click here.
Stone treasure earrings
These gorgeous layered earrings are so stylish with their mauve and neutral look. These charming earrings are almost layered as if they were flower petals and would look stunning with a pretty midi dress or a pink blouse.
The coolest thing is that these earrings have been made from Tagua seeds, which allows the jewelry to be cruelty-free while simply looking beautiful with its eye-catching look.
Buy Stone Treasure earrings here.
"Tagua is a seed that comes from the tagua palm tree which grows only in the tropical rainforests of South America's Pacific coasts. When the nuts from the tree fall to the ground, they dry out and become very hard. The tagua seed must be dried naturally to separate it from its shell. Once separated from the shell, it has a dark skin which must be peeled off to reveal the ivory color," says Arlokea, "The tagua seed can then be cut into different shapes and shapes.It is also possible to dye the seed in a variety of different natural colors.This process reveals the structure and veins of the pure cellulose material giving each piece an individual and natural appearance.
It is amazing to know that the earrings. are made from a natural material, and it's even cooler to know that it supports others. Stone Treasure earrings were made in Ecuador. To learn more, click here.
The Maystone Necklace
Looking for a necklace that says "all eyes on me"? If so, the Maystone is the collar for you.
With its giant brass pendant and recycled white horn, the Maystone is so pretty with an alluring texture. I also love the gold chain details that go with the charm.
Buy the Maystone necklace here.
If you're wondering how this necklace was made, Arlokea has all the details for you: "This fair-trade collection recycles the bullhorn that was discarded by local stockyards. The bullhorn is an ideal material for artisans, as it can be molded and sculpted into different shapes by applying heat and water.Bullhorn is also unique in its natural color variation.Each horn has a different combination of colors ranging from white to black, brown and gray tones between the of them.
This tone of different hues is evident with the Mayhorn necklace, as you can see the lovely color differentiations that make this pendant so unique. This necklace was made in Vietnam. To learn more, click here.
Pearl Earrings
Nothing says classic like a good pair of pearl earrings, and Arlokea's timeless version flaunts a delicate and delicate look. These earrings are the definition of a dream: the minimalist design is love at first sight.
Buy pearl earrings here.
These easy to style earrings are a must have for your jewelry collection; they are perfect to wear for casual days and formal events. Crafted with all-natural Keshi pearls, this jewelry is the definition of classic charm.
These earrings were made in India, where artisans handcraft these pieces using non-toxic dyes. "All raw materials used in Kallista jewelry are high quality, natural and sustainably sourced," says Arlokea. To learn more, click here.
Have impacts around the world
With Arlokea, you not only stay stylish and ethically conscious, but you create much-needed change in the world.
To learn more about Arlokea's projects, click here.
Each piece has a positive impact to support those in need and fights to make safe work environments, fair wages and non-discriminatory work possible.
With over $1,000 donated to charity and 8 artisan groups and producer groups supported, Arlokea gives back from the heart. Currently focusing on health, education and community groups, the brand strives to make a real difference.
I love that each piece really embraces its beautiful design and it's a piece you won't find anywhere else. Coupled with her activism for justice, Arlokea's handcrafted pieces exude care and love – and that's what makes her so special.
This means that every time you buy from Arlokea, you're not only getting an ethically sourced product you'll love, but you're supporting a fairer and more sustainable business model that helps improve the well-being and livelihoods of people. artisans in underdeveloped countries or marginalized communities. .

– Arlokea
See this post on Instagram
Follow the news of Arlokea
To stay up to date with this inspiring brand, be sure to follow @arlokea on Instagram, @arlokea on Pinterest and @arlokea on Facebook.