Fiercely intimidating yet impressive height. Laced-up. A contemporary silhouette. Sleek, edgy leather, but also dark and glossy enough to see your own reflection. A resounding stomp.
Before you even name it, the picture comes to mind, and that's exactly how well curated Dr. Martens is in the eyes of today's teens. An independent, unconventional brand that embodies the idea of being unapologetically oneself, Dr. Martens is synonymous with the word "iconic," having remained a significant piece of pop culture through decades.
In the days of ever-changing trends, Dr. Martens is the one thing that never ceases to capture one's interest, and Generation Z is no exception. With the surge of TikTok and newfound fashion aesthetics, dressing up is now all about exploration, and no one pairs that better than Dr. Martens.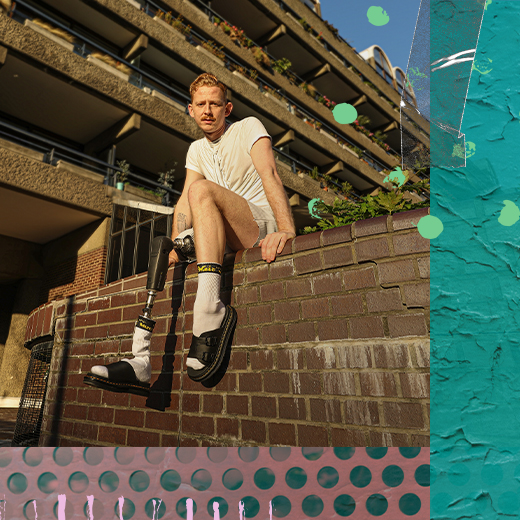 With a timeless, attention-grabbing look, Dr. Martens continues to take center stage and rise higher than ever.
All Eyes Up Here
As the summer season rolls around, Dr. Martens is here to rise above the rest. Accommodating the sunny weather without compensating for its signature looks, the latest release features its world-famous designs, ranging from the snappingly sharp buckles to the gold-stitched boots.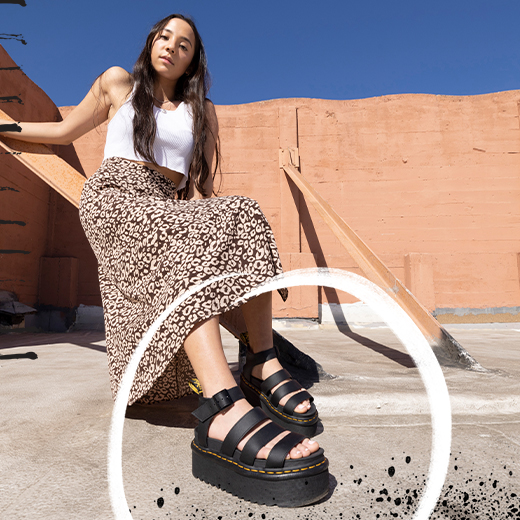 When it comes to classics, it's all about embracing the new while maintaining tradition. Below, the Teen Magazine curates some of our favorite picks for the summer:
Summer Calls For Easy-Going Vibes
The sweltering hot weather doesn't mean that your shoes have to stop being scorching hot. Dr. Marten's latest sandal collections are on fire (pun intended) with their lightweight yet sturdy combination that plays up toughness and coolness at the same time.
The Myles Brando Leather Buckle Slide Sandals are no exception; with a focal point on two eye-catching buckles, these sandals aren't here to play.
Shop the Myles Brando Leather Buckle Slide Sandals here.
These gorgeous sandals feature a full-grain, waxy leather look that combines both the vintage look with a touch of modernity.
Immediately, the focus point of the sandals goes to the two thick buckle straps. The black straps go over in two curved bands that secure your steps, and the silver buckles complement the overall black sandals. They're also adjustable, which is always a huge plus!
The overall black shoes are lined with Dr. Martens' classic gold stitching, which pops against the dark background. The combination of the two colors makes these shoes boundless when it comes to trends.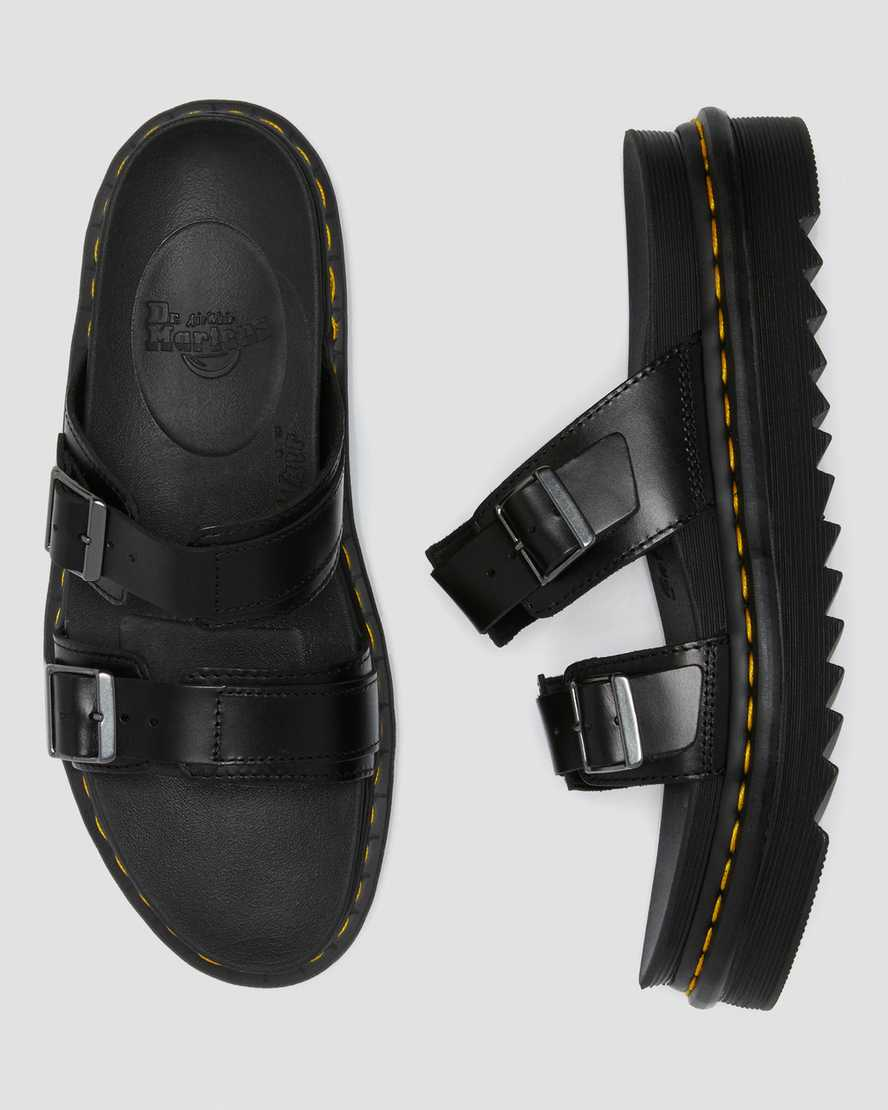 And of course, we can't forget the height! The Myles Brando Leather Buckle Slide Sandals come in at an impressive platform height of 1.5 inches and a heel height of 1 and 7/8 inches. The combination results in a boost in not only your height, but your confidence. I just love how these sandals aren't too over the top with its platforms, and gives you just the right amount of that extra support to make you feel your best.
The sandals have a ripple sole, and I love the jagged edges by the sole of the shoes; it adds such a tough look to these shoes. When wearing the shoes, you'll notice that it has a slight slope, which supports your walk and comfort.
Even with its extra height and extra design additions, I am so pleasantly surprised by how moderately light these sandals are! Despite hours of walking and wearing, these sandals have proved time and time again that they're up to anything and for anytime.
With that, I just love how easy-going these sandals are. It is so simple to just slip them on for the day to go about; despite the blocky height, they remain in for the long haul. It's clearly durable with an incredibly well-constructed foundation and so comfortable to wear around.
Another amazing feature of the Myles Brando Leather Buckle Slide Sandals is its ability to look good with just about anything. Whether you decide to go casual (Grocery runs? Check! Try a combination of a midi skirt with the sandals) or show off a little more (Formal events? A little black dress with these kickers will be the look of the night!), the sandals will look stunning full-time.
To care for the Myles Brando sandals, follow Dr. Martens' directions below:
"Wipe away dirt using a damp cloth. Apply Dr. Martens Wonder Balsam to the outside of your footwear to keep the leather supple, strong and smooth. Once dry, buff vigorously to desired shine using a clean Dr. Martens Shoe Brush. Repeat regularly to prolong the life of your footwear."
The Ultimate Classic Confidence Booster
If you want to talk classic, you can't not mention the 1460 Pascal Max Leather Platform Boots. As Dr. Martens says, these boots are "only for the brave."
Dr. Martens is known for their striking stompers, but nothing seals the "stomp" that these boots make: the 1460 Pascal Max Leather Platform Boots are Dr. Martens' highest platform to date.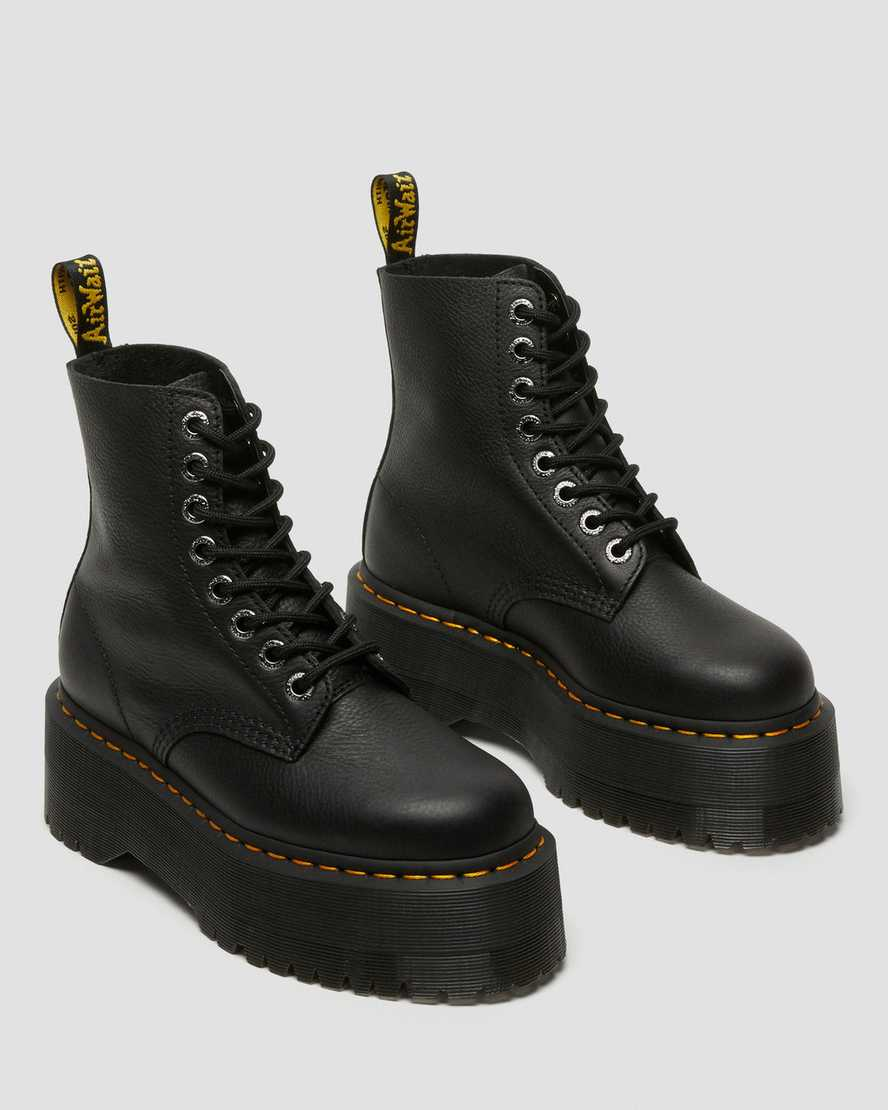 What does that call for? It's time for some massive cutting-edge coolness with a good dose of confidence.
Shop the 1460 Pascal Max Leather Platform Boots here.
Paying homage to the boots' birthday- 01.04.60- the 1460 Pascal Max Leather Platform Boots was aptly given its numerical name. "Over six decades, our 8-eye work boot has become iconic," says Dr. Martens.
We couldn't agree more; the classic boot has certainly ingrained itself into pop culture, and chunky soles and laced up combination can hardly be missed. The 1460 Pascal Max Leather Platform Boots don't stray too far from the original Dr. Martens look, but maxes it up to the best with special additions.
Created to stay "true to [Dr. Martens'] Original silhouette," these boots feature a combination of Pisa leather with 8 eyelets and classic golden stitching. It never gets old; these boots have been around for years and years, yet the tough, I-got-this attitude makes us swell with pride everytime we put them on.
As Dr. Martens explains, Pisa leather "is a medium-weight milled nappa leather with a soft tumbled handle and richly pigmented waxy finish." This gives the boot a distinctly smooth texture while maintaining its softly wrinkled leather patterns. Stitched on top of the leather are black threads that create a subtle design.
The attention to detail on these boots is remarkable. Each eyelet of the laces features a silver hole engraved with the Dr. Martens brand name. The back end of the boots have a black-and-yellow pull-out tab that makes it easy for the boots to slide in. The platform boots also include a scripted AirWair heel loop, as well as Goodyear-welted lines that have been "heat-sealed at 700°C and reinforced with [Dr. Martens'] signature welt stitch."
The boots feature an impressive heel height of 2 and 1/4 inch Quad Retro Max. Every step you take will make you feel so powerful and simply on top of the world. Those two and more inches can truly mean such a difference!
Despite the height, these boots fit nicely and snug and don't cause much discomfort. The lace-ups make the boots feel extra secure, and the weight of the boots is nothing unbearable, and are well balanced.
These towering boots won't have you cowering when it comes to styling, that's for sure! These boots are all about attention, so it's always a good pick to style with something flowy and effortless like a summertime midi skirt. If you want to go full-on rugged, opt for vintage blue jeans. Any direction you take it, these stunning boots are sure to drop jaws and widen eyes everywhere you go.
To care for these impressive boots, follow Dr. Martens' instructions: "Wipe away dirt using a damp cloth. Apply a neutral or correct colored wax based shoe polish. Buff with a Dr. Martens Shoe Brush to restore shine as desired."
Put The Prep in Your Step
With the resurgence of styling "preppy" and "classic" outfits, Oxford shoes have also risen in popularity. These gorgeously crafted shoes embody everything England and carry beautifully traditional elements that only Dr. Martens could produce.
A historical shoe that's gotten a makeover to fit with today's times, these Oxford shoes are anything but old-fashioned, but rather, a timeless beauty. Made in England at Dr. Martens' original Wollaston factory, these shoes carry historical significance as well, making it all the more special.
Shop the 1461 Made in England Cavalier Leather Oxford Shoes here.
You may recognize these Oxford as part of Dr. Martens' 1461 shoe- and it's that, but so much more. Following the 60th anniversary of the 1461 shoe, Dr. Martens updated certain features and gave the shoes a complete refresher.
These lovely Oxford shoes feature an easy slip-on shoe with a low cut, smooth dark leather, and white stitching that completely pops with the black background.
The 3-eye shoe is also marked with the tannery's branded swing tag, which is made of leather itself and is adorned with golden detailing. I just adore the addition of the golden-and-leather tag, as it adds a special touch that goes well with the classic style while introducing something new.
The Original silhouette of the Oxfords has been re-engineered to be made with premium Horween Cavalier material, described as "a high-quality leather that's been around for over 100 years" by Dr. Martens.
The shoes have a smoke DMS sole, and I love the little addition of height on the heel, as well as the elegant curve of the front of the shoe. On top of that, the Goodyear-welted lines are heat-sealed at 700°C which gives the shoe extra structure and a solid foundation.
The quality of the shoes are simply wonderful; the Oxfords are smooth to the touch, and are anything but boring. Although the idea that formal shoes are excruciatingly painful can stand, that is certainly not the case with these Oxfords!
Styling these Oxford shoes is extra exciting, because nothing is more special than putting together an outfit than something so elegant and refined, yet effortless! For a day out at the museum, go for a solid cardigan, plaid mini skirt, and white ankle socks to create a preppy look. If you want to go for something minimalist but well adorned, go for a simple tee-and-jeans combination with lacey socks for the Oxfords.
To care for these Oxford shoes, please refer to Dr. Martens' instructions: "Wipe away dirt using a damp cloth. Apply Dr. Martens Wonder Balsam to the outside of your footwear to keep the leather supple, strong and smooth. Once dry, buff vigorously to desired shine using a clean Dr. Martens Shoe Brush. Repeat regularly to prolong the life of your footwear."
Complete Your Look
Now that you have all the shoes, it's time to accessorize. Given Dr. Martens' impressive shoes and its structure, it's a must that you pair them with a trusty pair of socks. To not only match the high quality but also its classic, never-just-trendy aesthetic, the Athletic Logo Cotton Blend Socks proves time and time again how versatile and helpful they can be.
Shop the Athletic Logo Cotton Blend Socks here.
Wherever you go, never be afraid to express yourself through your fashion; even these socks can add to your overall look! Designed with stripes in various hues, these socks carry an element of tradition and varsity athletics to them that makes them feel nostalgic.
Much of the Dr. Martens boots tend to end up higher in the legs, but these socks are the perfect height to peek through to show off the Dr. Martens lettering across the ankle. You can even select colors to match what hues you want to go with your outfit!
The green socks combine with shades of egret and cream to create a classic style that aren't so everyday-like. The black and white socks are a classic must-have that go well with just about anything.
Above all, I just adore how comfortable these socks are. They are made from a soft cotton blend, and are thick enough to save you from feet pain while being breathable at the same time!
Show off your favorite pair and post photos with the hashtag #DocsAndSocks.
A History Full Of Meaning
Beyond the captivating style, Dr. Martens is more than just an aesthetic; the brand is built on the foundation of empowerment.
"On a stylistic level, Dr. Martens' simple silhouettes allows their wearers to adopt the boots and shoes as part of their own individual and very distinctive style; on a practical level, their famous durability and comfort make them ideal for the unforgiving world of gigs and street fashion; and then finally on an emotional level, they are a badge of attitude and empowerment," says the brand.
First established in 1901, Dr. Martens has withstood the passing of history and its events, and continue to be a force in the fashion industry today. To learn more about the brand's unique history, visit Dr. Martens' History page.
Keep Up With Dr. Martens
Be sure to keep up with Dr. Martens on all social media platforms! Find Dr. Martens on Instagram at @drmartensusa, on Twitter at @drmartens, on TikTok at @drmartens, and Pinterest at @drmartens.
Dr. Martens' appeal to people who have their own individual style but share a united spirit – authentic characters who stand for something. People who possess a proud sense of self- expression. People who are different.

– Dr. Martens