Autumn is fast approaching, and what better way to enjoy it than by preparing stylish outfits? In this post, I've provided eight fall-inspired cuts that you can never go wrong with! I have also included where to purchase these items for those interested.
1) You can never go wrong with flannel!
This first outfit is simple, comfy and chic and features flannel, which will forever be a staple piece of fall fashion!
This outfit only includes four items that you probably already own. A plain white t-shirt and blue jeans are the base of this outfit. If you don't have blue jeans, improvise with another color or with leggings! No matter what changes you make to this outfit, you will look amazing! Any flannel can be added as a finishing touch to this fall fit, but if you're looking for a similar one, you can find a nearly exact piece on Shein for $23!
Buy here: Shein Flannel
Finally, don't forget to step out in a pair of smart white shoes. In this image, the model is wearing white smooth leather platform Chelsea boots by Doc Martens (Shop here). An alternative shoe choice may include white vans or converses!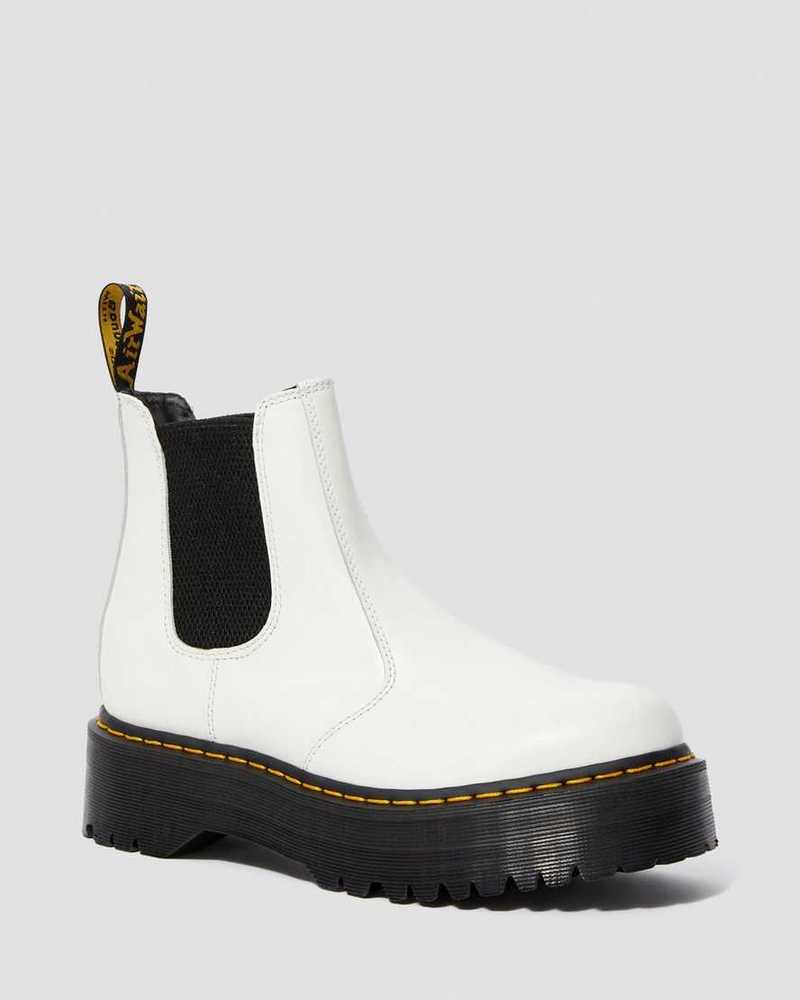 2) The essential outfit for cooler days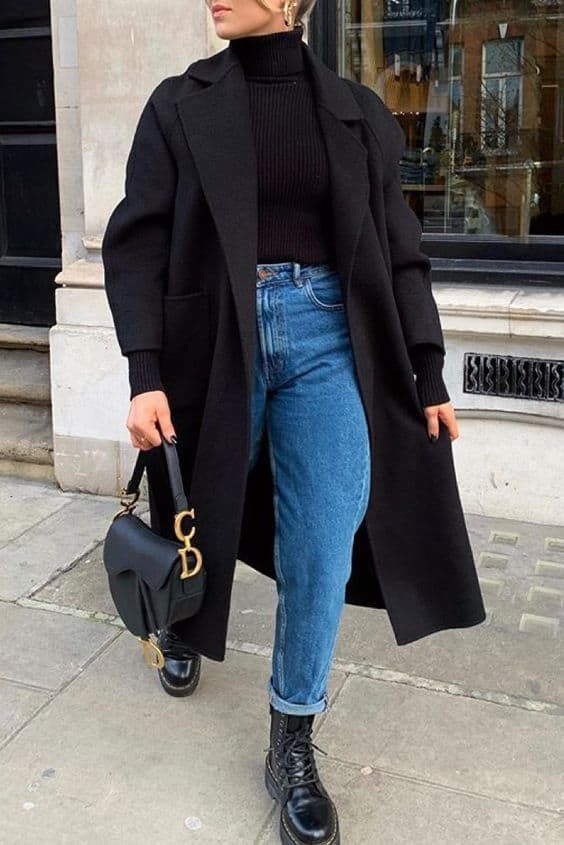 The second outfit is stylish and practical for cool fall days. Similar to the previous look, this outfit has four pieces. First, a plain black turtleneck. You should be able to get a turtleneck for relatively cheap at a local thrift store or you can buy one here.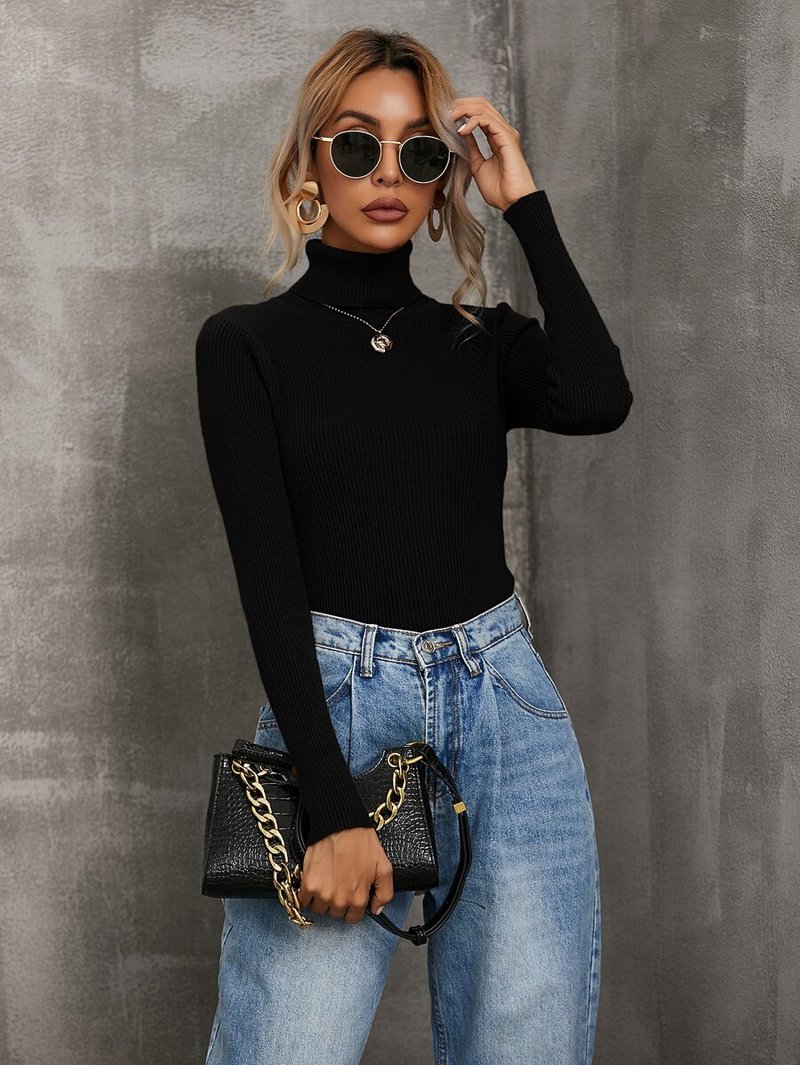 The next item is a pair of blue jeans. These jeans appear to be mom jeans, which are not as tight as regular jeans; a similar pair can be purchased here.
Now let's move on to the essential: the long black jacket. This jacket looks incredibly comfortable and is a great piece for cold days. Jackets like these are usually expensive, but you can buy an affordable one on Shein! Lastly, these shoes are Doc Martens Jadon smooth leather platform boots that sell for around $200.
3) Sweater weather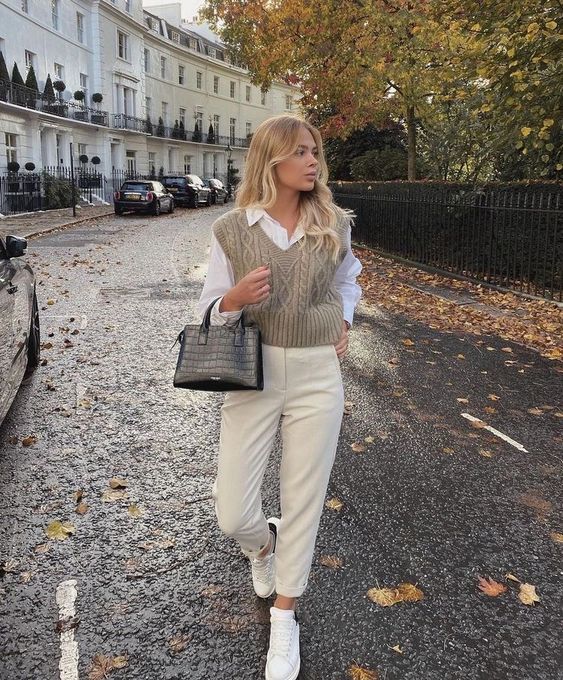 The third outfit is relatively minimalist but adorable at the same time! The main piece of this outfit is undoubtedly the sweater cardigan. Can you believe you can get an almost exact dupe for just $8?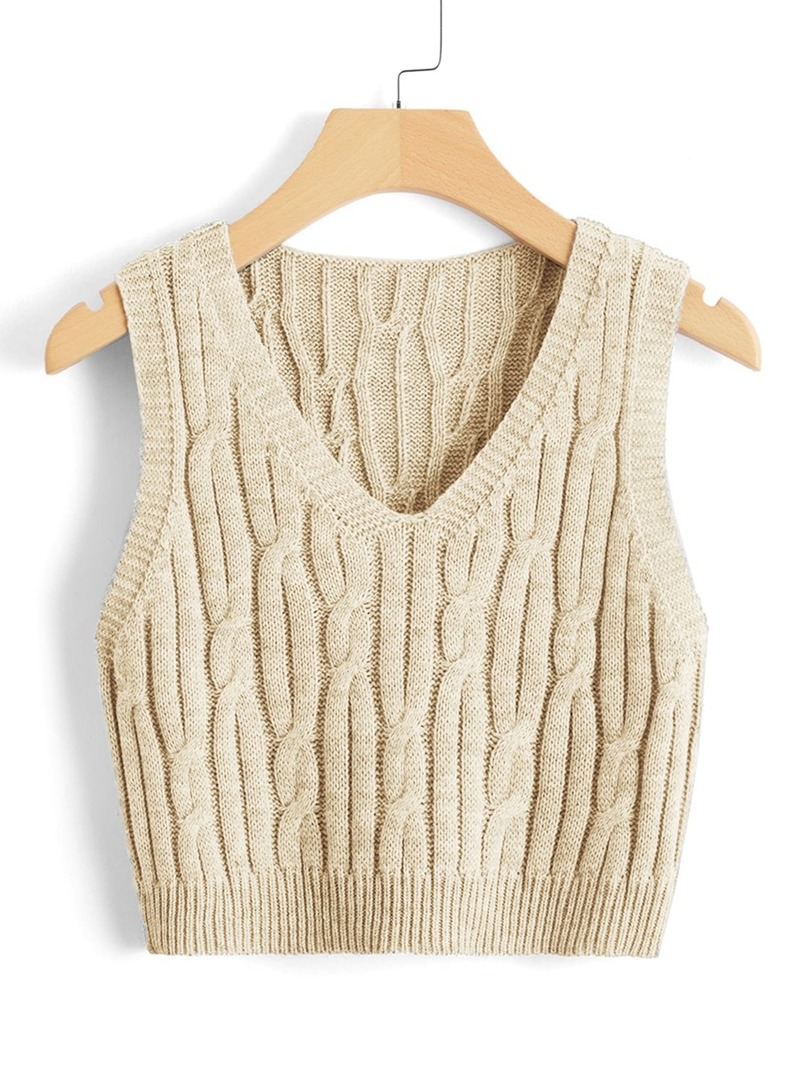 If you want to buy it, click here! Next, let's focus on the shirt. Below is the sweater vest, the outfit includes a white blouse, which you can buy here. For the final piece, this outfit includes light beige pants and a pair of Adidas shoes.
4) Down jacket moment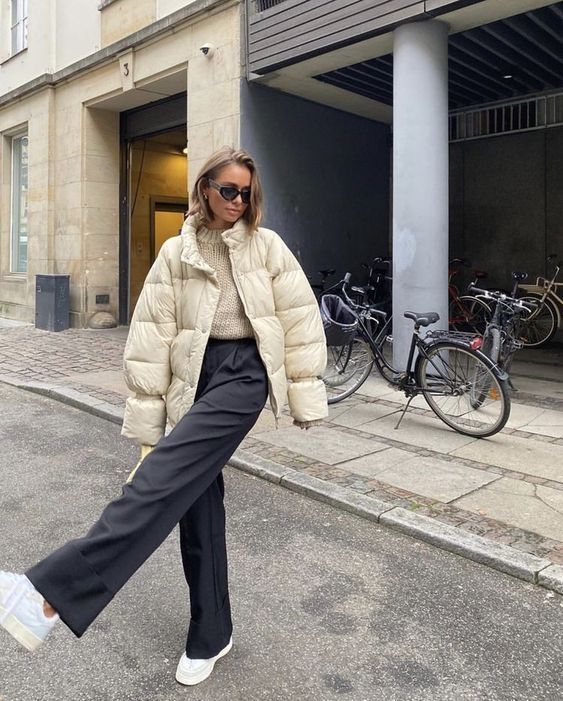 Puffer jackets are my absolute favorite item to wear during the colder seasons, which is one of the main reasons I chose this outfit. This cut is perfect because it is elegant and simple to assemble! I found relatively low prices for each of the items in this outfit, which is always a plus!
This outfit includes a light beige puffer jacket. Down jackets are essential for those who live in colder climates, as they are a great way to stay warm. As a rule, these types of jackets are quite expensive, but I was able to find a high quality dupe (click here).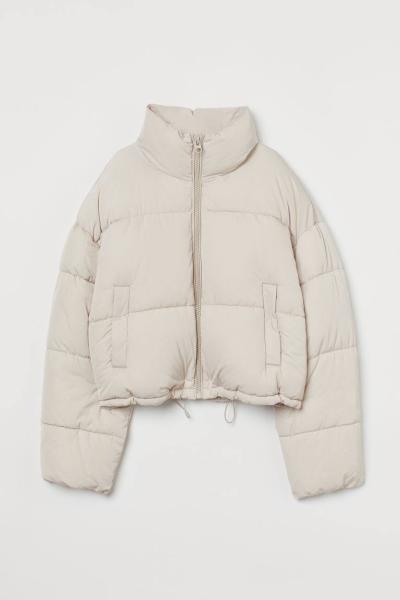 For the sweater, this outfit includes a basic tan sweater. If you don't have a similar item, just improvise with whatever sweater you have! If you want to buy a similar one, click here!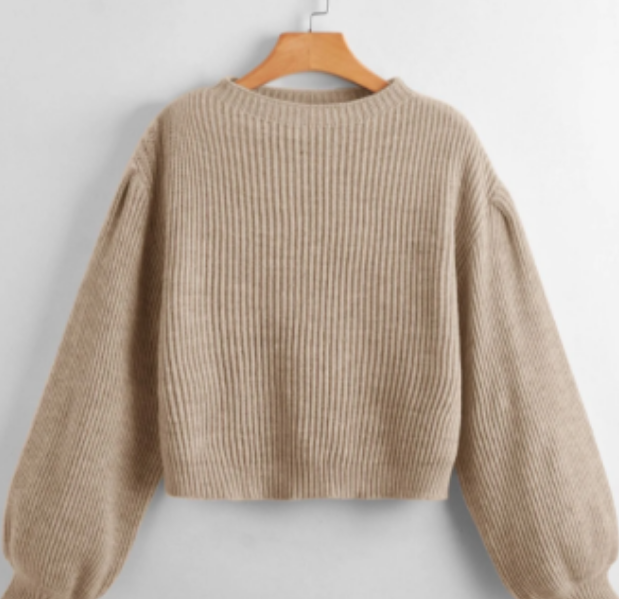 Next, we have a pair of loose pants. Although I couldn't find this exact pair, Dickies' skatepants are incredibly similar, (buy here)! Finally, for the shoes, any white sneakers will complete this outfit!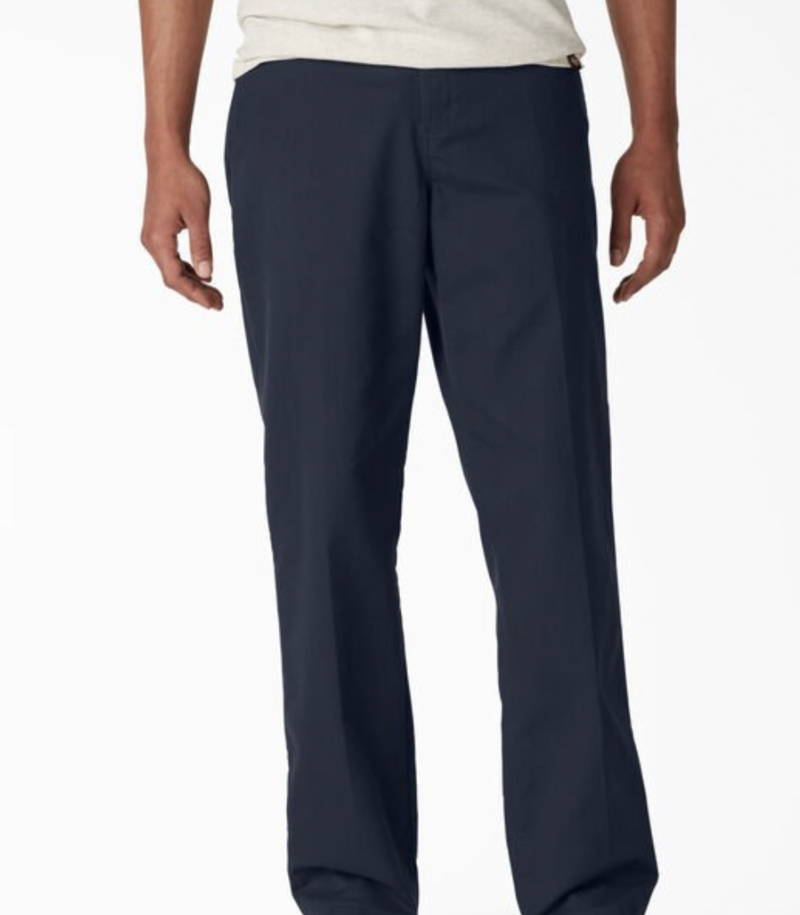 5) Leather jackets are the way to go
I'm really obsessed with this outfit for so many reasons! Most importantly, the brown leather jacket adds the perfect touch to this cut, and I love it.
As mentioned earlier, the first piece of this outfit is the brown leather jacket. Leather jackets are incredibly stylish and spice up every outfit! If you don't have a black one, any color would go perfectly with this outfit! If you are interested in a similar model, you can click here!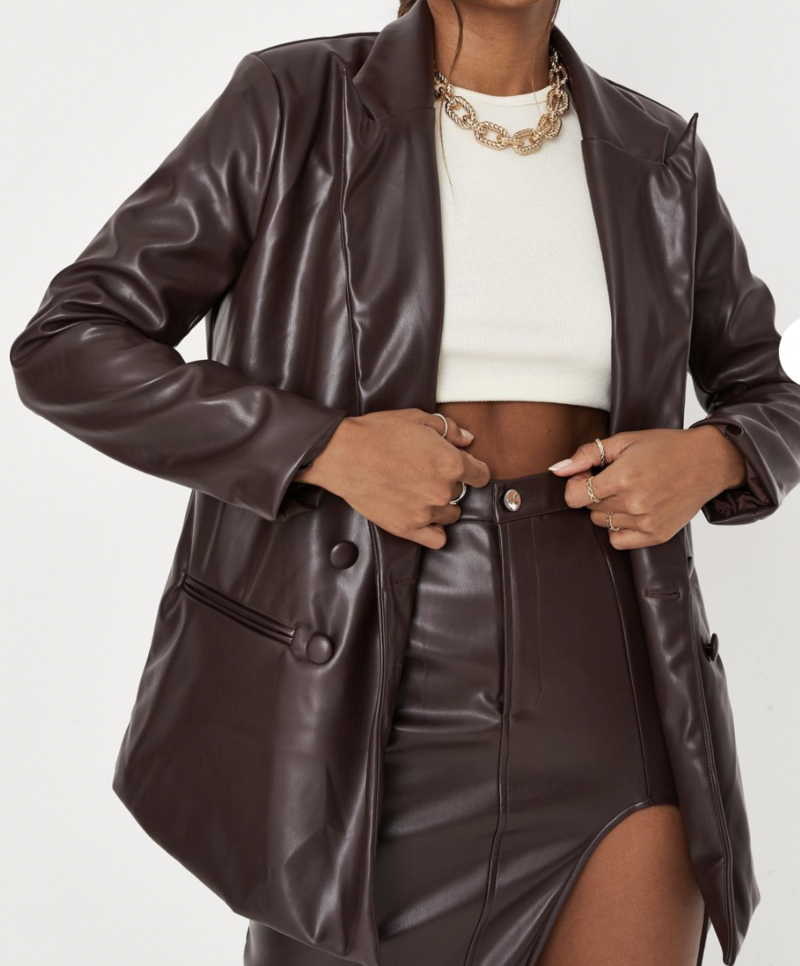 Our next focus is both pants and shoes. Regarding the pants, this outfit includes high waisted black jeans. In this specific outfit above, they seem to be a bit baggy, but any style of jeans will work just fine! Also, in this outfit, they are wearing the JADON SMOOTH LEATHER PLATFORM BOOTS, which were shown previously!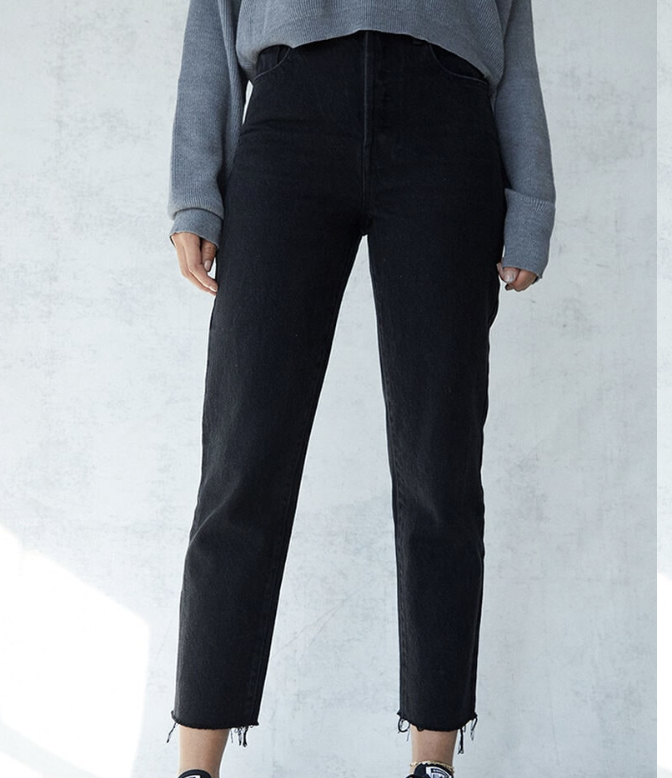 6) Sweater Dresses > All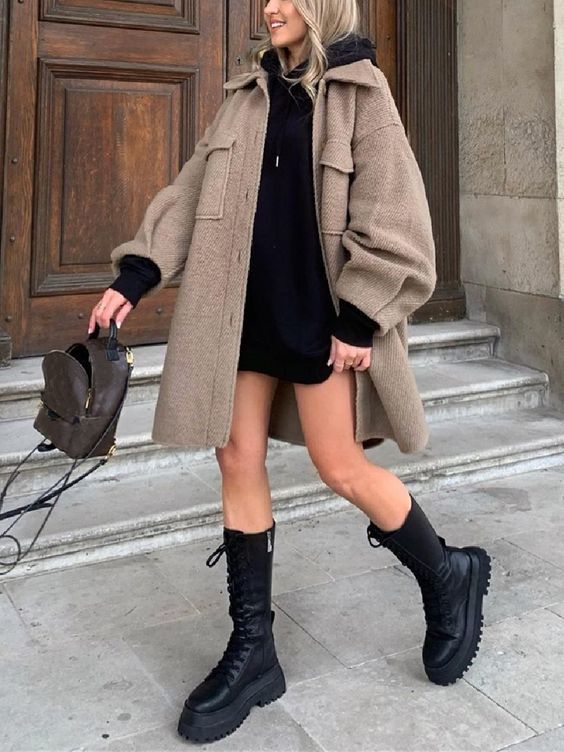 This outfit is my favorite on this list! It's classy and perfect for those who live in states where the weather isn't too great in the fall.
What I love about this cut is that each individual item is a centerpiece in itself. First of all, this outfit has a long and comfortable jacket, which is practical for the autumn weather. Unfortunately, it was extremely difficult to find the exact coat, but you can find a similar one here!
Next, a charming black dress. What I love about this dress is that it is made from the material of a sweatshirt, so it will be warm on the coldest days! Click here if you are interested in this dress!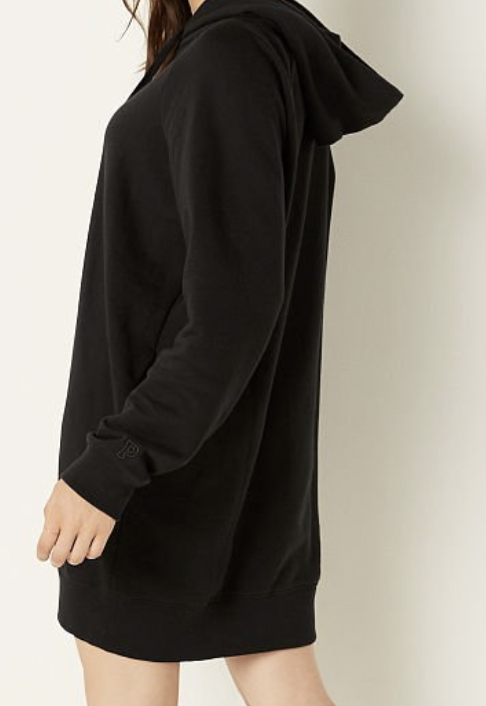 Finally, this outfit includes a gorgeous pair of boots. I am absolutely in love with the shoes and want to buy them as soon as possible. If you're interested, Doc Martens sells a similar style of boot for just under $200!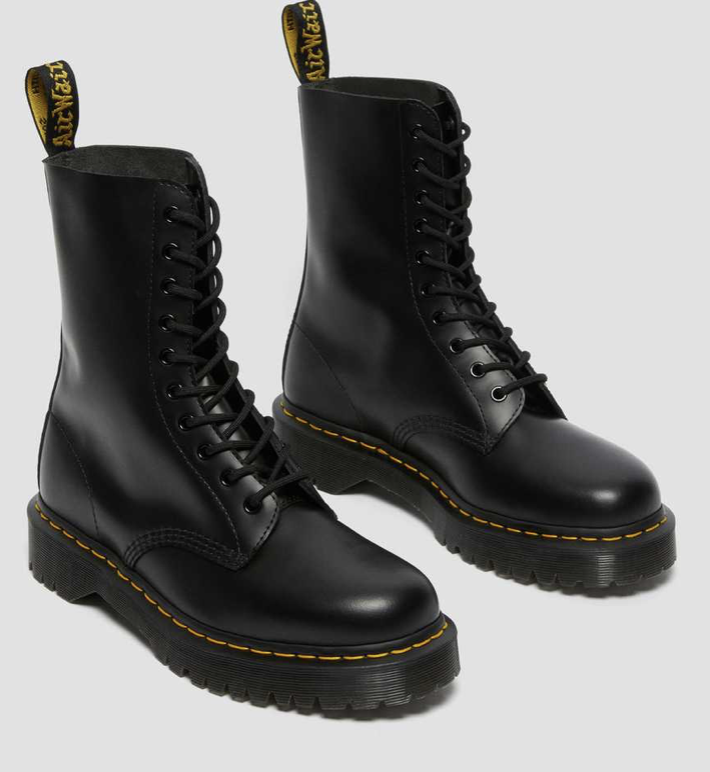 7) Overalls are essential!
In my opinion, overalls are essential for the fall season! For this last piece, we have an effortless, inexpensive and adorable outfit!
For the shirt, we have a short red long sleeve shirt with stripes! A similar shirt can be found on Shein, except you'll have to do a little DIY if you want it cropped!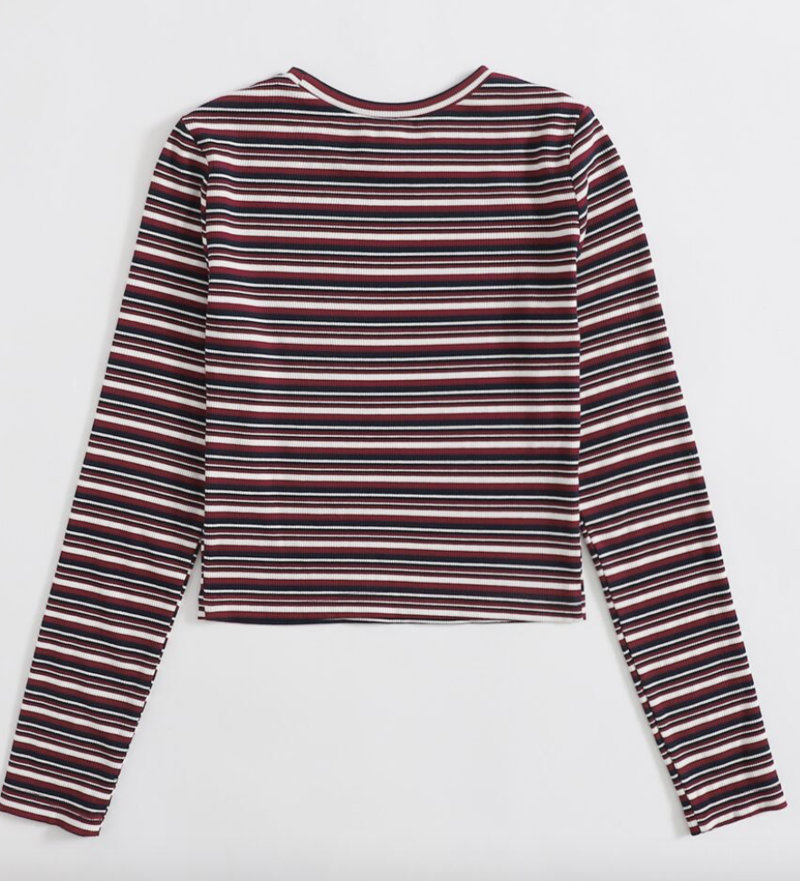 Overalls are the key element of this whole outfit. They are incredibly cute and can be had for less than $30 on Shein. I would recommend looking for overalls at a local thrift store before making this purchase, as I always see them at my local goodwill!
For shoes, this outfit includes a simple pair of black boots, which can be purchased at Doc Marten or a local clothing store (like JCPenney, Macy's, etc.).
You should make sure to accessorize this outfit with jewelry and a belt if you want!