Lately, the surge has risen in quirky jewelry- and especially this year, in 2021, this specific type of adornment is a fashion statement.
With beautifully crafted pieces that complete any cool look, Petit Moments is certainly on our must-have watch list. Not only is it jewelry- it's making a movement. Quality and quirky jewelry can be possible!
Meet Petit Moments
"Petit Moments is an emerging woman-owned brand from Los Angeles, CA. We believe that everyone should have the opportunity to express themselves through clothing and accessories without being discouraged by a price tag," writes Petit Moments.
shop Petit Moments at www.petitmoments.com.
"Our Mission is quite simple- We want to encourage our community to enjoy every moment that life has to offer while being conscious of our environmental impact."
Yep, you heard that right- Petit Moments is taking a stance forward in making jewelry sustainable and good for our planet, all while staying stylish. "We have shifted our brand to be more environmentally conscious by implementing initiatives at the corporate level and providing our audience with sustainable accessory options."
View this post on Instagram
Continue to enjoy the moment, while helping the planet.

-Petit Moments
Meet the Lucky Necklace
The Lucky is the perfect definition of balance- one of being playful, and one of being elegant and refined.
Featuring small, dainty multicolor beads that slightly over-number the larger, creamy-white pearls, this necklace is so pretty to look at, and looks even prettier on!
This beautiful necklace is the definition of a teen dream- it feels so youthful and fun-loving, but has a more sophisticated side, too.
shop the Lucky Necklace here.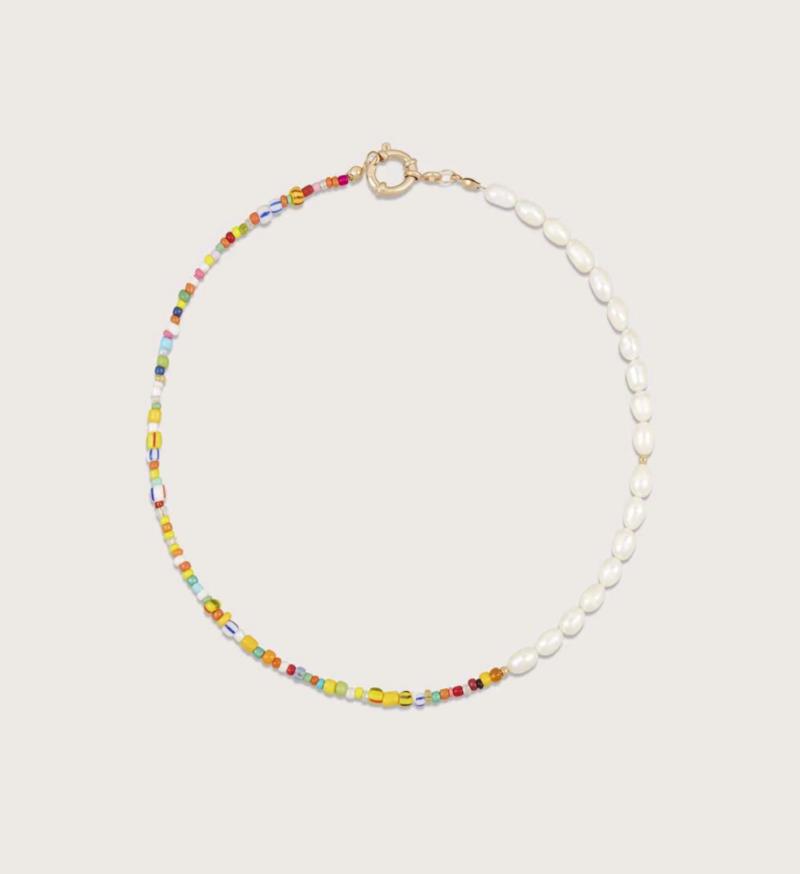 Each bead included in the necklace is made of glass and is so vibrant. You'll pretty much find every single color on the rainbow here, varying from turquoise-teal, chartreuse, cherry red, and so much more. It also even has glass beads with patterns, from simple stripes to intricate ones, which is so adorable.
Some of the glass beads vary in shape as well, with certain ones tiny and others just small. The uniqueness of the beads are truly notable.
I absolutely love how each bead is different and one of a kind, which makes the Lucky necklace even more special.
The side of the pearls goes on your left, and to the viewpoint, on the right. The pearls are bigger in size than the refined, tiny glass beads. They are bigger than they look in real life, which was a point I enjoyed!
These pearls are real, authentic freshwater pearls. I loved how it had a distinct oval-like, pear shape with a beautiful illustrious shine.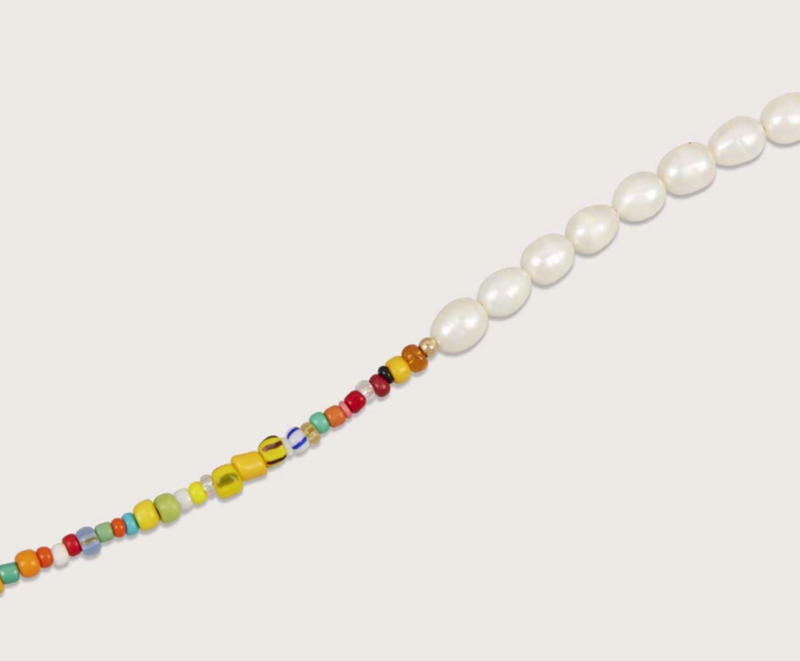 Another point I am absolutely obsessed with is Petit Moments's clasps for the necklace. This 14k gold plated brass clasp is a spring ring and has the coolest circle-enclasping feature. All you have to do is pull back a knob and insert to whichever length you prefer!
The Lucky necklace rests right by your collarbone, which makes it perfect to be visible above any top you wear this with! As this necklace has a long adjustor, you can match where to place the necklace to your exact liking.
It's bigger in size than you would expect- as in, it is not completely thin. It's perfectly noticeable and will pair well with any outfit!
I am so incredibly impressed by the quality- this isn't one of those drop-once-break-it kinds, nor those that rust and turn green easily.
To care for the Lucky necklace, Petit Moments advises that you do not get wet. You should also avoid contact with lotions and fragrances.
The Lucky necklace is well-fit for any occasion, any day, and any time. This is perfect to pair when dressing up or dressing down!
It also looks so great when paired with another necklace. Go for another beaded one to complement the look- Petit Moments's Beaded Pearl Drop necklace is the perfect fit for this.
Meet the Daisy Chain Necklace
This one-of-a-kind necklace is the perfect attention-grabbing necklace.
A golden chain-linked necklace base with attached abstract flower charms in multiple colors, this necklace is just simply stunning!
shop the Daisy Chain Necklace here.
The charms are multi-color and somewhat star-shaped. I absolutely love how intricately designed it is, with intriguing patterns inside the flowers.
Colors of the daisies range from purple, white, green, blue, and more- but the catch is, it's not completely that one color; there are more subtle shades used throughout the resin pattern. Your charm colors may vary.
Each Daisy charm is of the main color with other variants mixed in, creating a cool mosaic-like pattern inside the charm.
The chains are made of alloy and has a pretty golden shade- somewhat like white-gold, and definitely not yellowy, which I liked!
Each charm is pretty thick in size, although not too much- just the right amount. This necklace also balances holding the weight while still being lightweight.
I also really liked how the charms stayed in place- and made for such a chic, unique look. This is the definition of cool-girl jewelry!
The clasp is a light golden shade and is lobster style. It's so easy and efficient to use.
To care for the Daisy necklace, Petit Moments advises not to get wet, and to avoid contact with lotions and fragrances.
To style the Daisy necklace, this is the perfect one to wear alone to give it all the attention! This is gorgeous and is meant to be for a sunny, happy day.
Meet the Harmony Necklace
The Harmony necklace is exactly what I envision to be a perfect match for a beautiful day out by the sea on a boat! (I could definitely see this somewhere in Mamma Mia.)
In a beautifully crafted piece featuring white and royal blue striped tiny beads and a mix of pear-shaped pearls, alongside a focus pearl drop, this necklace is just such a dream.
shop the Harmony Necklace here.
To your right, the necklace has tiny white beads with a blue-striped pattern. This makes for such a cool design and pairs so well with the oval-shaped pearls. The pearls are so elegant and have a beautiful shine to them. It has such a genuine feel to the entire look.
I really love the intersection of a small alloy bead blocking out room for specific beads, which is such a cool feature. This will lead to a pearl drop, which I have to say, matches the necklace so perfectly.
The pearl of the drop is longer in length and has a neat texture to it- which feels very natural and organic. The end of the pearl drop is embedded with an alloy mark.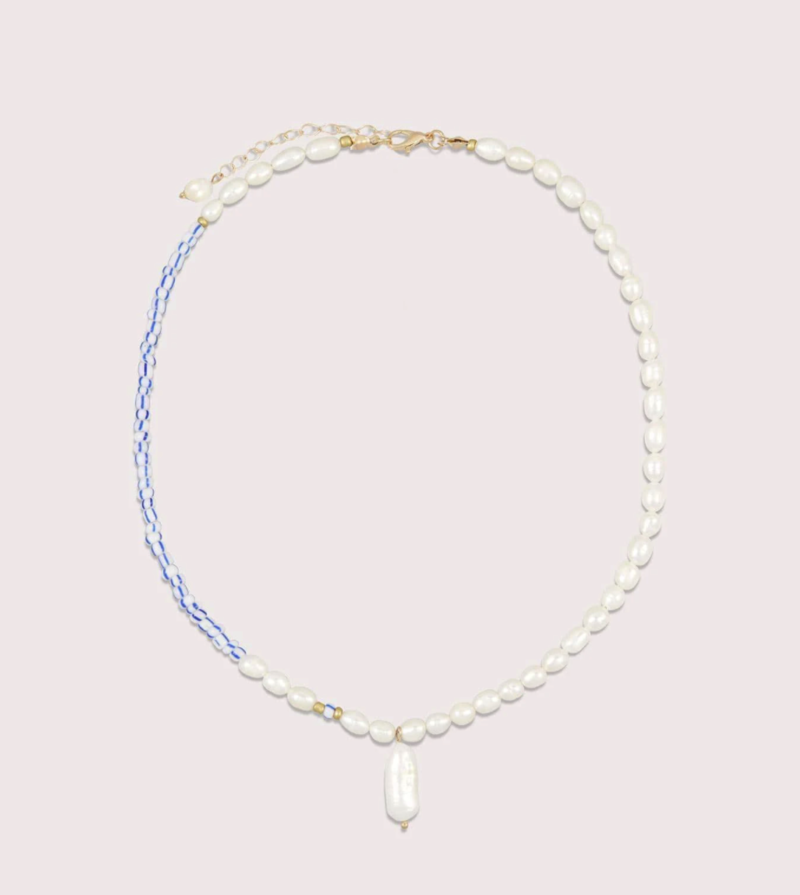 This half beaded, half pearl is such a contemporary yet timeless look, and I cannot get enough of it!
Like all other Petit Moments necklaces, the pearls on here have generous sizing, and is not subtle at all- but compliments the white and blue beads so well.
The necklace has an alloy chain with a lobster clasp. The end of the necklace features an adjustor, which is white-gold in hue and not yellow at all! The adjustor also has a cute little pearl attached at the end, which I love.
The length of the necklace is 18-20″. It's a bit on the longer side and rests right by where a V-neck tee would hit. This is definitely adjustable!
To care for this necklace, Petit Moments suggests not getting wet and avoiding fragrances and lotions.
The Harmony necklace will look amazing on its own, and also layered with all of your favorite Petit Moments pieces. See below how you can style them- as always with fashion, layering can be everything!
Meet the Large Claw Hair Clip
You might have seen the explosion of the hair claw trend all over your favorite forms of social media, such as Instagram, TikTok, and Pinterest. This trend was widely popularized in the 90's, but it's make a huge comeback.
It's easily to discern why it's so beloved- it's chic, cute, and overall, so efficient!
shop the Large Claw Hair Clip here.
Petit Moments makes hair claw clips fashionable, too. Who says those have to be boring, too?
The swirly-colored claw clip is an absolute favorite.
On a pale blue base, this features a marbled pattern with mature shades of blue and brown, which makes for a wonderful combination of colors!
Made of acetate, this claw is so sturdy and won't snap. Best of all? The sturdiness and high-qualities of this claw makes it perfect for you to tidy up your hair in a stylish, cute look.
Say goodbyes to the clip that won't hold up thick or long hair- this one is capable of doing so!
There are so many hairstyles you can do with this single claw clip, which is definitely an investment. It's also on the affordable side, and is pretty accessible!
This claw clip is on the bigger side, and is 3″. It's not too oversized and is just the right size. Goldilocks would approve!
The overall shape is like a rectangle and has a rectangle-shaped opening inside for a cool design feature. The two claw wings are like little butterfly wings and extend outwards. What a look!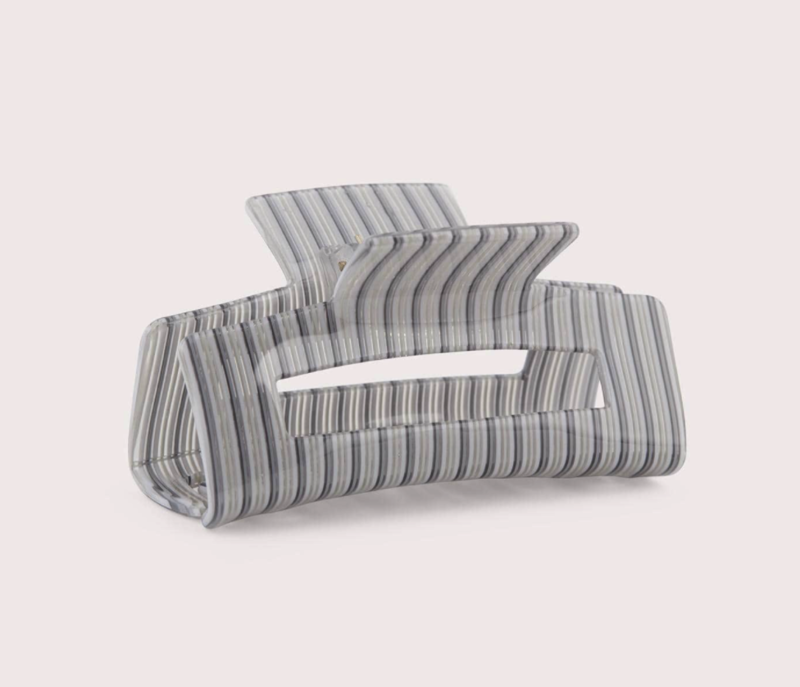 If you're looking for other styles and pattern variants, Petit Moments has more! The three color options are Grey Stripe, Paint Swirl, and Retro Brown. Every single one of them is so pretty and will make every day a good hair day.
A Talk With Petit Moments
The Teen Magazine had the chance to speak with the creator and owner of Petit Moments, Alexandria Rosa.
Get to know more about and behind the works of the statement-making brand!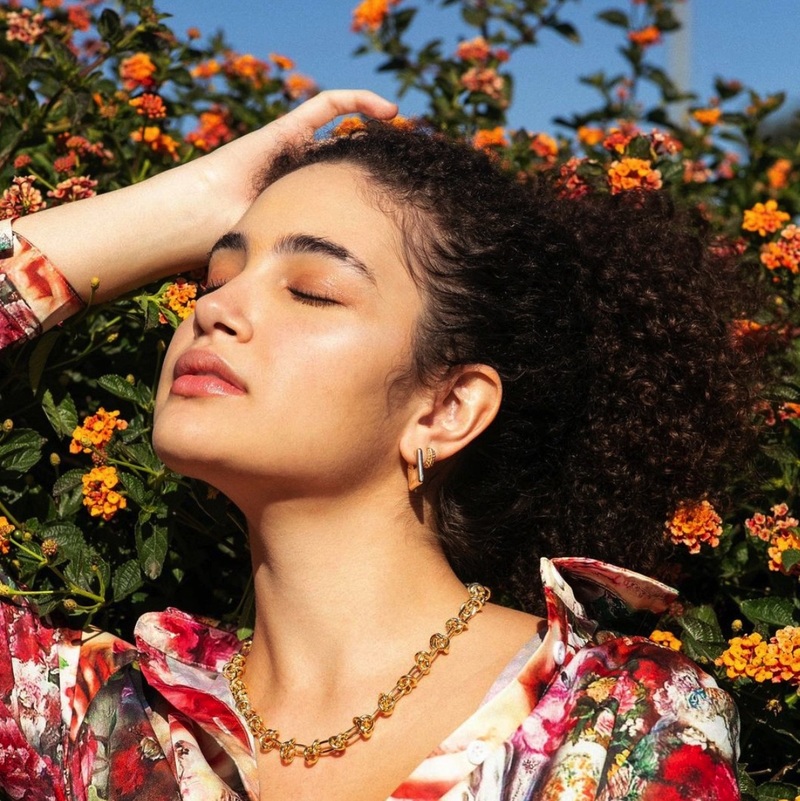 The Creation & Inspirations
What was your journey like to create Petit Moments? What was the inspiration behind it?
We know that the perfect accessory doesn't just elevate your look but also your confidence, and that is what we are all about!
Petit Moments was built around the idea that everyone should have access to the accessories of the moment without being discouraged by the price point.
Petit Moments started as a creative outlet for us, it was so fun and a total side hustle. We worked full-time jobs for almost a year until we decided to take the leap and focus on PM full-time. Since then, we have grown tremendously and hired a team of impressive and inspiring young women who motivate us so much.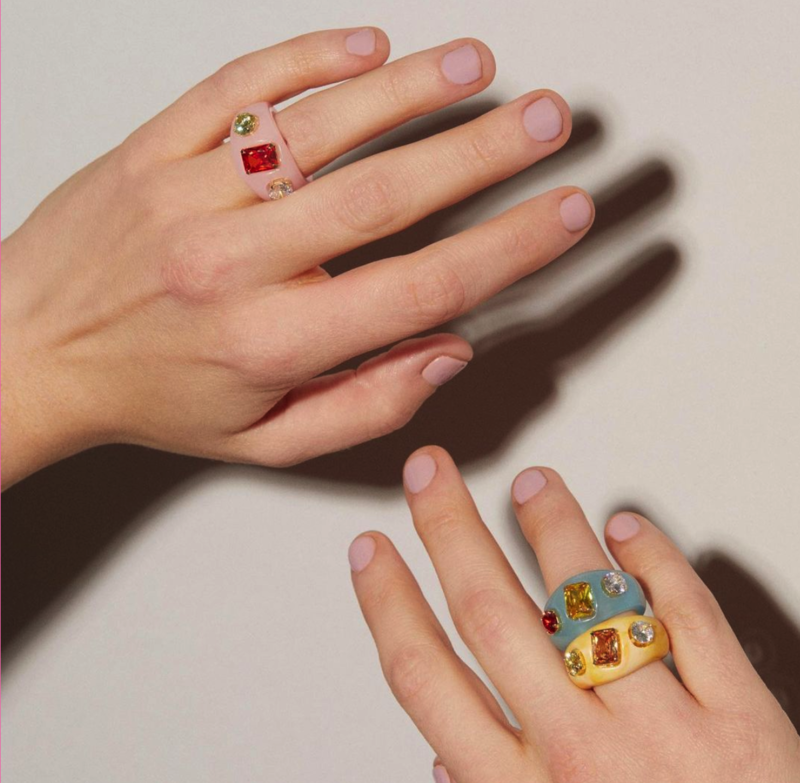 On Sustainability
Could you tell us more about the sustainability efforts of Petit Moments, and about the Conscious Collection?
We want to encourage our community to enjoy every moment that life has to offer while being conscious of our environmental impact. Sustainability is incredibly complex and not achieved overnight, but will always play a huge role in the decisions we make for our brand.
We have implemented several initiatives at the corporate level to limit waste and reduce our carbon footprint. Petit Moments always chooses the most environmentally friendly packaging including compostable poly-bags, compostable mailers, recyclable boxes, and cards. We recycle or reuse wherever possible, including all plastics that come into our business, as well as cards, paper, and bags/boxes.
All of our product is made to order in small batches to ensure we are not overproducing and any excess material is recycled and reused for new orders.
We have partnered with manufacturers who hold our same values to develop the Conscious Collection, an 18k gold plated brass base range of timeless styles that are made to last using materials that are infinitely recyclable.
Our factory is currently in the process of becoming completely green (woo!) and we meet all requirements outlined by REACH (Restriction, Evaluation and Authorisation of Chemicals), which aims to restrict hazardous substances in jewelry. We have made certain that our partners are also certified members of the Business Social Compliance Initiative (BSCI), which is a leading supply chain management system that supports companies to drive social compliance and improvements within the factories in their global supply chains.
We are also working on a very ambitious jewelry recycling initiative that we can't share just yet but we are hoping to have off the ground in the coming years.
Petit Moments in 5 Words
If you could describe Petit Moments in 5 words, what would they be?
Empowering, ambitious, inclusive, fun, leaders
Advice and Affirmations
Petit Moments's mission is to empower the community to enjoy life.
If you could offer any word(s) of advice and affirmations, what would they be?
What you want exists, don't settle until you get it. Mindset is key.
Support and encourage your friends and family to be better and surround yourself with people who motivate and support you!
Stay Tuned
Are there any new collections/pieces dropping that we should keep an eye out for? If so, could you tell us more about it?
Our next collection (dropping in May) will have an assortment of classic and nostalgic yet fashion-forward pieces. We hope to expand on our vegan leather accessories and launch new categories in the near future!
Follow us on IG & Tik Tok to find out what is coming!
Keep Up With Petit Moments
Petit Moments is on Instagram at @petit.moments.
You can also find them on TikTok at @petit.moments!
View this post on Instagram