Recently, we have witnessed the rise of dreamy summer dresses, inspired by the vintage and romantic lifestyle by the sea or in an old town.
If you're looking to find the perfect dress this season, Peppermayo is definitely what you've been looking for.
See this post on Instagram
This Aussie brand is known for turning heads with stunning and flattering pieces, and no doubt this summer will be like that with its new release of dreamy dresses.
Meet Peppermayo
Ask any fashionista what her favorite online fashion store is, and you can bet Peppermayo is her answer. This boutique definitely specializes in creating eye-catching pieces fueled by fashionable outfits that always stay with a touch of timeless uniqueness.
Additionally, Peppermayo is on its way to truly establishing sustainability within its brand, with sustainable fashion, zero waste packaging, carbon positivity, community initiatives and more.
We have no illusions; we can and must do better. As a company that can have a profound impact on people, the community and the environment, our social and environmental responsibilities will be our number one priority.

-Peppermayo
Summer Villa short linen dress
Check out the absolute milkmaid dress of our dreams. Every fashion page and social media influencer has recently been spotted with these romantic dairy-style summer dresses, and we're obsessed.
Peppermayo's Summer Villa Linen Mini Dress is the perfect blend of a European getaway and a quiet, idyllic seaside cottage.
shop the Summer Villa linen mini dress here.
Close your eyes and imagine you're in perfect summer weather with the wind blowing through your hair and you in a gorgeous white mini dress – that's exactly the mood captured by the Summer Villa linen dress.
Showcasing an elastic cinched detail with a fitted waist but flowing skirt, this dress is exactly what a summer vibe is all about.
The dress features a slightly deep v-neck which is elasticated in the neckline. The elastic is super comfortable and creates natural ruffles in the fabric of the line, which adds to the dreamy tone of the dress.
The v-neck continues into a gathered bust and the elastic neckline might even allow you to tug on your shoulders slightly. We love a good dress on which we can improvise an off-the-shoulder look!
Puff sleeves are such a look; while not totally dramatized, it has a subtle flair of its own. The puff sleeves also have elastic ends, adding to the ruffled style of the dress.
The waist is also elastic, with a smocked design. I love how the waist has a gathered effect and creates a corset-belt effect. It's also so comfortable that it molds perfectly to your shape. It's adorable how it looks so flattering!
Right from the smocked waist, the skirt of the dress immediately flows, and the three-tiered skirt adds a nice touch to the romantic style of the dress. The skirt is so airy and flowy. If you could imagine twirling around in any mini dress, this might be the one!
The back of the dress is simple and features a curved round back from the neck. It again has natural ruffle lines that meet the waistline, which adds to the rustic, vintage aesthetic of the dress.
The dress is lined and has a breathable fabric which makes it perfect for warmer weather.
As the name suggests, this is a linen summer dress; made of 55% linen, 45% cotton, this dress is super lightweight and looks like a dream.
The Summer Villa linen mini dress maintains a vintage youthful air during summer vacation. I love how delicate and charming it is without being over the top. It has just the perfect touch of a dreamy, feminine summer!
Wear it any sunny day, and you're good to go. Pair it with matching vintage mules, kitten heels or flat sandals, and you have a complete summer fit there!
Peppermayo x National Breast Cancer Foundation
The brand has partnered with the National Breast Cancer Foundation in honor of International Women's Day, and the Summer Villa linen dress is part of the collection.
"Peppermayo has partnered with the National Breast Cancer Foundation (NBCF) for a capsule collection on International Women's Day," writes Peppermayo, "50% of the proceeds from this collection will be donated to NBCF to help fund their research and save lives."
With this collaboration, Peppermayo created the #LeadWithLove hashtag to show their support and love to those affected and the foundation.
"International Women's Day is a day to celebrate all women, in all their diversity, to recognize how far we have come but also how far we still have to go, to raise awareness and celebrate feminist achievements. Women who support women are so powerful! »

— Peppermayo General Manager, Georgia Wright
"Our goal is to raise $10,000 to donate to NBCF to help fund their research and raise awareness globally," Peppermayo says.
To read more, click here. Peppermayo's collaboration with NBCF was for JIF month.
Vintage Audrey slip dress
Light, camera, action! We've just taken a trip back in time, and the Audrey Slip Dress is modernized while maintaining a vintage charm take on the classic slip dress we all love.
This exclusive Peppermayo dress will make you feel like a total movie star. As Peppermayo says, "Silky simplicity is always a good idea."
To buy the Audrey Vintage slip dress, click here.
The Audrey Vintage Slip Dress comes in a multitude of colors that provide a huge range of options, and the Audrey in Cobalt was one of my favorites.
The cobalt color is a gorgeous jewel-like navy blue. I love the depth and seduction of the color, and the Audrey in Cobalt would be the perfect little dress for a night out with your best friends.
The Audrey slip dress has a little V-neckline, but understand: it's not only in the front, but also in the back.
In front of the dress is a "triangle style bust with gathered detailing" – a feature often seen in summer halter tops. This well-cut design gives you some freedom to show off and look your best.
The dress is made to fit snugly; which means it will fit snugly around your waist and flare out for the skirt.
I love how the waist is accentuated with a little tie feature. At the back of the dress, you will find two long ribbon straps to create a simple and elegant bow to go with the dress.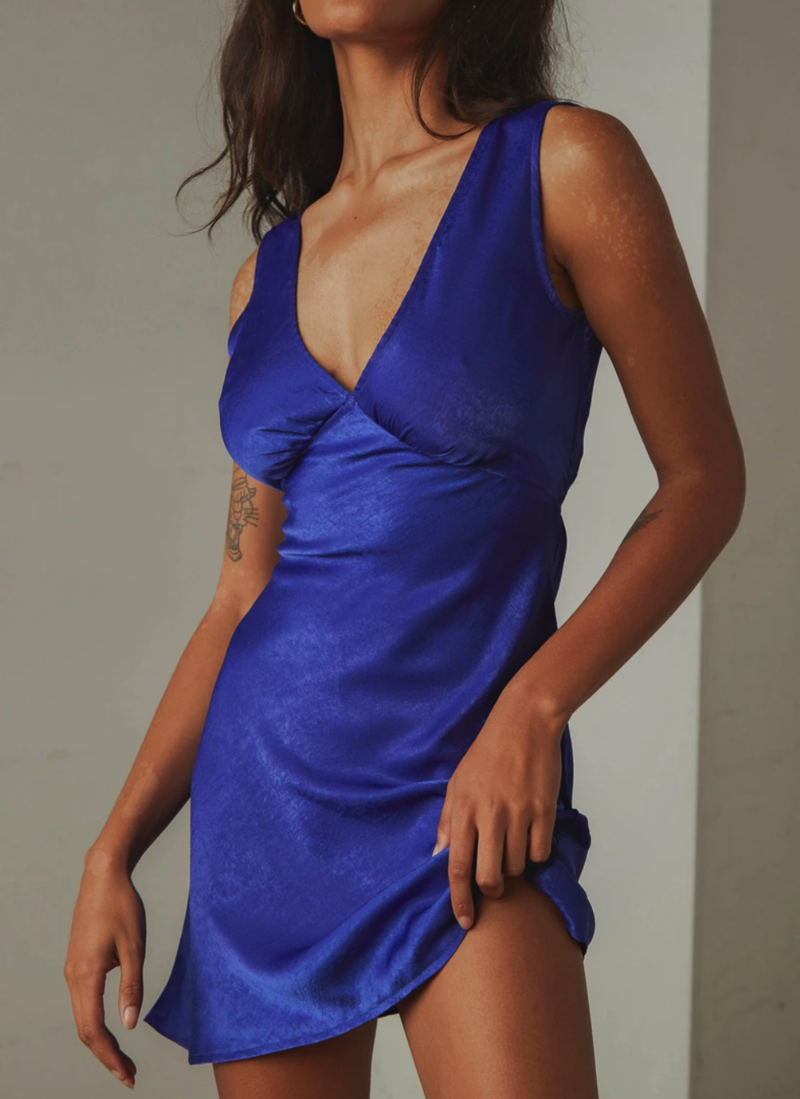 The small ribbon tie will then rest at the back of the dress, adding a little extra to the otherwise simple "less is more" look.
I was so pleasantly surprised when the fabric of the dress almost looked like crumpled velvet. It feels so quality without being too thick, and I love the slight texture it has.
The Audrey Vintage Slip Dress is made of 100% polyester and features full lining.
I love how the dress is minimal without being too bare and has little details that are subtly there. It feels elegantly refined without being over the top, and the Audrey Slip Dress sure knows how to balance it all out!
"This is the perfect dress for the upcoming event season. Pair it with strappy heels and chic gold jewelry," Peppermayo advises. This dress will bring you a glamorous vintage style!
Little Journey Linen Mini Dress
Backless dresses are everything – really everything. Pepperymayo's creative and cute style of mixing the prettiest brown mini dress with an open back might just be just what your wardrobe needs.
The Little Journey linen mini dress was truly made for this season – contemporary yet classic, and a timeless staple, it's the backless dress of our dreams.
It has been completely designed so that you can have brunch at your favorite spot or have a little picnic at the local park. Wherever you go, this dress will look great on you.
to shop the Little Journey Linen Mini Dress, click here.
"With a gorgeous cutout back, flattering A-line cut, and this season's hottest color, it ticks all the right boxes," Peppermayo says. We couldn't agree more.
The front of the dress features a halter top seen on previous dresses we've featured here (perhaps it's Peppermayo's expertise as it looks absolutely stunning) and the back of the halter has a tie feature .
This allows the back of the dress to be completely open, which I love! The back of the dress has a triangular type opening and closes with the skirt of the dress. It really emphasizes the fit and flare style of the A-line mini dress, making it incredibly flattering.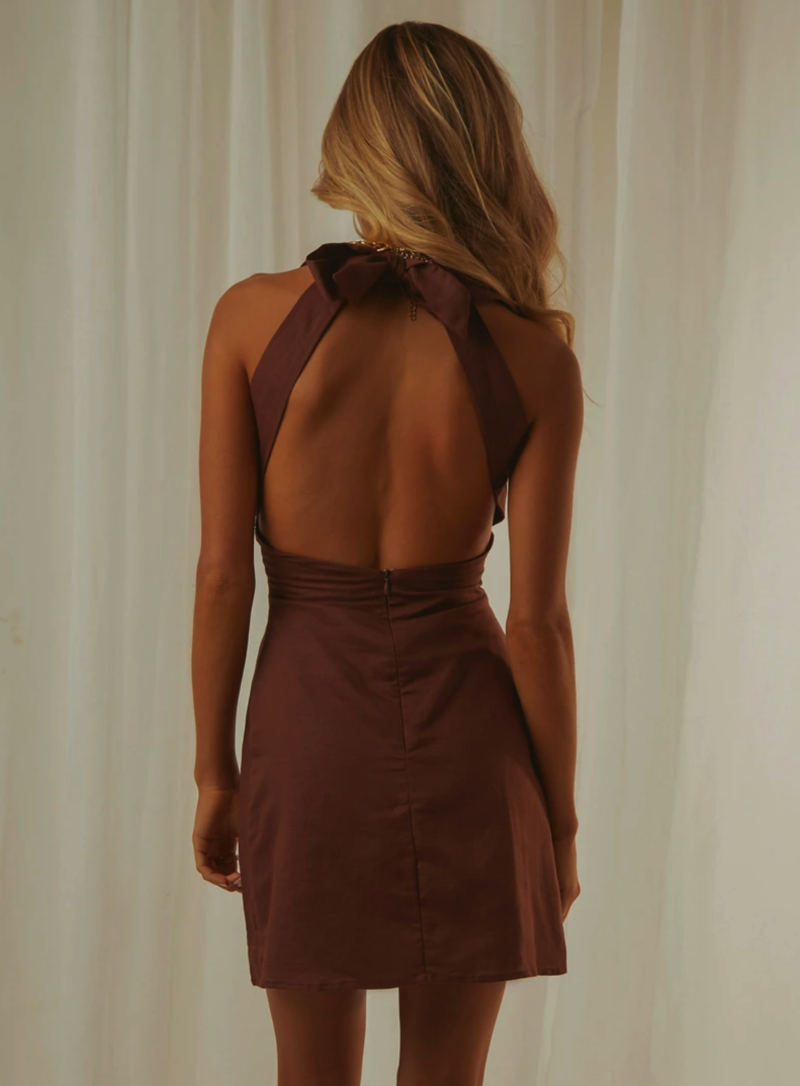 Additionally, the back also has the tie top, which you can tie with a ribbon or a fancy bow of your choice.
The front of the dress has a triangle bust, and the skirt flows easily from there while hugging your shape. I love how comfortable it is – although it's not too tight like a glove, it still fits quite well!
The dress has a slightly deeper v-neck, making it perfect for layering jewelry to spice up your look.
I love that the fabric is super light and is very durable. It's made from 100% cotton, so you know it's pretty breathable!
It's amazing how it's not too simple but there are eye-catching designs everywhere. This dress is the dress that continues to give us cute little details that we're obsessed with.
The brown color of the dress is resolutely trendy. Brown was an explosive must-have in our closets this fall, and it's also coming back for summer. This rich chocolate shade goes perfectly with the look of the dress.
"We love pairing it with heeled mules and your favorite mini bag for your next long lunch with the girls," Peppermayo says. It would look so cute with slightly casual but decorated accessories. Looking effortlessly cute is so much easier!
Continue
For practical fashion advice and style inspiration, Peppermayo's social media channels are a must. Be sure to follow their Instagram at @peppermayo and their TikTok at @peppermayo.