October is now here and the spooky season is already here!
With the punk-rock and eclectic style that represents Generation Z so well, Dolls Kill's assertive and empowering style is here to make a splash in the fashion world – and now, the Halloween spirit!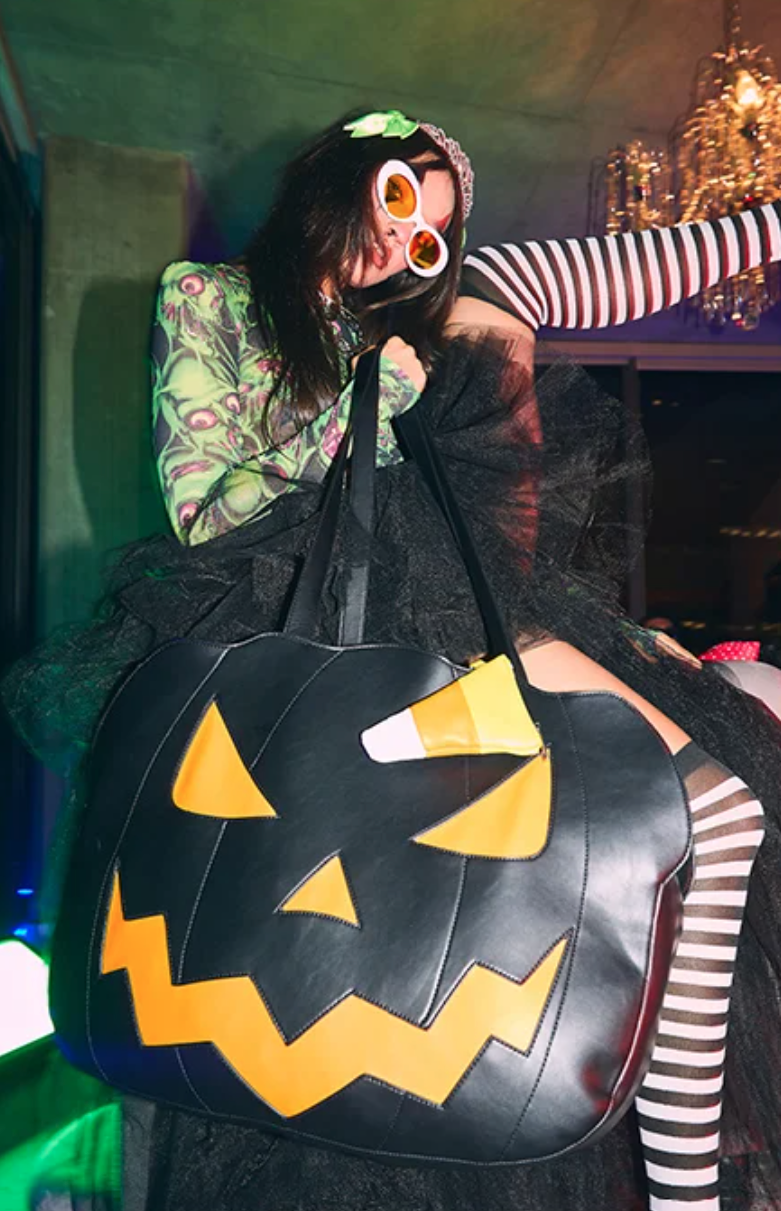 buy Dolls Kill at dollskill.com

shop Halloween at dollskill.com/halloween
Dolls Kill is quick to capture the fast rising trends to put you on top of your pop culture game and with additions like Dolls Kill's Delia's, Dolls Kill is certainly making a splash among Gen Z. With the brand you can channel your inner rebellious spirit!
Deadly Cheerleader Winning Games
If there's more costume screaming "It's Halloween time!", it must be this one. Not only is it absolutely stunning, but it's to be obsessed with.
The Deadly Cheerleader costume set includes everything you need to be, well, a deadly cheerleader, and embody that kill 'em and win 'em all spirit.
Shop the Deadly Cheerleader costume set here.
"Trickz N' Treatz Deadly Cheerleader Costume Set because you bring the school sadistic spirit," says Dolls Kill. It's like Bring it onbut ten times darker and make it a Halloween edition.
With this costume you can be a total "bad guy", just like the included pieces of hardware that have it inscribed on it.
This cheerleader costume set comes with a graphic skull tank top, which has a nice v-cut and form-fitting design that makes you look like it could be a real Halloween squad you come to join. It's black and white, and of course, there's a deadly skeleton in the front. Boo!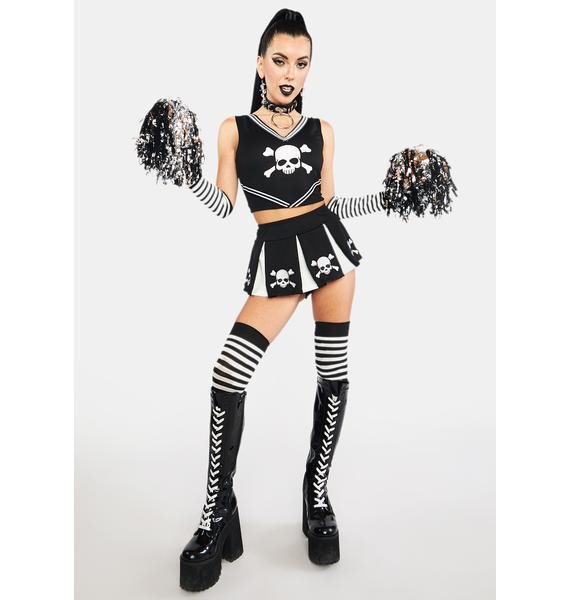 Plus, "cheeky panties that say 'nasty' underneath" are included to provide snug support for the matching pleated skirt, which resembles a cheerleader skirt with lots of adorable ruffles. This skirt is just the cutest, and I love how it adds character to the whole look with its pleats and flirty skirt!
That's not all; you'll also get pairs of striped gloves and matching knee-high socks, which are striped in black and white (themed!) and reach to the elbows and knees.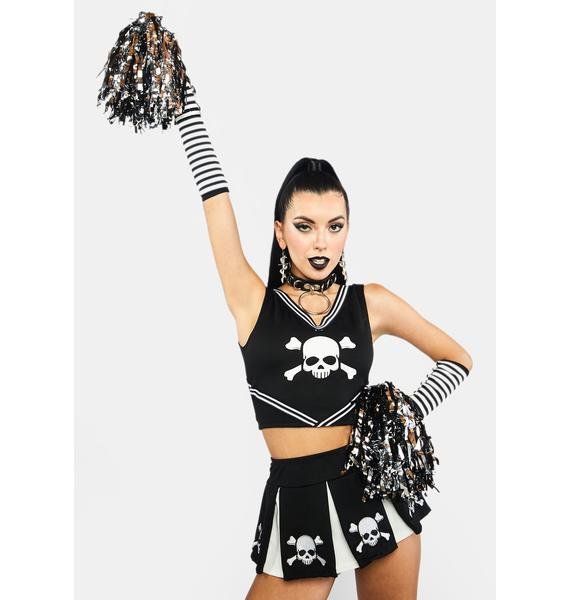 And of course, don't forget your pompoms! The black and silver pom poms are perfect for shaking all night during Halloween and bringing in that school spirit!
Spotlight on purple hair
Nothing commands more attention than bright, almost neon wigs, and the Ultra Violet Vixen Bob Wig is just the thing for you. this item you need this Halloween.
Buy the Ultra Violet Vixen Bob Wig here.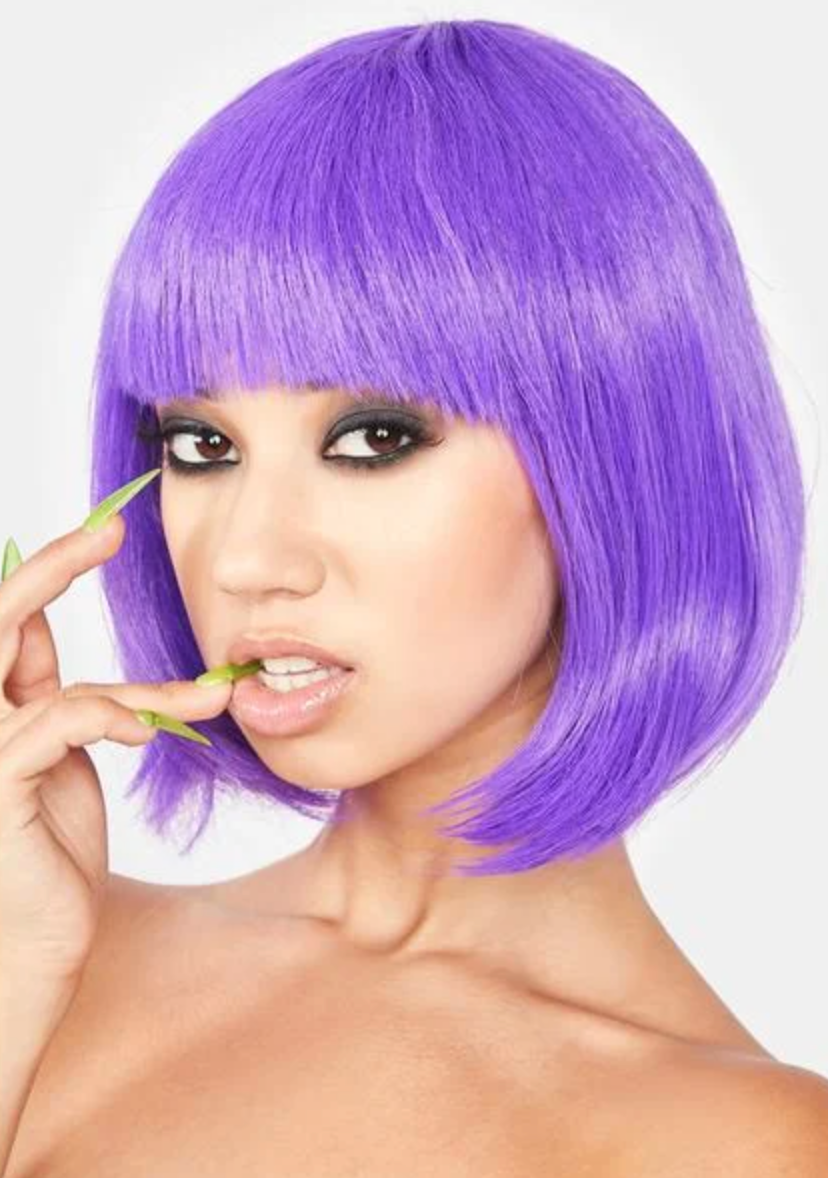 The wig is a neatly styled bob that is also effortless at the same time. With blunt, rough bangs and the perfect length to frame your face, the piece is the perfect accessory to complete your costume.
It comes with a liner attached inside the wig making everything super easy for you. Simply tie up your hair and put on the wig, and you're done!
With a well-tamed and styled bob cut that curls inward to frame your face, the shiny purple wig makes you look so good – and most definitely, all eyes will be on you and your wig.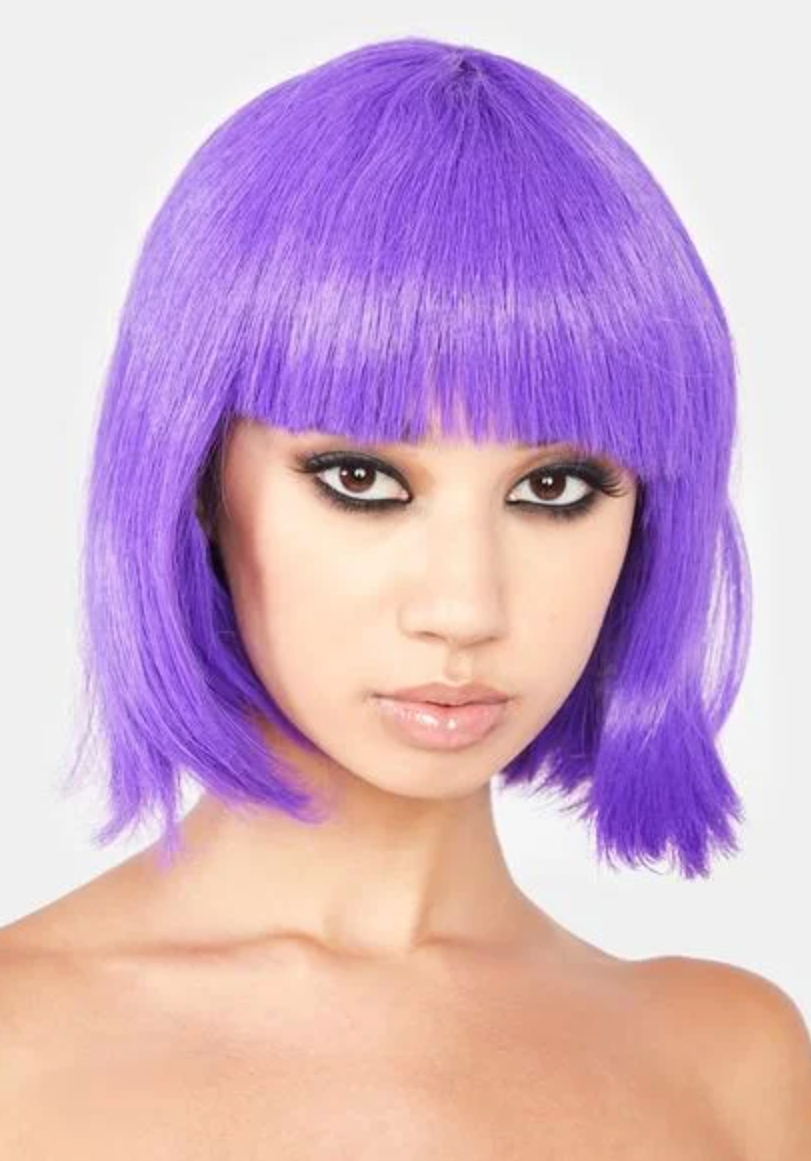 Stomp-Out Boots: Make a Statement
If you could crush anything, these boots would be then this. Full of pure energy and details that make this boot so interesting and simply on the edge, the Demonia Pure Gravedigger boots make you a total "badazz", as Dolls Kill says.
Shop the Pure Gravedigger boots here.
There's no way you can look not cool- these boots have cool written all over it! These unisex combat boots feature lug platform soles that aren't too bulky. These rigs will totally make you seem simply above your statement game with its great rig.
The lacing of these boots is literally remarkable. From bottom to top, these boots are a total threat. Adding to the crossover look of killer combat boots, the laces add a nice black accent to the white boots.
The boots have zippers all over which I have to say is probably one of the neatest designs ever. The zippers add a touch of metal to the boot, alongside the toe caps, of course.
The very front of the boots has silver caps, which are so shiny you might even see your reflection on them. With a hint of metallic features with the killer style platform and laces, the Demonia Pure Gravedigger Boots will have us all shivering on Halloween night.
Delia is the way of fashion. Period.
"dELiA*s by Dolls Kill xxxclusively takes all of our babes to heaven. Take the N' ditch city blues scenic drive for ocean views," says Dolls Kill.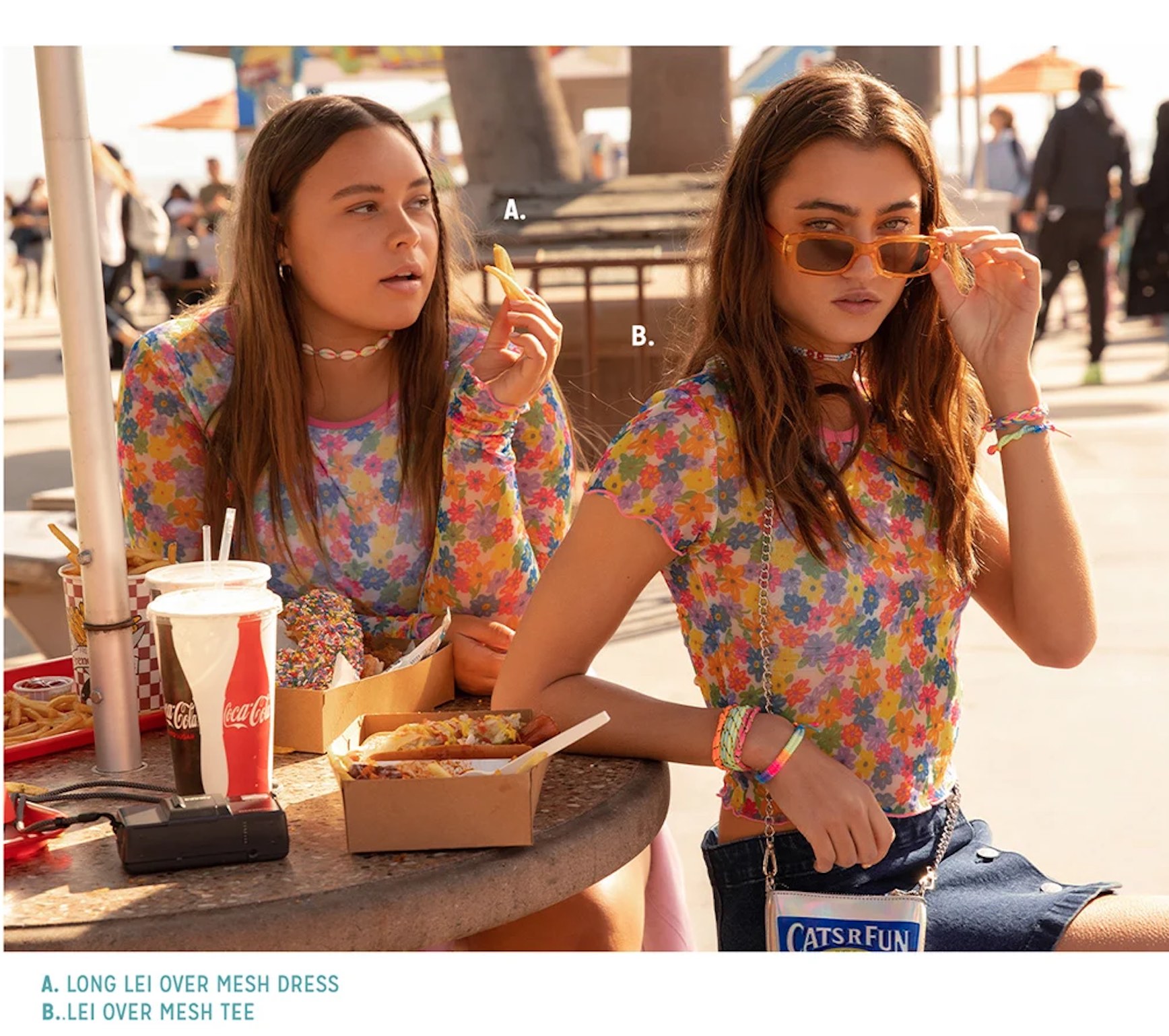 With references to past trends from the 80s, 90s and more, dELiA*s is not just a fashion powerhouse, but where pop culture rules.
No duh, that's cute
Let me just say that when it comes to this retro look, dELiA*s from Dolls Kill totally killed it with this top. No duh, that's too cute!
Shop the No Duh Long Sleeve Thermal Top here.
It couldn't be more obvious that this vintage-inspired minimalist shirt is the perfect tee to wear on a casual day with loose low-rise jeans. The perfect mesh of past trends!
Featuring a pretty neckline, the tee features a navy blue scalloped lace trim to contrast with the lovely periwinkle hue. In the middle is a small bow detail.
The long sleeves have a lettuce trim around the edges – the detailing is really what makes this top not so plain!
With a ribbed texture on the shirt, this top is perfect for easily warming up and staying warm. Especially with the colder weather coming, you can now look cute and stay comfy and cozy – no duh!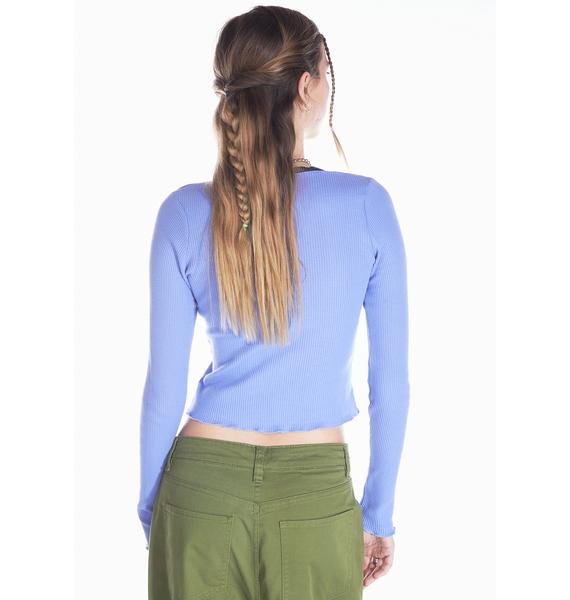 The thermal t-shirt has a reduced waist to give you a snug and snug fit. Loose-fitting pants with this would be equally at home in the simplest yet most put-together look ever.
Want to match the cut? Doll is wearing Don't You Forget twill cargo pants and a baby blue thermal t-shirt.
Denim skirt with a brim
This is probably the cutest denim skirt I've ever seen, and I mean it. The Happier Now denim skirt is the perfect piece to channel your inner 2000s girl.
Shop the Happier Now denim skirt here.
This denim skirt has a fit and flare style, where it stays snug around your waist but has a lift through the edges of the skirt. I love the gold stitching unlike the dark blue jeans.
The cute pleats add dimension to the look, and it's all just for scream for. The pleated construction gives it an edge that no other denim skirt has or will be able to match. I mean, look at it! How adorable.
And of course we have to mention the lace-up shoes. Featuring criss-cross faux leather lace all over the front, this skirt just got so much trendier and cooler. (The inner side of the laces has a hidden button inside, which is pretty nifty. So awesome!)
I am seriously obsessed with this skirt. That pretty little skirt box make you happy- dELiA*s by Dolls Kill Happier Now The denim skirt is what turns our frowns upside down!
Pair it with one of your favorite crop tops, and you're good to go.
Goodbye haters! Flare 'em out
Emulating an indifferent attitude, these chocolate brown wide leg pants will appeal to all skate lovers. Cargo style with efficient pockets and a relaxed feel, the Later Hater Wide Leg Pant redefines the pants game – for real.
Shop the Later Hater Wide Leg Pants here.
I must say that I am in love with the texture of these pants. They feel so different from any other jeans and have a soft feel that just adds to the overall coolness. With a twill construction, these pants have a nice structure.
The wide leg is definitely dramatic – with a wide swoop at the end, these pants were made to have all eyes on them!
With a low rise cut, these pants go so well with any possible t-shirt, whether cropped or longer. The low-rise is indeed slowly making a comeback!
And of course we have to mention the pockets. The pockets are located on the front and back, and you won't believe how spacious they are! I love how the back pockets are oversized and stick out on purpose – it really adds to the effortless style.
The brown color of these jeans is completely designed for the fall season, and their warmth makes them look great with any other color shades you choose to complement the fit.
The Later Hater lets you keep up with the times, worry free. With that, bye haters!
Continue
Be sure to follow Dolls Kill on social media at @dollskill on Instagram, Twitter at @dollskillYouTube on @dollskill and Pinterest on @dollskill.