Dear summer lovers, we have just found the perfect brand to meet all your swimwear and beachwear needs. Heart of Sun has summer essentials for every sexy girl, with a nostalgic twist that takes style to the next level.
A girl's swimwear collection can never be too big, and Heart of Sun has made sure you feel confident wherever you go.
Buy Heart of Sun at heartofsunswim.com
Not only are their designs creative and stylish, Heart of Sun puts sustainable practices first by eliminating mass production and instead focusing on handcrafting items to order from their in-house factory.
That being said, it's no surprise that the brand's suits have garnered praise from celebrities and models alike. Their pieces have made appearances in Euphoriaand have been worn by Bella Hadid, the Kardashian-Jenners, Vanessa Hudgens, Kali Uchis, and more.
See this post on Instagram
Reinventing fashion trends with unique designs, you won't want to miss what the brand has to offer.
Bikini top + bottom Gigi in Rio
Buy the GIGI BIKINI TOP | RIO here.

Shop GIGI BIKINI BOTTOM | RIO here.
For an ideal day of tanning on the beach, we are currently falling for the Gigi Bikini pieces! They are simple, but have a retro edge that is absolute perfection.
What we love about Heart of Sun is the focus on comfort. Each piece is made with the highest quality fabrics and they are eco-friendly.
See this post on Instagram
Heart of Sun is always looking to reduce its carbon footprint, and Gigi pieces are made from sustainable Lycra, which is recycled from plastics. The material is smooth to hug the body we love.
The Gigi bikini top and bottom in Rio have the prettiest teal hue with acrylic ring accents to tie the look together. It is lined and its cut is flattering for all body types.
Heart of Sun also gives you total styling creativity, and how you wear it is entirely up to you – the options are endless and there's no "wrong way" to wear it! The top has adjustable side ruching and is a multi-tie bikini that can be worn as a strapless bandeau top or wrapped around the neck.
See this post on Instagram
The stockings can also be worn in different ways depending on your preference. Whether you're a fan of stockings or high-waisted bottoms, you can make the high or low jumpsuit sit on your hips.
Versatility is a major pro, so it's pretty hard not to fall in love with the Gigi pieces.
Vogue Bikini Top + Bottom in Nero
Buy the VOGUE BIKINI TOP | Here Nero.

Buy the VOGUE BIKINI BOTTOM | Here Nero.
It's simple, it's classic, it's timeless: the Vogue Bikini Top and Bottom in Nero will never disappoint. With adjustable straps and a gold clasp at the back, Heart of Sun has you covered.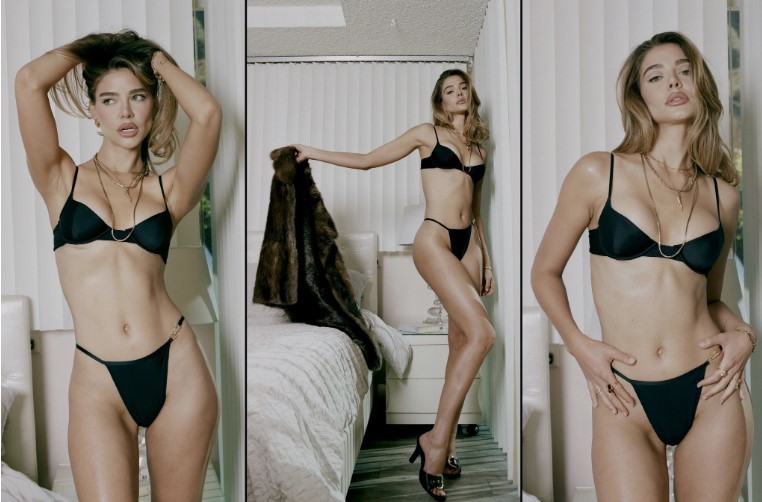 If you're someone looking for that extra bit of support, this is for you. The top has built-in padding and underwires to keep you comfortable and secure all day long. With that in mind, it also has just the right amount of coverage. Of course, having a swimsuit that effortlessly flatters the body is a must, and the high waisted cut of the Vogue Bikini Bottom did just that!
It is refined and creates the perfect outfit by the pool. The simplicity of Vogue pieces is great as they pair well with anything, either together or on their own with a different top or bottom.
Oh, and did I mention that like other Heart of Sun wetsuits, these pieces are also chlorine and oil resistant, offer UV protection and are made from recycled materials? By wearing their Lycra pieces, you won't have to feel guilty like buying from an unethical brand.
Celine Mesh Blouse in Nero
Shop the CELINE KNITTED BLOUSE | Here Nero.
On your next outing, make a statement with the Celine Mesh Blouse in Nero. This piece is glamorous, minimalist and elegant – what more could you ask for?
The monochromatic look is so on-trend with split stitch detailing, a collar and gold accents of a Heart of Sun center buckle that make it look high-end. The blouse is also enhanced with a deep V neckline.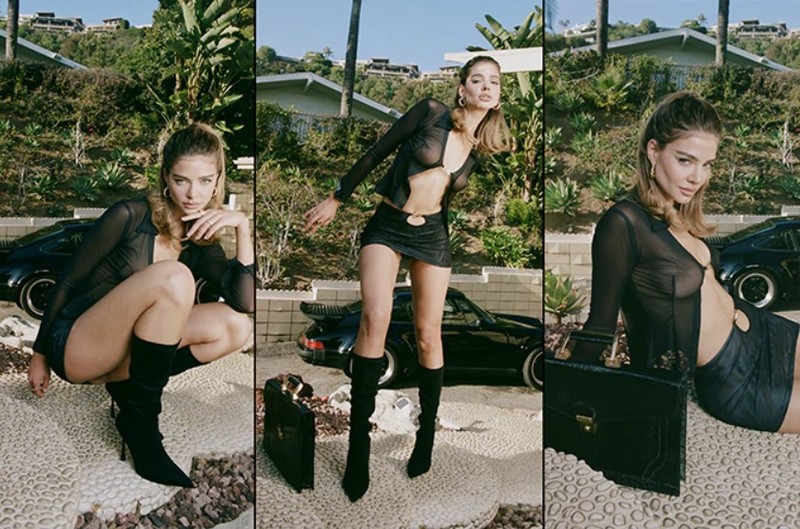 The sheer mesh material is breathable and smooth, and the blouse itself works amazingly as a cover-up or on its own for a night out on the town.
Celine Knitted Mini Skirt in Nero
Buy the CELINE KNITTED MINI SKIRT | Here Nero.
You can't have the Celine Mesh Blouse without its matching pair – with the Celine Mesh Mini Skirt it's a perfect match! It's safe to say that a black mini skirt is the ultimate wardrobe staple, and Heart of Sun has given us that, and more.
To complement the blouse, this piece also has the exclusive Heart of Sun buckle and a cutout feature that wows us.
See this post on Instagram
It fits perfectly and is lined with mesh for extra coverage. Slip on matching gold accessories and you're good to go!
TERRY PARADISE DRESS
Buy the PARADISE TERRY DRESS | SPLASH here.
The Paradise Terry Dress in Splash gives off the most amazing tropical vibes – and it might just be my new favorite item in my closet! With a halter design, this mini dress is super trendy.
See this post on Instagram
Connected with pink "candy strings", the neck is adjustable and ties as you wish. In the center, an acrylic ring keyhole detail makes the dress unmatched from others.
The material is thick and made from luxury soft terry cloth. And in blue and pink pastels, the fun and whimsical colors really are the cutest!
See this post on Instagram
Overall, the Paradise Terry Robe is plush, comfortable and will definitely transport you to paradise.
Follow the rhythm of Heart of Sun
Shop your dream Heart of Sun swimwear and beachwear from their website at heartofsunsunswim.com, and be sure to keep up to date with new Heart of Sun releases by following them on Instagram @heartofsunswim.