Korean dramas are becoming increasingly popular for their plot, production, and character outfits. Luxury brands are even collaborating with dramatic stylists to include their pieces in the runways. Some luxury brands select outfits with the type of character that will wear their products on screen. Because of this, we got some of the most stylish K-dramas characters in recent history. Let's look at some fashion icons below.
Yoon Seri, Crash landing on you
Son Ye-Jin plays a wealthy chaebol girl who became successful after starting her own business, wearing corporate clothes. She can be seen in smart, business attire, but changed to everyday clothes after unexpectedly landing in North Korea. Here we can see her wearing an Off-White Spring Summer 2018 off-white blazer and a Longchamp Roseau handbag in South Korea.
After landing in South Korea after her unexpected visit to North Korea, she went shopping with Jung Hyuk, her fiancée. In this scene, she is seen wearing a Chanel plaid blazer and ruffled top from the Fall Winter 2019 collection, with a Chanel tweed tote bag.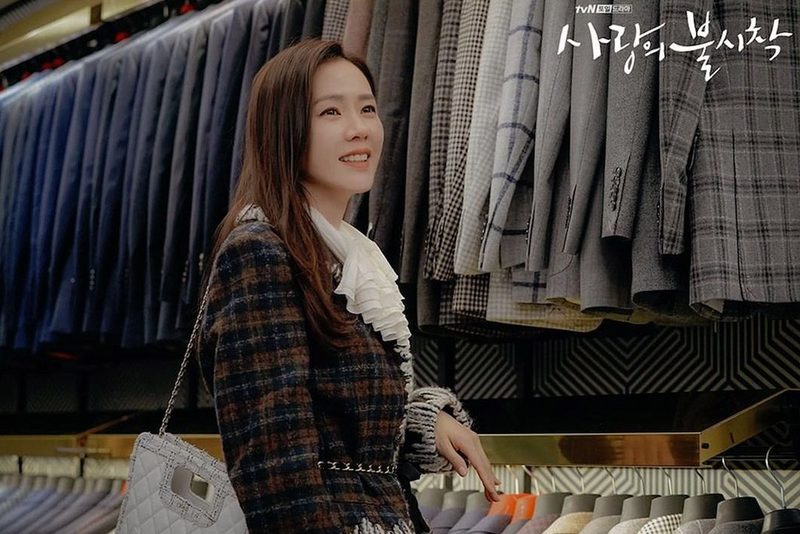 Jang Man Wol, Hotel De Luna
Played by our favorite actor, IU, Jang Man Wol can be seen maintaining the perfect vintage look. It is reported that approximately $8,000 was spent on IU's wardrobe for each episode of Hotel De Luna. The character has gone through different decades for thousands of years and swept outfits from each of the eras. The all-white outfit below perfectly describes her character as an independent, strong hotel manager who won't back down until she gets what she wants.
In this scene, Jang Wol was dealing with an unexpected and awkward guest. Jang Wol's red top and black lace definitely showed that she's not someone to mess with.
Ko Moon-young, it's normal not to be well
Ko Moon-Young is an arrogant and rude children's book author who falls in love with a psychiatric ward guard after being diagnosed with antisocial personality disorder. Here, she can be seen wearing a brown bow tie belt with a khaki dress.
Ko Moon Young can be both cute and sexy while maintaining a professional vibe. She usually wears a dress with a matching ensemble, most of them being monochromatic outfits with jacket tops, but can also be seen wearing unexpected bright colors, matching her personality as the series goes on. This dress is a pink two-piece set from Minjukim and is tightly fitted, showing off the actress' famous "ant waist".
Cheon Seo Jin, Penthouse
Cheon Seo Jin, played by Kim So Yeon, is one of South Korea's social elite who lives in a luxury penthouse named Hera Palace. She is one of the main characters in this mystery, thriller and crime drama. Each of the characters has a different personality, and the personality of the character is very clearly shown through their unique outfits. Here, you can see Cheon Seo Jin wearing a ball gown for her opera.
Cheon Seo Jin is a woman who used to be a soprano and is now the head of the arts department at Cheong-A High School. The outfits look very classy and daring, giving the impression of seriousness and not getting involved.
Goo Seo-Ryeong, Eternal Monarch King
Who can dress classier than the president herself? Jung Eun Chae, playing Goo Seo-Ryeong, is a woman who comes after herself from a broken family and is held back by no one. Her lust for power manifests through her outfits and her personality. Below, she wears a lace red collared dress with a black coat.
Seo-Ryeong is seen wearing an ESCADA woolen double-breasted charcoal while waiting for his fiancée to call. Goo Seo Ryeong can rock it as both president and fashion icon.
Seo Dan, Crash lands on you
Another Crash fashion icon landing on you, Seo Dan, played by Seo Jin-Hye, is a cold and hostile character who used to date a high-class soldier. She was admired for her elegant style and status as a chaebol.
Seo Dan begins to soften his cold temper after meeting an unexpected person, and his outfits begin to change to fit his new personality. Even though she doesn't get the ending she deserves, she becomes a new person and changes her way of thinking.