When it comes to styling a look, the process goes way beyond just a cute outfit. In order to create a truly fashionable and complete look, accessories are an absolute must.
See this post on Instagram
For those looking for a timeless look that transcends all trends, Maison Miru is the perfect place for lovers of classic jewelry. A brand focused on creating a "unisex jewelry system", Maison Miru pieces consist of "essential pieces that you can play with to endlessly remix and reimagine to exercise your creativity".
Buy Maison Miru on maisonmiru.com.
From dainty earrings to delicate necklace charms, its impressive quality and versatile design have made the brand's pieces a must-have. With summer in full swing, for this season our top picks feature chic designs that are both playful and charming to truly embody the spirit of summer.
See this post on Instagram
The essential ear cuff trio
For those looking to spruce up their ears without the commitment, earrings are the perfect answer. With these intricate pieces, you can avoid all the hassle of piercing pain and infection by simply slipping them on anytime, anywhere. Plus, they look like real cartilage piercings; it really looks so natural!
Tiny hoops and cuffs, often studded with shiny stones or even double hoops in one, can really brighten up your look and give it an edge. With the Essential Ear Cuff Trio, Maison Miru's classic selections create a cohesive yet fun look to change up to suit your tastes, and it's the perfect starting point.
Shop the Essential ear cuff trio here.
According to Maison Miru's Ear Party Guide, Rule #3 says the rule of three is your friend. "Do you know how things arranged in odd numbers sound more appealing? That's as true to your ear as it is on your coffee table at home," Maison Miru writes, "Try an odd number of earrings – three or even five or seven, if you're daring – for a look with that cool girl I don't know what."
To play by this rule, the Essential Ear Cuff makes it easy: the set includes the lovely crystal Eternity Ear Cuff, the Architect Ear Cuff and the ever-fashionable Classic Arc Ear Cuff.
The Eternity ear cuff
This beautiful ear cuff features a simplistic gold band that is dotted all around with a row of white crystals. I love all the details that have been included with this piece; it feels effortlessly stylish and is perfect for pairing with just about anything.
"Our best-selling crystal eternity ear cuff, like the classic eternity ring, is the ultimate symbol of endless love," says Maison Miru.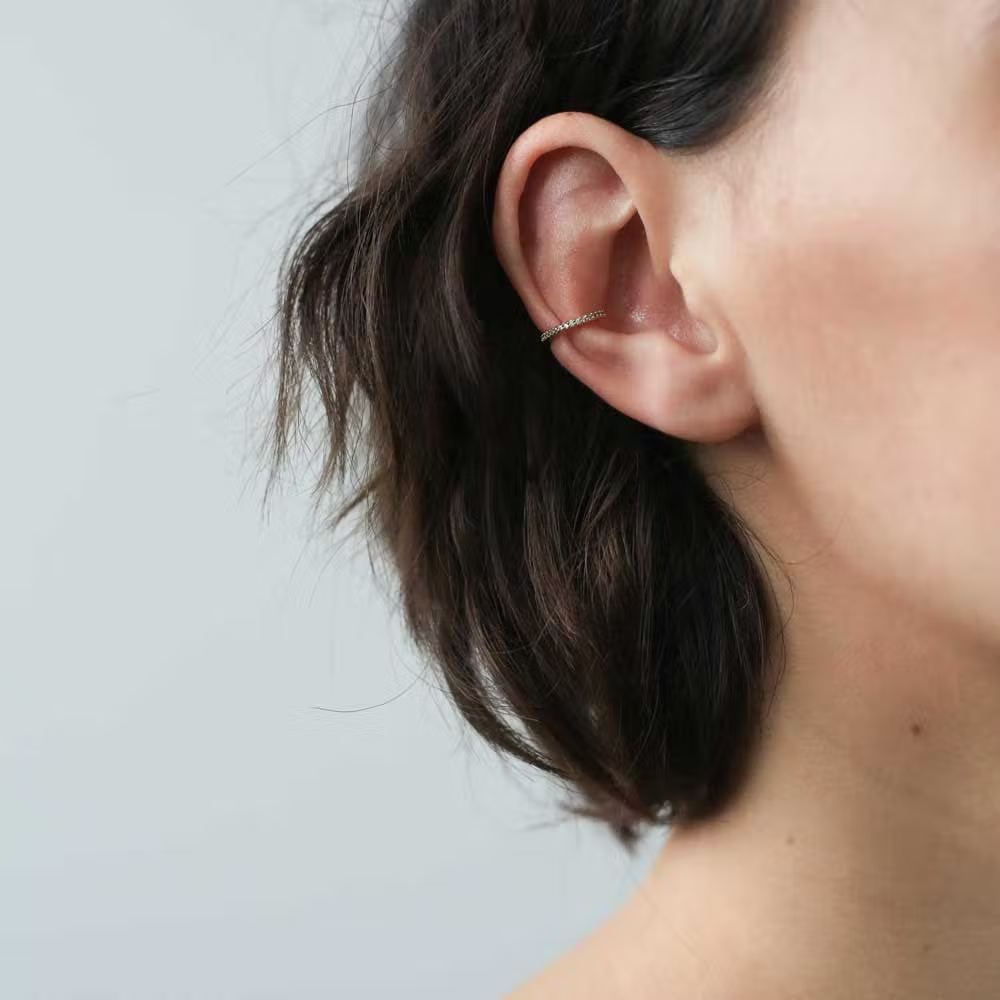 It's the perfect combination of delicacy with a bit of sparkle, and it's a great piece to pair with your favorite accessories.
The Eternity ear cuff is also available in sterling silver.
The architect's ear cuff
The Architect Ear Cuff is a bold piece that's not afraid to get noticed. This solid gold piece of jewelery is immediately noticeable and a real eye-catcher.
I love how it feels edgy and doesn't feel too ornate. As Maison Miru calls it, it's designed as a "boyfriend-style ear shield – architectural and substantial in form."
I love that it combines both the more edgy look with something equally sleek. It feels both trendy and timeless and has a unique element of its own.
"Our Architect Ear Cuff is meant to be worn with friends – from our signature Tiny Crystal Studs to our Classic Huggie Hoops for a classic (but not basic) look to Eternity Hoops for a bit of sparkle," recommends Maison Miru. I love that you can match this piece with any piece of jewelry due to the simplicity of the bold gold design!
The classic bow ear cuff
The Classic Arc Ear Cuff is the definition of a timeless piece that will never go out of style. This minimalist gold band creates a simple yet alluring look for the ears and makes it perfect for accessorizing with any embellished room.
This piece is perfectly between the two; I love that it's not too thin to feel too delicate and it's not too thick to feel lumpy. The curved band end of the ear cuff has two rounded ends to ensure that the ear cuff stays in place at all times.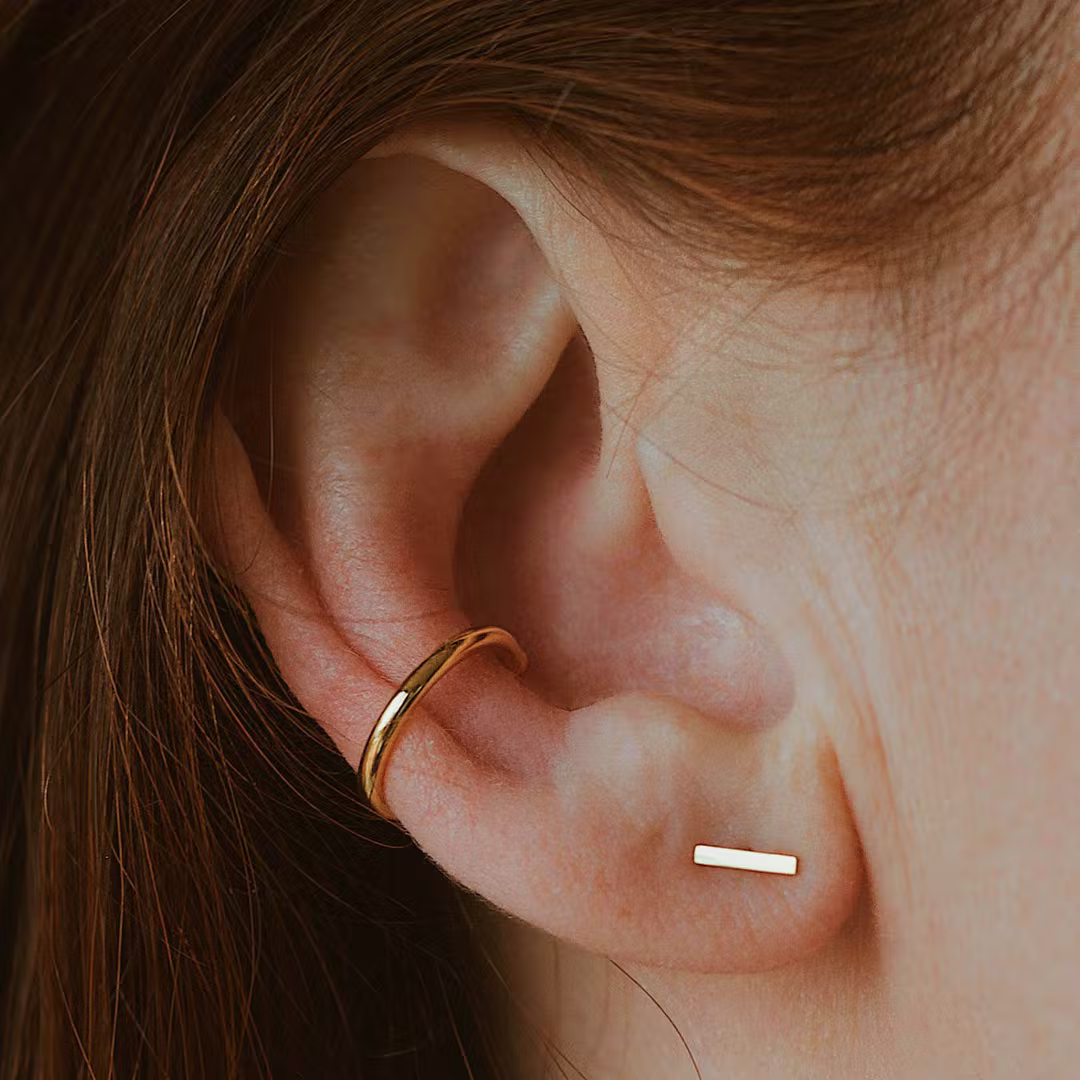 This bow piece is a more updated version of the original classic ear cuff with a larger, more architectural version.
The Eternity Echo ear cuff
If you loved Maison Miru's classic Eternity Ear Cuff, the Eternity Echo Ear Cuff doubles the grace with a unique twist.
This gorgeous piece features a classic band with an echo of a thin gold band for an added touch of intrigue.
Buy the Eternity Echo ear cuff here.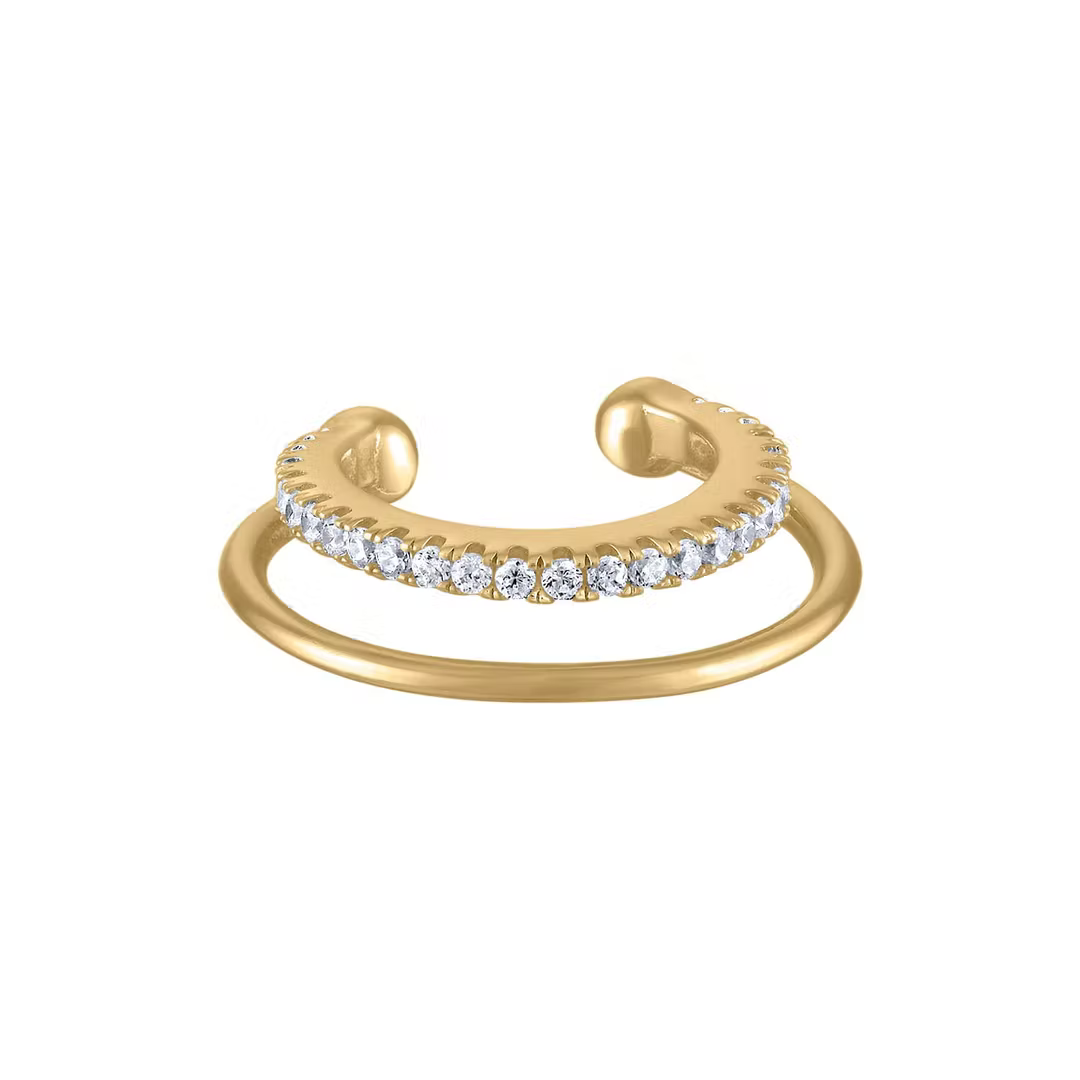 The top band of the Eternity Echo ear cuff is a smaller gold band which is studded with a row of white crystals. The second strip is attached to the outer side; a thin, delicate golden band, it surrounds the classic Eternity Ear Cuff.
Maison Miru says it best: the Eternity Echo ear cuff is really like two cuffs in one! I love how it really adds an extra dimension to the classic ear cuff, making it cooler than ever.
This piece is so bold you can team it with any chic streetwear style, but also sophisticated enough to wear with a fancy pantsuit. With Maison Miru, the possibilities are endless!
See this post on Instagram
As with all Maison Miru earrings, this piece is safer than ever. To make sure it fits properly, Maison Miru advises to "put it on and pinch it to fit. You'll know it fits properly when you tug it a bit and it won't fall out. ."
The Rainbow Eternity ear cuff
For those who like a little more color and fun in their jewelry, the Rainbow Eternity Ear Cuff is the perfect piece. A spin-off of the Eternity Ear Cuff, the Rainbow Eternity Ear Cuff takes classic crystals in an array of vivid rainbow crystals.
Buy the Rainbow Eternity ear cuff here.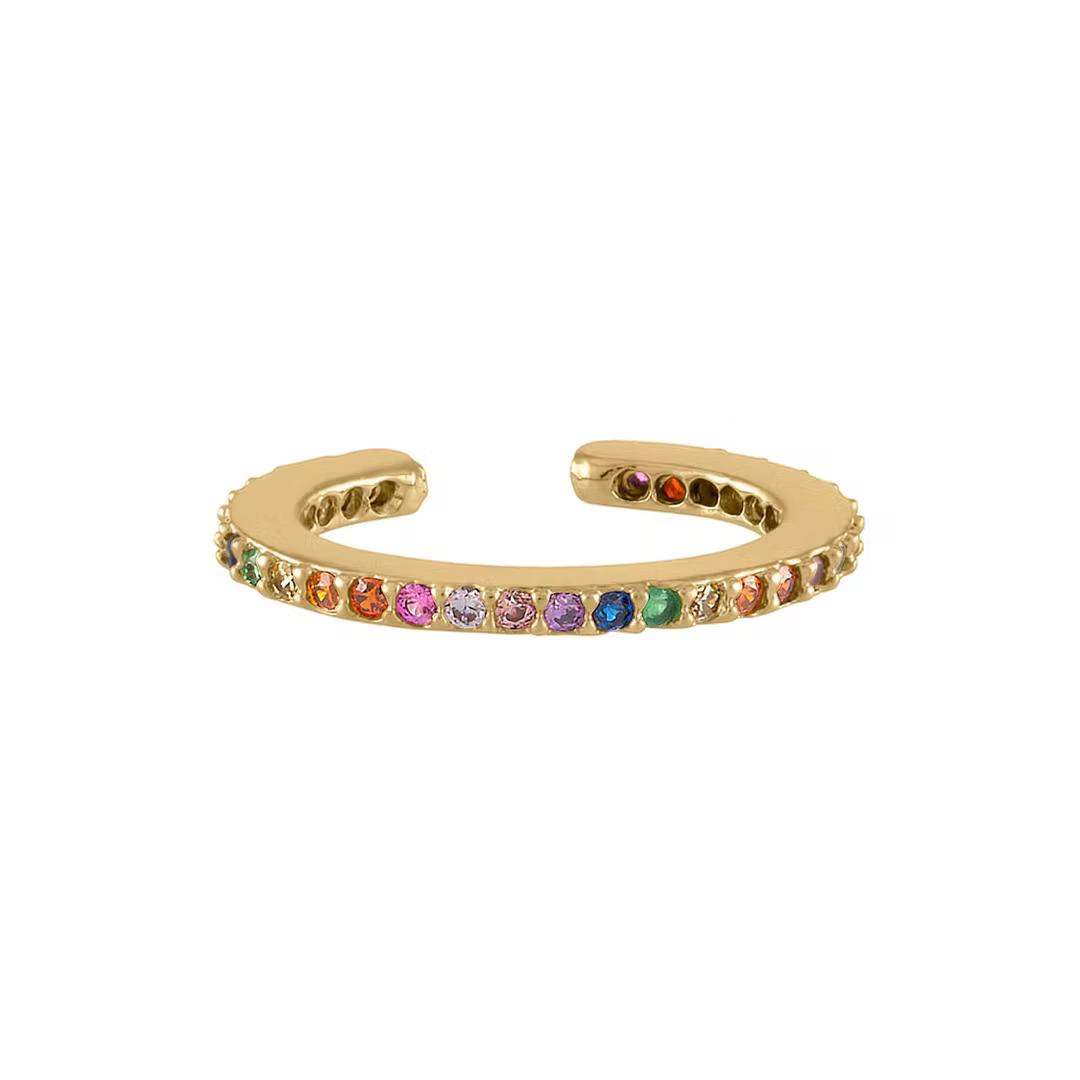 I love how the beautiful shades of the rainbow create a fun yet gorgeous look. It feels laid back while being elevated at the same time, making it easy to style with anything.
This gorgeous piece is a curved golden band, thin and delicate, but dotted with all the colors of the rainbow, if not more. This ear cuff is packed with detail; From dreamy pastel pink crystal to bold deep blue crystal, this rainbow gem doesn't take itself too seriously.
See this post on Instagram
The laid back vibe of this piece is everything and it is perfect to wear for the summer. I can totally consider pairing this multicolored piece with a summer dress or a layered outfit to bring that sunny energy!
It's perfect to pair with any other jewelry just as colorful and vivid as these to bring all the fun.
To wear this piece, Maison Miru advises, "Add glamor to your ear party: slip it over the narrowest part of your ear and slide to adjust. No piercing required!"
The Chill Pill Charm Necklace
The saying "take a chill pill" is catchy, but with Maison Miru, we turn it into chic. Sometimes life can get hectic; this adorable necklace is the perfect reminder to relax and enjoy the little things.
Shop the Chill Pill Charm Necklace here.
The Chill Pill Charm Necklace features a tiny oval pill shape with the word "chill" inscribed across the top. It's such a stunning design, mainly because of its simplicity. I love how this minimalist design adds to the idea of ​​relaxation and focus.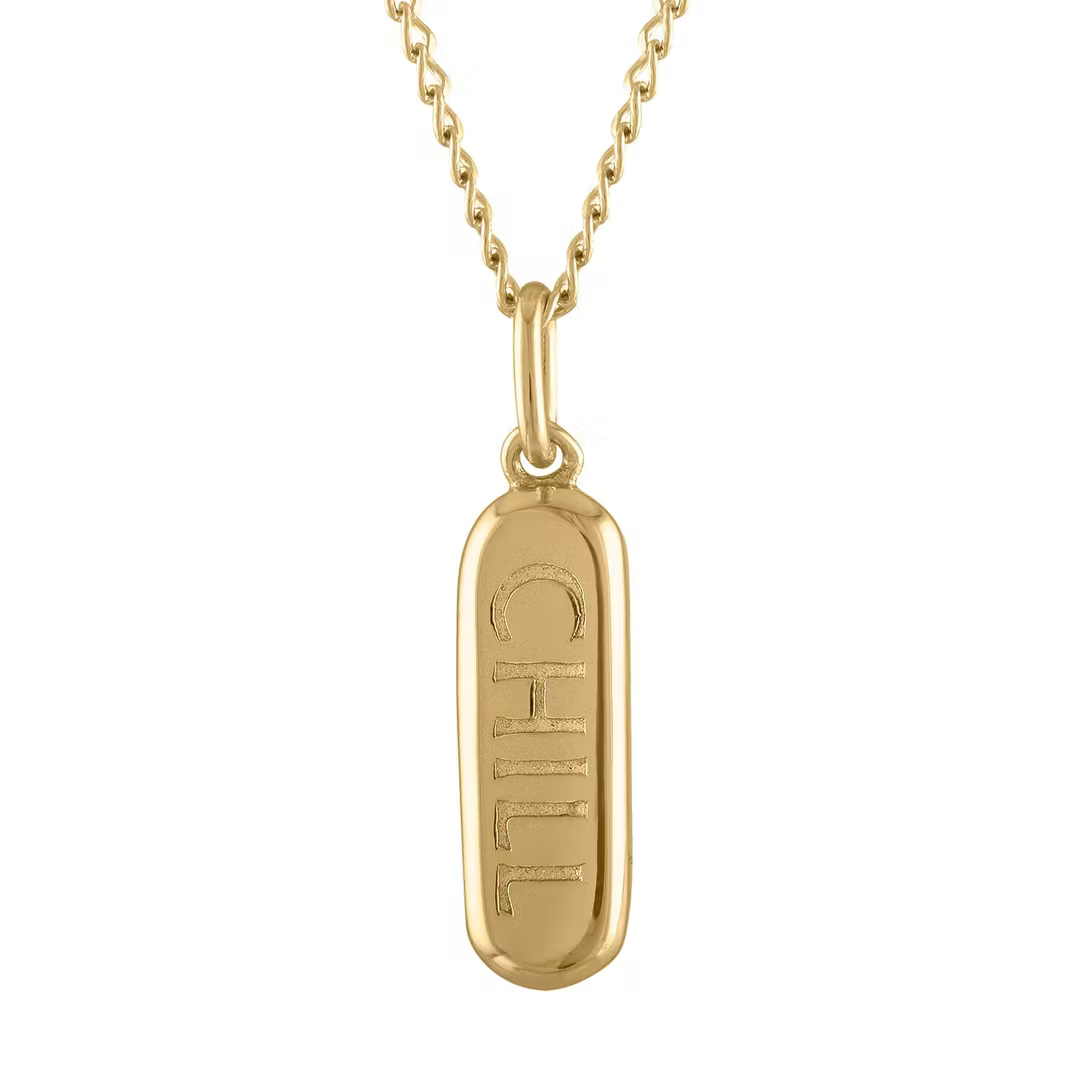 Sometimes the best form of medicine can be humor, and this Chill Pill charm necklace embodies just that. With a small hold, the charm is simple and fun while symbolizing a positive message.
The charm itself is delicate, which makes it even more special. I love wearing it on its own for a more eye-catching look, but the piece also looks lovely with other charms.
The necklace is available in two options: gold – a classic warm-toned hue; or Sterling Silver – an industrial grey, effortlessly cool.
See this post on Instagram
From the Maison Miru Secrets & Stories collection, this necklace is a more trendy and modern version of the classic charms. "Think of it as a cross between classic heirloom bracelets and the friendship jewelry you exchanged with your friends on the playground," says Maison Miru. With this collection, you can take the timeless beauty of the past and add a taste of contemporary style to create your own modern heritage.
If you want to spruce up this minimalist necklace a bit more, add some of your favorite Maison Miru charms to give it some extra pizzazz and sentimentality!
Follow the news of Maison Miru
Be sure to follow Maison Miru on all social media to stay up to date on all the latest launches and for style inspiration. Find the brand on Instagram at @maisonmiru, Twitter at @maisonmiruPinterest at @maisonmiru and Facebook at @maisonmiru.
See this post on Instagram