Nail designs are one of the most crowd-pleasing things in the fashion world today. Probably the most amazing thing about being a woman is that you can change your simple fingernails into thick, beautiful ones. It not only makes a person prettier, but it also builds confidence. Nevertheless, choosing the right nail design is essential. So if you are looking for cool and summery nail designs for yourself, you have come to the right place! Read this article till the end and don't forget to choose the perfect design for you!!
1. Pastel colored nails
You won't find anyone around you who doesn't like pastel colors. Is not it true ? They are all fashionable and make your hands look cute. The pastels have a light shade that fills the need for summer. Whether pastel green, pink, yellow, lavender or blue, each variety looks rich.
2. Modern French Nails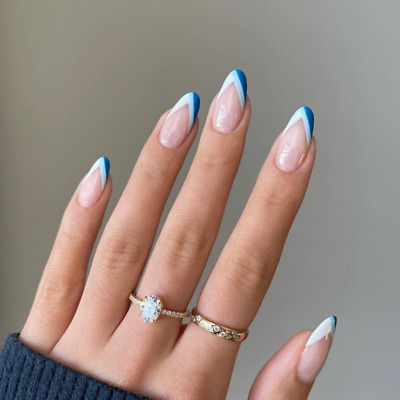 These nails are a complement to the nude French nails. The shades of blue go very well on a beautiful summer day. You can see two different shades of blue with a little tint of white, like icing on the cake. These nails must have reminded you of the sea. If you are someone who loves water, then these nails indeed serve the purpose.
3. Swirl Nails
The combination of pink and orange is perfect. These nails are very trendy. They will look ideal if you are going on vacation. You can also use different color schemes, for example, white and lavender, yellow and orange, and many more. Any shade would look amazing!
4. Fruity Nail Art
What's the first word you think of when you look at these nails? For me, it's REFRESHING! These nails look so funky and cool. If you are a fruit lover, get these nails done. It's a fun look for your hands, that's for sure.
5. Cloudy nails
These nails are the best example of a cloudy day. You can surely do them if you are a bubbly girl and someone who loves the sky. It would look amazing with your personality.
6. Four-shade nails
These nails are another example of swirl nails. Instead of using two different colors, you can use different shades of a particular color. As you can see from the image above, the nails have different colors of green with a bit of yellow to enhance the undertones. If you are a nature lover, then you can do them!
Hope you can find out which nail is best for you. Add some pretty delicate jewelry and you're good to go. So what are you waiting for? Go make yours now!
Have a bright summer!