Your shoes simply cannot be overlooked when it comes to creating a jaw-dropping outfit.
Whether it's a casual wedge for a picnic, dazzling satin heels for a chic night out, or dainty kitten heels to pair with your favorite dress, St. Sana is sure to have a lovely range of selections you won't want to miss. can't help but fall in love with.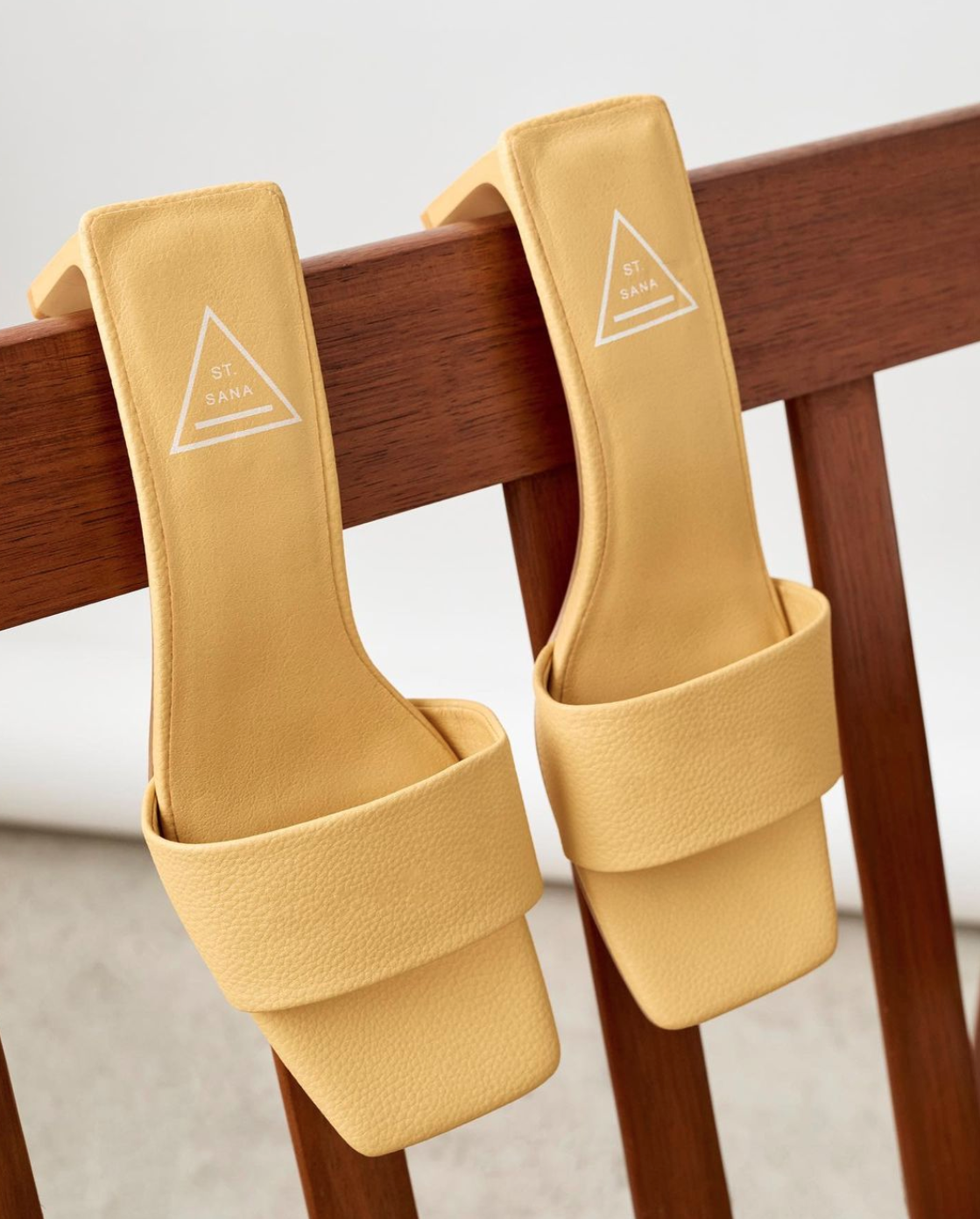 Fiery and young: chic and refreshing
You may know St. Sana's older sister, Sol Sana, the chic and luxury shoe brand. St. Sana is something new that feels like a breath of fresh air with the perfect balance of trends and quirky touches.
"[St. Sana] embodies the ambition, vigor and energy of youth ready to redefine the future of an industry that can make our planet a safer and healthier place to show off your new shoes."
See this post on Instagram
Designed in Australia, this gorgeous shoe brand makes us love great designs. From contemporary takes on sleek mules to intricate heels, we're genuinely obsessed.
All black with a twist
There's nothing more classic than a black heel, but who said it had to be boring? St. Sana's Rex mule grabs attention with its thick, double-crossing straps. It's a simply unforgettable twist!
Shop the Rex mule in black here.
The heels have two thick straps with an exaggerated twist. The first twist features a curved flip of the bracelet, while the second is flat and chunky. I just love the functionality – "black chunky straps that wrap around the foot" – it's timeless and elegant without being over the top.
When we say the straps are thick, we mean it. It feels so luxurious and has a good thickness where it feels solid instead of flimsy. That's what we call a full five star!
The heels are moderate at 8 cm in length. The fluted heel is thin and seems delicate, but it is well attached. My favorite thing is that this heel doesn't slam loudly on the floor.
The Rex Mule is padded, because fashion should go hand in hand with comfort. Seriously, these heels are so comfortable, I might even say they don't look like your usual heels!
Made from organic linen and 100% recycled materials, this heel is eco-friendly too. I love the fact that I can still be stylish while doing the best for our planet.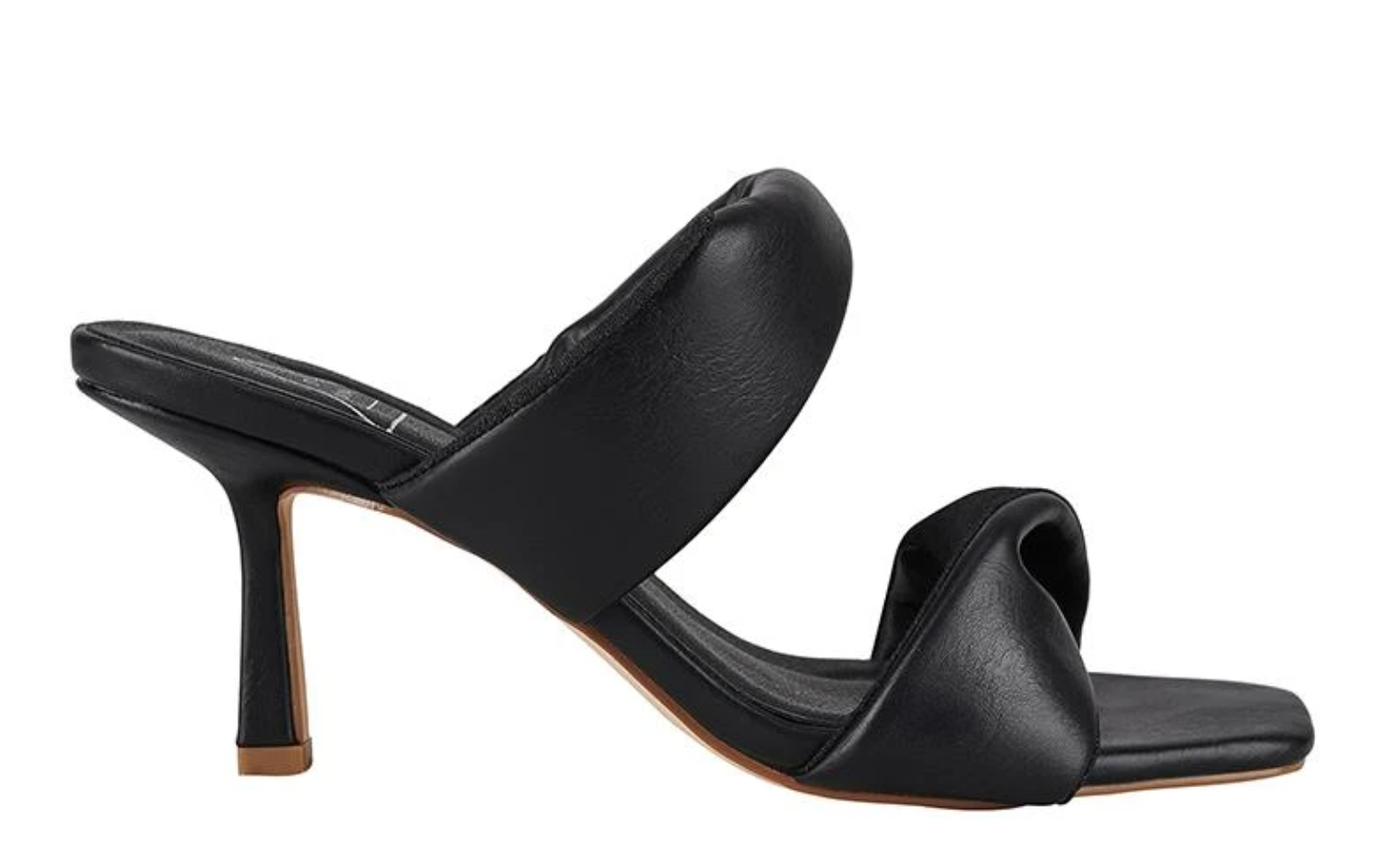 The all-black color of the heels makes them easy to wear with virtually anything, making them one of the most versatile and chic heels on the market. I am totally obsessed!
Natural, Neutral, All Pleasant
Imagine walking through a field of wildflowers and having a picnic – what shoes do you imagine yourself wearing? Well, it could be closer to the dream that is the Daphne Mule: a feminine and contemporary pair of heels.
You could call it a "flattering spring silhouette with an edge" as St. Sana calls it – and we couldn't agree more!
Buy the Daphne mule in natural here.
I have to say the basket weaving detail is just beautiful. I love the braided pattern that goes on the mule. With a thick wide band to wrap your foot, this mule is simplistic yet stunning. It's also very comfortable, which is always a plus!
Speaking of comfort, the heels also feature a cushioned insole that makes walking easier.
The Daphne mule has a medium arched heel. It is at a height of 7 cm.
With a "rounded almond toe" shape, these mules feature a partially exposed design that makes them perfect for pairing with any of your favorite midi dresses.
"Made from fully recyclable materials in a natural hue, this open-toe style is a spring staple," says St. Sana. Once the good weather arrives, this mule will be the pair of pumps of the season.
A shimmering and royal elegance
The Freya Mule is regal with its regal shine, even Cinderella would wear it to the ball!
Shop the Freya Mule in Blush here.
The Freya Mule features a pretty shade of pink all over with a "ruched strap that extends between the toes".
We must also talk about the beautiful color of these heels. An equally muted pale pink blush shade and a lovely mature hue, the Freya Mule has an air of elegance.
Made with 100% organic linen and recycled materials, these heels are conscious and eco-friendly. What's not to like?
With an exaggerated fluted heel, the thickness of the heel itself makes it much sturdier, complementing the delicate, delicate pink. The height of the heel is 9 cm.
I love how these heels are perfect for any event, day or night. Perfect for a romantic date, an evening with friends or a beautiful ceremony, you can dress it as you wish with the Freya Mule!
Casual intensified: an elegant wedge shoe
"The Filippa wedge in off-white is straight out of the early 2000s in every way," says St. Sana.
With an eye-catching, high-contrast blocking design, these wedges bring platform and casual simplicity to a fun-filled day.
Buy the Filipa Wedge in white here.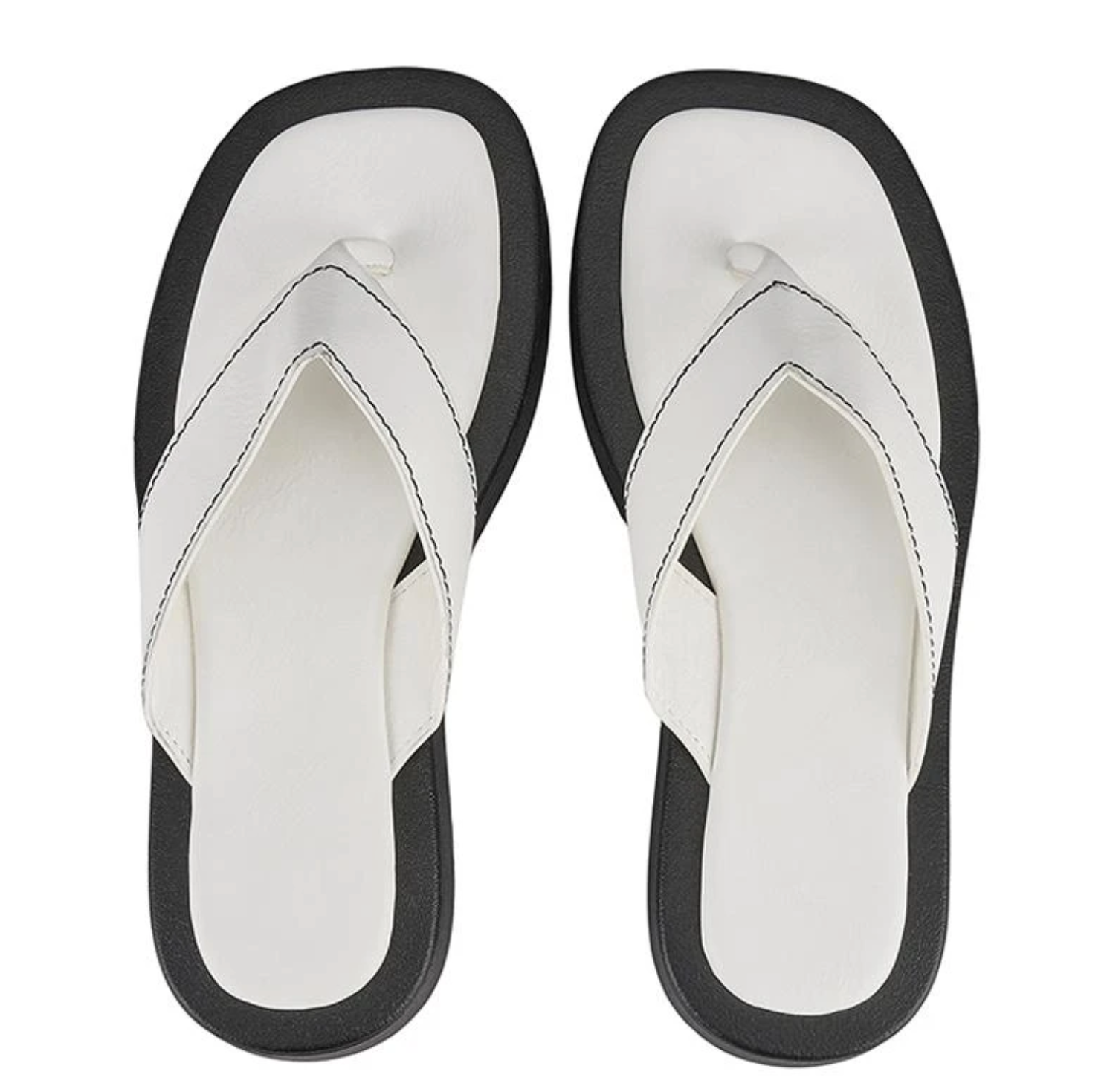 These corners are all about contrast and grabbing attention with a black and white design. Cushioned insoles are outlined in black to complement its white upholstery; likewise, the wedges strap has black stitching on its white straps.
As you can see, the Fillipa Wedge is all about the details – and we're so into it. "A shaped upper with contrast stitching sits atop a chunky flat sole with a perfectly square toe," St. Sana shares with us.
I like that the shape of the wedge is more boxy, giving it plenty of room to show off the contrast. Another favorite has to be the white straps that stretch between the toes.
The shoe itself has a nice weight that makes you feel very secure when walking. The extra 3cm corner height also gives you a nice boost and makes it less informal.
The Filippa Wedge is the perfect cross between informal and formal, dressy and casual. I love that these shoes have a casual look but still look effortlessly pretty.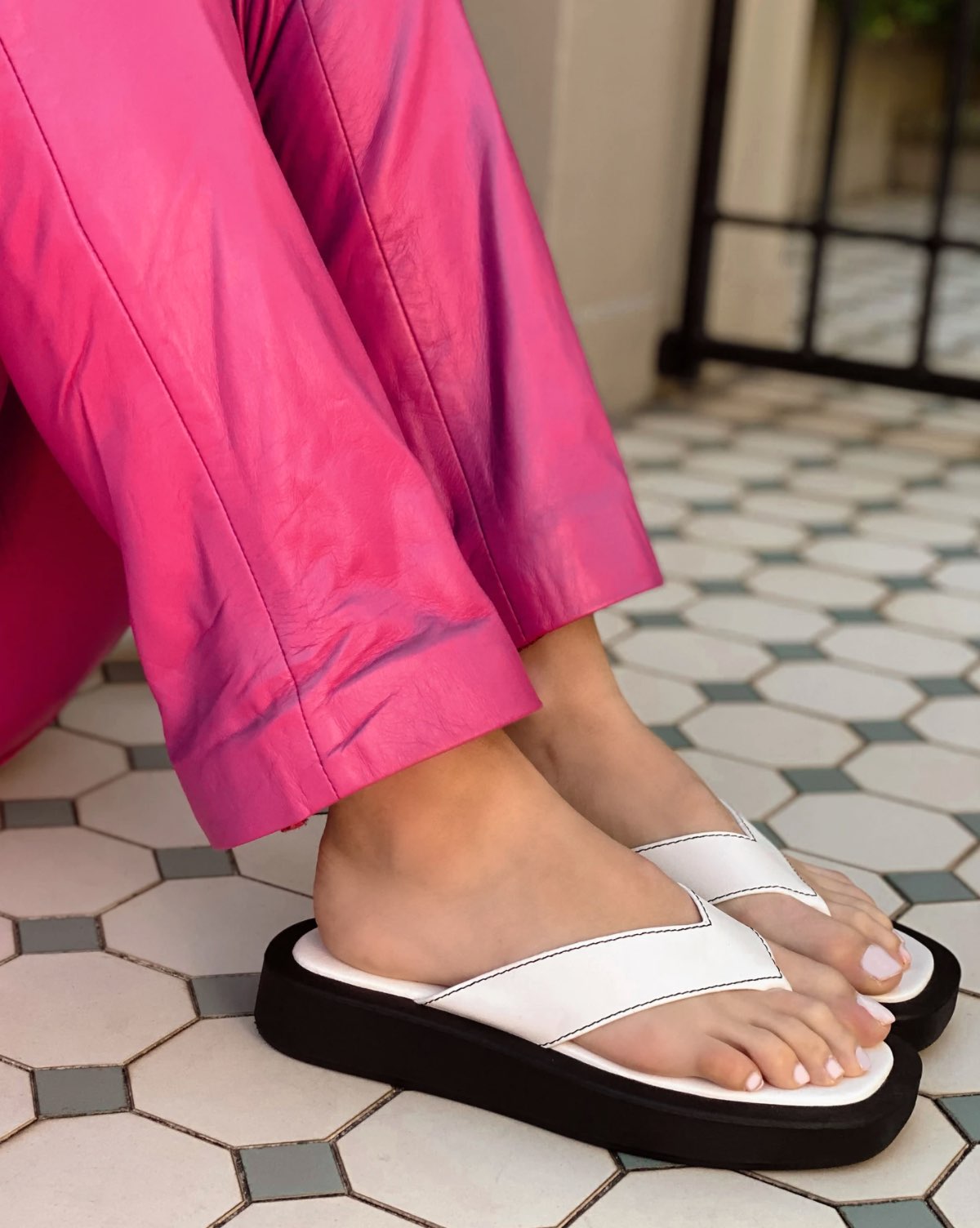 Plus, since it's made in completely neutral colors, you can style these wedges with anything. We all appreciate a practical and chic pair of shoes – we couldn't love the Filippa more!
Quality & Consciousness
St. Sana proves to us that they really are perfect: the brand's commitment to quality and eco-consciousness is simply adorable.
With precautions to ensure the highest quality, the brand will impress you with its high-end shoes. "With an emphasis on circularity, St. Sana champions the use of recycled PU leathers and polyesters; and where full recyclability simply isn't possible, eco-friendly PU leather is ready to go. be exploited." wrote Saint Sana.
See this post on Instagram
The brand also takes our planet into account. "The strong attention paid to the recyclability of materials translates into a dramatic reduction in energy and water consumption during the production process, all without having to compromise on the superior finishes and buttery smoothness that come with materials of exceptional quality." As St. Sana says – and we couldn't agree more – it's cute.
That's not all: "St. Sana goes one step further by committing to using only organic linen and cotton blends. thrive without the need for harmful pesticides or fertilizers."
Follow St. Sana
Be sure to follow St. Sana on Instagram at @stsanashoes and their Pinterest at @stsanashoes.
See this post on Instagram
Thumbnail image from St. Sana's Instagram @stsanashoes.

"@emmajanestevens serves up looks in our Rex Mule 🖤 #stsana"