We have all been there. It's a rainy Friday night and you don't have much to do. As you snuggle up on the couch, you find yourself watching Friends. Still. And as you laugh along with the jokes we've all memorized by now, you're reminiscing about your lifelong quest to match the fashion sense of the iconic Rachel Green.
Because if we're being honest, from her strappy dresses to the signature denim outfits, we've all imagined ourselves, at one time or another, wearing a Rachel outfit. That's why today we're going to show you everything you need to recreate Rachel Green's top 10 most iconic outfits.
1. Short nautical dungarees
No one makes dungarees like Rachel Green, let alone cropped dungarees. All you'll need to recreate Rachel's most standout outfit is Shein's roll-up denim shorts and striped short-sleeve tee.
2. The printed slip dress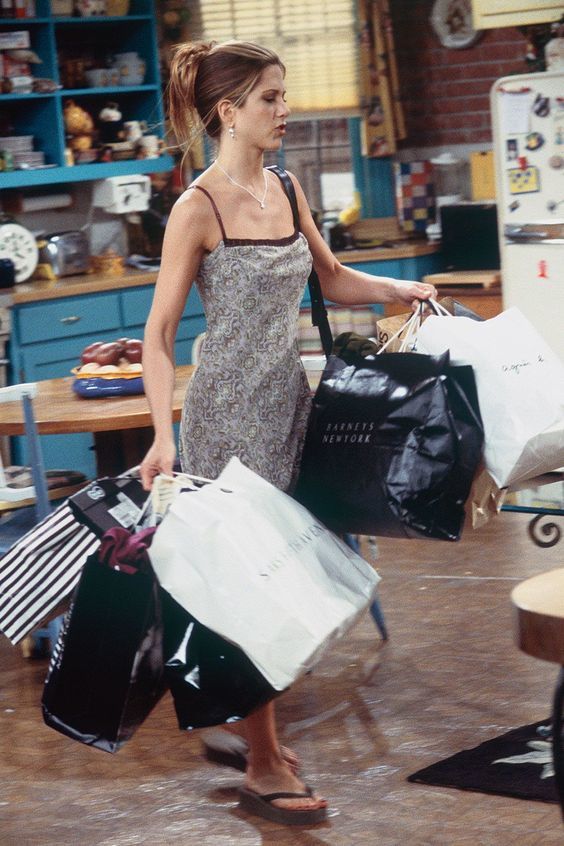 If you've watched "Friends" at least once in your life, who are we all kidding, you'll definitely remember this effortlessly stylish outfit. Well, you can be as stylish as Rachel in the Moon River Ruched Print Bodycon Mini Dress. To finish the outfit, put on some flip flops and you're ready for a day of shopping.
3. The pajama outfit
I know what you're thinking: how can pajamas be such a fashion statement? Well, that's Rachel Green for you. You can dress to impress Rachel Green style, even in your most comfortable outfits, wearing Shein's Letter Graphic Drop Shoulder Boyfriend Sweatshirt and Ashford and Brooks women's lounge boxer briefs.
4. The fuchsia faux fur coat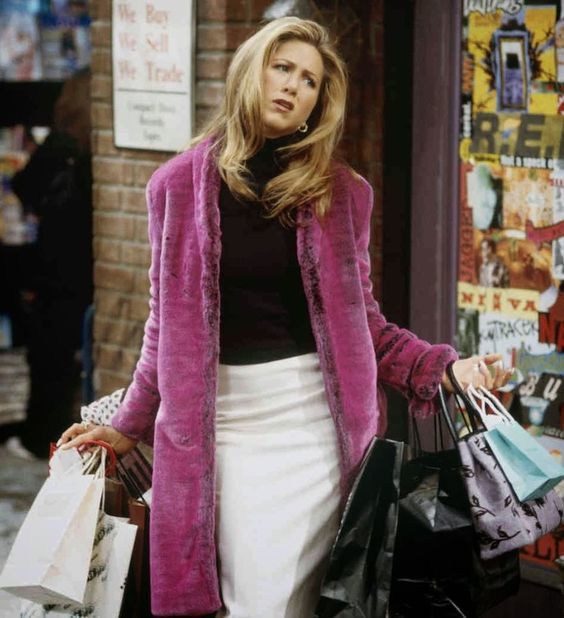 Nothing says Rachel Green more than statement coats. Everything you will need to match this very Rachel The outfit is the Charter Club skirt from Macy's, a sleeveless turtleneck top from Monki and of course the Unique21 fuchsia faux fur coat from ASOS.
5. The white turtleneck and the plaid skirt
Once again, Rachel Green led the way in 2021 fashion. Honestly, I can't decide if this outfit is more 1990s or 2021. What you'll need to bring this outfit to life is the Slim-fit rib-knit turtleneck t-shirt and tartan pleated side skirt from Shein.
6. The strapless top with ties and sleeves
Let's face it: no one does innovative fashion like Rachel Green. If you want classic chic with a creative twist in Rachel Green style, you'll need Club Salvia's soft blue striped ruffled blouse paired with a blue tie.
7. The mint green dress
All you need is the ASOS Design khaki linen cami maxi dress and you'll be matching Rachel Green's fashion sense in no time. It really is that simple.
8. *This* Thanksgiving football outfit
Sport has never looked so good. Throw on a black sleeve top layered over Rachel's iconic Girl's Boxing Bronx t-shirt and black track pants complemented by a black baseball cap from ASOS and you're ready to watch your Thanksgiving football game in style.
9. The black buttoned dress
If you fancy spicing up an outfit with a bit of 90s influence, we've got you covered. The Button Front dress from H&M combined with a brown long sleeve t-shirt from Shein is a perfect and very Rachel option.
10. The oversized brown look
Being the fashion pioneer that she is, Rachel wore oversized clothes before it was cool. This look can easily be put together by wearing a plain fitted v-neck t-shirt and high waisted wide leg pants from Shein.
And with that, our list of Rachel's 10 most iconic outfits is complete. Undoubtedly, all of these Rachel outfits are considered stylish in all eras. So go on and fulfill your lifelong dream of recreating Rachel Green's style.