What if I were to tell you that skincare could be easy and that achieving clear skin could be possible? Or that you can have that amazing glowy skin without breaking the bank?
Let me tell you this- if clear skin is what you're looking for, your solution might just be Bioclarity. Formulated with clean ingredients inspired by nature that are effective, these skincare products are food for your skin.
Meet Bioclarity
Bioclarity is here to be a leading pioneer in the ways skincare standards must be changed. "Skincare that understands true beauty is more than skin deep," says Bioclarity.
The skincare market is saturated, and choosing the right stuff that is actually good for your skin can be confusing. Bioclarity is changing that- all while making their products bank-friendly and affordable.
shop Bioclarity at www.bioclarity.com.
With their revolutionary ingredient, "a unique plant complex scientifically shown to heal wounds and deliver amazing skin benefits," Bioclarity found the answer.
"We call it Floralux® — a unique complex made from chlorophyll, copper & powerful antioxidants. Floralux®, along with our many other plant actives and complexes can help deliver true results you can see and feel good about," says Bioclarity.
Powered by nature and fueled by goodness to bring out the best of your skin, Bioclarity is a total must that we're obsessed with. Your skin will thank you!
Want Clear Skin? Come Right This Way
Bioclarity has formulated the magical trio- cleanse, treat, and restore- to bring upon clear skin. That's right: the Clear Skin Routine just consists of three easy steps, so you can be on your way to acne-free, irritation-free, and redness-free skin.
Designed to clear out your skin without any harmful chemicals so that whatever you're putting on your face is gentle yet still effective, your skin will be completely clear after incorporating this routine.
If you have normal or oily skin with frequent acne, this one is for you!
shop the Clear Skin Routine here.
At a glance, this product is: "[shows] results in as little as two weeks, clinically proven, dermatologist-tested, vegan & cruelty-free, non-toxic, plant-based skincare."
Cleanse
Cleansers are supposed to wash off the grime from our faces, but sometimes, it can be a little too harsh for our skin's liking. Bioclarity's plant-based face wash, Cleanse, allows for a gentle but effective wash for our facial skin.
The Cleanse allows you to achieve a fresh face without any makeup, oil, or dirt so that you can move onto the rest of your skincare routine with a completely clean slate. You'll also be left with "soft, smooth, and clear" skin that'll simply be glowing!
shop the Cleanse here for only $10.00 USD.

Yes, I'm serious- this is only $10! For the full size, it'll be $14.95 USD.
This is great for all skin types. "This face wash is best for sensitive, oily, and blemish-prone skin," says Bioclarity. I personally love a cleanser that's safe for sensitive skin, even if my skin isn't the most sensitive- that way, I can ensure the cleanser isn't too overpowering and stripping.
I also am taking to heart how all ingredients Bioclarity are in mind of our health. Bioclarity promises: "No toxins. No sulfates. No parabens. No harmful preservatives. No synthetic colors or fragrances. Ever."
With a clear gel-like texture, this cleanser smells so fresh and healthy. Infused with effective ingredients like cucumber (to soothe and calm your skin), green tea (time to detox), and chamomile (clean out those pores), this cleanser is all-powerful and truly transformative.
To use the Cleanse, Bioclarity recommends: "Cleanse your skin of the day's dirt, oil, and makeup. Apply a nickel-sized dab to wet skin and use fingertips to massage with gentle, circular motions. Try massaging for 60 seconds to leave your skin feeling super soft. Rinse with warm water and gently pat dry. Avoid getting in the eyes."
You don't really have to use a lot, which really makes the product last. It will create a smooth white lather that mixed well with water but doesn't completely foam over.
With this, I absolutely adored how my face didn't feel tight at all (we all know that uncomfortable feeling… but not with this!) and how soft and nourished it felt. Most of all, I enjoyed that I felt clean.
I love using this twice daily- once for the morning routine and once for the nighttime routine.
At first, I'd expected my face to feel clean and lightly hydrated- but you guys, I am blown away! The Cleanse is like magic; it can heal and lighten blemishes, rid of acne, and even kiss irritated and red skin goodbye.
You'll see the results pretty much immediately, which is a huge plus. I always, always, feel so refreshed and uplifted after using the Cleanse. I think that it's even more potent on how it is n't majorly complicated, and its simplicity allows for a complete wash.
Did you know that you can also recycle this product? Follow the steps as Bioclarity instructs: "Remove the cap and any excess product. Rinse out thoroughly with water. Replace cap onto bottle and toss in your recycling bin."
Bioclarity also notes: "Don't forget to recycle the carton and shipper box too. Every bioClarity shipper box is made from 100% recycled board printed with water-based ink."
I truly love that Bioclairty is an eco-conscious and planet-friendly brand. That's always to look out for!
Treat
Acne sucks, but the Treat is here to treat you. This acne treatment gel will zap those whiteheads, blackheads, pimples, and more. This is also great for those with extra-oily skin.
"This acne treatment gel combines exfoliating salicylic acid (2.0%), soothing oat kernel, and moisturizing squalane to battle blemishes without the burn. This milky, white formula packs a serious punch!" writes Bioclarity. (If you, too, enjoy watching skincare experts talk about the right kind of ingredients, you'll know that salicylic acid is the holy grail for getting rid of acne.)
shop the Treat here for $14.95 USD.

full sizes are $24.95 USD.
If you're breaking out, look no further. If not currently, but would like to take the preventative extra step, this is great to stop any breakouts that could lurk around soon. Inflammation can also be calmed with the Treat.
This is fit for those with "Oily, Normal, and Combination acne-prone skin." Bioclarity also writes that this can "[treat] mild to moderate acne (including whiteheads, blackheads, pimples, and hormonal acne) and excess oiliness."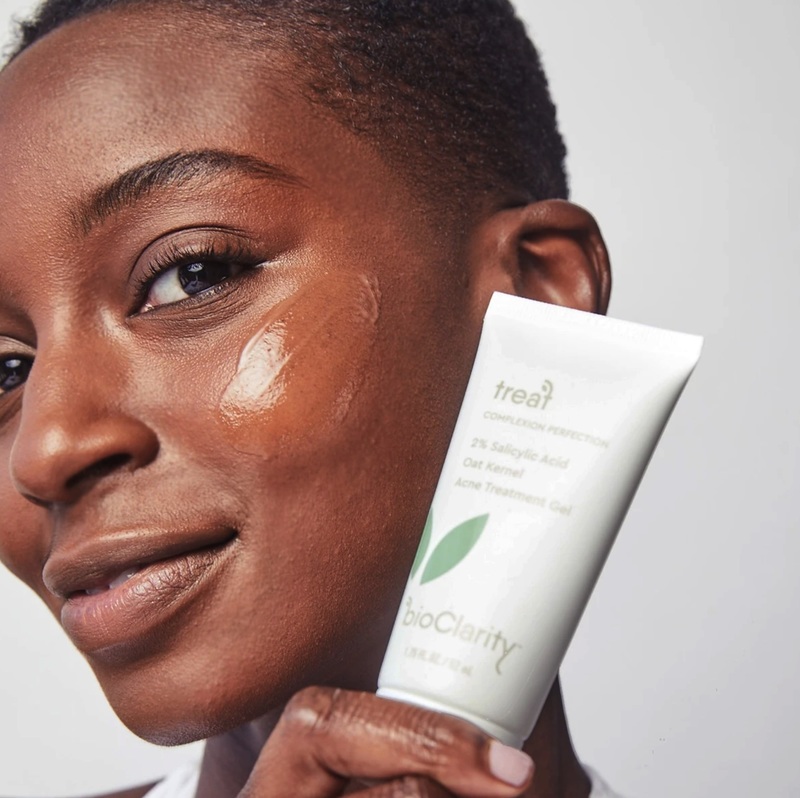 This gel is white-ish cream shaded and is perfectly easy to apply to desired spots. Just lightly tap and rub in the gel to absorb in your skin. I really liked how it didn't burn my face. It also doesn't sting!
To use, Bioclarity says,"Tap or gently rub this powerful acne treatment gel over active breakouts and trouble areas with your fingertips. Let it sink in and dry completely before applying other products."
This exfoliates your skin, nourishes, and keeps skin nourished. I did note that it felt a little bit drying, but not too crazily noticeable. Most acne treatments tend to dry so it can really get working on ridding the acne. However, Bioclarity's Treat does not overdry your skin.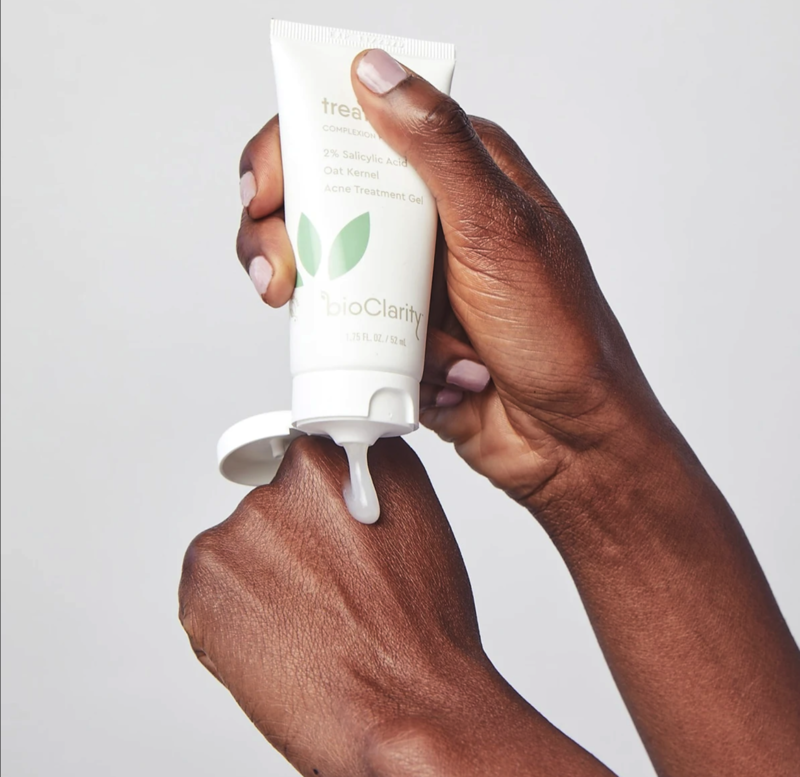 The Treat is so effective that you will be able to spot results within a few days, if not faster. This will get rid of any acne that you may have, even including acne bumps, blemishes, after-acne scars, and more.
I like that it is sensitive enough to use and how fast you will be able to see your dream skin come true!
To recycle this: "Remove the cap and any excess product. Rinse out thoroughly with water. Replace cap onto bottle and toss in your recycling bin."
Restore
Blemish be-gone! This powerful green gel will make all of the hyperpigmentation and breakouts disappear, alongside unwanted skin texture to give your face an all-over smooth look.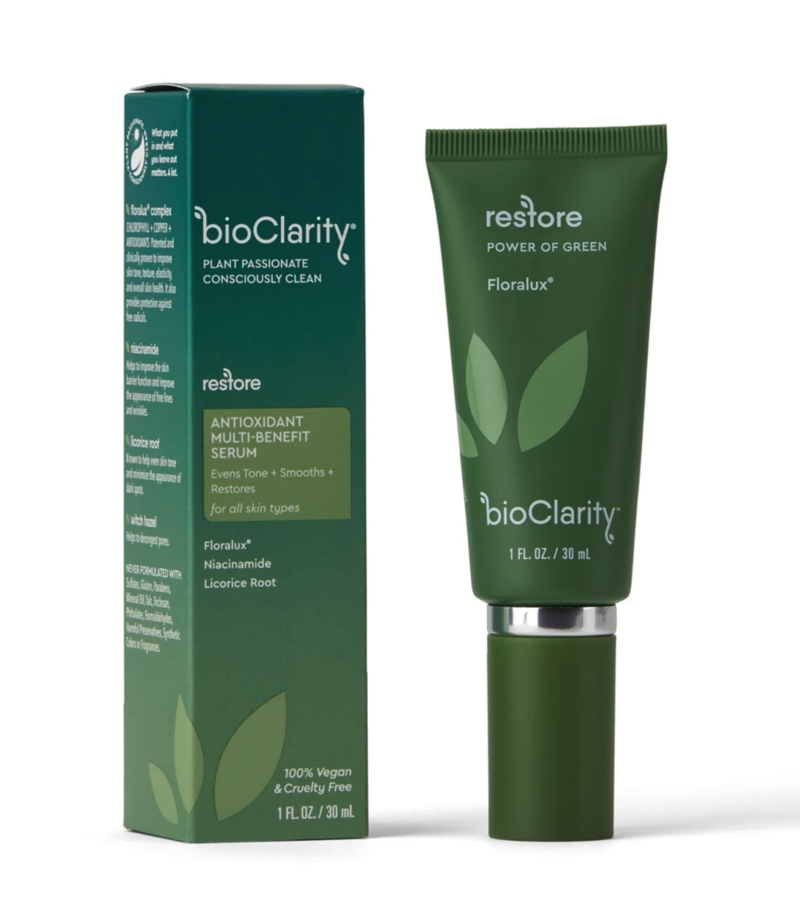 "This nutrient-packed, gel-based treatment is designed to nourish your skin and help fight breakouts as part of our Clear Skin Routine, but Restore is an antioxidant powerhouse even on its own!" says Bioclarity.
When I tell you the Restore is truly powerful and effective, I sincerely mean it. The Restore is such a game-changer, and I'm absolutely in awe. It must be the power of the green that has me obsessed!
shop the Restore here for $27.95 USD.

For 75% more the amount, shop the full size here for $39.95 USD.
Facial texture and redness suck, and so do the little leftover scars from a breakout. Restore is your best bet if you want nourished, smooth skin while using a non-toxic, plant-based skincare product.
If you're concerned about any of the issues here: "uneven skin tone and texture, hyperpigmentation and redness from acne"- the Restore is perfect for you. Restore works great with all skin types. Gentle and effectual, the Restore is simply amazing.
The restore is a non-sticky vegan gel-like fluid. It's extremely green, which I love- this is because it is powered by Bioclarity's signature Floralux®, Gotu Kola for ultimate skin protection, licorice root for invigoration, and witch hazel for toning and tightening.
This ultra-nourishing gel feels nice and cool on your skin, and I love rubbing it in gently to blemish-prone skin areas so that my skin can absorb it. It feels so hydrating, too, and can even take away some oiliness.
This serum is perfect for clearing complexions, fading blemishes, ridding irritations, and rid of texture. When I say the Restore really does work wonders, I mean it. After I use the Restore, I am left with bright, glowing skin that just feels amazing!
I am so stunned. Even just a few days of using this- a little under a week- my skin has nearly cleared and all the blemishes are gone! This is a genuine miracle worker, and a serious must-have for your skincare routine if you want real results.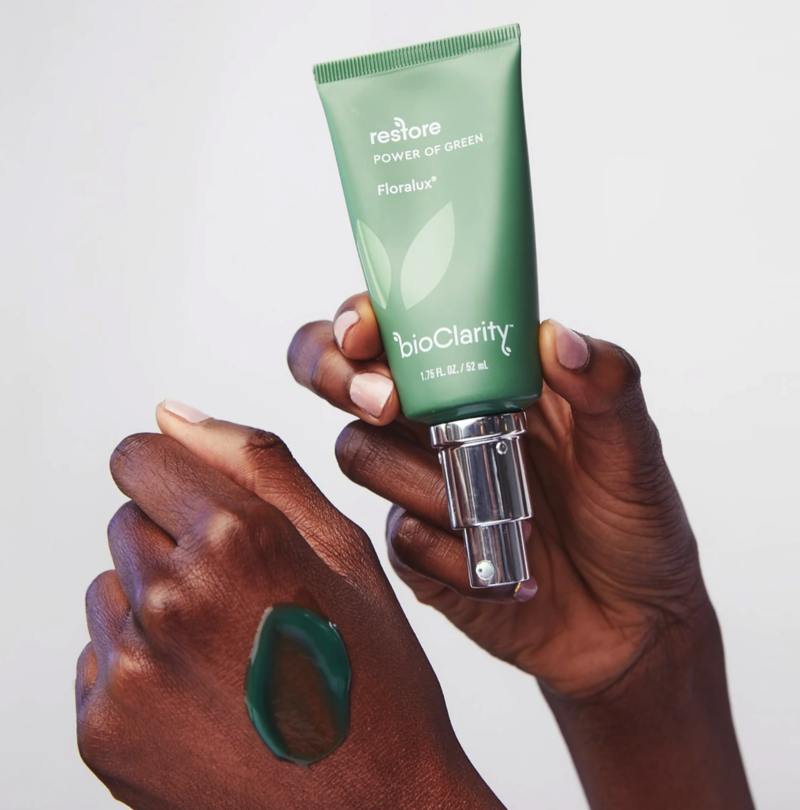 Without a doubt, there is definitely a difference on days I do use the gel, and on days that I do not. I love applying this once in the morning and once at night.
Bioclarity advises: "Smooth 1-2 pumps of this refreshing gel onto your skin and rub in until clear. Follow with any serum or moisturizer."
To recycle this product: "Remove the cap and twist off the silver pump. Rinse out the tube with water and toss the tube and green cap in your recycling bin. Discard silver pump into trash. Unfortunately, the silver pump is not recyclable due to its material composition."
The Barefaced Exfoliating Enzyme Jelly Cleanser
Exfoliating your skin is important- and Bioclarity's Barefaced is perfect for that. Barefaced can deep clean your pores and exfoliate to bring upon soft, smooth, bright skin.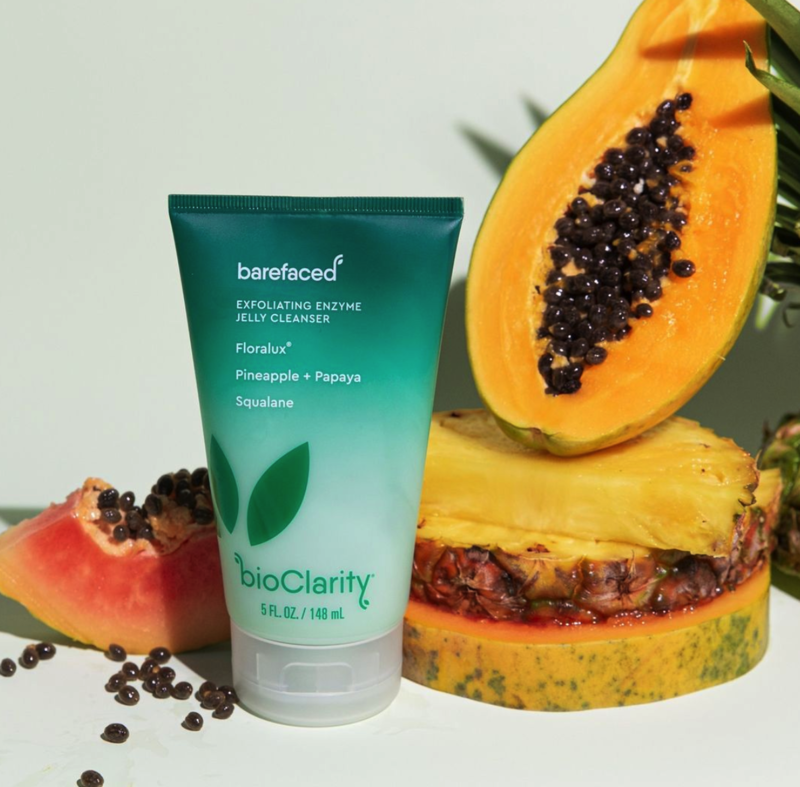 If anything, Barefaced can do it all! As Bioclarity notes, the Barefaced can perform the following:
"Sweeps away dirt, impurities, and makeup
Helps remove excess oil and dead skin cells
Purifies pores and helps prevent future breakouts
Brightens, hydrates and nourishes skin"
shop the Barefaced exfoliator here for $19.95 USD.
This is perfect for those with everyone, but particularly for those with dry or sensitive skin. If you have uneven skin tone/texture, dull skin, and just need a daily cleanser that's gentle enough for every day, this one is it.
I really liked that this exfoliator was gentle to use daily, because oftentimes, exfoliation can be rather damaging to your skin. With Bioclarity, items are formulated with your skin in mind.
The Barefaced uses powerful ingredients such as pineapple and papaya enzymes (gently scrubs away the dead skin cells), vegan squalane (hydrate and reduce oxidative stress), and of course, Floralux (Bioclarity's special ingredient of chlorophyll, copper, and antioxidants). You can definitely count on this not having any toxic ingredients like toxins, sulfates, parabens, etc.
The Barefaced feels like a gel-balm, and will not foam up. With a texture that starts off like a bouncy jelly that later turns to a non-foaming milk cleanser, this feels simply so good on your face.
The milky texture is perfect to glide around on your skin and massage gently while you wash, too! It feels somewhat like a lotion and is very moisturizing.
To use, follow Bioclarity's instructions here: "Apply a nickel to quarter-sized dab to wet skin and rub in gently, using circular motions. Keep in mind that Barefaced isn't designed to foam up. After massaging into your skin for about 60 seconds, rinse thoroughly with lukewarm water and pat your face dry with a clean towel. Gentle enough to be used daily."
If you will be including the Cleanse as part of your daily skincare routine, Bioclarity recommends that you start off with the Cleanse in the AM and Barefaced at PM.
After the wash, I liked how my skin did not feel tight or dry. I always look out for cleansers that aren't stripping, and that's exactly what Barefaced does!
Perfect for clearing acne and scrubbing off the residue we all get, such as dirt, grime, and dead skin cell build-up, this exfoliator is gentle yet powerful.
This smells so delicious and amazing, and it makes me feel so refreshed afterward. It makes my skin much less oily and my complexion looks very much clearer. It really makes a difference, and you don't want to miss out!
You can also recycle this product, just like any other Bioclarity item.
Eye Will Chill
Puffy eyes in the morning are the worst, and so are the dreaded dark circles and side wrinkles. Don't worry- the Eye Will Chill serum can take care of it all.
Bye, tired eyes- this eye gel serum is packed with vitamins and nutrients and will cool away any puffiness and dullness.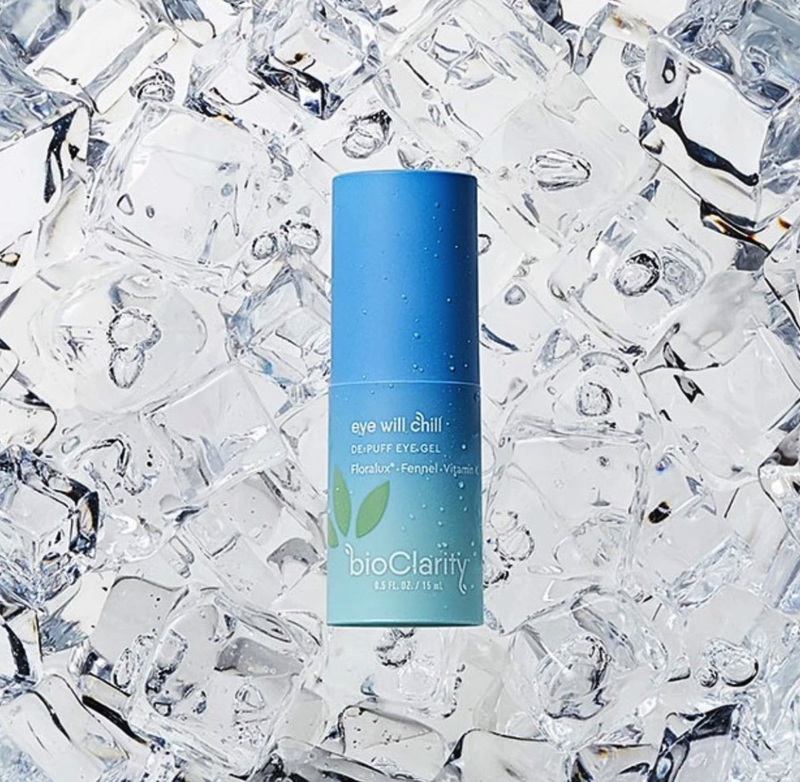 What I love most about Bioclarity's eye gel serum is how affordable it is- it is so reasonably priced. At just under $25, this is such a find, and its results are absolutely worth it.
shop the Eye Will Chill serum here for $24.95 USD.
This works well for all skin types. That includes your very own skin type- it's time to refresh and restore those eye bags and dark circles!
The ingredients here are jam-packed with everything nature and green: Floralux- the skin superfood, Aloe- calm and soothe, Spirulina- restoring vitality, Vitamins B3, C, K- brightening dark circles and "fight free radical damage", Fennels- packed with nutrients and goodness, and Green Tea to detox and awaken.
This is a liquid gel and absorbs really well. To apply, lightly tap into your under eyes and eyelids. It doesn't leave much residue and you'll see results fast.
"Use Eye Will Chill after any treatment products and serums, but before moisturizer," advises Bioclarity.
"The undereye area is delicate so apply by gently tapping into place using your ring finger, which has the lightest touch. One pump should be enough for both eyes. For an extra cooling, soothing eye treat, pop it in the refrigerator before use."
When applied, I really enjoyed the cooling sensation it left on my eyes. It instantly made me feel so much better, and my puffiness in the mornings actually settled down! I noticed that my dark circles also lightened.
This is really soothing when on, and that cool feeling is one of the best. Without a doubt, leaving this in the refrigerator is a total game-changer. Waking up in the mornings just got even better.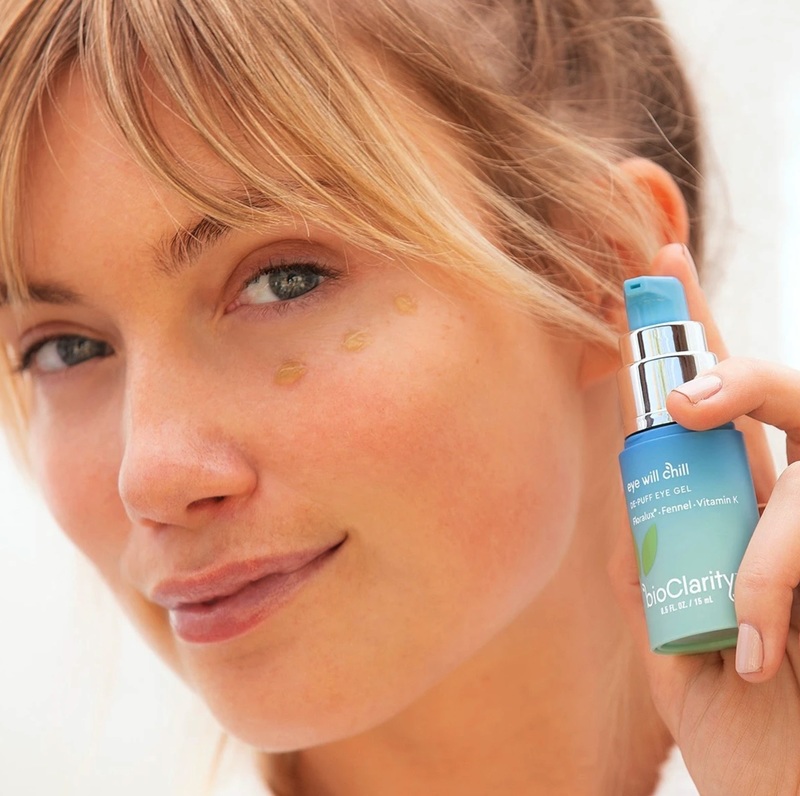 Eye Will Chill also works wonders for firming up the under-eye area. This is like a rejuvenation!
This is so hydrating, and I feel so fresh with it on. This is great for your AM morning routine! I feel so much less tired, and this is a big must for my daily application.
I Love Masks- Specifically, Bioclarity Masques
One of my most favorite things to do for self-care and winding down is applying facial masks. It feels refreshing, soothing, and overall very nice to just sit back and take care of your skin.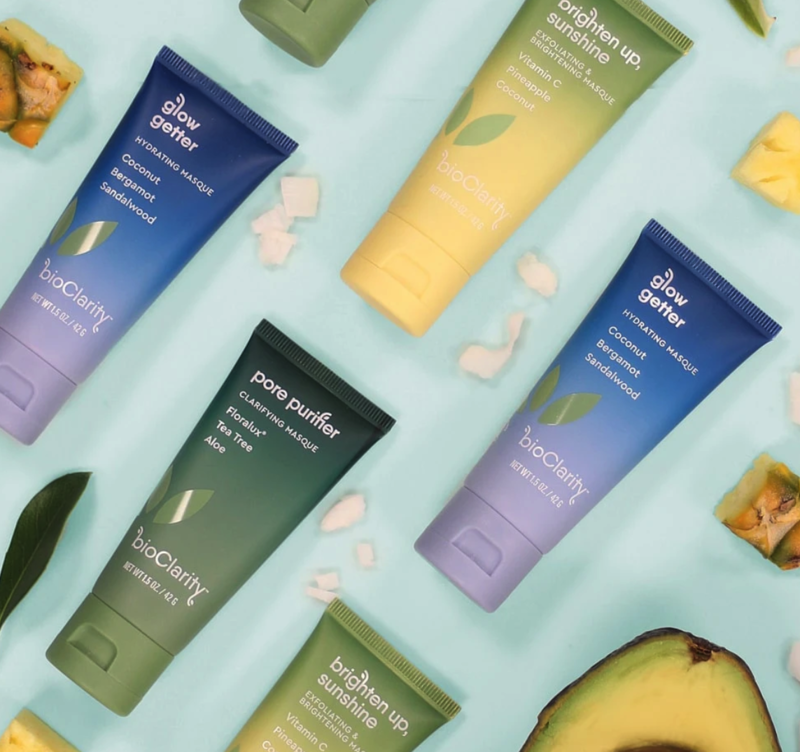 I'm a mask enthusiast, and I am so thrilled about Bioclarity's masques. It's so fun to apply, and best of all, brings out radiating skin!
The Pore Purifier
If you're in need of clarifying your skin and cleaning our your pores with the ultimate deep cleanse, the Pore Purifier is the right one for you!
This sage green clay mask is a breakout-fighter and pore purifier. This is perfect for ridding of and protecting against any acne and extra clogged oiliness. This mask gives your facial skin a deep cleanse and detox, and will leave you with tight, toned skin.
"It contains antimicrobial micro-silver, refining witch hazel, and clarifying tea tree to help even skin tone and texture while drawing out the gunk from your pores, leaving them feeling smaller and more smooth," says Bioclarity.
shop the Pore Purifier for $24.95 USD here.
View this post on Instagram
This is meant for those with normal to oily skin. If you're struggling with blemished, blotchy skin, reddened skin, this is capable of fixing that. The Pore Purifier can also even your skin tone and texture while minimizing and cleaning pores.
One of the most prominent things about the Pore Purifier is its deep green color that is rich in saturation. This is because of Bioclarity's signature ingredient, Floralux.
"This clarifying mask contains Floralux, a deeply nourishing form of chlorophyll that lights up your skin from within," says Bioclarity. "This little antioxidant powerhouse helps reduce the appearance of redness, feed and defend cells with an alphabet of nutrients and boost your natural beauty."
I love the natural light green shade, and I love the feeling of the clay on my skin even more. It's soothing and cool to the touch, and it's also very fun to apply to your skin.
This would be the perfect mask to bring out when you're breaking out to let it really immerse in the acne-fighter. I like to apply the mask on the trouble spots where breakouts are visibly forming.
After a few minutes- around ten or so- it will dry up and slightly crack. I then mix with warm water to then gently rub in the liquidized mixture.
"Apply a thin, even layer, targeting specific areas or all over your face. Leave on for 20-30 minutes (and relax) while this masque does all the hard work! Rinse off thoroughly with warm water and pat dry. Use up to twice weekly for a refreshed, toned complexion," instructs Bioclarity.
You wouldn't want to use this mask too much, as it does tend to dry out your skin- so always follow up with one of Bioclarity's moisturizers! This mask does not overdry your skin, which I liked.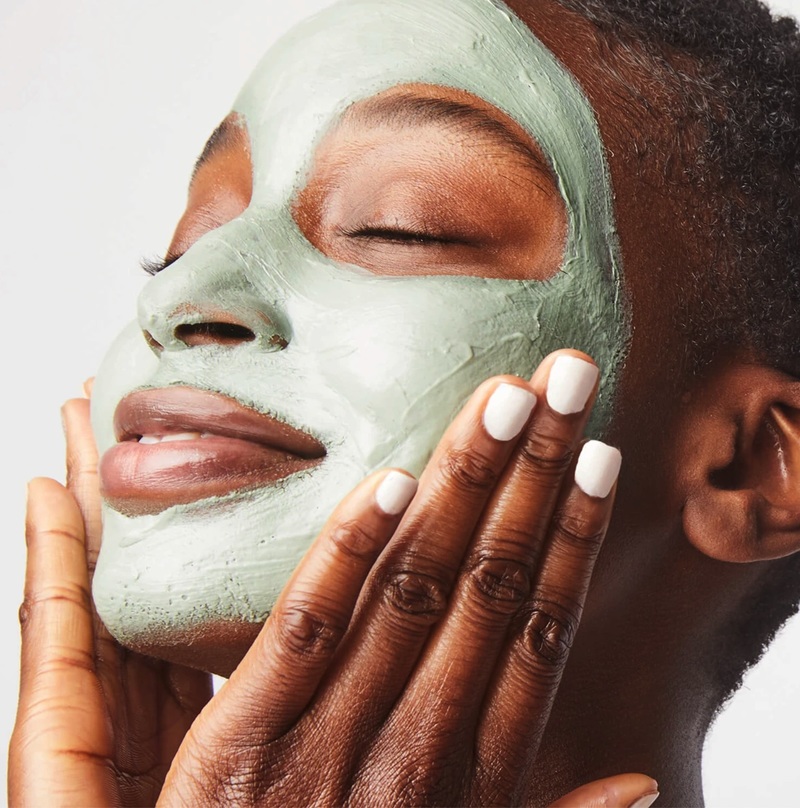 After using this mask, I was able to spot changes quickly after patting my face dry. First of all, it was visibly glowing- and my blemishes had really lightened. My face felt overall so smooth, and I just felt so clean and refreshed.
The oiliness of the skin definitely goes away for an extended time as well. I really am raving about how this truly works!
The targeted acne definitely took faster than usual to be gone, which I definitely think the Pore Purifier contributed to. Clear skin isn't impossible, you guys!
Who says you can't have a spa day at home? This is perfect for a stay-in kind of day, or to prepare for a going-out!
Brighten Up, Sunshine
If you're looking for a mask that has all the good stuff, this one is it.
Packed with an explosion of "invigorating blend of pineapple, fine coconut shell granules, apple, and avocado" and "super-charged with vitamin C and hyaluronic acid", if you want glowy, mesmerizing skin, this one is the one.
A quick detox and exfoliation of the skin with this cheerful yellow mask will bring upon radiance like you've never felt before!
shop the Brightening Mask here for $24.95 USD.
The Brighten Up mask is great for all skin types, but if you're concerned about uneven skin tones and texture as well as dull skin, this one can take that under control.
The mask feels cool to the touch and is very relaxing to apply. It feels so nice on your skin when on- and the vivid yellow color makes you think it's all cool for the summer- no pun intended! The color is really rich and bright in real life, which I loved.
The Brighten Up smells amazing, like freshness and sweet fruit.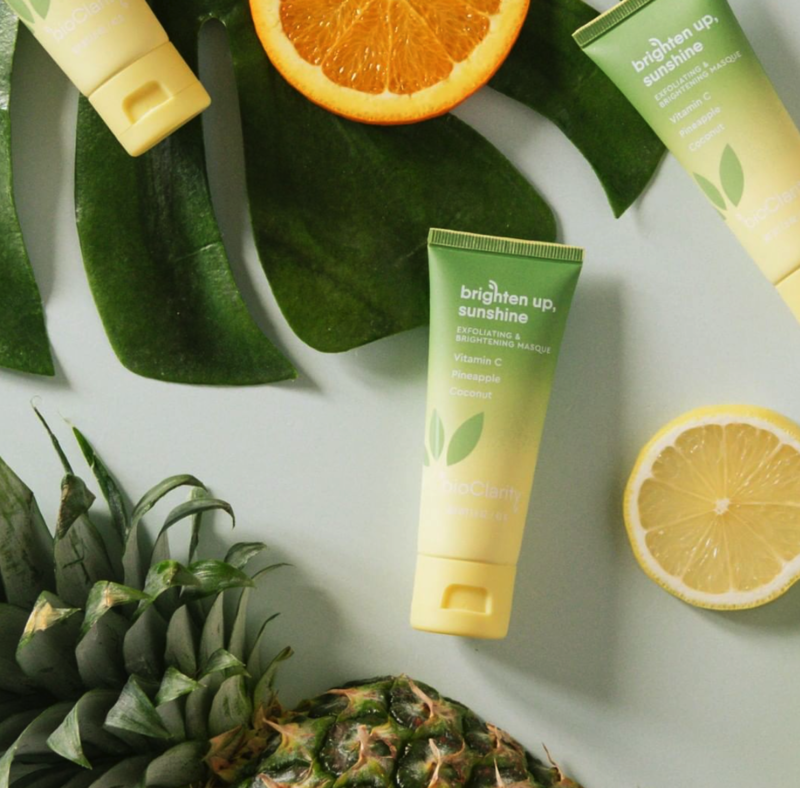 To apply the mask, follow the instructions from Bioclarity here: "Apply a thin, even layer to a freshly washed face. Leave on for 20-30 minutes (and relax) while this masque does all the hard work! You may experience slight tingling. Gently remove the masque with warm water and pat dry. It is recommended to start slow and work your way up to using this masque no more than twice weekly."
This dries within time without taking too long and comes off easily when mixed with water. It slightly dries on your face and gives you a little sensation that signals it's time to take it off.
While taking the mask off, you'll feel small particles that are a part of the mask. I enjoyed rubbing the particles into my skin as I washed them off. The mask overall didn't sting too much!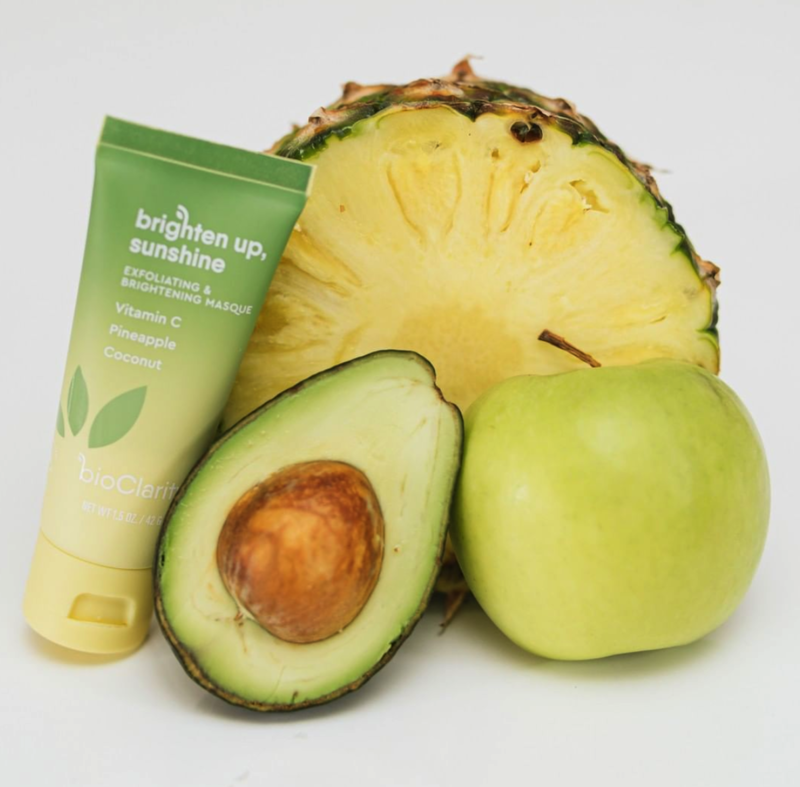 When I took the mask off, I was beyond shocked- my face was absolutely glowing and radiant! The dull skin was completely gone, and I felt so refreshed and energized.
My skin was also so soft and smooth, which was so nice to the touch. Due to the powerful ingredients like hyaluronic acid, this mask ensures that your skin is feeling its best. The Brighten Up is so nourishing and is going to make you feel so bright.
This may be one of the most effective brightening masks I've ever come across!
Keep Up
Be sure to follow Bioclarity on Instagram @bioclarity. With product updates and informational posts such as squalene vs squalane, how to be eco-friendly, guides on over-exfoliating, and much more, this will be an account you'll definitely want to follow.
Want to tweet out your life-changing skin experience from Bioclarity? Find them at @bioclarity. You can also snap with Bioclarity on Snapchat; add them here.
With bioClarity®, you can release the worry. (Worry causes frown lines anyway.)

You can put your best face forward and show the world who you really are. Feeling free — to be wonderfully, outrageously, courageously, beautifully, truly yourself.

—Bioclarity