The glitzy and glamorous show Emily in Paris was released in early October 2020 on Netflix. Filmed in Paris, this show left fans wanting more and despite all the criticism, it's been ranked as the most viewed on Netflix for weeks to the point that the producers announced a second season.
While we're all excited to look forward to next season's premiere, let's reminisce about some iconic fashion trends from "Emily in Paris" that were unforgettable even a year later.
1. Dress for the first day of work
This outfit is the epitome of perfection! Her silky shirt featuring a landscape image is buttoned at the neck, allowing a plain white crop top and a little green snakeskin skirt to balance the look.
See this post on Instagram
Shop the outfit: landscape blouse, snake print miniskirt
2. Yellow outfit – The early bird
Although yellow is a shade that many of us shy away from, Emily made it work by pairing it with an asymmetrical blouse, midi skirt and chunky black belt. For the cooler seasons, this outfit will be perfect paired with a black leather jacket.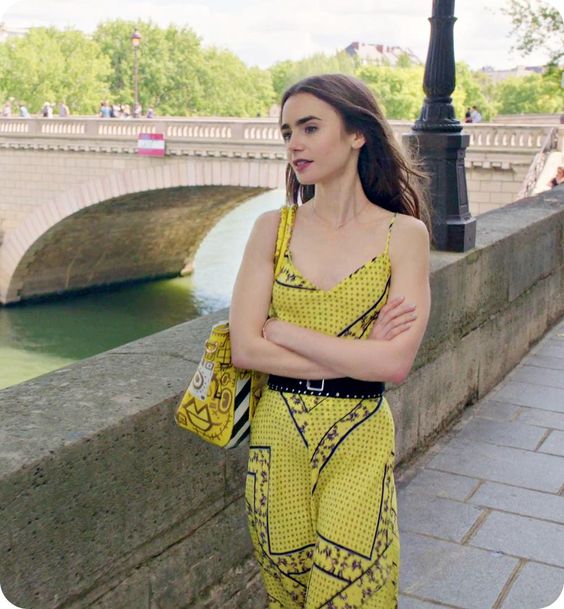 Shop the outfit: Field belt, asymmetric print midi skirt, silk-blend top
3. Floral Off Shoulder
Emily Cooper pulled off this summer-perfect off-the-shoulder dress effortlessly. If this outfit doesn't make you want to fill your closet with a bunch of pretty floral dresses, I don't know what will.
See this post on Instagram
Shop this dress: Floral Off Shoulder Dress
See this post on Instagram
Throughout the show, Emily wore quite a few off-the-shoulder pieces, here's another one: Lily Off-the-Shoulder Print Dress
4. Snakeskin
To be honest, I'm not the snakeskin type, but this outfit worn by Mindy was one of my favorites. Having the perfect figure, the dress hugs her body perfectly. It certainly gives off Parisian vibes. Especially when paired with an off-white beret.
See this post on Instagram
5. Puff sleeves
Camille is the show's most underrated style queen. Her outfit with sheer puff sleeves and figure-hugging plaid print is to die for. We're blown away by the show's recurring theme of puffy sleeves.
See this post on Instagram
Shop this outfit: Semi-Sheer Polka Dot Blouse, Sleeveless Plaid V-Neck Dress
6. Ruffles
Emily's ruffled blouse teamed with green Louboutin heels gives off a vintage vibe as she returns to Paris. This super cute outfit suited her so well, especially when she wore a pair of sunglasses in this episode.
Unfortunately for this outfit, I couldn't find any link.
7. The iconic red beret
This look is my absolute favorite from the series. She totally looks like a girl from Paris, with the beret. Her outfit included black and white checkered shorts paired with a matching blazer, black quilted bag, Mary Jane sandals and the red beret.
See this post on Instagram
8. Face Print Handbag
This unusual patterned handbag was the first thing that caught my eye in this scene. Emily wore it to a special event however, the bag is a great addition to any type of outfit; whether casual or streetwear. If I had this handbag, I swear I would wear it all the time.
Branded Product: Yens Face Acrylic Bag
Buy: Sold out
9. Bucket hat, bucket bag
This outfit was truly iconic, as it was her first bob. This outfit is definitely green inspired; a green bucket bag, a green bucket hat, a plaid skirt and a green tweed coat. And as surprising as it is, this all-green outfit looks great on her.
See this post on Instagram
10. The Black Swan Outfit
This semi-sheer black zigzag patterned off-the-shoulder dress was perfect for going to the opera. She totally channeled Audrey Hepburn! The details of the sparkly shoe and clutch were also truly stunning.
See this post on Instagram
Her French may be rusty, but Emily sure knows her way around Parisian fashion. The show was filled with extravagant and spectacular outfits, with Emily being the centerpiece of the series. However, the supporting female actors also had a fair share of their fashionable moments. And now that filming for the second season has begun, let's hope to see more amazing outfits.