During the school year, most students eat breakfast on the go or skip meals altogether. But now, with summer, teens have more time in the morning to prepare a delicious, nutritious breakfast. Although preparing and eating breakfast seems like an easy task, having a healthy meal at the start of the day will give you the energy you need to stay productive. These breakfast recipes are easy and perfect for summer. Regardless of your comfort level in the kitchen, these breakfast recipes are quick and easy to make.
1. Salty and sweet toast for breakfast
Photo credit: POPSUGAR
Toast is one of the easiest and quickest breakfasts. But, you can easily make this convenient breakfast a little more flavorful and satisfying. Once you have two pieces of your favorite toast, choose a savory and sweet option. For example, one toast might have avocado slices topped with a fried egg, while the other toast might have almond butter coated and banana slices. With this recipe, there's tons of room to experiment with the flavors you love the most. You can have a piece of toast slathered in Greek yogurt and topped with fresh berries and a drizzle of honey, as well as a piece of toast with a layer of pesto and slices of tomato and mozzarella.
2. A bowl of granola
Photo credit: A baker's house
Cereals are one of the many breakfasts that may seem good at first, but never fill you up for long. On the other hand, a bowl of granola can easily provide you with a source of protein, carbohydrates and fiber, leaving you satisfied. Mix a serving of homemade granola with your favorite fruits and milk for a nutritious breakfast that will completely fill you up.
Homemade granola recipe:
2 cups rolled oats
1/4 cup oil
1/4 cup sweetener of your choice
1/4 cup sliced ​​almonds
1/4 cup unsweetened coconut shavings
A touch of salt
A hint of cinnamon
Instructions:
Bake at 275°F for 30-45 minutes
3. A papaya boat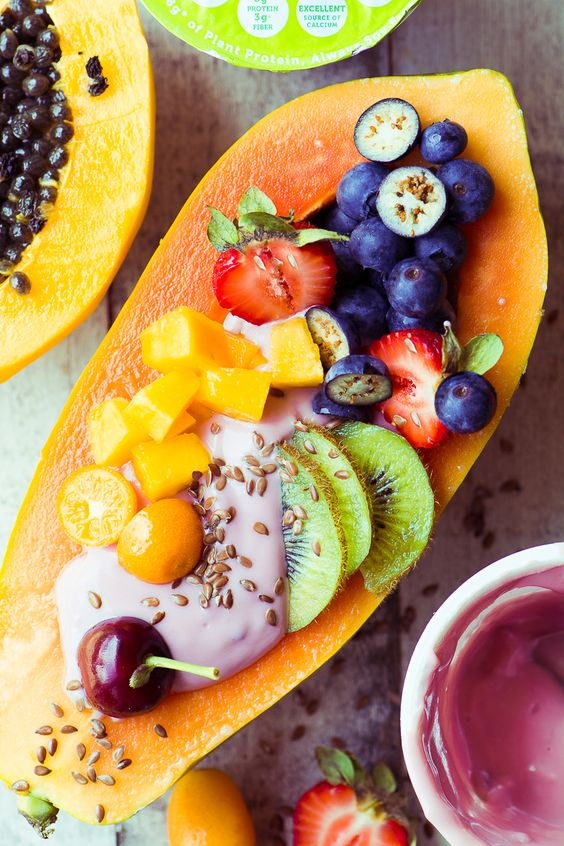 Photo credit: the view from the big island
There is nothing more satisfying and refreshing than eating fruit on a summer morning. But fruit alone is not a substantial meal. A papaya boat incorporates all the nourishing ingredients that give you the energy you need. Cut a ripe papaya in half before removing its seeds. Then, fill the center of the papaya half with the yogurt of your choice. For an even more satisfying meal, top the yogurt with granola and berries.
4. A very cherry and berry smoothie bowl
Photo credit: Purely Kaylie
If you're looking for a refreshing and light breakfast, smoothie bowls are a great option. In a blender, add about two to three cups of your favorite fruit, a few spoonfuls of yogurt and a little milk. While you can combine countless different types of fruits and ingredients to create your desired flavor, my go-to smoothie bowl recipe combines frozen cherries and berries.
A very cherry berry smoothie bowl:
1.5 cups mixed berries
1 frozen banana
1 cup frozen cherries
A handful of frozen spinach (optional)
About 1/2 cup of yogurt
A splash of milk
Instructions:
Blend to desired consistency
5. 3-Ingredient Chia Seed Pudding
Photo credit: Crazy Vegan Kitchen
With just a few ingredients needed, chia seed pudding is the perfect breakfast for a busy morning. Top the pudding with fruits like berries and bananas for extra flavor and nutrients.
Chia seed pudding recipe:
3 tablespoons of chia seeds
1 cup of milk of your choice
A drizzle of honey
Instructions:
Mix the ingredients
Place in the refrigerator at least three hours before consuming
6. Energy Muffins
Photo credit: delicious
With limited time, energy muffins are a super quick breakfast option that you can make at the start of the week to enjoy for days. All the nutrients you need for a satisfying breakfast can be packed into one muffin for an easy on-the-go breakfast. The following recipe, created by Delicious is a must.
Energy muffins recipe:
1 1/4 cups caster sugar
2 cups plain flour
2 teaspoons ground cinnamon
2 teaspoons of yeast
1 cup raisins
2 cups grated carrot
1 cup grated apple
1 cup desiccated coconut
1 cup chopped walnuts
3 eggs
1 cup vegetable oil
1 teaspoon vanilla extract
Instructions:
Preheat the oven to 180°C
Use 18 paper liners to line the muffin cups.
Sift the sugar, flour, cinnamon and baking powder into a large bowl. Add raisins, carrots, apples, coconut and walnuts.
In another bowl, beat together the eggs, oil and vanilla. Add this mixture to the dry ingredients and fold until just combined – do not over mix.
Pour into muffin tins and bake for 25 minutes or until golden brown.
7. Banana Bread Overnight Oats
Photo credit: Jessica in the kitchen
Overnight oats are a convenient and filling option to enjoy during the summer. As they should be prepared the day before, they are a quick meal in the morning.
Banana bread night oats (recipe created by Jessica in the Kitchen):
1/2 cup rolled oats
1 cup milk (any type)
1 very ripe banana, completely mashed
1/4 teaspoon ground cinnamon
pinch of sea salt
1 teaspoon sugar or maple syrup or agave nectar
2 teaspoons of chia seeds
chopped nuts and any of your favorite oatmeal toppings (optional)
Instructions:
Combine all ingredients in a jar, except chopped nuts and other toppings
Place the jar in the fridge overnight and enjoy in the morning
8. A loaded breakfast bowl
Photo credit: two peas and their pod
If you're the type of person who can never decide what you want, this recipe is for you. Made up of many different ingredients and foods, this breakfast is extremely tasty and perfect for a morning when you don't know what you want to eat.
Breakfast Bowl Recipe (Created by Two Peas and Their Pod)
Ingredients:
2 teaspoons olive oil
1 small garlic clove, minced
2 cups spinach
½ cup cherry or grape tomatoes, halved
¼ avocado, sliced
½ cup sliced ​​potatoes (if frozen, simply reheat them in a skillet)
1 to 2 eggs (fried, scrambled or boiled)
Sea salt and freshly ground black pepper
Sprinkle with feta cheese or nutritional yeast (optional)
Fresh herbs such as parsley, chives or basil (optional)
Hot sauce or salsa (optional)
Instructions:
In a small skillet, heat the olive oil over medium heat. Add the garlic and cook for 30 seconds. Add spinach and tomatoes. Cook for about 2-3 minutes.
Cook eggs (fried, scrambled or boiled)
Combine potatoes, spinach, tomatoes, avocado and egg in a bowl. Season with salt and black pepper.
Whether you're looking for a savory or sweet, simple or more complex breakfast, these eight recipes have you covered this summer. Even if you're not used to cooking yourself, these tasty breakfast recipes are a great place to start.