These blends are both extremely convenient and incredibly economical. All you have to do is take some time. Come on, roll up your sleeves now, apply these useful masks!
DRY SKIN
Honey and Egg Mask
Material
1 teaspoon moisturizer
1 egg
1 tablespoon of almond oil
1 tablespoon of honey

Preparation of
1. Separate the egg white and yolk. Add a few drops of almond oil to the egg yolk and mix.
2. Then slowly add the moisturizer and honey.
3. Lightly whisk the egg white in a separate bowl, add the egg yolk and whisk until it reaches a spreadable consistency.

The use of
After spreading the mixture on your face and neck with a wide brush or a cotton ball, wait at least half an hour and wash your skin with lukewarm water. You will notice that your skin is hydrated!

Tonic Milk
Material

2 tbsp dried or 1 tbsp freshly picked herbs (lavender, mallow, calendula)
2/3 cup boiled milk
1 coffee filter paper

Preparation of
Put two tablespoons of dried herbs or one tablespoon of freshly picked herbs and milk in a bowl and close your mouth and wait for it to cool. Filter with filter paper (or cheesecloth) and store in a sterile bottle in the refrigerator.

The use of
Don't forget to apply your moisturizer right after using this toner, you will notice the effect on your skin in no time!

MIXED SKIN

Almond Mask
Material

50g peeled almonds
10g oat flour
10g orange flavor
a bit of milk

Preparation of
1. After beating the almonds well, add warm water and knead the mixture until it is hard to separate from the spoon.
2. Add oatmeal and orange flavoring to this mixture and leave to stand for an hour and a half.
3. Add milk to your rested mask and mix well until it reaches a paste-like consistency.

The use of
Apply the mask to your face, massage in with gentle movements and leave it on your face for 30 minutes. Then wash your face thoroughly with lukewarm water. You won't believe the softness of your skin!

Pink Tonic
Material

Half a glass of white wine
2 tablespoons rose water
1 pinch of dried rose petals
1 coffee filter

Preparation of
1. Mix all the ingredients in a bowl and leave for 1 hour.
2. Then filter it through a filter paper (it can also be a cheesecloth).

The use of
You can use this special toner with cotton to clean your makeup or cleanse your skin of impurities.

OILY SKIN
Cucumber mask
Material

2 teaspoons apple cider vinegar
2 teaspoons sesame oil
1 egg yolk
2 cucumbers

Preparation of
1. Puree 5 thick slices of peeled cucumber in a blender.
2. Whisk the apple cider vinegar, sesame oil and egg yolk well.

The use of
Apply the mixture to your face, neck and décolleté, leave on for 45 minutes and rinse with lukewarm water. You will notice that your skin is oil free!

Lemon Tonic
Material

1/2 cup lemon juice
1 cup distilled water
2/3 cup witch hazel

Preparation of
1. Mix all the ingredients and pour into a clean bottle.
2. Wait about 30 minutes. Remember to shake well before use!

The use of
You can dilute the tonic with water before use. You will notice that this toner, which you can easily use on your face with cotton, will tighten your skin!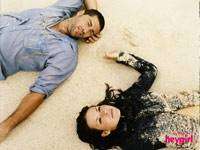 Justin Timberlake's most beautiful wallpapers!