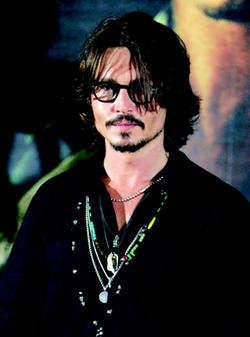 Johnny Depp, despite his advanced age, is one of the flavors we still can't give up… It's no different than a deliciously delicious cauldron 🙂 So here's a perfect cauldron recipe for Johnny Depp fans …
The most delicious photos of Johnny Depp
Material:
– 1 cup of flour
– 1.5 cups granulated sugar
– 1 liter of milk
– 1 sachet of vanilla
– 50 g of margarine
– 100g finely chopped hazelnuts
– 2 tablespoons of cocoa
– 2 tablespoons of powdered sugar
Preparation of:
– After having sifted a glass of flour in a saucepan, add the caster sugar.
– Gradually add 1 liter of cold milk. – Put it on the fire and stir until it reaches the consistency of a pudding and remove it from the heat.
– Add vanilla and oil and beat for 5 minutes in a mixer.
– On a large baking sheet, sift 2 tablespoons of cocoa to cover all sides. You also need to sift powdered sugar on top.
– Finally sprinkle the crushed hazelnuts.
– Spread the custard on this plate and pour it. Roll up after cooling
wrap in shape.
– You must cut the roll so that everyone is served one person. You can determine this based on the number of people.