The one thing we do daily is smiling; whether it be from laughing with our friends, smirking at a meme, or greeting our neighbors, smiling is a big part of our lifestyle.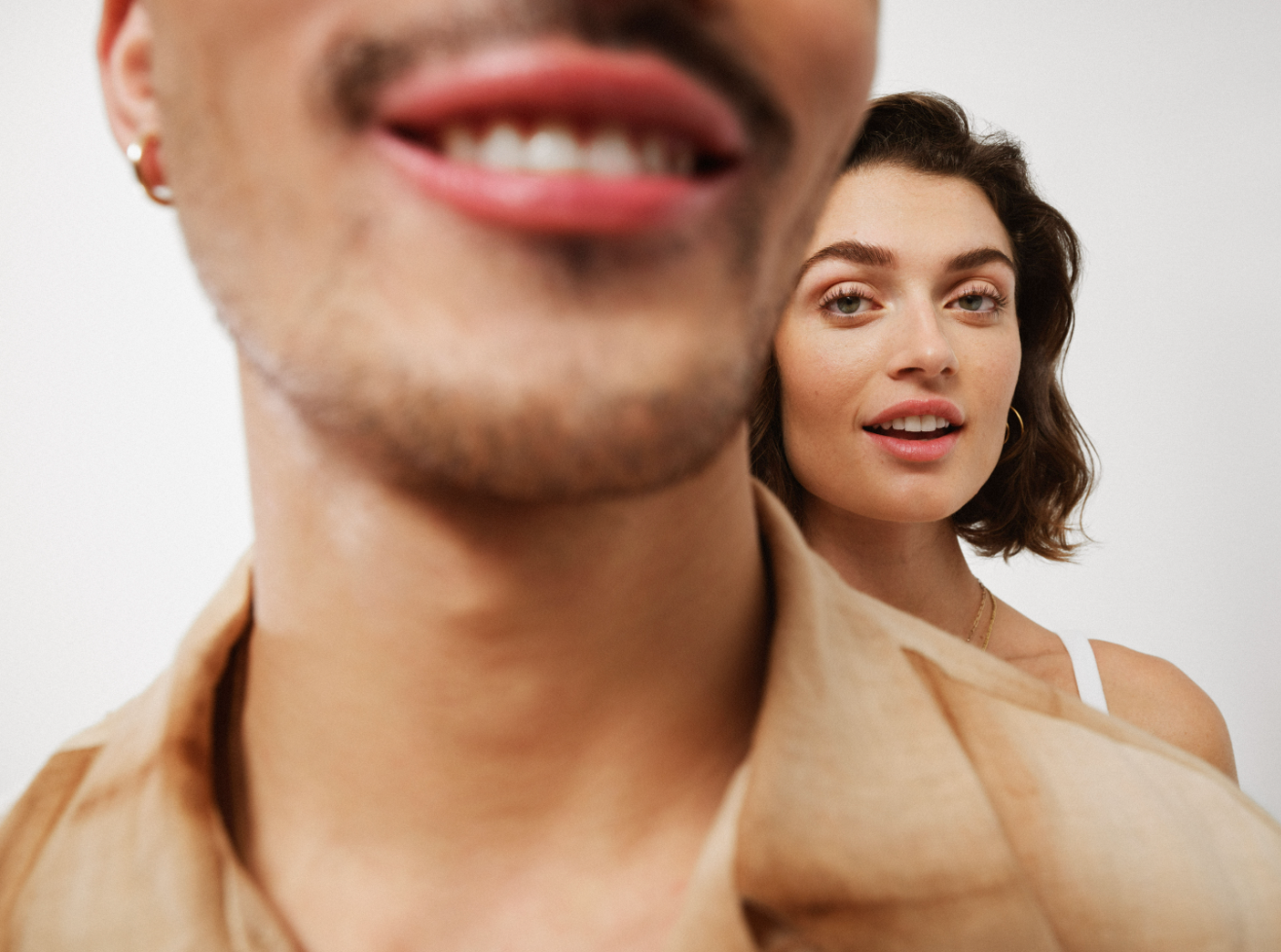 Undoubtedly, with all the smiling that we do, we end up showing off our teeth quite often. If you're looking to flash your pearly whites this summer (and also all year round, because smiling is a forever thing!), TWICE is the perfect go-to for brightening up your teeth while taking care of oral health.
Wellness and Balance
Having a bright mega-watt smile isn't only about those Instagram-filter-like teeth; it's also about caring for your oral health and for your overall wellness. TWICE takes that belief into further action with their philosophy, "A healthy mouth is a healthy self."
With their curated assortment of products that not only deliver noticeable results but also work within the inner body, TWICE is committed to making our daily teeth-care process much more efficient and effective. "TWICE is a holistic oral health system that combines cutting-edge science and clean ingredients for better mouth-body balance," writes the brand.
To make that happen, TWICE's dynamic team is pioneering the way for better oral care. With Grammy-winning star Lenny Kravitz on the helm alongside Julian Levine and Cody Levine, TWICE is defining what it means to be a game-changer.
Nobody Does It Like TWICE
With its all-clean ingredient list, the brand is making the oral care process much easier for us to navigate. Its line of vegan, cruelty-free products is all free of sulfates, SLS, gluten, and artificial ingredients. Talk about putting the "well" in wellness!
"You shouldn't have to sacrifice anything when it comes to your oral care. Our products are formulated with high- performing clean ingredients and backed by proven science. Good for you and trusted by experts – it's the best of both worlds."

– TWICE
Not only that, the brand is redefining what it means to make brushing your teeth, well, fun again. Flossing and whitening your teeth doesn't have to feel like a chore; it can be enjoyable, too. With bright yellow branding all over, simply seeing the TWICE set on your bathroom counter is sure to make you feel oh-so-positive.
On top of it all, we can't not mention how affordable its products are. With all of its oral wellness products under $25, the brand makes oral wellness accessible to all. The brand also offers kits that include all the necessary products that you'll ever need- even for teeth whitening.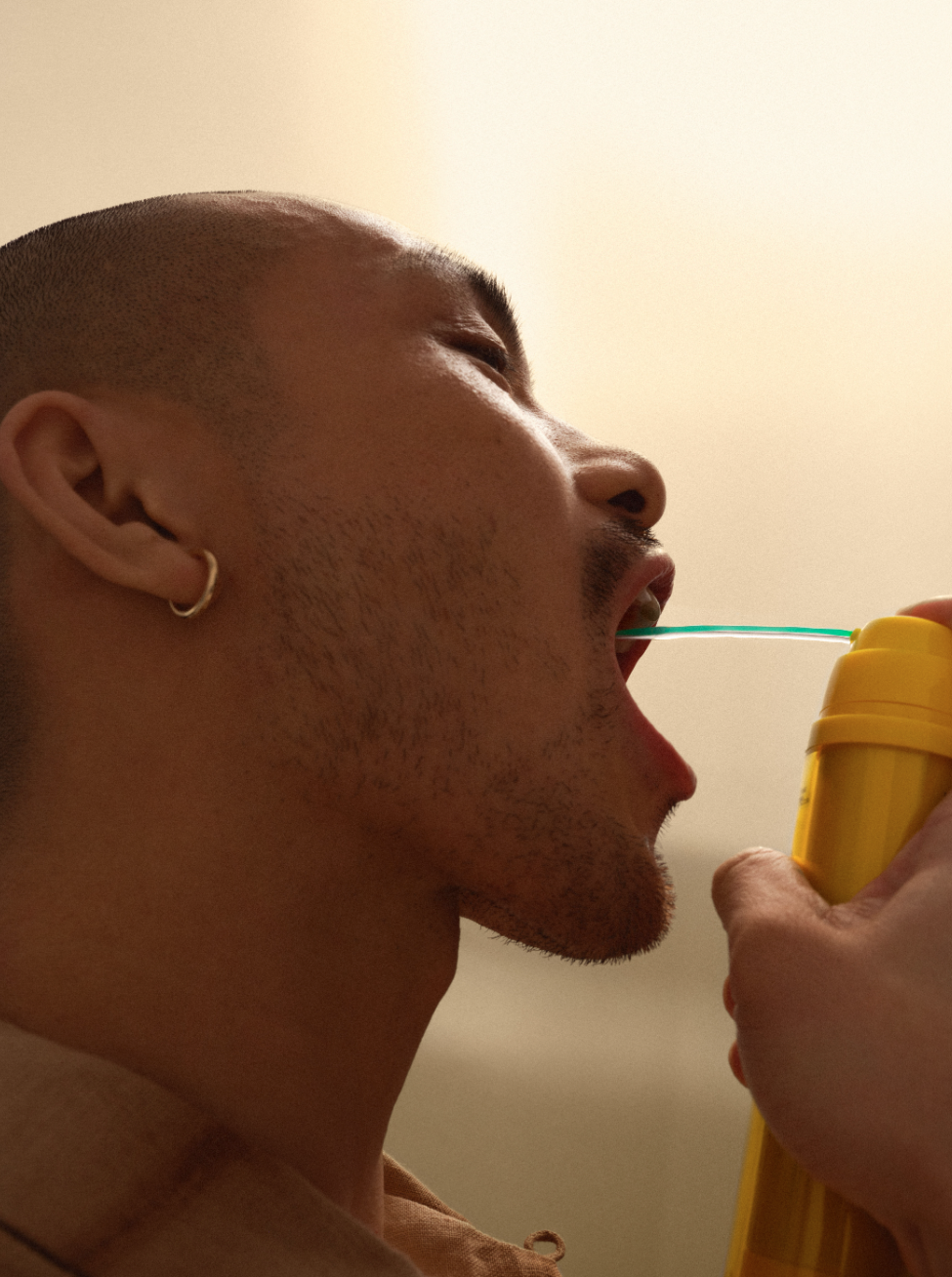 The Extra Whitening Kit
To max out on your brightest, best smile, TWICE's Extra Whitening Kit is your best bet. I've never seen such results in a mere week's time, and the process is beautifully efficient. Perfect to add to your morning and nighttime routine, the Whitening Kit is the perfect way to not only brighten your teeth but also your day.
Shop the Extra Whitening Kit here.
The kit includes two of the Charcoal Icy Mint Toothpaste and Whitening Pens- because one is never enough for these two!- as well as a Manual Brush and Immunity Rinse.
Plus, this kit is all about staying clean and away from the toxicities of a typical whitening product. The kit is vegan, sulfate and SLS free, cruelty-free, gluten-free, paraben-free, BPA-free, artificial dye-free, and recycle-ready.
The Charcoal Icy Mint Toothpaste
The very basic of oral care is hands down toothpaste- but with TWICE, we're going the extra mile to make your teeth brighter than ever.
The Charcoal Icy Mint Toothpaste isn't just your average toothpaste. You've probably deduced it's made with charcoal, but the extent to which the charcoal works wonders is definitely a pleasant surprise!
Shop the Oral Wellness Charcoal Icy Mint Toothpaste here.
At first squeeze, the toothpaste's dark gray is definitely not your usual toothpaste- but just like how unique it is, it also delivers its effects to the max. When brushing, it'll foam up to a white shade, and will completely sweep your mouth into a fresh minty taste.
In no time, using this toothpaste daily for a week has already resulted in such a brighter, whiter hue. Although its effects may seem like magic, the secret is really all in the ingredients.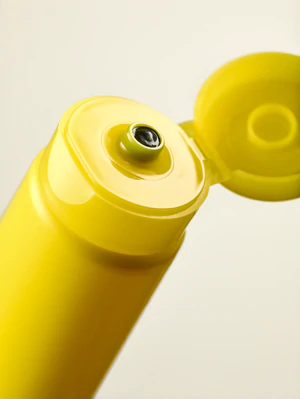 The Charcoal Icy Mint Toothpaste is created with activated charcoal and dental-grade baking soda, which are two naturally occurring ingredients that are well known to whiten teeth. In addition, the toothpaste includes hydroxyapatite to demineralize, helping provide protection for your teeth enamel. It is also enriched with vitamins, such as A, C, and E, which promote healthy gums and neutralize free radicals.
The combination of the above? A burst of minty freshness and of course, whitening that won't compare to anything else. If you're looking to jump multiple shades up from yellow to white, the Charcoal Icy Mint Toothpaste will do what you need it to do.
I've never met a toothpaste that whitens teeth so effectively, and this toothpaste does it all pain-free. I love that this toothpaste knocks out both refreshing my teeth and gums while simultaneously brightening my teeth. What a win-win!
You may be wondering what the difference between the TWICE Charcoal Toothpaste and a regular charcoal toothpaste is- and allow TWICE to answer for you:
"First, Twice is vitamin enriched, neutralizes free radicals and supports healthier gums with vitamins A, C and E.
Second, Twice brightens smiles and polishes teeth with charcoal, hydrated silica and dental grade baking soda.
Third, Twice is natural protection, infused with hydroxyapetite to remineralize and help strengthen tooth enamel.
Fourth, Twice charcoal toothpaste has an approximately 8.4 pH balanced formula to keep your oral microbiome in harmony.
Fifth, Twice provides plant-based clean with coconut derived foaming agents for a long-lasting fresh and clean feeling."
On top of it all, the Charcoal Icy Mint Toothpaste is mindful of keeping balance within our bodies. "8.4 pH-balanced formula keeps your oral microbiome in harmony," says TWICE.
I just love how this toothpaste has such a wonderful minty flavor that immediately pipes you up without feeling overwhelming. The freshness lasts for a long time, and it just feels so clean without having that chemical-ridden aftertaste. It's the perfect wake-me-up on early mornings, and I love starting my day off with it!
The Manual Brush
Oral care can't really happen with toothbrushes, and I think I may just be obsessed with TWICE's Manual Brush. If you think all toothbrushes are the same, think again- this toothbrush will set your standard so high that you simply won't settle for less anymore.
Shop the Oral Wellness Manual Brush here.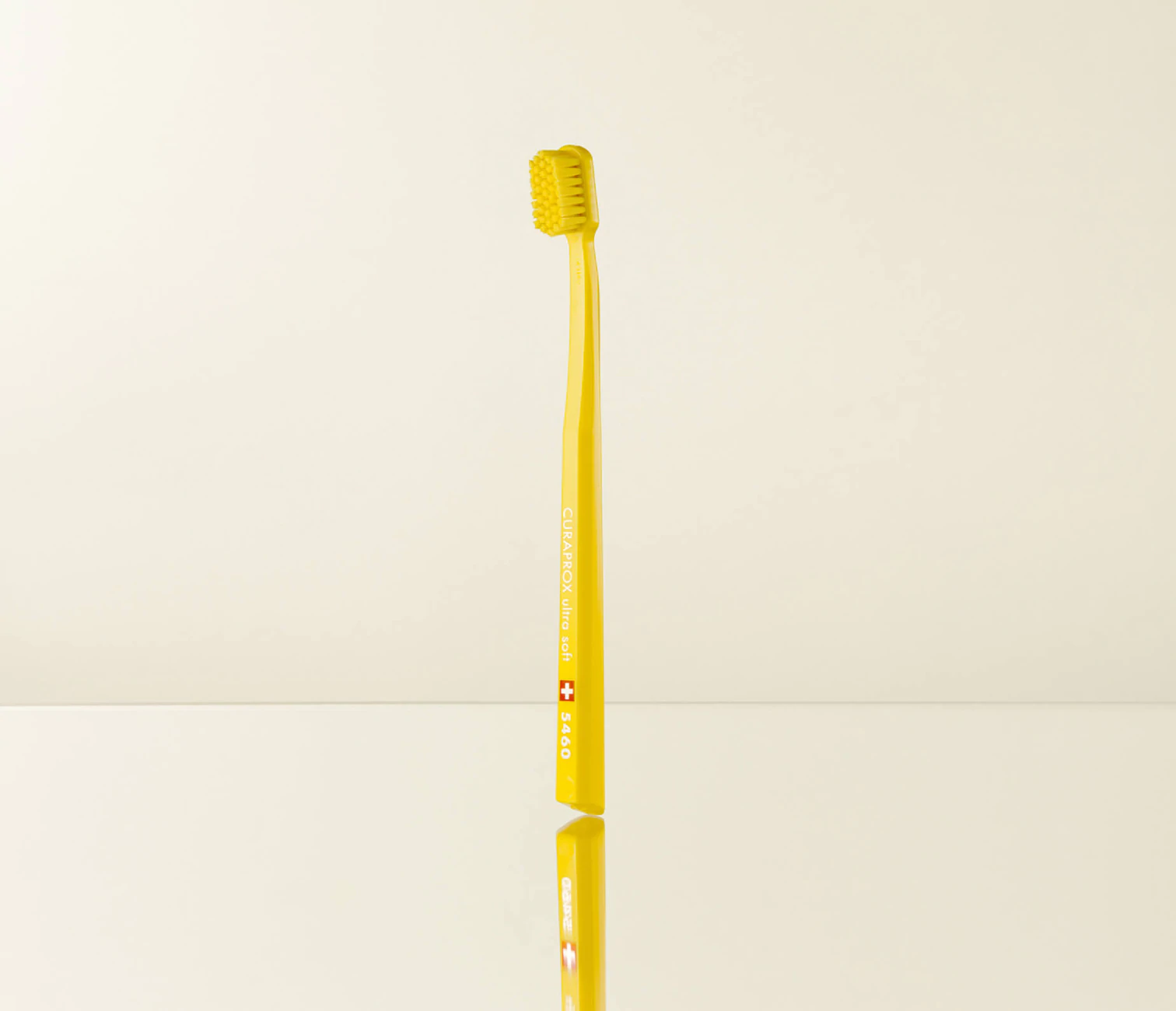 Perfect for whitening teeth, plaque removal, gum care, and sensitive teeth, the Manual Brush is the ultimate multi-tasker that will tackle just about everything to ensure clean, happy teeth.
Unlike any other toothbrush, the Manual Brush is made with 5,460 Swiss-engineered CUREN(R) filaments that sweep through your mouth thoroughly to ensure proper cleaning. A closer look at the bristles will seriously wow you at how densely packed it is; it's set in a well-structured format that maximizes its potential to brush.
I love that the bristles are ultra-fine and can get through just about anything. It feels very gentle on sensitive parts like the gum but effectively sweeps through the teeth to rid of unwanted gunk like plaque.
With a long handle, this brush is so convenient to use. Just like the brush, the bristles are also a cheery yellow color, which makes the toothbrush easy to spot. I love how positive this brush feels, and it makes brushing your teeth feel so much more productive!
The Immunity Rinse
Ever wish you could have fresh breath in just a few seconds? Well, it looks like your wish is about to come true, thanks to TWICE's Immunity Rinse! This pick-me-up spritz is all about staying minty cool while also protecting your mouth from infection-causing bacteria and viruses.
Shop the Oral Wellness Immunity Rinse here.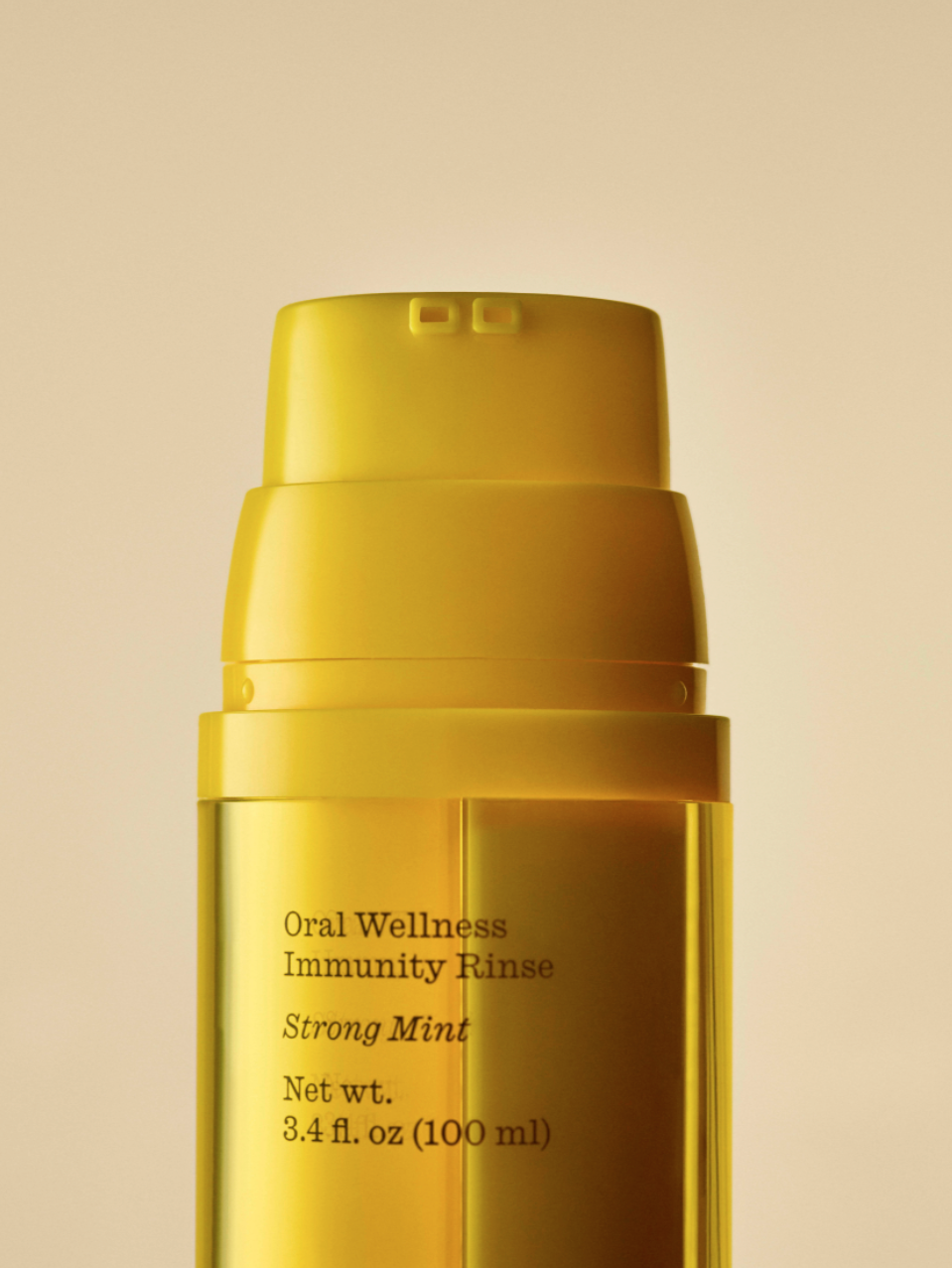 You know your typical gargle-and-spit-out mouthwash, but the Immunity Rinse is more of a spritz-and-go kind of refresher. This nano-emulsion technology provides freshness that lasts for a good while and leaves your mouth feeling cleaner than ever.
"Our proprietary dual-action formula delivers powerful ingredients deep within your gum lines to help safeguard against infection-causing bacteria, boost oral defenses, and improve the wellness of your mouth," says TWICE.
I'm obsessed with the Immunity Rinse mainly due to how it is created with a purpose in mind. Its mineral-rich properties consist of a super-ingredient nano-silver that "neutralizes bad bacteria and protects a balanced oral ecosystem."
This bright yellow cylinder container has almost a futuristic holographic feel to it, and I love how conveniently designed it is. All you have to do is shake the bottle and press the nozzle to dispense the rinse directly into the mouth.
"For optimal benefits & freshness, dispense 3-4 applications and swish formula in mouth to coat for 15 seconds, and then spit out," recommends TWICE. "If desired, dilute in a cup with water and swish for 30 seconds. Recommended use after brushing twice a day and after meals for a full-mouth refresh."
The rinse itself is majorly colorless and won't stain anything. I just adore how easy it is to use, and how quickly it all works. Even if you're in a rush in the morning, the Oral Wellness Immunity Rinse is perfect to grab on the go for a quick refresher. The rinse tastes like fresh mint and isn't too strong. (goodbye, teary eyes!) I like to think of the rinse as the best alternative to Listerine as it is so much more easygoing on the mouth and senses, and is effective while being gentle.
This rinse is the perfect detox, and it is sure to completely freshen up your morning, even if it's been a long night. A quick spritz and you'll be all set!
The Whitening Pen
TWICE's Whitening Pen might just be my new favorite thing ever- and it's quickly become one of my must-haves on the bathroom counter.
A combination of "clinically proven hydrogen peroxide and plant-based antimicrobials," the Whitening Pen completely whitens the teeth without exposing them to sensitivity.
On top of that, it's vegan and shows immediate results, being capable of brightening your smile "up to 23 shades lighter without sensitivity." Talk about impressive!
Shop the Oral Wellness Whitening Pen here.
This handy-dandy pen takes a bright smile to the next level, and is backed by powerful super ingredients to make it all happen. The dental-grade xylitol "fights bacteria and keeps teeth clean"- making this pen not just a whitener, but also an oral health booster.
I love how it tastes pleasantly nice and doesn't contain a trace of chemical aftertaste. TWICE is all about keeping it naturally fresh, and this pen is no exception; with a combination of classic herbs and species such as eucalyptus, cinnamon, wintergreen, thyme, and menthol, this pen applies not only a whitening gel but also a layer of cool freshness.
What I love most about this pen (aside from the mind-blowing effects, of course) is how easy and efficient it is to use. All you have to do is simply click the pen base for the whitening serum to reach the bristles of the brush, then paint on a thin layer. The whitening process starts immediately as you apply.
You're free to leave it on as long as you'd like- I personally apply before getting ready for the day- but all you have to do is avoid eating or drinking for 10 – 30 minutes after use. "For best results, use twice a day, morning and evening for 14 days uninterrupted or until desired results are achieved," says TWICE. Because the pen is pretty easygoing, it doesn't require rinsing, and is able to deliver optimal results!
Most teeth whitening pens have a reputation for making teeth feel chilly and sensitive, but when it comes to this pen, that is definitely not the case. Even when using it twice a day for multiple days in a row, I have never once felt my teeth feel sensitive at all! Even during the application, you can hardly feel the serum, aside from the minty taste.
Along with that, there are key differences between TWICE's Whitening Pen and regular whitening pens: one being the extra-strength whitening power that can brighten up without compensating your oral wellbeing. "This is according to independent lab results after 30 uses, which is 1 full pen," says TWICE. On top of that, "TWICE is backed by pros and developed by a team of leading oral health experts, led by teeth whitening innovator Dr Jonathan B Levine," says the brand. With professionals approving the whitening pen, this product is sincerely effective without going extreme on our teeth.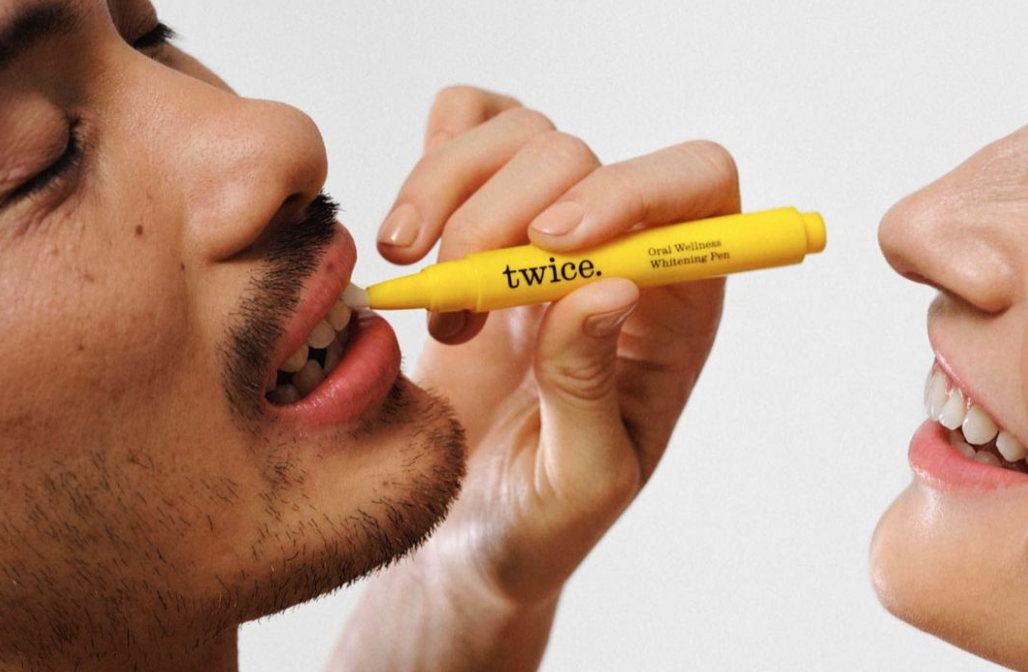 Even after just a few days of using the pen, I've noticed a discernable difference in the hue of my teeth. It looks so much brighter and I was so impressed by how quick the process was. With a consistent application, I feel confident that my teeth will be pearly-white, and I feel confident that my smiles will be so much brighter!
The Whitening Pen is the perfect size to slip in a small makeup bag to carry around to just about anywhere. I love how portable it is, and it's a must to keep on you at all times!
Keep Up With TWICE
We couldn't be more obsessed with TWICE; this summer, we'll be cheesing extra big, thanks to our brighter, healthier teeth.
Be sure to keep up with TWICE on all social media platforms! Find TWICE on Instagram at @twice, on Tiktok at @twiceoralwellness, and on Facebook @smiletwice.