Every once in a while it's good to have some down time, to step out of our hectic lives and relax. Stress does more to our bodies than we realize and it's important to treat yourself to a nice pampering evening once in a while…sometimes happening more frequently than others. Sit down, put some cucumber on your eyes, and get ready to plan a well-deserved spa night.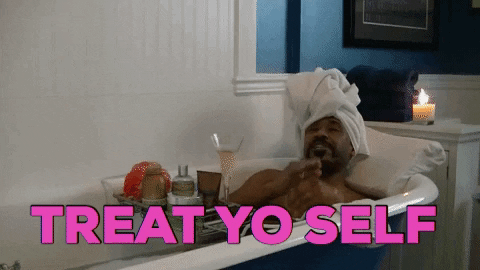 Outfit
First, take off all that makeup (and don't forget to use cleanser!) and pick out some comfy pajamas and a nice bathrobe. If you're feeling a little more boujee, you can opt for a silk bathrobe. You don't want to spend your night relaxing in something uncomfortable!
Technology?
Although we would like to say that we can do without our phones… do we really? Take this night as a detox for social networks and the attachment we have with our devices. If you can, turn it off and allow yourself to enjoy a relaxed night without the constant buzzing that occurs every time you try to unwind. I'm sure the memes you received can wait until morning.
Fresh out of the oven
Before completely relaxing, try baking! I'm not saying create a complex multi-tiered cake or anything, but a simple yet delicious recipe like quick brownies or classic chocolate chip cookies; even if you try a simple mug cake. You may think cooking is a chore or a hassle, but it's oddly calming and can really lift your spirits. Even if you don't find it relaxing, you will have delicious food!
Run a bath
Nothing is more relaxing than a nice hot bath that smells good. Find bath bombs, soaks, bubble bars or oils to have in your tub. Personally, I prefer Lush because of their aromatic bath products. Light some scented candles and get your comfiest pajamas ready. Whether you're the type to sit back and close your eyes, sometimes it's not always easy to put our brains on hold.
Pick up a magazine or book and let your mind focus on it while your body relaxes. A nice touch to make it feel like your own home spa is to grab a speaker and play soothing background music.
Lather
After a bath, it is always nice to use different products; specifically, the essentials – body scrubs and lotions – should be opened. It's not a good night's care without the bathroom smelling of all kinds of scented products. Try a lip scrub! My current favorite is Lush's Festive Candy Apple Scrub (try applying lip balm after a scrub, I use a Burt's Bees balm…my favorite combination!)
Skin care
Pour yourself a cold glass of iced tea or fancy water and get ready to heal your skin. I never go a full night without a face mask (I recently loved Freemans range of clay masks, especially the pink salt and cucumber one that exfoliates the face). Another must-have mask is the Kiehls Avocado Mask which lasts forever.
This is the perfect time to complete all of your skincare steps and even try new products. Tone, hydrate and rejuvenate.
reflecting
You are all refreshed and have had time to relax and rejuvenate your skin, but another important step is to do something soothing to yourself. Take a few deep breaths and reflect a bit, journal if you have one.
Meditation is something I never really took an interest in, but started doing earlier this year and I recommend you try it at least once. What better time than now? You are already in a relaxed state and this is part of the inner care.
Manicure
If you're a frequent DIY manicurist like me, you won't be amused; however, for some it will be a nice way to indulge. Grab all your equipment and some tissues (for the inevitable mistakes) and start your own nail salon. Scissors, nail files, buffers, varnish, are necessary.
I highly recommend adding a top coat if you want your freshly painted nails to last longer. A good one to use is the Essie "No chips ahead" for a shiny finish. Don't worry, if you prefer the matte finish, they also do a matte topcoat. My rule of thumb for painting my nails is two coats of color (sometimes colors can be a little sheer) and one top coat.
Where's the popcorn?
Now I've pleaded for a device-free night, but Netflix will always be the exception. I love to relax in front of a movie, or a few at the end of my night. Whether you're in your bedroom watching it on your laptop, or in the living room making your own movie, snacks are a must! Rummage through the pantry and find your favorite movie snacks – popcorn and chocolate will never disappoint. While not the healthiest choice, keep in mind that this night is about you and indulgence is encouraged.
Endless movie options and minutes spent scrolling, it's good to narrow down some options. Go for a good movie, something light and funny like a comedy or your classic cheesy romantic comedy. The number of times you will catch me re-watching Legally Blonde and Clueless… is too many! Remember, however, to get a full night's sleep.
A night of relaxation is good to implement in your life and you should do it as often as you can! Our lives can be stressful and busy, but it's essential that we remember to take care of ourselves and take care of our body, skin and mind. I use the term 'Personal Care Sunday' and if my Sunday night isn't busy I'd be happy to throw in one of those special nights. There's nothing better than feeling refreshed and ready to face the week ahead feeling recharged.