For many students around the world, schools are going virtual this year. As a result, students can now have access to their phones and computers at any time to play games, whether between classes or after your group has completed a project in a zoom breakout room and they still have time to waste.
If you're looking for a game to play while you're bored in class or just wandering around your house doing nothing, you've come to the right place.
I'm going to review my ten favorite games I've fallen in love with during the pandemic.
#1 Fireboy and Watergdaughter
For those who don't know this game, you're missing out. In this fun and simple adventure, you play as both fireboy, a boy who can walk in lava, and watergirl, a girl who can walk in water. There are several installments of this game, from ice temple to forest temple.
You can try to solve puzzles, collect gems and try to reach your characters' designated exit. If you have a sibling at home, you can play with them! You can find this game at Cool Math Games or by searching for it in your browser.
Piano Tiles No. 2
It's a classic. The rules are simple: press the black keys that appear on your screen to make sound and play a song that you choose. Not only does it train your reflexes, but it's also a great way to listen to music.
You're given a certain number of cores, and as long as those cores don't disappear, which they do if you mess up too many songs, you'll be able to play as much as you want. For a quick musical game, I highly recommend Piano Tiles. To get it, just go to the app store and download it on your phone.
#3 BTD Battles
This game can be described in three words: monkeys fighting balloons.
Basically you collect bananas and use them to buy monkeys which make more bananas from popping balloons in which you can buy even more monkeys. It may seem silly at first, but once you start, you won't be able to stop.
You can upgrade your monkeys, and there's even a monkey called Supermonkey. A friend of mine introduced me to this game, and now I've probably invested a good twenty hours into it. It's in the app store, and it's a perfect way to pass some time.
#4 Mario Kart
Instead of having to invest hundreds of dollars in a Nintendo Switch and a Mario game, you can now download Mario Kart from the App Store. In this game, you can play as a variety of Mario characters such as Toad and Peach, racing through different maps against people around the world.
You can challenge your friends to races to see which of you is the best Mario Kart player. This game was so fun to play, and it's constantly updated with different maps and challenges every month, so give it a try for fun.
#5 Pokemon EX Masters
Everyone has probably heard or knows someone who is obsessed with Pokémon Go. From the same brand is Pokémon Masters EX. In this game, you are taken to an island where you try to meet different trainers to fight and get stronger.
However, instead of catching pokemon, the player can collect trainers, also known as sync pairs. The story, in my opinion, is a bit boring, but the battles and events that the game hosts are really exciting and challenging. If you are looking to become a Pokemon master and be the best like no one has ever been, you must download it from the App Store.
#6 among us
I'm sure everyone knew this game would be on the list. What is there to say? You play two things: the teammate or the impostor. In the game, the teammates try to complete various missions while the impostor tries to kill everyone. Crewmates can have meetings to discuss whether to kick someone out of their spaceship if they find them suspicious.
Personally, I loved the game, even though I was awful. But I strongly recommend anyone who is bored to go and download this game from the App Store. It's fun, exciting, and sometimes very frustrating, especially when you're accused of being the impostor even though you were just matching the colors of the threads. Am I speaking from experience? Yes.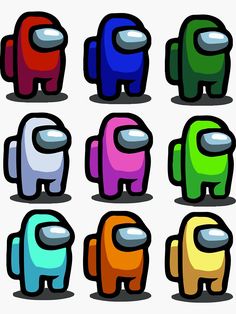 #7 Fruit Ninja
If you have a minute or two to spare, try Fruit Ninja. Some of you might remember this game from your childhood. In this game, you learn from a sensei how to master the art of slicing fruit. If you ever get really bored during class, downloading this from the app store is a good idea.
It doesn't take much skill or time to become a fruit slicing master from the app, and for some of you, you may be lucky enough to relive your childhood.
#8 Black box
If you are a puzzle lover and like complex and confusing mind games, this game is perfect for you. The rules are simple: fill in the box. However, you don't know how you have to play with your phone in different ways to try to light up your box.
Whether it's having to go into settings to change a button or waiting for hours with nothing to do, the joy you'll get when you turn on a box is worth everything. It's a great app store game, so if you're looking for a challenge, this is it.
#9 Build SimCity
Do you like building and building things? This is exactly what SimCity is. It is a game in which you use money to buy buildings to develop your city to be the best. You can trade and compete with players around the world as well as your friends and family.
There are challenges throughout the game and endless possibilities to build your city. Although it might not seem so fun at first, I promise it's addicting when you get into it.
#10 Dark Days: Zombie Survival
For number ten, I present to you the game that I currently cannot stop playing. Everything you could want in a game is in Dark Days: blood, guns, zombies and an apocalypse. Your only job in the game is to survive by building a shelter and collecting weapons, tools and equipment in order to fight against the zombies that roam the lands.
Some of you might think this is probably a cheesy game, but stop there. This game has beautiful graphics and it constantly makes you wish you had more time in your day to play it. If there's one game on this list that you have to try, it's this one. So download it and try it: you will love it.
To anyone staring at a computer screen waiting for a Zoom class to start, I hope you'll try picking up one of the games I've recommended. Not only will all of these games ease your boredom, but you might also find a new app to love.
While being virtual at school has resulted in less social interaction and more time for students, I hope my game picks help brighten your day and put a smile on your face.