As protests against police brutality continue across the country in light of the tragic and wanton deaths of George Floyd, Breonna Taylor, Ahmaud Arbery and countless other black people, Netflix announced its commitment to "highlight powerful and complex narratives about the black experience". On Wednesday, June 10, the streaming service launched a curated collection of films, series and documentaries dedicated to the Black Lives Matter movement. Now, when viewers log into their Netflix accounts, they'll be greeted with "More than a Moment." – a content hub with over 45 titles depicting black lives, black experiences and, more deeply, black struggles.Here is a list of ten films/TV shows featured in this newly developed genre that you should watch to learn about black stories and black narratives!
When we say "Black Lives Matter", we also mean "Black storytelling matters". Knowing that our commitment to real systemic change will take time, we begin by highlighting powerful and complex narratives about the Black experience.

—Netflix (@netflix) June 10, 2020
1. 13th
13th, a documentary exploring racial inequalities in the American prison system, offers a new perspective on American history. Although the Thirteenth Amendment to the United States Constitution supposedly abolished all forms of "slavery and involuntary servitude" throughout America, 13th argues that slavery has instead been systematically perpetuated throughout history through the criminalization of black people. From police arresting poor freedmen and forcing them to perform physical labor for the state to the disproportionate incarceration of black people in America, slavery and black oppression existed and still exists today in American society.
2. When they see us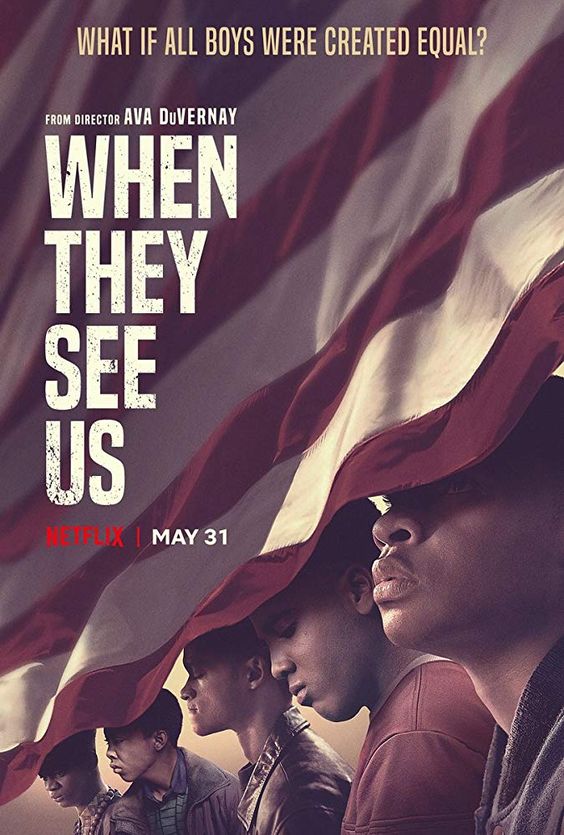 On April 19, 1989, 28-year-old Trisha Meili was brutally raped and assaulted while jogging in Central Park. Despite an overwhelming lack of evidence linking them to his attack, five teenagers of color have been arrested in connection with his rape and assault. When they see us investigates each of their individual stories as they fight to overturn their beliefs, and it exposes the endemic abuses perpetrated by the hugely corrupt American criminal justice system against overrepresented people of color, especially black and Latinx people. As poignant as it is evocative, When they see us is a gripping account of the injustices that black and Latino communities face in society.
3. all american
When Spencer James, a rising high school football star from a poor neighborhood, is recruited to join coach Billy Baker's football team in Beverley Hills, he decides to jump at the chance and moves in with Billy and his wife. family. As Spencer adjusts to his new intellectual lifestyle, he clashes with Billy's son, Jordan, who is unhappy to share his father's affection with him. Additionally, Spencer and Jordan, who are both quarterbacks on the team, compete for the team's coveted spotlight. Struggling to juggle her old life with her new, all american is a gripping examination of how many black communities are often pushed into impoverished slums filled with gangs, violence and drugs.
4. Dear Whites
Despite recent efforts to diversify their student body through affirmative action, the Ivy League and many other elite American colleges still enroll an overwhelming majority of white students. Dear Whites tackles this pervasive problem as it follows a group of black students who attend a predominantly white Ivy League college, using masterful satire and sardonicism to underscore the racist undertones that are still abundantly present in the social fabric of many elite American institutions. As these students navigate college life, they must endure cultural biases, damaging stereotypes, overt discrimination, misguided activism, and a host of convoluted social policies.
5. Laid
After Blanca Rodriguez receives a devastating HIV diagnosis, she decides to dedicate herself to leaving a legacy by creating the House of Evangelista, a shelter for LGBTQ+ people rejected by their families. Together, the members of the House of Evangelista compete in proms, competitive events where contestants are judged based on their outfits, attitude, and most importantly, their dancing skills. Set in 1980s urban New York City, Laid delves into the global underground African American and Latinx LGBTQ+ and gender-nonconforming ballroom subculture and explores the implications of the growing AIDS epidemic on underprivileged LGBTQ+ communities.
6. Self Made: Inspired by the life of Mrs. CJ Walker
Financial success and wealth are already incredibly difficult to achieve on their own, but it's even harder for marginalized African American women who must endure systemic racism and sexism. Despite these immense challenges, Madame CJ Walker, an African-American laundress rising from poverty, became America's first self-made millionaire woman by developing a beauty empire. After suffering from a scalp condition that caused her to lose her hair, she decided to start a brand of African-American hair products, catapulting her into budding prosperity. Self made chronicles the life of Madame CJ Walker, who was also a passionate philanthropist and political and social activist.
seven. Moonlight
Moonlight, a beautifully crafted and critically acclaimed coming-of-age drama film, follows the life of Chiron, a poor, black, gay man growing up in a poor, impoverished neighborhood of Miami. As Chiron progresses through life and approaches adulthood, he must grapple with his identity and sexuality and face the daily challenges and struggles of childhood and adolescence. At the end of the day, Moonlight is a masterful investigation and analysis of intersectionality: as Chiron progresses through his life, he must endure overlapping and compounding disadvantage and discrimination due to the combination of his status economic status, sexual orientation and race.
8. seven seconds
After black teenager Brenton Butler is seriously injured in a hit-and-run accident involving a white police officer while driving, Jersey City explodes with racial tension as black citizens seek justice and white police officers continually deny their guilt. As the case drags on, the police department tries to cover up the accident and an unstable trial is underway, with prosecutor KJ wanting to pursue the hit-and-run as a hate crime. Loosely based on many real cases involving the death of people of color at the hands of white police, seven seconds a cautionary tale of how people of color, especially black people, are often victims of police brutality and corruption.
9. Da 5 Bloods
A fascinating treasure hunt with a modern twist, Da 5 Bloods follows four African-American veterans who return to Vietnam in order to search for the remains of their deceased squad leader and the gold fortune he helped them hide. As the men battle both nature and man in their quest to find their riches, they remember the horrors and brutality of the Vietnam War through a series of gruesome flashbacks chronicling their past. Although full of action and full of spooky surprises, Da 5 Bloods is also a beautiful portrayal of one of the most overlooked subjects in American history and cinema: the experiences of black Vietnam War veterans and the injustices they had to and still must endure.
ten. I'm not your nigga
In 1979, American writer and civil rights activist James Baldwin planned to write a memoir detailing the lives and assassinations of three of his close friends: Martin Luther King Jr., Malcolm X and Medgar Evans. However, with his untimely death in 1987, Baldwin was never able to complete his memoirs, named Remember this house, having completed only 30 pages of his manuscript. I'm not your nigga takes the book James Baldwin was never able to finish and applies it in a contemporary context – drawing on Baldwin's observations of American race relations, I'm not your nigga argues that there is still a lot of work to do until we can achieve racial equality.
Final Thoughts
While watching a movie/TV show might not seem like an active way to support the Black Lives Matter movement, it's actually a great way to educate yourself about Black stories and experiences and celebrate culture and black lives. By learning and seeing the pain and anguish that black people have had to endure for thousands of years and still must endure today, you will be able to better understand the movement and understand exactly why you are fighting.
That being said, the list above is by no means an exhaustive list – feel free to check out the dozens of other amazing titles in Netflix's curated collection! And if you want to learn more about how you can support the Black Lives Matter movement, perhaps on a more active scale, here's a list of articles you should check out:
"5 ways to support Black Lives Matter for free"
"How to be politically active as a teenager"
"6 ways to call out casual racism around you"
"Start a conversation about racial injustice"