There are so many reasons to travel. For one thing, it offers a nice change of pace from the hustle and bustle of your everyday life. But beyond that, traveling allows you to be exposed to new places, people, and ways of life that can help you develop a broader view of the world. You may also find yourself understanding more about where you came from, as the little things you once took for granted back home will begin to miss you.
Unfortunately, many people's travel plans have been put on hold due to COVID-19 closures and travel restrictions. Although that once-in-a-lifetime trip that you spent months planning and saving for has been postponed or canceled due to safety concerns, there are still many reasons to be grateful.
On the one hand, quarantine has given us the opportunity to have more free time to spend as we wish. While it's always important to stay on top of homework and other chores, finding your next best travel spot for when things hopefully unfold could be one of your quarantine goals. .
Unbeknownst to most, many of the best places to travel are right here in the United States, eliminating the need for expensive airfares and hotels. Plus, all of the places on this list are notoriously under-travelled and mostly visited by locals, meaning social distancing might be easier to maintain than other more popular destinations.
Brace yourself, the nine most underrated travel spots in the United States are coming!
1. Palms Book State Park, Michigan
Kitch-iti-kipi, located in Palms Books State Park in Michigan, is the state's largest natural freshwater spring. The name means "great cold spring" in the Ojibwe language, but is also locally known as "great spring" or "mirror of heaven."
The spring is 200 feet (approx. 61 m) in diameter and 40 feet (approx. 12 m) deep and is continually refreshed by underwater fissures that flood 1,000 gallons (3.79 m³) of water into the basin every minute. It is characterized by turquoise blue waters and is so clear that many visitors claim to see friendly freshwater fish while swimming.
Also, if you ever find yourself in this area, Pictured Rocks National Lakeshore is located in Michigan's Upper Peninsula near Lake Superior. It's beautiful during sunrises and sunsets, and perfect if you like freshwater kayaking.
If these places don't look like heaven, I don't know what is.
2. Dunedin, Florida
A short drive from Tampa, beautiful Honey Moon Beach in Dunedin, Florida offers visitors a well-deserved escape from hectic city life. It's home to a four-mile stretch of white sand and turquoise waters and a scenic three-mile walking trail, not to mention plenty of opportunities for swimming, shelling, fishing, hiking, and biking.
A short ferry ride away is Caladesi Island, rated one of the best beaches in the United States. There, sailing, parasailing, jet-skiing, and paddleboarding opportunities abound on the calm waters, as well as many excellent local restaurants that serve freshly caught seafood. Who could say no to that?
3. Providence, Rhode Island
If beaches aren't your thing, consider taking a trip to Rhode Island to experience all the quirky culture it has to offer. Rhode Island, located just over an hour from Boston, is full of history, adventure and fun.
Experience a taste of the Renaissance as you take a gondola ride through the city's waterways, spend the night at the picturesque Rhode Island Lighthouse (yes, it's a real lighthouse available for rent), pick your sunflowers giants at Manfredi's Sunflower Farm, hit a drive-in cinema at TF Green Airport, or stop by PVDonuts for a maple bacon donut or Harry Potter butterbeer.
Even though it's the smallest state in the United States, it still has plenty of exciting excursions to offer.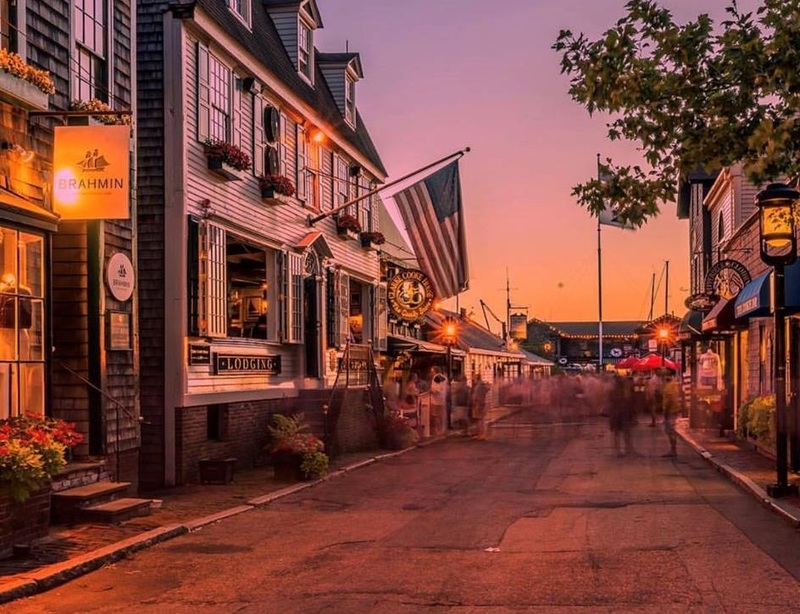 4. Burlington, Vermont
While I might be a little biased on how good Vermont is because I'm from the Northeast, it's definitely worth a visit for anyone interested in beautiful fall foliage, cute restaurants, and artsy culture. interesting.
While you're in Vermont, don't forget to watch the sunrise over Lake Champlain on a boat tour, visit the one and only original Ben and Jerry's Ice Cream Factory, shop and dine on Church Street Marketplace and stop at the New Moon Café for local coffee, breakfast and freshly squeezed juice.
Or, if you need some fresh air, walk, run or bike the Burlington Bike Path which is located right next to Lake Champlain and stretches nearly 12.87 km.
Whatever your interests, you simply can't pass up a place like Burlington!
5. Albuquerque, New Mexico
Whether you're on a layover or planning your next big vacation, there's plenty of fun things to keep you busy in Albuquerque. Take a scenic hot air balloon flight over the city or ride the Sandia Peak Tramway which takes you to a viewing platform 3.35 km above sea level.
On the ground, you can explore the art galleries of the southwest housed in old adobe structures and stop at the magnificent parish of San Felipe De Neri, the oldest building in the city. Or, you can head to the Petroglyph National Monument on the west side of the Rio Grande River where you'll find nearly 30,000 rock-carved images left behind by early settlers in New Mexico.
But if history isn't your thing, you can stroll the Paseo del Bosque trail to admire Albuquerque's beautiful nature scenes and rock structures, and try authentic Mexican dishes like tacos, enchiladas and tamales at Mary and Tito's Café.
6. Yachats, OR
Pronounced YAH-hots, Yachats sits at the base of Oregon's Coast Range along the Pacific. The name comes from the Siletz language and translates to "dark water at the foot of the mountain".
Much of the city's coastline is dominated by black basalt rocks caused by lava flows nearly 50 million years ago. The black basalt rock is home to many tidal pools where visitors can see sea urchins, starfish, silver dollars, crabs, and fish along the rocks. Yachats State Park, Devil's Churn, and Cape Perpetua are some of the most notable places for all things ocean.
Thor's Well, along Cape Perpetua, is a seemingly endless gaping hole that formed after a sea cave collapsed. At high tide, the waves come under the hole and fill the bottom while simultaneously spraying the top.
Thor's Well has been dubbed the "Hole to Hell", warning visitors of dangerous currents that can drag them below the surface. Still, photographers and nature lovers are making the 3-mile journey to see just how powerful our oceans can be.
After your long day of swimming, head to Green Salmon Coffee for a premium beer and vegan panini or Luna Sea Fish House for amazing fish tacos if you still haven't had your ocean fix. for the day.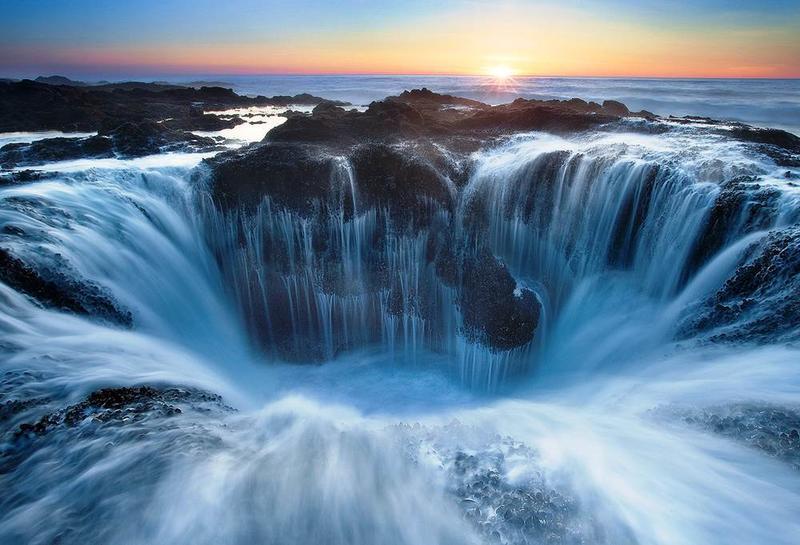 7. Assateague Island, Virginia and Maryland
Assateague Island is a 37 mile long island located along the coasts of Maryland and Virginia. Its state park offers a gorgeous beach with plenty of opportunities for kayaking, clam fishing, camping, biking, and swimming. The water can reach up to 70 degrees during the summer, which makes swimming all the more enjoyable.
Most notably, some wild horses and ponies walk along the beach meadows and even riding opportunities along the shore. Local legend has it that the wild horses found along Assateague Island are originally descended from domestic horses that survived a shipwreck off the coast of Virginia in the late 17th century.
Beyond the beach, head to Sea Star Cafe for gourmet sandwiches and soups or the Build Your Own Cookie food truck to craft a custom ice cream sandwich after a long, hot day by the sea .
Assateague Island brings a whole new definition to the word "seahorse!"
8. Alaska National Parks
In total, Alaska is home to 8 national parks including Denali, Katmai, Glacier Bay, Wrangell-St. Elias, Kenai Fjords, Lake Clark, Gates of the Arctic and Kobuk Valley National Parks.
In particular, Denali (formerly Mount McKinley), is a famous attraction that has been dubbed the highest peak in North America at just over 20,000 feet. Daily tours along the 92-mile route give visitors a taste of Alaska through stunning views of nearby mountains, tundra, and alpine terrain, as well as local animals such as bears, caribou , moose, sheep, wolves and more.
Additionally, many national parks allow guided tours by plane, where you can see the mountain scenery from a bird's eye view from a small plane or helicopter. Even if heights aren't your thing, the parks also offer plenty of ways to see the state's beauty with your feet on the ground. Rafting, sea kayaking, jet boating, river boating, and hiking are also great options for adventure seekers who like to keep things a little tamer.
9. Whitefish, Montana
Whitefish is a resort town located in the Rocky Mountains of northwestern Montana. Just beyond its boundaries are the jagged peaks, freshwater lakes and bountiful valleys of Glacier Mountain Park.
Glacier Mountain Park borders Canada and is home to over 1,126.54 km of hiking trails, including scenic Hidden Lake. During their hikes, visitors claim to see a variety of wildlife, ranging from mountain goats to grizzly bears.
But if you're hoping not to encounter any dangerous wildlife, head to City Beach where you can spend the day swimming, paddleboarding, kayaking, and picnicking away from the edge of the mountain.
And if you're looking for a great meal after a long day of exploring, head to White Fish Lake Restaurant and devour their smoked trout or grilled salmon, fresh from Montana's lakes and oceans, of course.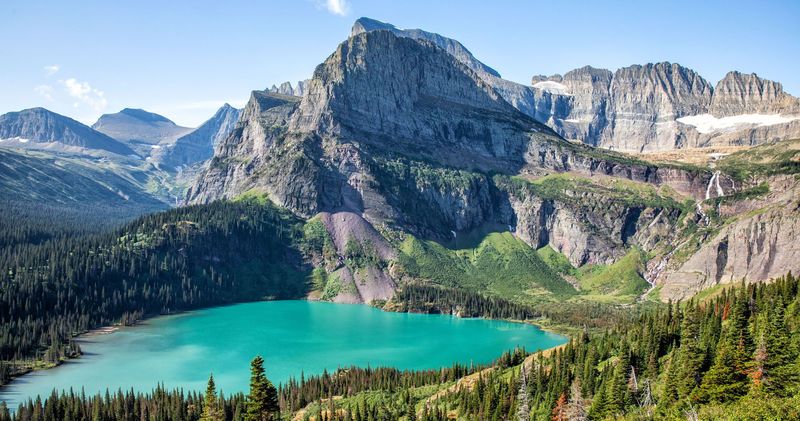 Go ahead, pack your bags, book your flights, and head to one of America's most underrated travel destinations. Or, just a vicarious vacation through this article (which is what I'm going to do!) Have a nice trip!