At just 19 years old, Gen Z social media star Chase Keith has accomplished many notable feats. Collaborate with Disney? Check. Millions of social media followers? Check. The viral voice behind most of the most hilarious TikTok videos? Check!
Teen Magazine got the chance to interview the multi-talented teenager about anything and everything. From modeling to social media, Chase tells us it all.
photo by Tylor/Serena @alohatylor
The 411 on the influence of social media
Undoubtedly, social media can open many doors when you have a huge fanbase. This is no exception for Chase: with 1 million followers on Instagram and 2 million on TikTok, there have been plenty of opportunities that have come from his platform.
When asked, "What's the best opportunity you've ever been given to gain a large follower base?"Chase responds that he was able to branch out in a number of ways.
photo by Antonio Schuelke @schvelke
"There are so many career opportunities available where you don't even have to make videos," says Chase, "You can get into social media marketing. You can help market ads on social media social – work with brands and companies that make ads, become an ad designer yourself, create stuff for other people, you could even be a producer, make music, you can do whatever you want to do.
"There are just endless possibilities; endless opportunities to the point that it's certain you can find a job that you want to do. It does have its limits though, so I would just say be careful."
On professional modeling
Chase is a professional model signed with the prestigious agency IMG – the modeling agency that has signed Bella Hadid, Karlie Kloss, Gisele Bündchen, etc.
We had to ask ourselves: how did her journey with modeling begin?
photo by Tati Bruening @illumitati
"I started out shooting in Ohio a while ago, then finally came here to California," Chase replies.
"Initially, I was scouted by this fake modeling agency. I did the whole show and that's when I found out it wasn't a real agency.

I was like, "Oh no, we were going to get signed! » Then my friend was like, "Hey man, IMG's recruiter is following you!" and I couldn't believe it. I was like, "What?""
"I ended up having a meeting with [the agent]then eventually signed with IMG. [The agency] been a bit busy and they're still getting back online, so I don't have a lot of work to do, but I'm patient."
The fashion world
How would you describe your style of dress?
"I don't know how I would describe it," Chase reflects, "I guess I just like to be creative with it."
"I like to wear '90s stuff, you know, sweaters or tops from that era. I definitely have a skate/streetwear vibe when it comes to fashion, and I wear a lot of black too."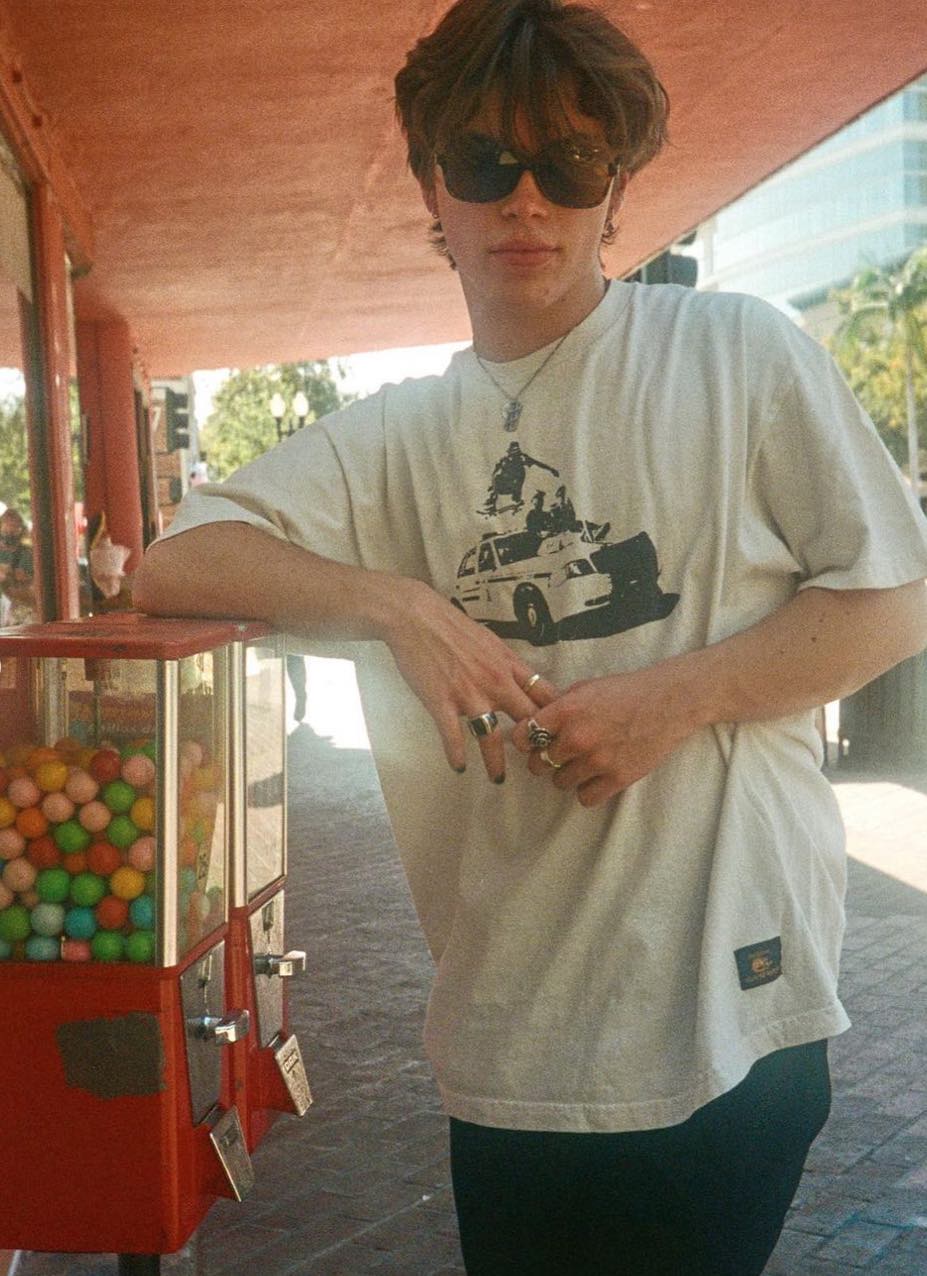 Krissy's photo @krissysaleh
"Overall, I don't know exactly how to describe my fashion sense, but I do think I have pretty cool fashion sense," laughs Chase.
Chase's advice on confidence
What advice would you give to those who are struggling to gain self-confidence?
"Struggling with confidence? Hmm…I actually still struggle with my confidence a lot," Chase shares. "Not as much as before – it was super bad before," he adds, "But I would definitely say watching what you eat and trying to constantly improve helps."
"Before, I wasn't improving myself or improving my body. I wasn't doing this or that that I needed and because of that [mindset]I didn't treat my body well."
photo by Tati Bruening @illumitati
"To be healthy, you have to start loving yourself. You have to start treating your body right."
"I would say you can start with small steps, trying some positive affirmations, you need to eat well and even just exercise here and there," Chase advises, "But once you start treating your body right and you get your body healthy, then your mind is healthy too.You will start to feel more confident overall and look at yourself in the mirror thinking "I look better, healthier"and that really helps."
Influential advice
What advice was given to you that still impacts you today?
"It might sound super cheesy and super silly, but it's so true, which is to treat others the way you would want to be treated," Chase says. "I do my best to stick with it. No matter who it is, friends or people I'm introduced to, I try to treat everyone with kindness."
See this post on Instagram
"I also try to always look on the bright side in every situation, so I can get through it," Chase tells us.
"I believe that if I put good karma into the world, then I will get good karma back. Even with that in mind, it takes more energy to be negative than to be positive," Chase says, "You know what I mean? It's harder to be mean to people than to be nice to them.
Create music
A secret you may not know is that Chase makes music. "I haven't really talked about my music or been interviewed for it," Chase shares. The Teen Magazine is happy to be the first!
"I definitely consider David October my alternative music persona," says Chase. "I would like to think of myself as a Childish Gambino type – like he has Donald Glover, but there is also this other side, which is Childish Gambino.
"There's also this kind of Joe Keary vibe from Stranger Things," Chase explains, "His music is like Joe – he really didn't say he was creating music and he didn't make it. promotion. He just put stuff in there for fun, just to express himself musically."
photo by Antonio Schuelke @schvelke
"So that's kind of how I would like to do it," Chase says. "I just started, it's not like my songs are still important."
"I just started and I don't tell anybody when I put stuff out, I just put it out," Chase says, "I actually think I promoted my song maybe twice. I did it once on Instagram and then kind of slipped it in there."
I was like a secret and few people noticed.
You had to know: when did his love for music really begin? Throughout social media, it's obvious that Chase really loves music, but how was he able to create songs himself?
"I actually started making songs with my friends in Ohio," Chase replies, "I was making songs with my friends years ago and they were super silly songs. They were just really fun, freestyle songs."
photo by Phil Shaw @p.hil
"At night, when I'm bored, I make songs," Chase tells us, "I've been doing stuff with Ben Troy, who's very musically gifted. I know he's going to do some really big things. Benny Belson is also very talented and I will do very big things too, I did some songs with them and I could release them officially soon.
"But that's about it," Chase laughs, "I just like to have fun with it and I don't take it too seriously. If I ever drop some more music then it'll definitely be on the side." fun – I don't take it too seriously. I don't want anyone to take it very seriously."
Monkeys and Doggos
What is your favorite animal and do you have any pets now?
"I love monkeys," Chase says enthusiastically, "I've always loved monkeys. They're so cool. I even have a monkey with glasses."
"As far as pets, I have my little dog, Video, who's a little monster. I swear. He bites my toes," Chase tells us, "But it's okay. I love this little naughty."
See this post on Instagram
"I've always loved dogs. Like we always had dogs when we lived in Ohio. Honestly, I love all animals, but between my monkey and my little dog, I'm fine."
Another type of pet: pet peeves
What is one of your biggest pet peeves?
"Okay, I actually have two really big pet peeves," Chase shares with us, "One is people. Well, more about people."
"I have great intuition and can tell when someone isn't genuine. Or if they're just a sycophant, using someone for weight because that person is famous on the social media," he continues, "I can tell when someone is trying to do this to me or when it's happening in general, and I don't like it. I don't even tell people I'm on the social networks unless they ask me.
photo by Tylor/Serena @alohatylor
"I prefer authenticity when it comes to conversations and people. I don't want them to perceive me in a certain way, I just want to be treated like a normal person."
"My other biggest pet peeve is when you're with a group of people and someone isn't included. I like everyone to be involved and having fun, especially since I was that child, the child who would be left out not so long ago."
On Dating and Fans
Would you ever be friends with a fan or go out with him? This is a question that is definitely for all fan girls.
"Haha, I get it," Chase said, "It obviously depends a lot on the situation. I'm friends with some of my fans, but I honestly consider all of my fans friends."
"It really depends, because Hailey Bieber was a mega fan of Justin Bieber, going to all his meet and greets, and now look at them. So, you know, it's possible but it depends."

photo by Tati Bruening @illumitati
Follow Chase Keith
Thank you Chase for this amazing interview! It was an insightful and brilliant conversation about anything and everything…and lots of new things you now know about the Gen Z star.
Be sure to follow Chase on social media. Find him on Instagram at @chasekeith, TikTok @johnstamosfanpage1 and YouTube at @Chase Keith.