There's nothing like cute and adorable things to make it look like everything is put together. Whether it's all kinds of stationery, accessories and even decoration, ban.do has absolutely everything we need.
Heart eyes for Ban.do
"In 2008 we started ban.do because we loved to laugh, connect and design things that made people happy. Over a decade later, a lot has changed, but why we do what we do and who we are has not changed Deep down we are and always have been optimists who aspire to be better than great and less than perfect and firmly believe that being upside down is a lot more fun than being down. the place," wrote ban.do.
Ban.do is just so adorable because it sparks that special kind of joy that you can't experience with anything else. It's inclusive, guides you in a positive direction, and has a strong focus on mental health and wellness.
"We exist to help you be your best and we encourage joy."

-ban.do
Visit ban.do to find the best-designed items of all time. Seriously, hands down.
The nice way to list all your events
Once you've chosen to have a nice planner that's also pretty detailed (no pun intended!), there's no going back. ban.do's Task Scheduler absolutely made me feel like I was on top of all the upcoming events, and I've never felt more productive!
Buy the Task Scheduler at Strawberry Field here for $22.95.
Daily planners are really essential because they allow you to plan your daily life in detail so that you don't miss anything. Especially for all of us during busy times, planners are really what keep us going!
So what makes this planner so special? There are lots of reasons for this and I could go on and on about them, but at the top of the list is definitely how in-depth it is.
Sections for 'schedule, priorities, to-do list, shopping list' and more, this planner is probably the most detailed I've ever come across – and it's absolutely amazing. It's so great to be on top of everything and be able to easily keep track of everything.
The quality of this planner is simply unmatched. With 100gsm woodfree paper and metallic binding (high quality spirals, but protected so they won't snag on anything!), this planner is certainly impressive. It's a perfect fit for busy people as it has 184 double-sided planner pages, not to mention an additional 40 double-sided list pages!
With undated pages, you can also take control of this planner how you want to plan things. Plus, each page is perforated, so it's easy to tear out old pages. (or keep the everyday ones on you!)
The cover is created by artist Ana Hard and features the cutest and freshest little strawberries, delicate flowers and bright green vines. It has such a cheerful, summery feel and is such a positive design element. It has a soft touch laminated cover, so it won't be easily scratched!
Stay hydrated and stay cute
Staying hydrated is key, and what better way to take your H2O with you than a super cute water bottle that's also handy?
Whether it's for work, the gym, or really anywhere, the Brighten Up Infuser Water Bottle lets you bring style and water ~infused~ with your favorite fruit.
Buy the Brighten Up Infuser in Daisies Water Bottle here for $19.99 (currently on sale!)
This water bottle is not like other water bottles. It comes with a handy plastic infuser to easily place your fruit in. Whether it's lemons, limes, cucumbers, it's a great way to add flavor to your water and keep it healthy!
To use the infuser, all you have to do is "simply put the fruit and water together in the main compartment, insert the infuser and drink".
I also like the glass body and the water bottle material. It feels so classy and high quality without being too heavy or delicate. It also has a plastic lid with a handle which makes it very convenient to carry anywhere and everywhere. I also love that the water bottle is so easy to clean.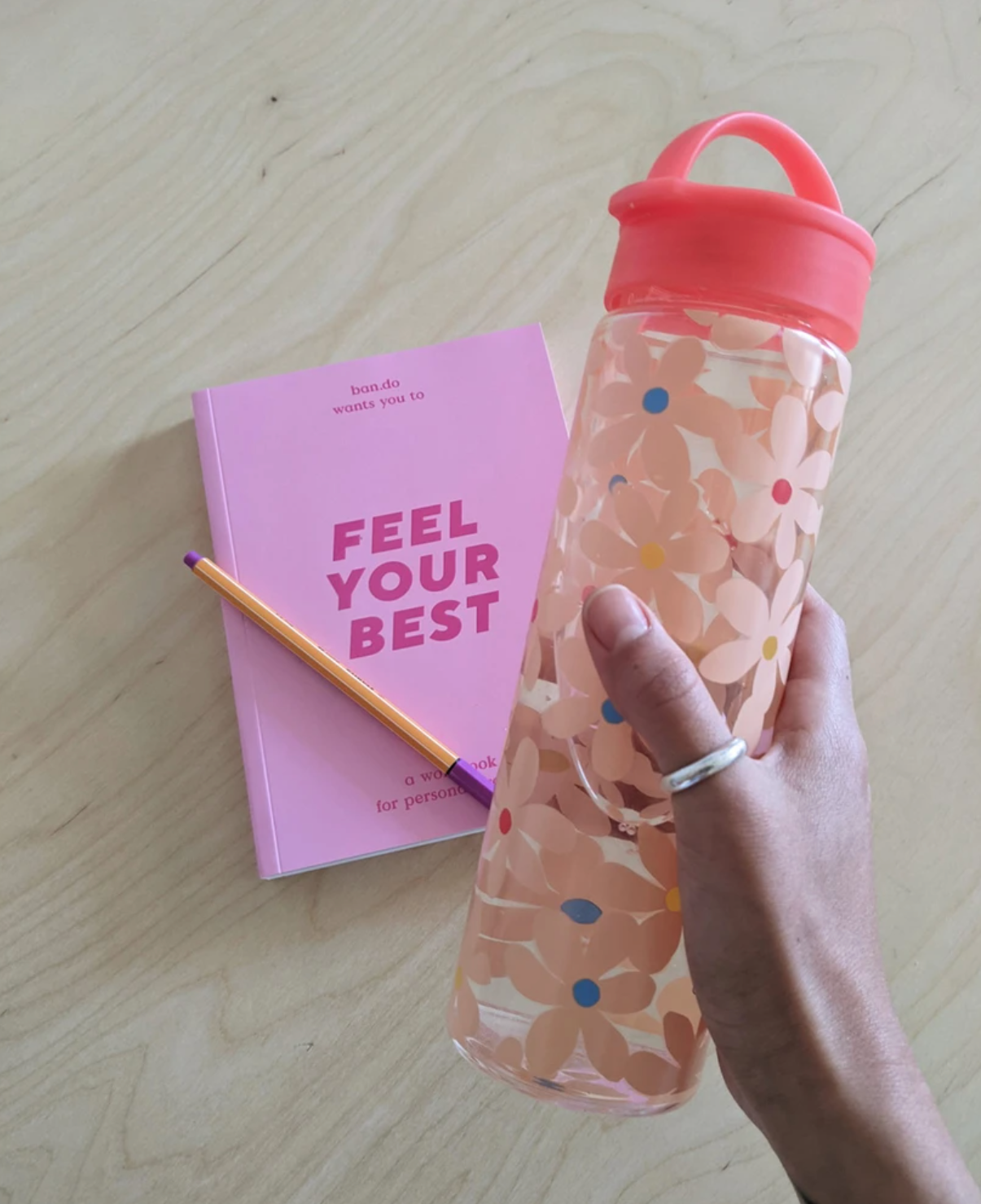 This water bottle is also the perfect size to carry and carries a nice amount of water with a 20 oz capacity. It's great to keep you hydrated for a while!
The surface design of the water bottle features peach-colored flowers covered with vibrant flower centers. It creates such a lovely design and complements the minimalist yet illustrative look of the water bottle. It's so adorable that ban.do makes drinking water even more enjoyable!
Pool parties will never be the same
This message from ban.do resonates with us so much that we just had to share it: "If you are reading this, you are officially forbidden from taking your shower towel to the beach again. It's time to take your beach game to a whole new level with our big and bold towel.
Buy the beach please! Giant Towel in Top Banana here for $38.00.
There really isn't another perfect beach towel for all your beach trips and pool parties than this one. In all seriousness, this beach towel checks every mark that makes it a perfect towel.
The oversized style of this towel is truly amazing, and probably one of the best things ever. There's always a need for an oversized towel, and it's really big enough that you can easily lay down to tan in the sun.
It is so soft with high quality terry cloth and is very absorbent. In no time, you'll be drying off quickly for your next adventure. It seriously dries so quickly and does magic! The towel also has a ban.do woven label, which I thought was a cute touch.
We certainly can't ignore the hilarious pun either. It's humorous, it's cute, and it's perfect for snuggling up after a long day by the water, and it couldn't be more perfect.
With its saturated hot pink and vibrant yellow and, of course, darker green, this towel is bright, fun and simply essential for your next waterside get-together. Pool parties are so much better.
Plan the months ahead
"Given how 2020 has gone, this year's planners are all about balance," says ban.do, "Because plans and to-do lists are important, but so are even to slow down and make room to take care of yourself."
Buy the Big 17 Month Planner There's so much to look forward to here for $32.95.
Nothing beats ban.do's great 17-month planner that really lets you think ahead. Filled with the most captivating visuals and graphics, plus detailed dates and notes, this large 17-month planner is all about the long haul.
The planner features "year, month, and week views, notes pages, insanely good illustrations, (a ton) of stickers, notes of encouragement, coloring page, quiz" choose your own calm" and much more. This planner is one that keeps on giving because there are so many extra features included in this planner to the point that it is simply awe-inspiring.
Opening the pages of this planner makes me feel so calm with myself and really content. (Speaking of pages, there are 314 pages full of potential.)
With a beautiful cover proclaiming "There's so much to look forward to," this planner is all about wellness, self-growth, and positivity. I love how the planner includes encouraging messages and paired with stunning images, this planner is art itself!
From the 17 months of August 2021 to December 2022, this planner has a fancy "matte laminated cover, double-sided pocket, color-coded laminated month tabs, year/week/month views, three sticker pages, postcard ". It really has everything you could ask for, and I think if there was one planner to fall in love with, it would probably be the one.
The paper is also wood-free and has such a nice and distinctive quality. It really is so special, and writing my notes and little bites becomes so much more fun!
Follow ban.do
Be sure to follow @shopbando on Instagram to stay up to date with ban.do. Plus, be sure to follow @shopbando on Pinterest (you'll most likely end up adding each of their items to your boards because of how cute they are!)
See this post on Instagram