It's time to get in the holiday spirit! With this jolly season comes the time of gifting- and if you're looking for what to gift your family, friends, and loved ones, MagicLinen, Lane Eight, and Mecca Max have you covered.
With a wide range of items that appeal to all possible present receivers/gifters and a pleasantly surprising range of price points that fits your budget, The Teen Magazine brings to you Happy Holidays.
________________________________________________________________________
MagicLinen is Definitely Magical
A few moments from now, you may be swayed into revamping your entire room with linen- for some very excellent reasons. MagicLinen holds quite true to their name; a magical brand based in Lithuania with only the highest quality of linen that's been carefully curated and created, they are here to elevate your sleeping experiences.
View this post on Instagram
The Wonders of Linen
You may have heard of linen before; it dates back years and years, and is quite famed for many of its amazing qualities. To name a few of what exact amazing powers it holds-
Linen is highly absorbent: The flax fiber, from which linen is made, is hollow and absorbs moisture well — to be precise, it can absorb up to 20% of its own weight in water before starting to feel damp. This is an important characteristic for towels, bath linens, bedding, and clothing as well.

Linen is breathable: Besides absorbing moisture well, linen is able to release it fast. The flax plant is hollow allowing for higher air permeability, thus linen fabric dries out quickly and doesn't stick to the body. Linen is also a natural insulator meaning it keeps you cool in the summer and retains heat from your body in the colder months.

Linen is hypoallergenic: Linen has many health properties — some claim it heals wounds faster and helps cure some skin diseases, such as eczema. But most importantly, linen is hypoallergenic and is perfect for those who have a sensitive skin or suffer from allergies.
MagicLinen has a stunning variety of linen bedding in gorgeous (we're talking ethereal, lost-in-color beautiful shades) tones, which you can find here for their linen sheet sets.
Striped In Blue
MagicLinen's Striped in Blue Sheet Set has all that you need. Including 4 pieces of the essential fitted sheet, flat sheet, and two matching pillowcases, the Sheet Set covers everything that you need to make your bed.
Cozy, comfortable, delightful designs, and naturally wonderful linen quality? Check!
To shop the Striped in Blue Sheet Set, find it here– it's the most stunning pattern variation that'll look amazing for any room. (also, it's on sale right now!)
Fitted Sheet
Trimmed with stretchy elastic to cover the mattress, MagicLinen's fitted sheet covers the space perfectly; tight enough so no fabric overflows and shifts overnight, but not too tight for any constraints and squeezes. Talk about perfect sizing- now, onto the perfect feels.
The linen fabric is soft- and with each wash, linen is known to become softer. Already to begin with, it is quite comfortable to the touch without any scratches. If it ever does wrinkle, it wrinkles in such a pleasantly aesthetic way- but most of the time, it nicely stays intact without any serious ruffles.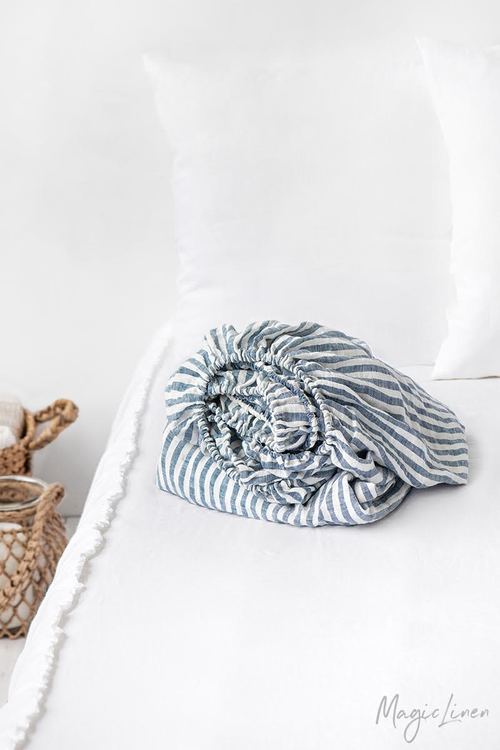 Flat Sheet
The flat sheet is to be placed about the fitted sheet- and I enjoyed that the flat sheet didn't slide around at all! It stays quite intact, and a simple tuck will do its job incredibly well!
I absolutely loved that it was tab bit oversized for a gorgeous side show to flow over the edges of the bed. It created such a nice look overall, and the stripes added the perfect touch.
As the protector of other fabrics, the flat sheet fit in and complimented everything perfectly, and provided a comfortable covering. This makes laundry much easier and less of a hassle- and I found that stains were not difficult to get out of the fabric. What a bonus!
Pillowcases x2
The same pattern as the rest- a gorgeous nautical blue stripe design- the pillowcases have an open closure without sealing for an easy entrance of the pillows. You can maneuver and switch around the arrangements of the pillows to cover the opening to your liking- although I personally find it not to be one in need of much concealing.
MagicLinen holds multiple different sizing for you to individually select sizes for the pillowcase- just like all the rest of the items. MagicLinen offers a large and accommodable variety of sizing to opt from, which is one to be quite appreciative of, as sizing isn't as wide anywhere else.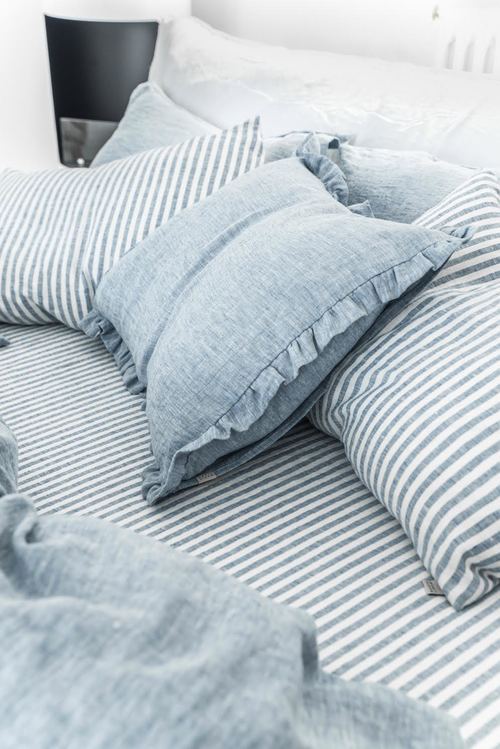 Quality
MagicLinen will never disappoint; their quality is so high level and topnotch that it's bound to bring to you the sleep of your dreams.
The linen fabrics hold the perfect amount of weight to hold and be pulled down, and the texture is wonderfully soft. It feels neutrally cool to the touch, and you'll never go through clammy nights with these quality linen fabric.
Additionally, linen is known to leave some lint time to time- but with MagicLinen's fabrics, I barely had any produced, which was wonderful! Too much lint can often be a hassle, but with these premium quality linen, that is certainly not to be a concern.
The fabric never leaves a strong imprint; only slightly straight after sleep in the mornings will it hold an aesthetically left-behind wrinkles- but that quickly smooths out incredibly easily. It works for all people- those who enjoy the marks and those who prefer a solid slate.
Stitching and all other aspects of the fabric material are just marvelous- there's really not a flaw anywhere. MagicLinen is wholeheartedly magical- and an absolute essential for your home.
Design
This is the fabric that will go along with any bed, and make it look amazing. The striped linen design gives it a lighthearted yet not un-serious kind of tone- settling down a room while brightening the atmosphere.
To your liking, MagicLinen can arrange for the stripes to go horizontally or vertically. Both create a beautiful touch of pattern design that go well with everything.
The colors are woven, and altogether combine for a navy-gray texture that come along for the stripe design. It goes along perfect with any room, any time, and for anyone.
View this post on Instagram
Raves
We really couldn't get enough of MagicLinen- it sincerely is that amazing. If you're searching for the right bedding and are hung up on making the final decision, MagicLinen and their bedding that checks all the boxes can bring you the quality, comfortable, and cozy sleep that you need and deserve.
Some of our favorite points of the sheet set were:
The inclusion of the four essential pieces- all generously sized while fitting the necessities in all the right places, of course.
Beautiful design of the stripes; it was not overdone nor downplayed.
The linen fabric was so soft and comfortable to the touch.
Sizing will fit in all the right places, and the sheets will not slide around the bed. Hello, comfort!
The look compliments everything and everyone- and makes the perfect touch to a room.
Easy to care for- and the linen takes care of you and your sleep!
Little to absolutely no lint produced.
We could go on and on about how MagicLinen is an absolute must-have; the ravings wouldn't stop.
How To Care
MagicLinen's fabrics can be both machine washed and hand washed. For washing, MagicLinen advises that the laundry be turned inside out, buttoned, zipped, tied, etc. Although it is fine to be washed together with other fabrics, it is not recommended being washed with heavier items such as towels and denim.
One thing about linen is that if a stain has blossomed on the fabric that it be removed as soon as possible, as the linen can absorb it into its fibers. Soaking and wiping with soap would be advised, although bleaching, not so much.
Each time linen gets washed, they should become softer and softer each time. How magical!
Keep Up!
Filled with the dreamiest layouts of beddings and room stylings with MagicLinen's rich colorings, @magiclinen has a gorgeous feed of their own. We're in love!
To shop MagicLinen's linen bedding, find their brand here; the most magical room source to ever grace a room, these are total must haves.
View this post on Instagram
________________________________________________________________________
Lane Eight: Sustainable Pro-Athletic Activities
What might be the most innovative footwear ever to exist, Lane Eight creates shoes literally from the ground to boost your athletic activities.
Trainer AD 1
Coming in a stunning variety of colors (eight different colors!) of Cloud White, Carbon Black, Lunar Gray- plus the Limited Edition colors of Deep Blue, Pink Sand, Bubblegum Pink, Earth Red, and Electric Neon, the Trainer AD 1 is an absolute game changer in all aspects.
As Lane Eight puts it, "versatile, comfortable, and stable" are exactly the right words for it- for numerous amazing reasons. Workouts and exercises will never be the same- the Trainer AD 1 brings them to a whole new level.
Highlights:

Stretchy, Supportive Recycled Upper
Responsive, Algae-based Cushioning
Designed for Making Moves


Design
The Cloud White color is just as white as it looks in the imagery- and if you find yourself concerned over possible color damage and easily wears and tears, you don't have to worry- at all!
The Trainer AD 1 features a breathable shoe fabric with vegan suede, making it free of animal products.
if you're wondering where that vegan bit is located, that would be the Vegan Microfiber Overlays. Just as lightweight as leather but durable, too, these were designed by Lane Eight to be "placed across the upper to increase containment and support, and add abrasion-resistance in high-wear areas." It crosses over the breathable fabric portion of the shoes in such a stylish crossover that adds a look feature to the shoes.
I noticed that the bottom of the shoes had a bumped bottom that felt amazingly comfortable- and that was the ETPU Sockliner. "Full-length, cushy ETPU sockliner is composed of ETPU pellets in a PU matrix," writes Lane Eight, "These squishy little beads offer unparalleled comfort, and won't go flat like typical sockliners." I loved how they didn't sink down and felt so supportive and comfortable!
With a smooth heel that feels cool (elevating you, yet not too high- the perfect amount for your athletic activities), you won't feel too stuck on the ground. Lane Eight's TPU Sidewalls have a sturdy stance and are designed for a placement on the lateral and medial sides of the Trainer AD 1. This "ensures side-to-side stability during hard cuts and lateral movements so you can move in confidence," writes Lane Eight.
These have the sock-shoe design; you won't have a problem with these shoes being loose, especially with the support of the laces. If you happen to have wider sizing, Lane Eight recommends you go up half a size.
Quality
If you're looking for shoes you can trust in (I'm sure everyone is, right?!), Lane Eight is the one.
Their shoes are of such great quality that can withstand and even boost your athletic endeavors. These shoes are such great quality that they're very much investable, although their pricing is so reasonable!
The fabric of the shoes are very sturdy while staying ultra-comfy, and everything down to the soles and the shoelaces are chef's kiss. As a pair of shoes made from 11 plastic bottles, they'll exceed your expectations in every single aspect. Really.
Sustainability
Can you believe that each pair of shoes are the equivalent of 11 plastic bottles, 64 m³ of CO2 captured, and 31.5 liters of clean water?
Not only is Lane Eight making their mark as an effectively performance-supporting athletic footwear brand, but making a positive change with their support of sustainability.
We're on a mission to build the world's best workout shoes. But we're not just talking performance in the gym or on the road, we're talking about designing and developing shoes that Planet Earth can feel good about.
Lane Eight has multiple aspects to adding onto more sustainability for our planet. Included in their plans and ideas are the BLOOM™ Algae Foam Midsole, Recycled Knit Upper, and the Vegan Microfiber Overlays.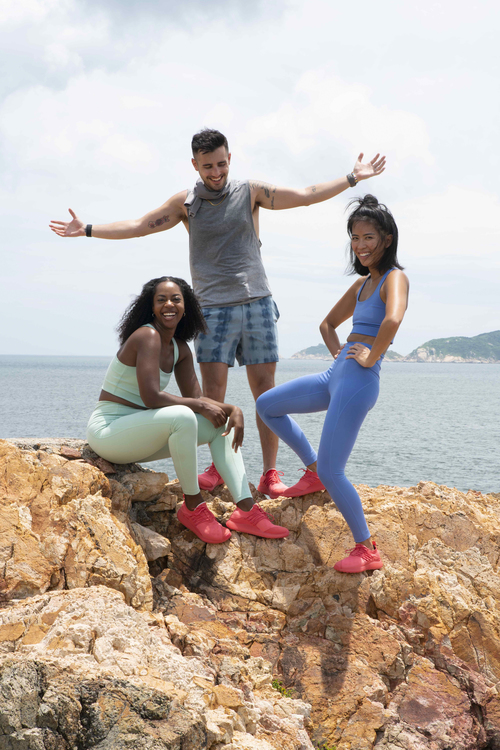 The BLOOM™ Algae Foam Midsole
"We've partnered with the awesome team at BLOOM to incorporate algae into our midsoles. How does it work?" writes Lane Eight, "It starts with BLOOM harvesting toxic algae blooms from lakes around the world. The harvested algae is dried and processed, and eventually become part of our cushy midsoles. All told, each pair of our BLOOM midsoles returns 31.5 liters of fresh water back to the environment, and removes 64 cubic meters of carbon dioxide from the atmosphere."
Recycled Knit Upper
"Our stretchy, supportive knit uppers are made with recycled plastic yarn. Each upper starts off as single-use plastic bottles, which are shredded and formed into a fine yarn. We then knit this yarn into an upper featuring reinforced and ventilated zones. Every pair of LANE EIGHTs equals 11 bottles worth of recycled single-use plastic."
Vegan Microfiber Overlays
Committed to staying animal product-free, Lane Eight incorporates the vegan microfiber to create their overlays on top of the Trainer AD 1s. Their microfiber is "lighter than suede, [and] it's just as durable[,] too." The brand is taking a stance against harming animals.
Sizing Guide
All shoes have a great true to size fit, and Lane Eight's sizes are all unisex and are offered the same fit for both men's and women's.
Men's sizes are 1 full US size smaller than women's – for example, if you are a women's US 10, you can purchase a men's US 9.
To learn more about their sizing guide, click here.
Raves
We could go on and on about how amazing Lane Eight is- because they're really that wonderful- but we've compiled a few short pointers on our fave ever aspects of the workout footwear brand. it's everything and more than you could imagine.
Some of our favorite pointers are:
A design that appeals to everyone and anyone and you!
Incorporation of technical supports onto the shoes to enhance your active lifestyle. Performance has never been better.
A perfect fitting- just like a glove, except for your feet.
Sustainability, sustainability, sustainability! Lane Eight is taking steps forward to make positive beneficiaries.
Such reasonable pricing! On the spectrum of very affordable shoes (especially in comparison to others, which typically clock in over $100) Lane Eight has pricing nailed on the spot that you'll just love. (PSST… they're having a SALE right now!)
Lane Eight is pretty much the dream workout shoe.
Get Yours now- ASAP
The Trainer AD 1 is absolutely perfect- except things just got better! Lane Eight is holding a 25% sale right now, which calls for savings while getting the world's best workout shoes.
Get yours before they're all gone!
To shop the Women's Trainer AD 1, click here to get your pair.
Keep Up!
Find Lane Eight's Instagram @laneeight. Their active-style imagery might just inspire you to go on a joy in your Trainer AD 1.
View this post on Instagram
________________________________________________________________________
Mecca Max is Definition of Effective
Carrier of over 100 brands through MECCA, with a division of the two branches Mecca Cosmetica and Mecca Maxima, Mecca Max is a total must-shop beauty brand.
They've got all that you need and so much more- and this Holiday Season, we're sharing with you some essentials for this Holiday season.
Off Duty Beauty Bunch
There's powder for application- but beauty sticks may just be the game changer for you. Effortlessly sliding on for a simple yet gorgeous look, the Off-Duty Beauty Bunch pairs together two different blush shades, a contour/bronzer stick, and a highlight stick.
Meet the must-have beauty sticks with gorgeous pigments: The Off Duty Beauty Bunch. Silky, smooth, buttery- you name it- these beauty sticks are what you need.
View this post on Instagram
Blush Stick
Coming in 6 brilliant shades of blush perfect to compliment everyone, the Blush Sticks tried were Candy and Tutu.
The Candy Shade
A bit pinker shade of the Tutu, yet still very lighthearted and bright, the Candy is closer to a bright berry shade.
This is quite saturated in person, and through layering the beauty stick, you can even add on a subtle, unnoticeable natural beauty look!
To shop the Candy Off-Duty Blush Stick, click here.
The Tutu Shade
The Tutu is a bright, ballerina-pink color. It's almost one you could call a dusty rose-like color, but holds true to a pink shade.
The pigment is more mature colored in person, and you have the power to layer the coloring to adjust to your liking!
To shop the Tutu Off-Duty Blush Stick, click here.
Glow Stick
What might be now my favorite and best highlight to ever encounter, Mecca Max's Off Duty Glow Stick is quite the dream.
The Glow Stick adds for a subtle glowy look to your face without being too shiny or seemingly oily. It's an effortlessly effective cream product that will brighten up your look with a few swipes and glides!
The Glow Stick is so easy to apply on that even your fingers to dab on works perfectly. This shimmering highlight will bring out brightness to your beauty look!
Fave Points:
The Glow Sticks comes together for a dewy look that completes everything and anything.
It sparkles like moonshine- not too showy, but enough to be noticeable!
The word that comes to mind with this stick is luminescent.
No greasiness and no stickiness- and no overpowering shininess.
Get your Glow Stick here.
Contour Stick
Who knew contouring could be easy? Well with Mecca Max, now you do!
The Off Duty Contour Stick is perfect to build up to highlight and accentuate cheekbones and shadow lines. This glides on so easily and will last- meaning, it won't disappear within a few minutes. This will last you the entire day- long-wearing color? Check.
Coming in two shades of Medium and Deep- the Off Duty Deep Contour Stick has the coloring of hot cocoa and can be built up for subtlety or stronger layers. You get to choose how to apply with Mecca's cream sticks!
Fave Points:
Contouring has never been so easy before, until the Off Duty Contour Stick!
While not being too lowkey, it isn't overly noticeable.
You can blend in with your fingers with some easy pats and dabs, or use a brush.
This is suitable for all skin tones- and being able to build up layers to your desired color strength!
Get your Contour Stick here.
The Off Duty Beauty Bunch comes in a Limited Edition set of three- a blush shade, a contour shade, and a highlight shade- which are the three essential sticks for a beauty look! To get your Bunch, click here.
Another Limited Edition alert! You can now shop an individually package-designed ornament of the beauty sticks! To shop the Glow Brighter Ornament, click here. The absolute perfect stocking stuffer anyone could ask for, this is a must-have. Get yours before they're gone!
View this post on Instagram
Super Powder All-Over Brush
Get yourself a brush that will knock out all the checks you need when it comes to brushes. The Super Powder All-Over Brush will take on everything that you need settled with just one item.
It's time to say goodbye to clumps and uneven applications. Say hello to this brush that can get it all!
Perfect for applying powder evenly distributed and all throughout, this all-over brush can take everything under control. This picks up powder very well and will apply in a smooth flurry- and works magic with looser powders.
It leaves such a nice finish, and the brush fluff is irresistibly smooth! Gone are the times of enduring bristly sharp edges- this brush is very fluffy and is gentle for your face.
Fave Points:
The Super Powder All-Over Brush is a well sized brush that's quite large, leaving more than enough space for a perfect grip.
Synthetic fibers that feel gentle and fluffy? Check.
Dense brush with enough fluff and poof? Check.
Leaves great results? Check.
Apply powder to the tip of the brush, tap of excess and buff with a circular motion.
Get your overachiever brush here. Plus, it's 100% vegan and cruelty-free!
View this post on Instagram
Brow Guru Control Gel
Slicking up your brows and shaping them without any temporarily-permanent changes has never been easier with the Brow Guru Control Gel.
The Brow Guru Control Gel can brush out, create your desired arches, and promote growth with this amazing serum.
With this gel, you can even use as a setting for brow pencils and powder aside from letting it brush over your natural brows- or even utilize it through your lashes! This control gel is super versatile, and will match all your needs- all while being easy to use and working wonders.
Fave Points:
The Brow Guru Control Gel is a clear polish that works with any brow shade.
This gel will allow you to shift and maneuver your brows to your liking.
Okay, heart eyes for this- this does not flake at all- and won't leave any dried residue!
No crunch, no shine, and amazing results!
The brow gel does not feel like sticky glue, and holds a nice liquid consistency without being thick.
Apply using the built-in brush, brushing upwards and outwards. For extra stubborn brows, brush hairs backwards before setting their final position.
Coming in a tightly sealed container (bonus points for a longer holder that's actually well sized), the control gel comes filled all the way to the top without any air bubbles!
To shop, get yours here. Clocking in at $16, this is an affordable essential that seriously works wonders. You guys, if you're looking for the brow gel, this is the one.
View this post on Instagram
Quality
Mecca Max has quality you can trust in- seriously. From their beauty sticks to brow gels and brushes, every single one of their beauty items are so effortlessly easy to use, beautifully colored, and has amazing results that are quite effective.
Checking all the boxes for beauty, this beauty brand is one to fall in love with.
Keep Up!
To check out their Instagram, find them at @meccamax. Filled with gorgeous beauty looks, you should make that follow button blue to gray!
To stay up-to-date with everything Mecca, find The Mecca Memo— the best ever for finding all things beauty you'll love.