Holiday shopping can sometimes be difficult when it comes to finding the perfect gift- but with Lush, we can lay back and relax in the bathtub in a swirl of colors and delicious aroma.
If you're searching for the dream present that everyone (and we mean it, everyone) will adore, look no further: Lush is it. From glittery bath bombs that'll explode in a flurry of colors to a spritz of jolly body spray, Lush has it all that is sure to wow everyone.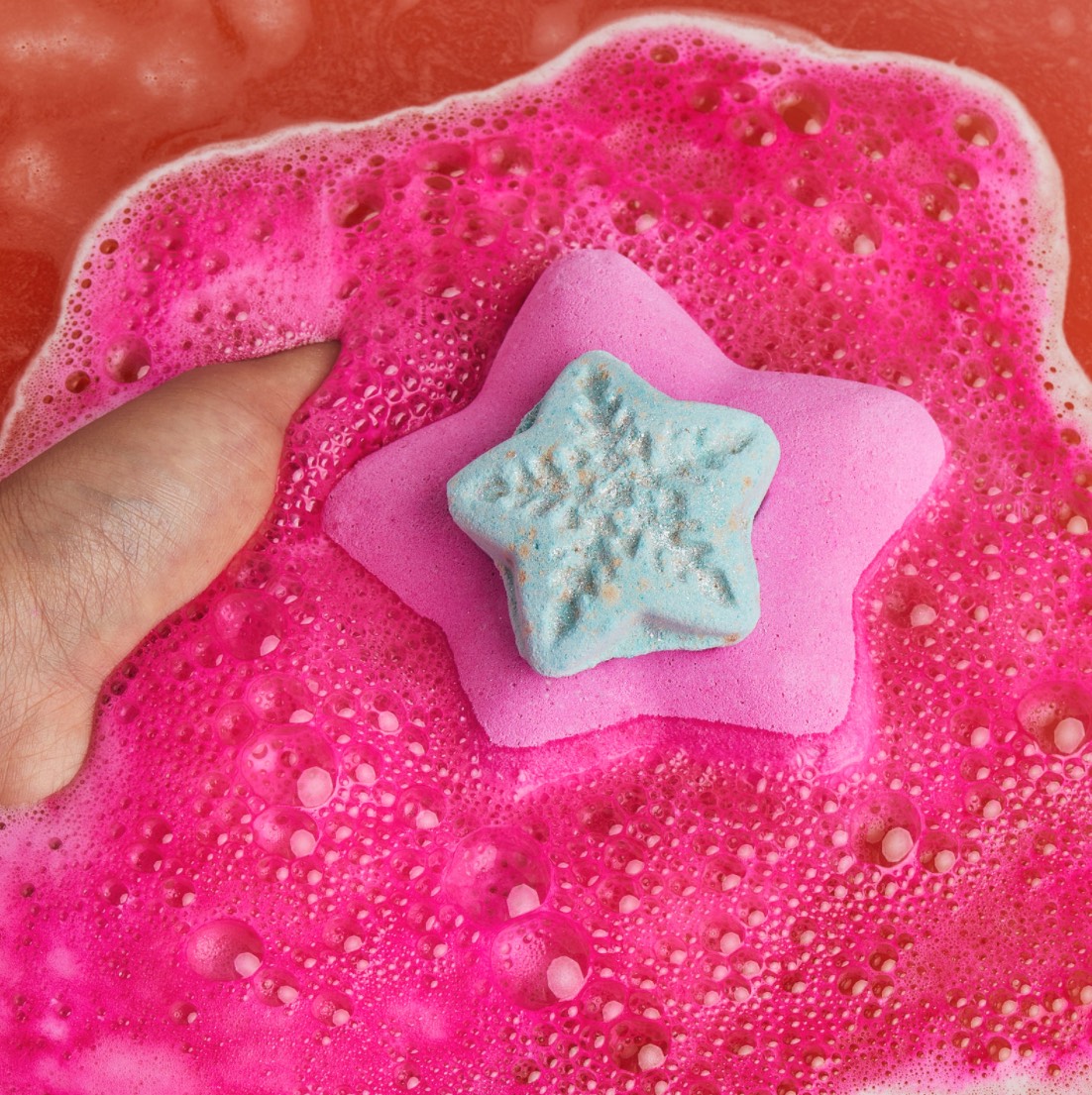 shop Lush at www.lushusa.com
Jaw-Dropper: Introducing The Holiday Gift
The Art of Christmas Bathing has it all: that stunning wow factor, a huge wrapped box perfect to put under your tree, and the array of all your favorite classic Lush items and special Christmas releases.
It's simply a bath-terpiece: filled with impossibly bright colors and an amazing aroma that lingers in the air, this truly brings on the holiday cheer.
Shop the Art of Christmas Bathing Gift Set here.
In this fancy yet cheekily hilarious gift set, you'll find 20 (yes, twenty!) Lush items of bath bombs and bubbles. Enjoy having a splash in the tub? Well, this one is meant to be for you! "Pack away your paint brushes and create holiday magic right in the tub with 16 limited-edition and 4 of our all-year-round bath bombs and bubbles," says Lush.
That's right; with the perfect balance of your forever classics and the newest winter-themed items, this box has it all. Wondering what's included? We took a closer peek inside and were truly dazzled by the saturated scents- tag along!
Snowman Dreaming: Bath Bomb
Frosty the Snowman has gone through a total makeover: pale white snow on the outside, but once melted into your bathtub, a gorgeous row of rainbow streams out.
The gorgeous scents of cedarwood and lavender feel grounding and let you find your inner peace, all whilst surrounded by gorgeous, vibrant colors. The colors float so serenely, it's almost like you're drifting on top of a rainbow cloud- call it Cloud 9 if you will.
The result? A dreamy, pale blue water and super-soft skin. Not to mention, of course, a scent that lingers for days.
Snowball: Bath Bomb
Let the Snowball be a refreshing, minty time for you. At first glance, it truly looks like a snowball, with a minimalist exterior surface. The real surprise is when you toss it into the waters- a burst of blue will suddenly release swirl throughout the water, making it look like a winter wonderland.
Nothing is more invigorating than the scents of eucalyptus, peppermint, and lemongrass, and these combinations provide the most lovely feel. Melt your stress away! It's uplifting, too; after a soak with the Snowball bath bomb, you'll notice almost immediately how balanced you become both mentally and physically.
According to Lush, it smells like "a refreshingly icy shower after a hike through the Australian bush"- and we say that's quite accurate. It's so good, in my words, I would even add that it's like a trip to the glacier mountains.
Snow Fairy Roll: Bubble Bar
As part of Lush's newest collection, Snow Fairy, the bubble baths of our childhood dreams can now become a reality with the Snow Fairy Roll. It's as if you're stepping into the world of Candyland- everything sugary and sweet, and glitter too. (Don't worry, the glitter is "made with plastic-free glitter that won't harm waterways.")
In a pretty-in-pink shade swirled with white, this bubble bar will erupt into a mountain of cotton candy bubbles. Simply crumble the bar into small pieces and give the bath a good stir to encourage that comically huge pile- and there you have it!
Not only will this bubble bar make you feel giddy with holiday cheer, but it'll serve as a total mood-booster, too.
Snow Fairy: Bath Bomb
This limited edition bath bomb is the bomb, no pun intended. This glittery explosion of sweetness is perfect for those with a sweet tooth. Fanciful like bubblegum, the Snow Fairy leaves behind a sparkly trail of fizzy pink that's simply enchanting.
This fizzy bath bomb knows how to put on a show- with quite the entrance with saturated pinks and reds, the Snow Fairy is magical.
The bath bomb features a pastel blue snowflake at the top against blue, while the other side is a hot pink with white. The colors together produce a wondrous shimmer that'll make you want to stay in the tub forever.
Sleepy Bear: Bath Bomb
Sometimes, we all need a good rest. Sleepy Bear's combination of relaxing lavender and oatmeal will lull you to relief- who knew bath bombs could act as lullabies?
With the floating lavender, the Sleepy Bear is all about staying calm and enjoying the moment.
With the addition of fair trade organic cocoa butter, the bath is as gentle as ever, leaving your skin the softest it's ever been. The ingredients are top-notch, and needless to say, impressive. "Hop in and take a moment to paws as the sweet lavender, tonka, and ylang ylang blend helps you fully unwind," says Lush, "When you're ready, emerge from the tub and make your way to dreamland."
Sleepy: Bubble Bar
The Sleepy Bubble Bar is beloved for a reason- as Lush writes, "the bestselling lavender and tonka combination already found in a bath bomb, shower gel, body lotion and more is here to bubble up your tub with its ultra-soothing scent." That's how much people love it- and we have to say, we're obsessed, too.
Peaceful and calm, there is no better form of aromatherapy than this. Crumble this cloud under water for the ultimate pick-me-up and stress reliever.
Just a small bit goes a long way, and this bubble bar will have you all set for the next night's sleep you've ever had.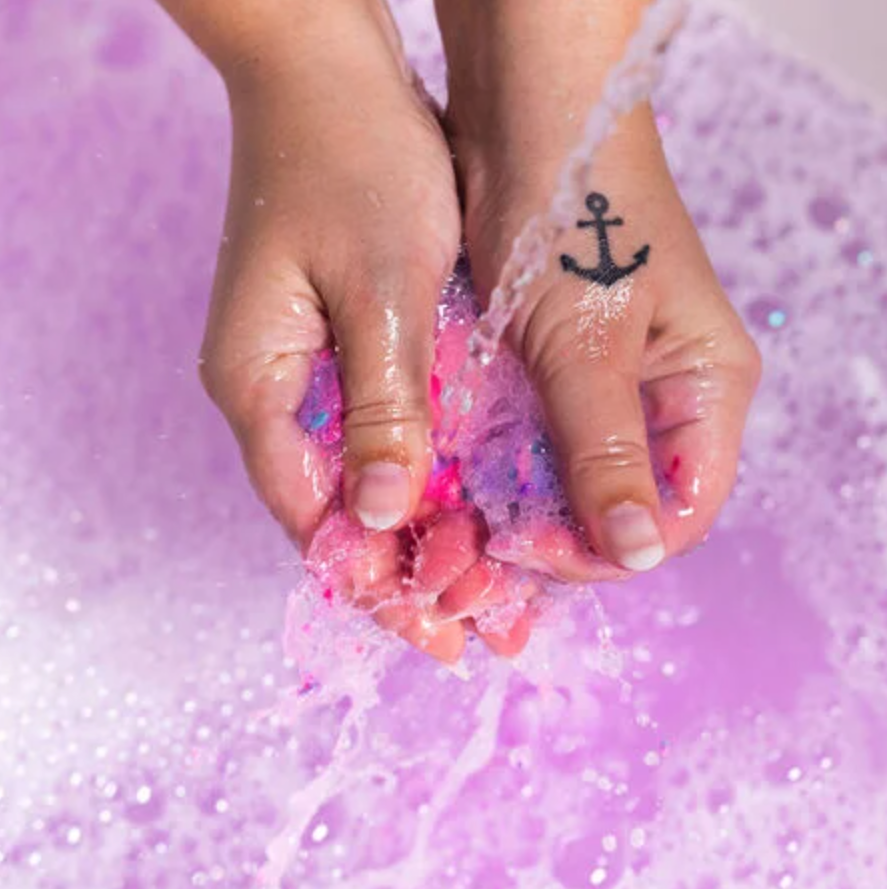 Shoot for the Stars: Bath Bomb
What a spectacle of blue! This fizzler is literally out of this world: with a galaxy-blue shade with gold stars, this bath bomb will have you feeling on top of the world.
This limited edition bath bomb does quite the show, spinning in the water to create a rich blue color. The gold stars are the perfect touch, making you feel like royalty.
With the serotonin-boosting scents that are fresh and citrusy- Brazilian orange and bergamot oils- now is the time to wind back.
Rainbow: Bubble Bar
I've finally caught the end of the rainbow- behold, the citrus delight in a dazzling array of saturated colors! "Citrus lovers rejoice with this Sicilian lemon and lemon myrtle bubble bar in a fun rainbow shape," says Lush. Orange you glad this scent is a total mood-booster?
This fun bubble bar takes color to a whole new level. The colors are genuinely so brightly crafted that it is truly a pot of gold. All the colors swirl in your bath to make the prettiest red-orange. On top of that, a whole lot of foam and bubbles- could it possibly get better?
The answer is, of course, always a yes with Lush! The scent will have you feeling your best- and almost like a throwback to your childhood.
Orange Pop: Bath Bomb
The Orange Pop is the perfect bath bomb that will truly make you feel cleansed throughout. With a dazzling spinning effect and the popping and cracking of the fizzles, one thing is for sure: this is no ordinary bath bomb.
The bright orange bath receives a touch of red when the bath bomb starts to fizz- and the dissolving takes its time to give you the best experience possible.
"Orange Pop packs a massive citrus punch with Sicilian red mandarin, tangerine, bergamot and Brazilian orange oils to give it the same sweet and juicy scent as our Orange Shower Scrub and Brightside Bubble Bar," says Lush. I have to say, I am totally hooked on the scent- even after leaving the bath, I could still smell the refreshing scent radiating!
North Pole: Bubble Bar
We've got the bath bomb, the bubble bars- and now, we have something special: a part bath oil, part bubble bar. Sometimes, we just want it all, and need to experience it all, too!
Meet the North Pole: a totally spa-like bubble bath complete with seriously golden bath oil.
The white bubble bar fills the tub with sweet and spicy- thanks to Brazilian orange, clove bud and davana oil. Once you unleash the bubbles, drop in the gold: as Lush explains, "it's a solid bath oil made with fair trade cocoa butter for water so silky soft, you'll want to visit the North Pole again and again."
The North Pole experience is simply exhilarating, upping the whole bath game to the highest. Leave the tub feeling smooth- you'll be nice and moisturized, too.
I Want A Hippopotamus For Christmas: Bath Bomb
The song couldn't be more right: I do want a hippopotamus for Christmas! This purple hippo is here for a good time; scented fruity with hints o raspberries and cherries, this bath bomb releases the most gorgeous shade of lavender ever.
The hippo will swim along in your bath, stars sparkling along and fizzing in a spectacular show- like "popping candy."
"The sweet fruity scent is a combination of uplifting essential oils including bergamot, almond and grapefruit, along with a little cold-pressed raspberry seed oil to seal the deal," says Lush. The lighthearted scent is simply everything!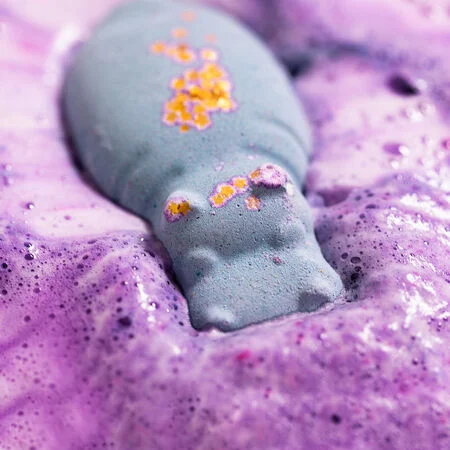 Hey! Hollywood! Bath Bomb
Hey! You've been caught underneath the mistletoe- and here, we present you with Hey! Hollywood!
This lustrous minty green-colored bath bomb is truly minty to its core. The peppermint aroma is simply refreshing and completely awakens your senses. This bath bomb will leave you feeling rejuvenated.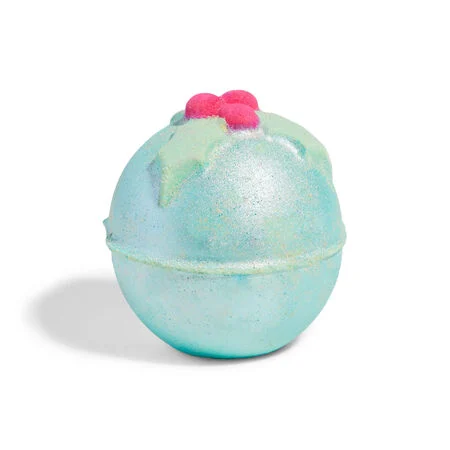 When it comes to its aroma, this bath bomb is not kidding around. The smell is so good that you'll fall in love with it before it's even in the water.
When in the water, the red berries will let go a pretty bright shade, along with some blue- leaving you in a festive mood!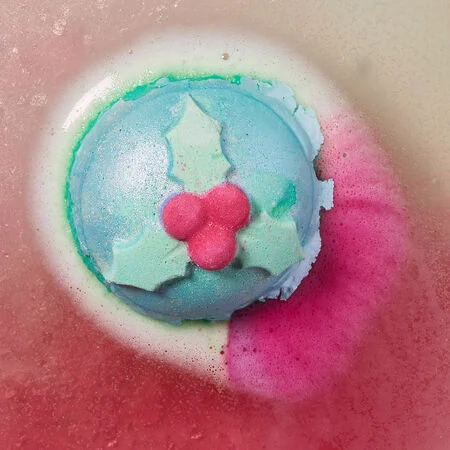 Cinnamon Roll Bubble Bar
Nothing says Christmas morning better than the oven-baked cinnamon rolls with melted sugar; now, imagine that as a bubble bar, and there we have it: Lush's very own Cinnamon Roll Bubble Bar.
This spice-filled bar of clove and cinnamon will warm you up properly in the cold, cold weather. "We've also rolled lime and patchouli oils into the mix to add to its fragrance along with a bit of plastic-free shimmer for sparkling red and gold bathwater you can sink into and chill out," says Lush.
The spicy smell is everything- it's something new in a way that draws you in each time. Plus, the bar is so big that you could split this for multiple uses!
The swirl of the earthy colors is shimmery too, making it feel just like home.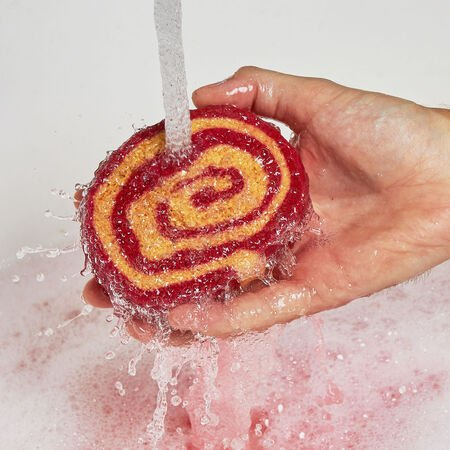 Candy Cane: Reusable Bubble Bar
We don't have to be sad anymore when the party is over; with the Candy Cane, we can reuse the bubble bar, making more bubbles than ever!
The classic candy cane takes form in a curved twist of pink and white, making it feel jolly and bright. The Sicilian lemon oil gives it an uplifting scent, while the mint awakens and brings on the holiday feel.
The bubble bar works the same with others- other than the fact that you can do it all over again, of course. "Twirl it under the tap to create a mound of bubbles, then set it aside to dry so you can use it again and again," recommends Lush.
With this bubble bar, we are totally rocking around the Christmas tree- nothing is better than a world with more bubble baths!
Butterbear: Bath Bomb
Meet Butterbear: a sweet, caring bear that provides a restful soak with scents of sweet cocoa and fragrant ylang-ylang.
Made with fair trade organic cocoa butter, this bath bomb is meant to soothe you and leave you feeling hydrated and calm. (P.S. "Our fair trade organic cocoa butter is grown by farmers in eastern Congo (DRC). We pay a premium that allows them to invest in their local communities," Lush shares with us.)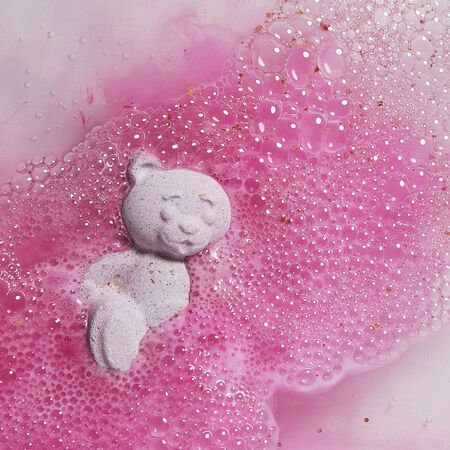 This bath bomb just melts into your skin and provides a state of calmness nothing else can give. Let Butterbear give you a bear hug!
The Golden Pudding: Bath Bomb
Bring on the Christmas desserts- only, make it for the bathtub. The Golden Pudding is a Christmas delight, with an embedded mistletoe and golden shimmery body.
"Citrusy and uplifting, this festive fizzer is packed with sweet wild orange, wine lees, and lime oils for a mood-boosting scent that's unleashed as it dances across the water releasing streams of pink, yellow and orange," says Lush. All the scents together are simply amazing- there's no other word for it because it is just that good. Earthy, herby, and fruity, altogether, it's something sweet and refreshing.
What a dream! Let's also talk about the beautiful colors. The swirls of beautiful shades of fuchsia to tropical fruit is so stunning- it's like a sunset in a bathtub.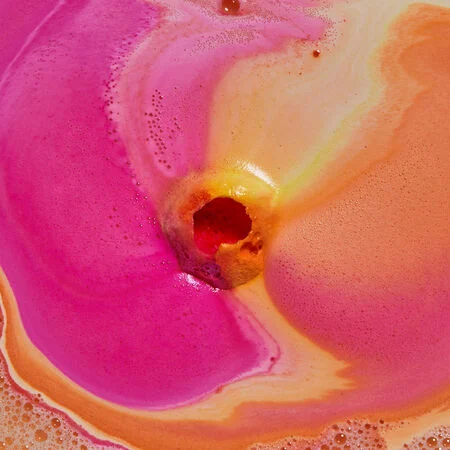 Twilight: Bath Bomb
It's that time of the day- and as dusk arrives, Twilight is here with a beautiful musk of lavender and vanilla. If there ever was a comfort scent, this one would be it.
The water feels so smooth with Twilight and the calming fizz makes this the perfect bath bomb for a day of unwinding. Relaxation never felt better.
The swirl of the colors in this one is truly like magic. From a pinkish hue to lavender to indigo, the bath bomb lets out shimmery stars that will make you feel as if you are a part of the night sky.
You Shall Go To The Ball: Bath Bomb
I think I may be in a fairytale because this bath bomb transported me to a wondrous world! In classic Lush style, the beautiful glittery carriage takes us somewhere magical where there is no clock to stop the time- it's just you and You Shall Go To The Ball.
This floral bath bomb will make you feel oh-so-soft and dainty. The combination of Sicilian lemon oil and tonka makes a sweet lingering scent that stays for awhile, and the soybean flour makes the bath calming. The results? Radiant, shimmering, soft skin!
The pretty pink is just the right shade, and the swirls of bright yellow make the hues pop. It's truly something to be obsessed with!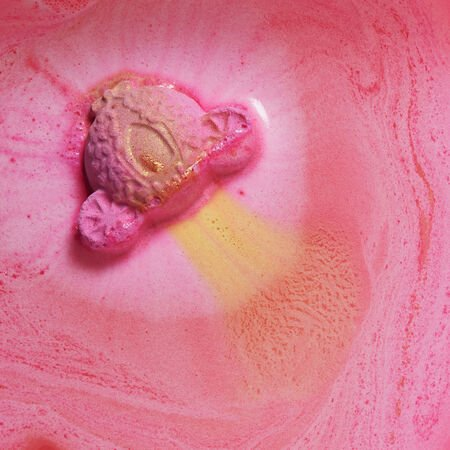 Not Sure What To Gift Exactly?
Sometimes, certain gifts are harder to pick out. Whether it be for your BFF, co-worker, a Secret Santa, or even for yourself, the perfect Lush gift is there. With Lush's handy-dandy Gift Quiz, you'll be able to find the dream present for everyone and anyone.
Visit the Gifting Quiz to find out Lush's spot-on recommendations for you.