The phone you're holding in your hands right now may be covered with unsanitary germs. Yes, really!
You might be wondering how you can cleanse your phone… and while you're at it, you can also find the phonecase of your dreams. Cute with vibrant personality, ultra-protective, and incredibly affordable, if anything, Sonix is pretty much the best when it comes to devices.
Where can you find these amazing items, you might ask? The answer, of course, is Sonix!
I've always been pretty germ-aware, but I was pretty grossed out when I learned about how many germs are actually lurking on my phone. Like all others, I use my electronics on a daily basis and place it just about anywhere and any surface.
However, to wash my phone, it wasn't like I could just dunk it in soap water, which was quite a dilemma. With Sonix, I found the solution to truly cleanse my phone- with UV sanitization.
That's right: with light, the germs on your phone could be absolutely zapped.
The Box That Offers Complete Sanitization
Sonix's Beyond UV+O3 Sanitizing Box is exactly what the words above suggest.
"Bondir Beyond UV + O3 is a fast-acting, deep sanitizing box that completely eliminates harmful viruses and bacteria from items' surface in just 10 minutes," says Sonix.
Simply, all you have to do is stick your device in the box, keep it in for a few minutes (only ten!), and let it become thoroughly cleansed.
To shop the Bondir Beyond UV+O3 Sanitizing Box, click here for the collection.

The boxes come in a large variety design and shade ranges that look so sleek and cool.
Before we delve further into all the cool aspects and features of the box, you may be wondering: what is "O3" and what's it for, exactly?
"[O3 is] an environmentally friendly ozone that acts as an extra layer of sanitation, reaching hard-to-reach crevices and shadows, often missed by traditional UV boxes," explains Sonix, "It's used in most medical-grade sanitization devices."
This box is quite literally the coolest tech gadget that's also incredibly practical. "[This device] kills 99.9% bacteria and viruses and can sanitize hard-to-reach places," says Sonix, "[It also] prevents germs from reproducing, multiplying, and can even neutralize antibiotic-resistant "superbugs"."
I was so happy to finally have a trustworthy and high-quality device to clean my phone- my old ways of using antibacterial wipes were over.
Not only that, I was so excited to find that the box was a lot bigger than I expected. The exact dimensions are: "length – 10.75″width – 5.25″height – 2.75″."
"[This is] double the depth of most UV sterilization boxes – [you will be] able to fit sunglasses, keys, and phone at the same time," Sonix says.
Yup, that's right- you're not just limited to putting only your phone in there for a quick deep clean. Any other usages are good to put in there for some UV-sanitization, too- use it as an "entryway catch-all", as Sonix puts it; anything ranging from "beauty tools, dorm room [items], school supplies" and more are good to go.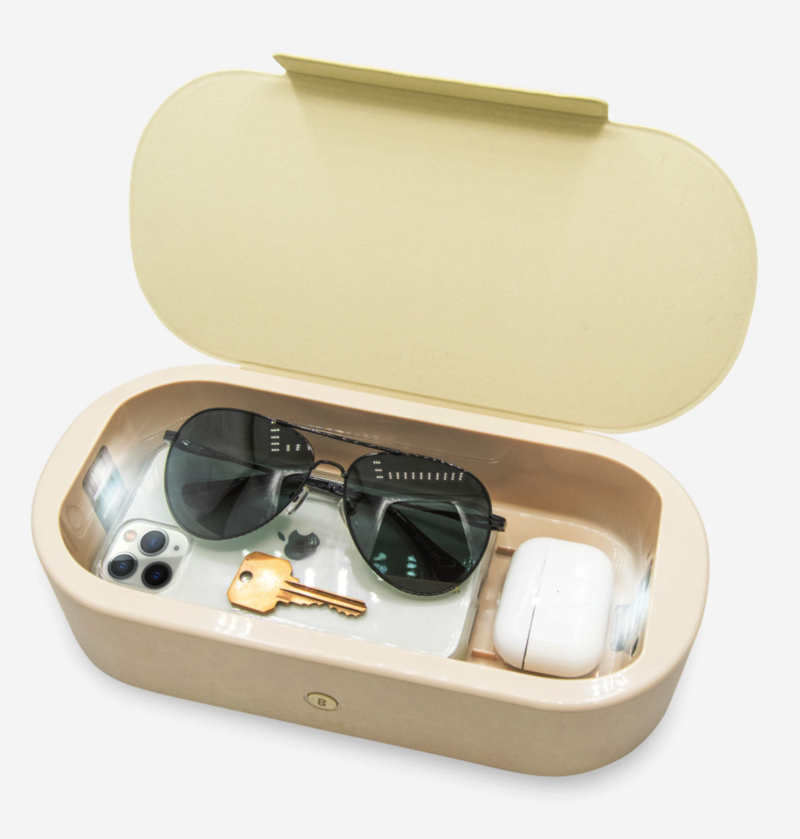 If you're conscious about the strong chemicals and nasty toxins that are affiliated with deep-cleaning ingredients, that won't be a concern at all with the Sanitizing Box. This is capable of "eliminat[ing] the use of strong sanitizing chemicals" and "remov[ing] odors."
This is even environmentally friendly! After all, all you really have to do is stick it in the box and let it clean in just a few minutes without any waste involved. I love that the box applies to being more planet-conscious.
Speaking of minutes in the box, when Sonix says it only takes 10 minutes for the box to thoroughly clean everything, they really mean it. Right down to the last second, it seriously only took 10 minutes. Add time-convenient on top of the long list of everything this box is capable of- there's nothing this box can't do!
After taking it out of the box, my devices felt so clean and fresh, and it was just such a nice feeling knowing that everything was truly sanitized.
The box itself feels very sleek and high-tech, and the exterior is antimicrobial. I love the design feature of the box- it is designed so elegantly that it could even look good with your home decor! It's a staple piece to include in your entryway- that way, you can sanitize everything as soon as you step in the door.
Instructions via Sonix:

1. Connect the provided USB Cable to the USB/Charger Port located on the back of the Beyond UV+O3 Sanitizing Box

2. Connect other end to an appropriate USB power adapter. The power adapter should be a minimum 5V/1A output (5V/2A is recommended).

*please note: this product is not battery operated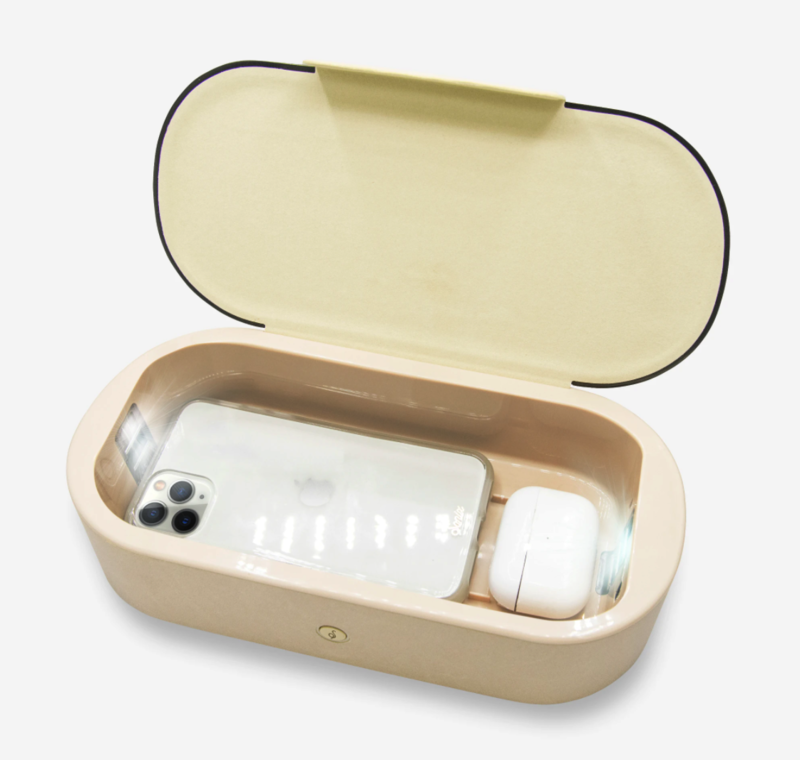 That's not all; the box includes the following to complete your experience: "a built-in USB-A and USB-C power port to charge devices, 1W has enough power to cover 1 square meter of space, [and] 185 nm UV + Ozone lamp."
You might be wondering why the above is a part of the box. Well, get this: you can charge your phone while it's in the box cleaning! The "built-in power port [allows you] to charge devices during sanitization."
Wondering how you can charge your phone? Sonix instructs, "Connect the phone with your own charging cable to the port located inside of the Beyond UV+O3 Sanitizing Box."
I love the gorgeous sleek colors that the sanitizing boxes come in. It feels very in touch with the high technology, and also feels delightfully elegant.
The color choices Almond Oil and Gunmetal were a personal favorite of mine; Sonix's wide variety of shade options makes it super easy and accessible to pick out your favorites!
The Box in Almond Oil
The Almond Oil color is something a little more elegant and sophisticated. In a gorgeous pale wheat-beige shade, this color is so simply gorgeous without being over the top.
As they say, less is more- and the Almond Oil is delightfully that.
To shop the Bondir Beyond UV + O3 Sanitizing Box in the color Almond Oil, click here.
The outer exterior of the box is a more wheat-like color, but the interior of the box is a more glossy pale peach. The two colors don't contrast very much and is subtlety complimenting each other.
The Box in Gunmetal
The Gunmetal color is modern and screams high-tech. It just looks effortlessly cool, and the monotone colors makes it a perfect match for everyone.
To shop the Bondir Beyond UV + O3 Sanitizing Box in the color Gunmetal, click here.
The top of the exterior box cover is a cool metallic silver shade with a sleek texture. The rest of the box is a solid black shade, including the inner sanitizing part of the box.
I love the big contrast between the silver top and the black base, and the sharp shades make this box feel contemporary-cool.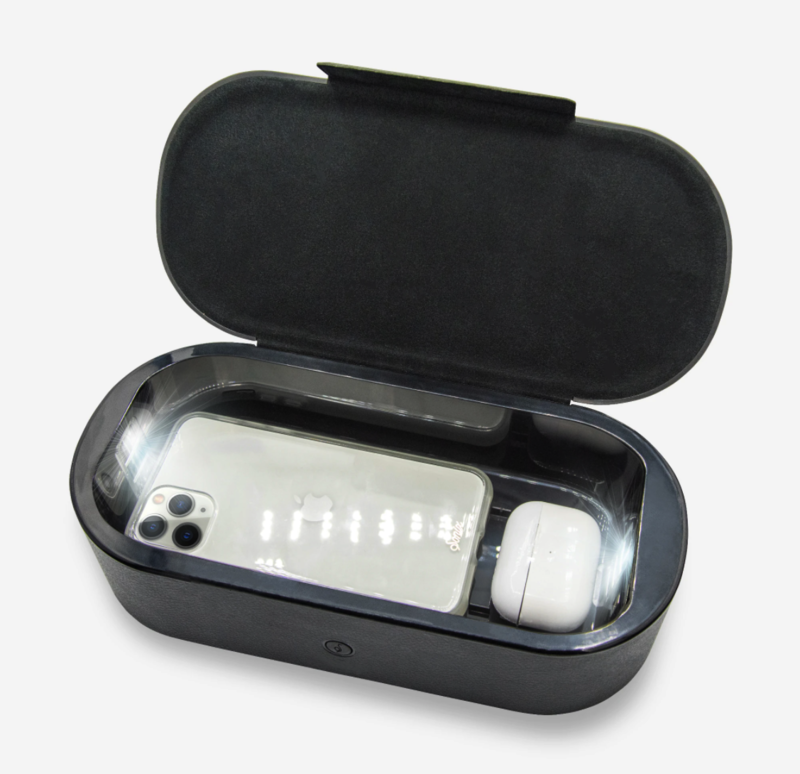 Whether it be a gift for your closest ones (it's honestly the perfect gift to give to someone when it's not clear what to get them) or for yourself (because you need one, too!) Sonix's Beyond UV+O3 Sanitizing Box literally amazes me each and every time I use it.
If you want to bring the sanitizing box with you everywhere and anywhere, Sonix has also released the Everywhere Sanitizing UV Bag, which comes in colors Black and Silver. Nice and monotone, this bag will be handy for all times! I love that it's travel-friendly.
The Coolest, Cutest Cases (Ever!)
For those wanting the trendy, quirky designs that feel unique and exciting, you'll be excited to know that Sonix has pretty much everything for anyone.
Not only are the designs top tier, but the protection of the Sonix cases are also really just something else. (I can personally attest for this- just a while back when I accidentally dropped my phone on the concrete sidewalk, my phone was perfectly safe without a single scratch.)
That might just be because of the MagSafe® casing that came with Sonix's fun, funky cases. (MagSafe® is a registered trademark of Apple, Inc. BySonix, Inc. and SONIX® products are not sponsored by or associated or affiliated with Apple, Inc.)
What does that mean? Sonix explains, "Unlike others, the actual material of our cases are antimicrobial (this is not your average surface coating). The antimicrobial agent is infused and mixed into the plastic during production. This ensures that the antimicrobial protection won't chip away nor deteriorate with use."
Antimicrobial material
Grooved impact resistant corners for added protection
Raised bumper around camera hole
Sleek, lightweight case• 10 ft. drop protection
Scratch-resistant, protective coating, with raised shock-absorbent sides for full 360º protection
Includes Sonix Limited Lifetime Warranty
Plus, get this: these cases are eco-friendly, biodegradable, and sustainable! "At Sonix, we recognize the need for environmental consciousness. As our first step, we created the recycling program, ReSonix (learn more about it here!). As we take this next step, we hope that you, too, can join us in reducing our carbon footprint towards sustainability," says Sonix.
Sonix's newest MagSafe® compatible iPhone cases have just the quirkiest, full-of-personality designs, and I'm so excited to be sharing them with you- because you will so fall in love with them!
The Agate- Quartz of Your Dreams
A vibrant, colorful take on the gorgeous quartz, the Agate is the dreamy swirl of gem-toned hues.
A semi-transparent case made in a durable, solid back covering, I love that any excess material and stickiness can be easily wiped away. (I'm speaking from experience as a previous silicone case owner… trust me, plastic-like cases are much easier to wipe down.)
To shop the Agate phone case, click here.
I love how iridescent it is, and this case is just totally made to be complimented! Lightweight with a vibe of its own, the trendy take on it is just so cute.
The Illusion- Stylish and Sparkly
Introducing to you my newest obsession- meet the Illusion. A quirky case that has intriguing doodle designs and glinting foil stars, the Illusion is a playful, pastel daydream.
A cloud-like swirl artwork is featured on the pastel-pink base that's lightly sprinkled with a glittering effect. It's covered in shining gold stars and has the prettiest color tone of the brightest, summer-like pastels; what more could we ask for?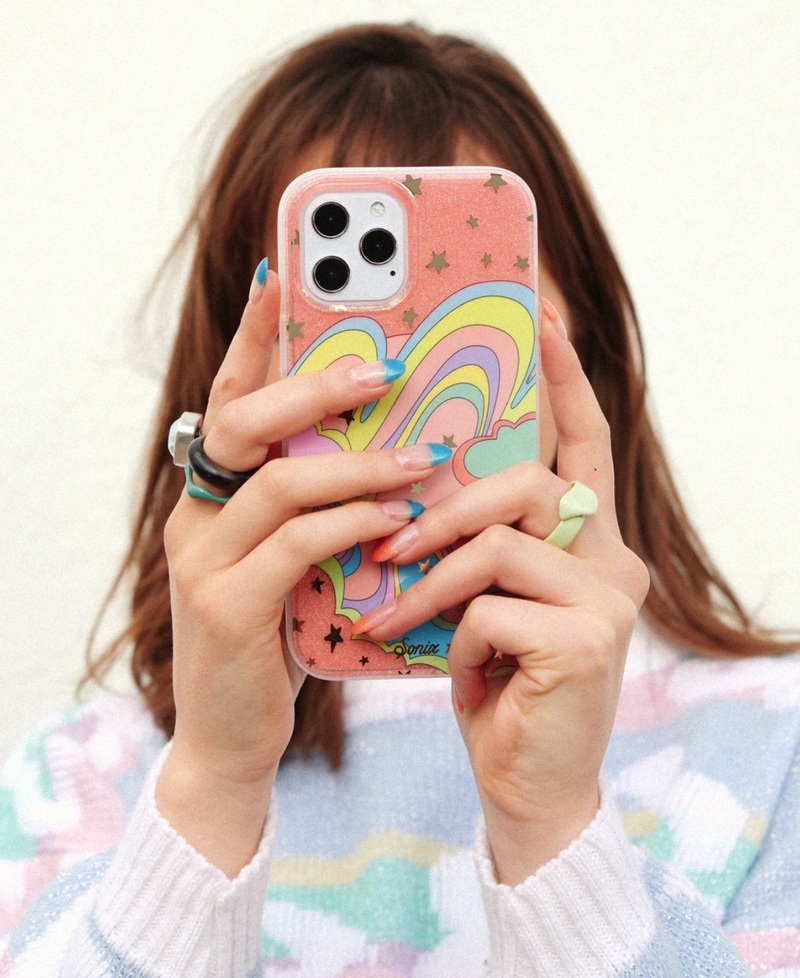 To shop the Illusion phone case, click here.
This is the perfect go-to case for a sunny summer day, and the colors are so lively that it'll simply brighten your mood!
The Purple Rain- Magenta Streaks with Glitter
As the namesake of an iconic song, the Purple Rain case is, well, quite literally purple rain, but with a gorgeous abstract take.
With streaks of purple, magenta, lavender, and various shades of pink and shimmering glitter, this case is so attention-grabbing and riveting. The brushstroke-like design effect gives the case a cool look, making it look like artwork!
To shop the Purple Rain phone case, click here.
A case so electric and striking, the Purple Rain case is for sure eye-catching.
The Purple Rain case is perfect to go along with any phone color- although filled with bright purple and pink shades, it'll match perfectly with anything!
The Shortcake- Strawberry Sugar Sweet Tooth
Want to feel like one of the characters from Strawberry Shortcake and Friends? The Shortcake case is exactly that- I call it the daydream of a sweet tooth.
Featuring the cutest designs with red and pink strawberries and vanilla-colored flowers and lush green leaves, this case feels oh-so-sweet.
To shop the Shortcake phone case, click here.
This case is just adorable, and the cuteness overload is everything. Plus, who doesn't love a good strawberry shortcake?
The Brown Tort- Classic But So Not Boring
Every fashionista knows a classic is Brown Tort; featured in every accessory from sunglasses to regular glasses, we all know Brown Tort is the modern print.
In speckled black and alluring orange-brown, the Brown Tort is a timeless design. It won't ever really go out of style, and the contemporary, luxurious feel that it has makes everything look so much elevated.
It's a way to feel elegant without being over the top, and we're totally here for it!
To shop the Brown Tort phone case, click here.
Not only available in a phone case, but you can also even match your Brown Tort case with AirPods, UV Sanitizing Box, phone grips, and more from Sonix.
The Clear Bondir Case- A Must-Have
A case you can always count on being timeless and never going out of style is definitely a clear one. The Clear Bondir case gives full attention to your actual phone's design, and the minimal approach is quite everything.
I love that the case is completely clear with the exception of the small brand name logo on the bottom, which adds a nice touch to the design overall.
As they say, less is more!
To shop the Clear Bondir Case, click here.
Okay, so now that you've got the cool, cute case part down, the next step is this: adhesive wallets.
How To Stop Fumbling For Your Stuff
We've all been there: that awkward moment when you're fumbling for your wallet… but first, you have to dig through a whole pile of other things to locate it. It's even worse when you're in a line and holding up everyone else behind you.
Sonix is here to save us with the Adhesive Wallets- coming in shades that are metallic and fun, these little stick-on carriers aren't just your regular boring wallets. Not only does it have that extra spark in the design department, but it can also store your important materials in a handy spot.
To shop the Adhesive Wallets, click here.

Wallet stickers just made our lives so much easier.
The Adhesive Wallets are made of vegan leather that feels so smooth and high quality. The back is completely stick-on, and is incredibly sturdy and easy to put onto your case!
"Sonix Vegan Leather Adhesive Wallet keeps your cards and phone together with one convenient phone wallet," says Sonix, "Holds up to 5 cards, lower keyhole for quick card access, and designed with magnet strip closure for privacy and maximum security. Adheres to iPhone cases and most smartphones. Designed with premium vegan leather and available in Onyx, Mauve, and Platinum."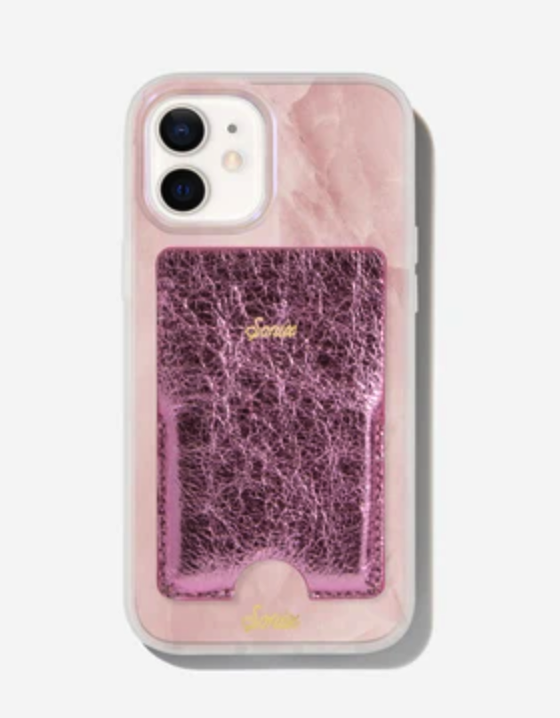 The Mauve
The Mauve is a pretty lavender-like pink, and the vegan leather of the case makes it nice and shiny with alluring sparkle.
Not too heavily pink but not completely pale, either, the Mauve is the perfect addition of character.
The Onyx
The Onyx is a solid black that feels nice and sturdy. It's a standard, classic color, and will go along with any case design and color, making it easy!
The black makes for a nice base where you can see the subtle vegan leather texture design.
Honestly, keeping everything in hand can get a little hard sometimes. Sonix's Adhesive Wallets ensure you keep everything in one place so you won't lose anything, and plus, you can easily take it out whenever you need it!
The wallet is the perfect size to store any cards and loose papers, as well as important objects like house keys. I was absolutely delighted to find that the feel of the vegan leather was incredibly smooth with just the right amount of thickness.
The top flap of the wallet has a long magnet closure entry system so that it will remain shut at all times when not opened. I love that the magnet is very strong, making sure nothing will slip out.
The bottom of the magnet features a keyhole so you can easily and quickly access your materials. The sides of the wallet are well sewn together to keep the wallet together at all times.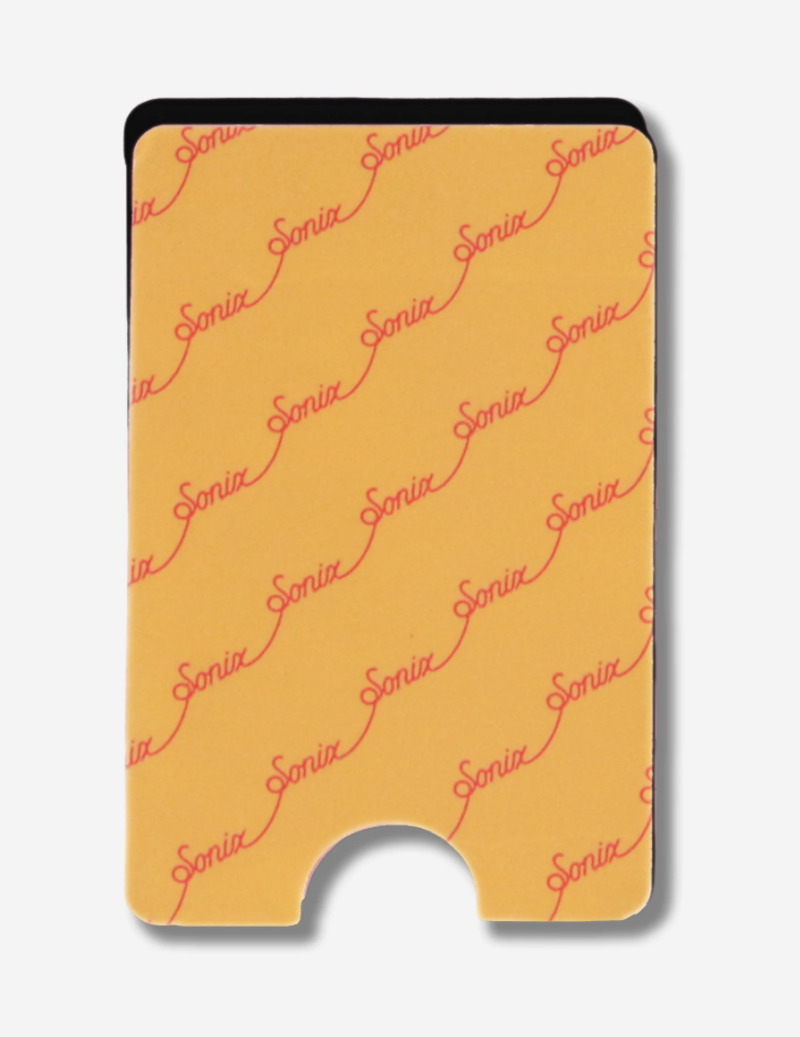 The back of the wallet is completely adhesive and will come with a protective cover that you can remove to apply on to your case. The adhesive is very strong and will make sure that it stays on your phone!
I love the emblazoned brand name- Sonix- in a pretty gold cursive in the top center of the wallet. It adds such a nice touch!
Prop Up & Charge It
Tired of having the loose cords and lines tied up and everywhere? Me too- but that was before I met Sonix's Magnetic Link™ Wireless Charger and Pedestal.
The perfect duo to keep your phone propped up and properly charged in the most efficient way, these two tech items need to be on your must-have list.
The Magnetic Link™ Wireless Charger
Tired of having to plug in your charger every single time? This is the perfect solution to that! As Sonix says, "No need to plug in when it's time to recharge."
To shop the Magnetic Link™ Wireless Chargers, click here.
"Dedicated to being the best in tech – this is charging made easy. Eliminate the hassle of bent cables and short cords with the Magnetic Link™, Wireless Charger," writes Sonix, "Simply place the charger disk in the center of your compatible iPhone device so you can move freely and get charging!"
The magnet disc feature aligns itself for you to get the perfect location alignment, so it can charge. It makes it all convenient for you: you don't have to plug and unplug each and every time, and it aligns effortlessly alone.
So, how do you charge it? Easy! "Simply place the Magnetic Link™, Wireless Charger disk in the center of your iPhone to power up!" says Sonix.
Because this device is case compatible, you don't even have to take off the case; it'll charge right through the case. "Wireless Charger charges directly through protective cases up to 2mm thick," says Sonix.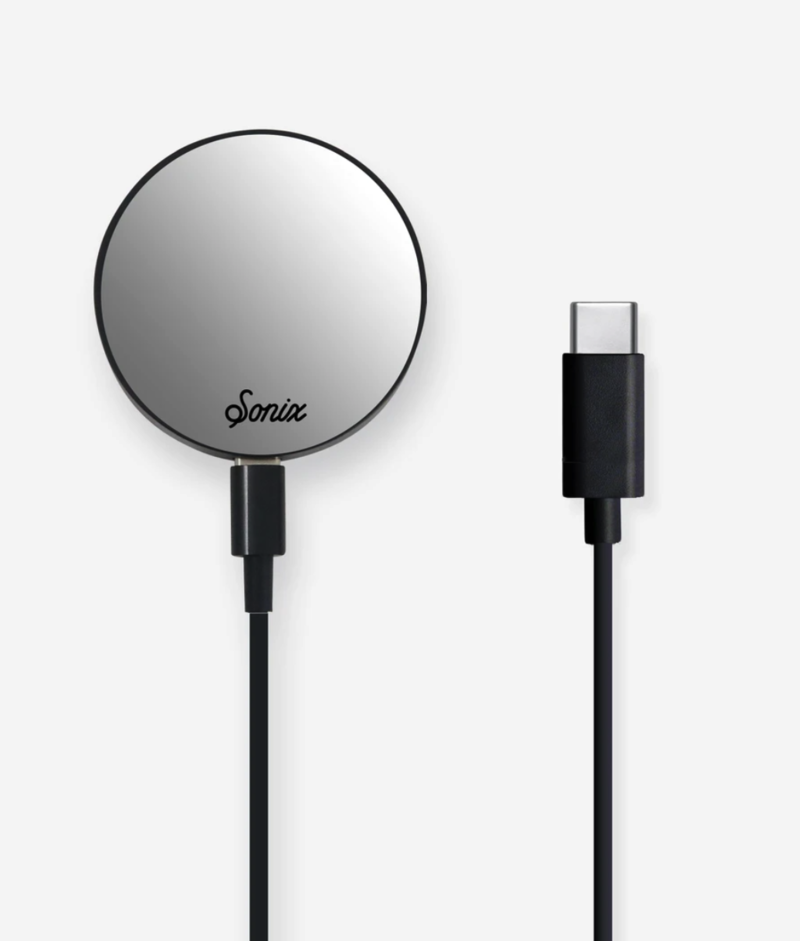 Plus, the charger cable is capable of extending all the way up to 6.5 feet. That's incredibly long and absolutely convenient- and that also means you don't have to relocate to different spots just so you can charge by an outlet.
I don't know about you, but that sounds like an absolute win!
The Magnetic Phone Stand
Sonix really is here to make our lives so much easier… because this pedestal is such a helpful device!
"Charge it your way – you're in control," says Sonix. Pair this with the Magnetic Link™, Wireless Charger, and you're good to go.
To shop the Pedestal, Magnetic Phone Stand in Graphite, click here.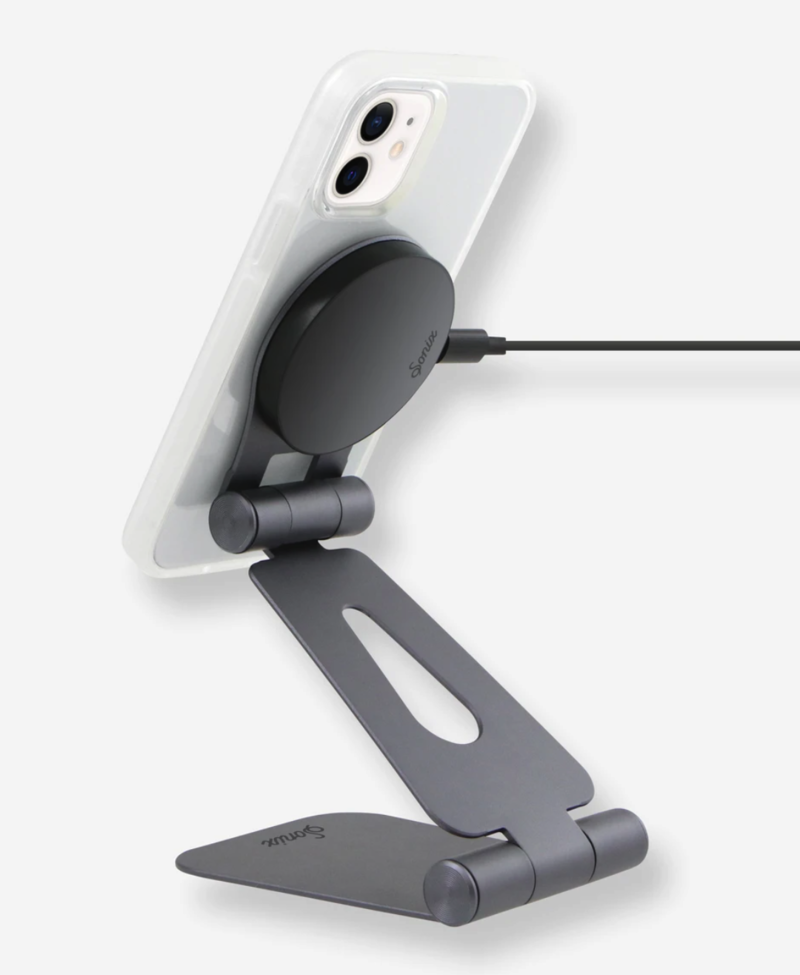 "This portable, 360° degree rotating phone stand charges your phone while standing, so you won't miss a call or notification again," says Sonix.
I love using this to call my friends and family on FaceTime, or even just do pretty much anything while I charge my phone. During charging, it gets hard to efficiently use your phone, as the wires tend to block your way, and your hands having to prop it up.
But now, this pedestal is an entire game-changer. According to Sonix, below are some of the features of the must-have stand:
Full 360° degree rotation functionality for total control
Slim, lightweight, compact design to fold for portability
Designed with metallic hardware for a sleek, classic look
(Oh, and did I mention? You can even adjust the angles!)
It's also incredibly easy to use. It makes it all simple for your convenience, and Sonix has also provided instructions:
To use:

• Secure Magnetic Link™, Wireless Charger disk beneath Pedestal, Magnetic Phone Stand ring; disk will magnetize to stand

• Align and position center-back of phone magnet with disk to charge

• If magnets are properly aligned, a green icon with lightning bolt will appear to indicate phone is charging
The sleek modern tech piece is available in the colors Graphite, Gold, Silver, and Pacific Blue.
With the pedestal, you now have a whole new meaning of what convenience really is!
Party Time- Volume Up For Music
A party isn't a party without some music, and the Sonix Bluetooth Speaker Exclusive with FabFitFun is perfect for that. Not only can it blare your favorite bops for your parties, it's also just right to bring to your workouts with friends, pool adventures, and more.
This handy, travel-sized speaker is honestly meant for you to bring to just about anywhere!
To shop the Sonix Bluetooth Speaker Exclusive with FabFitFun, click here.
"The exclusive, FabFitFun x Sonix Bluetooth® Speaker is small, but BIG on sound," says Sonix, "Compact enough to throw into your bag, this speaker is compatible with Bluetooth-enabled smartphones or tablets – allowing you to keep the party going wherever you go."
This gorgeous flamingo orange-pink color is everything, and sets just the right mood for the upcoming summer season- but it's also a fun timeless shade, too. I love that it's just small enough to fit into a bag to bring it to everywhere I go without a hassle!
"Includes 1 Bluetooth® Speaker, USB charging cable, instruction manual, & wrist strap. Specs Functions: Bluetooth® V5.0 Bluetooth® Range: 10m/32 feet Output Power: 3W Play Time: Up to 2 hours Charging Time: Within 2.5 Hours"
According to Sonix. below are the specifications:
Functions: Bluetooth® V5.0
Bluetooth® Range: 10m/32 feet
Output Power: 3W
Play Time: Up to 2 hours
Charging Time: Within 2.5 Hours
From this, you can know the following: even from a pretty far distance, you'll be able to hear the music… and you can hear it really loud, despite the adorably tiny size of the speaker.
You will be able to charge up the speaker in or less than 2.5 hours, and you can play the speaker for a long duration of 2 hours!
Party time just got so much more fun, and I'll be having a blast blasting my music! (no pun intended.)
Protect Your Laptops In A Stylish Way
Let's face it: laptops can be pretty fragile, and extra protection can be everything. That extra protection can also be stylish with Sonix, and make you look like an absolute boss.
To shop the 15″ Laptop Clutch in Onyx, click here.
"Designed with plush interior padding, this laptop clutch was made for the online guru who wants to show off their content IRL," says Sonix.
Not only is it for laptops, but you could also fit most tablets with the roomy space that the clutch gives. This "fits most 13" and 15" laptop and tablet devices."
I love the smooth, lustrous fabric that it comes with; made of vegan leather, the cool, subtle texture brings this clutch all together. In a sleek Onyx color, the solid black makes this look classic and timeless. It'll look good on anyone, anywhere, and on any device!
The clutch also includes a "secure magnetic closure for 360º protection." That way, the laptop clutch ensures that your laptop won't have any slipping accidents, and will be in the bag, nice and secure.
Speaking of being secure, Sonix takes protection pretty seriously- they're committed to keeping your devices safe. "Every Sonix Laptop Clutch includes Sonix 1 Year Warranty," writes Sonix.
I love that I can keep my laptop safe while being stylish. With the monotone, sleek, and elevated clutch, this will totally redefine your technology experience!
Keep Up
Be sure to follow Sonix on Instagram at @shopsonix. You'll definitely want to stay in the loop about their newest releases- the cutest cases of your dreams are awaiting you!
Additionally, follow Sonix on Pinterest and Facebook.