Have you ever wondered what it would be like to live as a main character in K-Drama? Aside from the complicated romances, impressive wardrobe, and picturesque views in every setting, there's just something aesthetically pleasing about the bedrooms of these dramas. Replicating the vibe of a K-Drama-esque venue isn't as difficult as you might think!
Korean-style rooms are known for their laid-back and cozy ambiance, known for their ambient lights, organized desks, and minimalist decorations. They are designed to be comfortable and warm for the dweller, perfect for a good night's rest or a productive day studying. The ambience is perfect for those of you who prefer a pleasant and warm atmosphere to your personal space.
You can spice up a simple twin bed with gingham sheets and blankets. This is a fairly common design choice for K rooms, and gingham tile sheets come in many colors to choose from! This yellow-themed room, in particular, can be a great source of inspiration. Tie it all together with stuffed animals on the bed, a projector and an ambient bedside lamp. The projector in particular is a great idea for late-night Netflix marathons, and you can get a mini one for cheap. A great economical option to replace a TV!
Korean-style rooms are also notable for being neat and organized. You can achieve this by choosing minimalist decorations that will go well with each other, sticking to a consistent color palette, and getting boxes and organizers to store your items. An organized room will also make your daily life easier! No more spending long frustrating hours looking for a lost item. A neatly decorated bedroom will also be pleasing to the eye, not only for you but also for potential guests.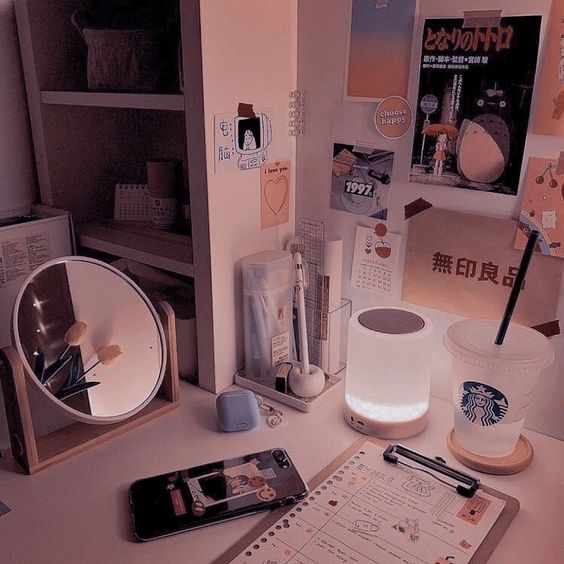 A recurring sight in K-Room Pinterest inspo boards: a study/work desk. To achieve a neat workspace like this, you can get stationery boxes, tiny shelves, and bookends. It's also a perfect place to put moody desk lamps! To decorate, you can pin pictures to a bulletin board or use washi tape to attach pictures and lists to the wall (it won't damage walls either!)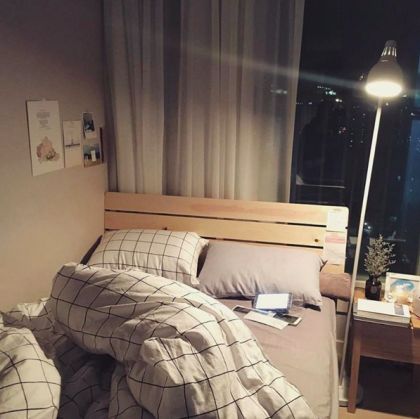 Monochrome doesn't have to be boring in a K-Room! Adding wooden furniture is one way to maintain the pleasant, cozy feel of a monochromatic room. You can also add a faux plant to your bedside table and opt for a tall floor lamp for nighttime reading. Add a simple solid color curtain to add simplicity and stick small pictures on the wall for a bit of flair.
Display photos, key rings and lists on a metal grid on the wall! This photo shows a designated space for keeping K-Pop related products like photos, Polaroids, albums and other cute knick-knacks. You can create a similar space for your own hobbies and interests.
Making a comfortable and aesthetic piece to spend your days doesn't have to be complicated and expensive. With a little creativity, you can make your room look a little better than it did before. Are you inspired to turn your bedroom into a K-Room?