The trend of clean, modern, yet pastel and delicate interior design has completely taken social media by storm. Every feed you scroll through, whether it's #roomgoals on Instagram or DIY tutorial videos on TikTok, it seems like everyone is in love with Scandinavian design.
See this post on Instagram
And, might we add, for good reason too. It's effortlessly positive and bright, and the color scheme is simply a chef's kiss. The playful, chic feel it has adds such a welcoming energy to a home, and that's why we love Postery.
Your walls will never be the same again
Postery creates posters that remain timeless and elegant while having a stylistic look that matches today's modern trends. I love that the brand is committed to creating high quality posters and demonstrating their sustainability efforts.
Above all, I'm in love with how their posters have the ability to transform your room into a completely different space, and they have a wide variety of styles to suit every taste.
buy Postery at postery.com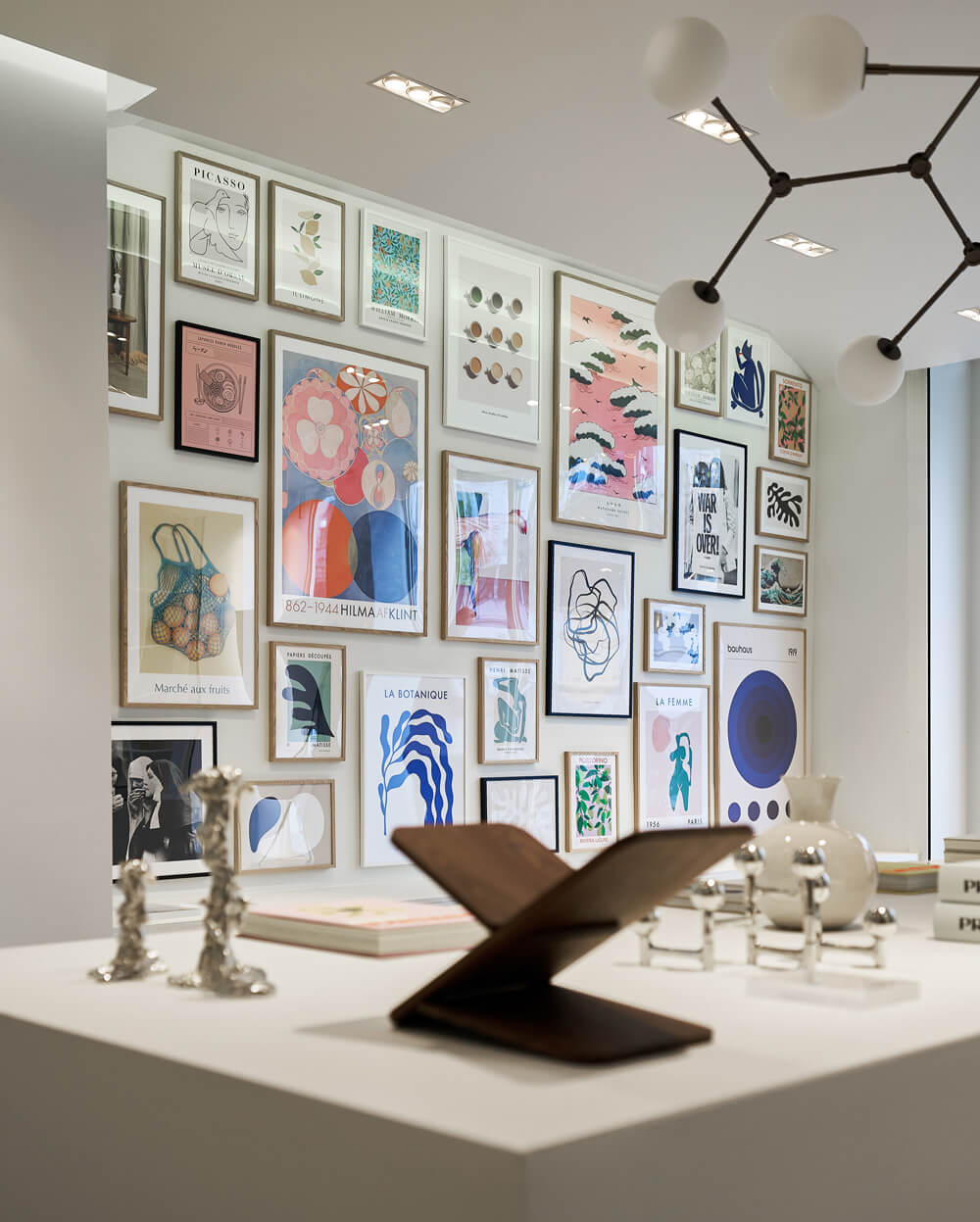 "We are passionate about interiors, design and trends. We understand the value of combining prints and posters with interior design to transform your home into a thing of beauty," says Postery, "Browse through our magazine, our collections or our various gallery walls for ideas and inspiration.We want to make buying prints online both fun and easy.
Exclusive discount code
Postery has shared some delicious new pieces from their latest collections with us, and their latest releases are just adorable.
See this post on Instagram
Plus, the brand has shared an exclusive discount code to apply to your favorite posters:
Apply code THETEENMAG25 to your order to get 25% off all posters!

This discount is valid until January 31, 2022.
A summer night in Nice
One of Postery's recent artist collaborations, A Summer Night in Nice is a poster by artist and designer Karolina Kling.
"Karolina is an artist and designer currently based in Gothenburg," says Postery. "She has a background as a print designer in fashion and is known for her distinct style which is evident through her fine art prints, homewares and fashion items."
Regarding the inspiration behind the exclusive collaboration with Postery, Karolina shared that "they are all from texts that I have written" and that "the stories come from trips I have made to places that really miss and that I tried to revisit through the stories."
His vision comes to life in the Summer Night in Nice poster, where a beautifully dreamy poster shares poetic words describing a day in Nice, France.
Buy the A Summer Night In Nice no.2 poster here.
This poster is the definition of a reverie. I love how the words feel like a calligraphy brush, effortlessly writing in the journal of a wonderful adventure. Just by looking at the poster, you can imagine the beautiful scenery in your mind, allowing you to be momentarily transported to another world.
A Summer Night in Nice embodies the meaning of these summer nights and how you can interpret these words with your imagination. I can already feel the summer breeze, the sparkling waters of the coast and how time seems so slow and so fast at the same time.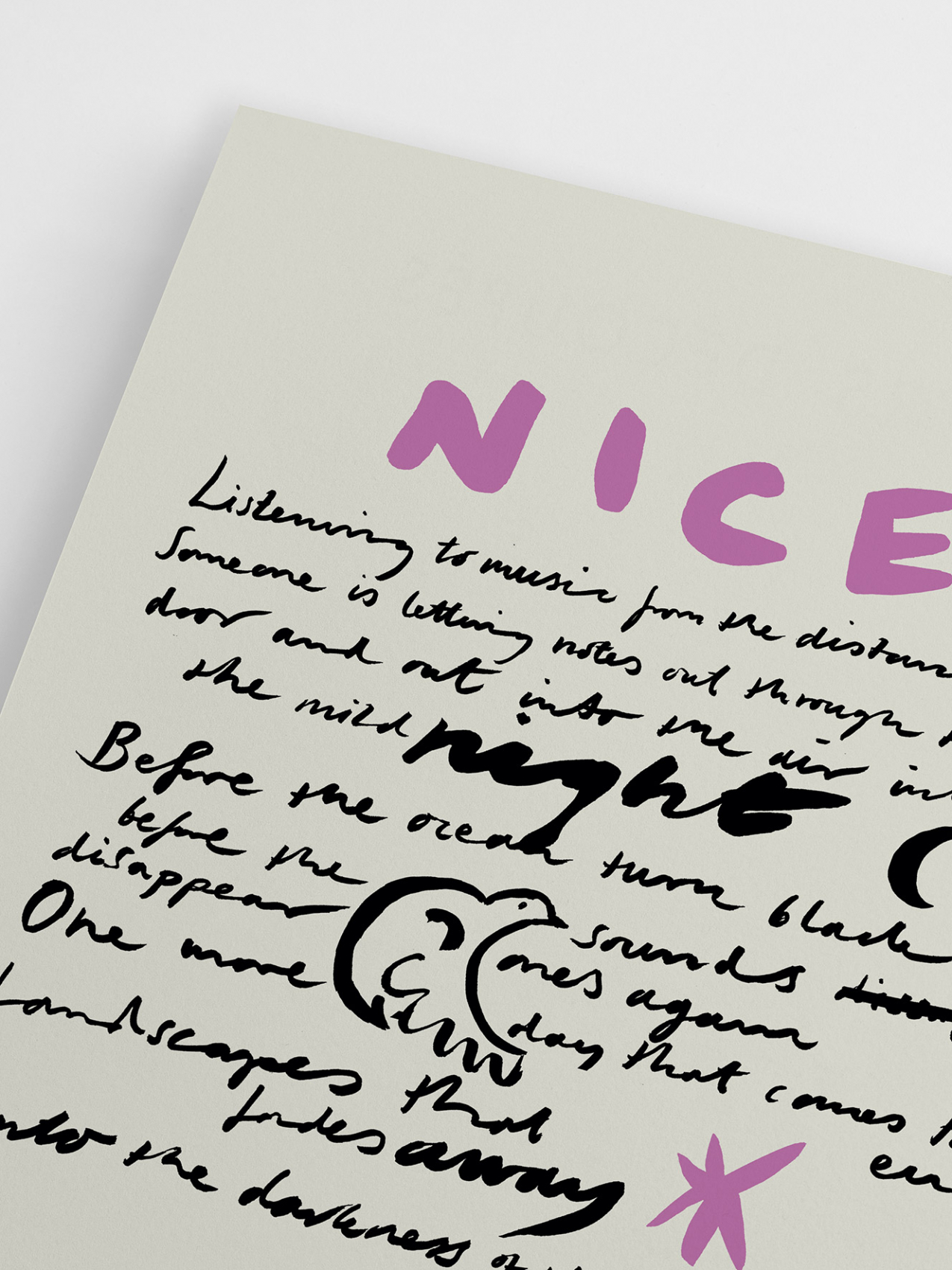 This poster is a great addition to a neutral room or a Danish pastel style room; I love how it has such a calming vibe.
The poster features abstract designs with black and pink accents on a cream-colored background; the design is also available in other colors, such as orange/black.
Postery's Black Wood Picture Frame
I love framing the Summer Night in Nice poster in a nice sturdy frame to match the black font of the lettering. It feels bold and neutral, making it a classic for any poster.
Buy the black wooden picture frame here.
"We offer a quality wooden frame in a slim, contemporary design that suits any home and style," says Postery, "The glass is made from a high quality, lightweight, shatterproof acrylic glass for a safe house!"
Classic, Historical, A True Art
As Postery states, "Japandi prints are here to stay!" The historical poster is simply art; it depicts a beautiful abstract illustration created by artist Taguchi Tomoki.
This abstract illustration goes in a light blue hue on a beige background with a Japanese quote in the upper right corner. The original painting on wood was created by artist Taguchi Tomoki.
Buy the blue woodblock print poster by Taguchi Tomoki here.
The poster features an original painting on wood and is a beautiful light blue print on a beige background. The art has a Japanese quote in the upper right corner.
The art has so much detail, crane-like woodcuts and thousands of grain-like impressions all over the paint. The more you look, the more intriguing details you'll find in this poster!
I love how regal and serene this piece is. It's the perfect poster to hang in a hallway or by the stairs, and it looks so good with a gold frame.
Premium Gold Picture Frame from Postery Premium
My favorite frame to pair with this poster is the Postery Premium Gold Picture Frame – the two complement each other so well and really bring out the elegance and grace.
Buy the Postery Premium Aluminum Premium Gold Picture Frame here.
This high quality picture frame is the best I have really come across; I love how it feels so sophisticated and is made of sturdy materials. "We are proud to present our trendy brushed aluminum gold picture frame with a sleek straight profile, carefully selected to showcase our posters in an exceptional way," says Postery.
The glass in the frame is a high-quality plexiglass – "for a lightweight, shatterproof frame that gives the designs a remarkable sharpness" – explains Postery. Therefore, it is really safe even for a children's playroom. "The frame profile is 10mm wide and 18mm deep," adds Postery.
The Bauhaus series
Postery's Bauhaus Series is the coolest combination of mid-century modern and timeless contemporary design.
From their wide range of different designs with the Bauhaus label, Bauhaus posters are the perfect pieces to hang in your living room or to create a gallery wall!
Green Abstract Bauhaus Poster
This graphic art is all about shapes and focuses specifically on circles – no sharp lines or bends here!
Buy the Bauhaus abstract green poster here.
The circle shapes come in shades of pretty green and beige that complement each other beautifully. This is a wonderful piece to hang for a bit of warmth – the green is the natural color, and you can't have more than enough in one room!
I love how some of the circles vary from each other, from the colors of green to how some are shaded with stripes. It is "a unique poster with the text 'Bauhaus 1923' written in the upper left corner," Postery explains.
Bauhaus Abstract Beige
This lovely poster features neutral tones of beige and muted pink with an electrically shocking blue, navy blue, pale lime green. Coming in different shapes of squares, circles and rectangles, this poster is all about that modern look.
Buy the Bauhaus abstract beige poster here.
I love how this abstract graphic art is minimalist but also has a lot of depth, especially with the different shapes and the gorgeous colors – it's a wonderful design to hang on your wall with the Bauhaus series!
Bauhaus Absract Nude Poster
This graphic poster really sets the mood – with a combination of dark brown, slate gray and black geometric shapes, this particular Bauhaus poster is printed on a nude background.
Buy the Bauhaus abstract nude poster here.
It is a "graphic illustration inspired by the Bauhaus art movement, where architectural, austere and geometric forms are at the base", explains Postery.
I like the depth of this piece – it's simple without being plain. It's the perfect addition to a gallery wall to give your place an artistic vibe!
Postery's Premium Oak Picture Frame
I love framing the Bauhaus posters above in a series, and Postery's Premium Oak Picture Frame is the perfect poster frame. I love the light gold wood color, and it matches the soft, subtle, mid-century vibes of the artwork.
Buy the Postery Premium Oak Picture Frame here.
"We proudly present to you our natural solid oak picture frame with an elegant straight profile, carefully selected to show off our posters in an exceptional way", says Postery, "The glass is a quality plexiglass for a light and shatterproof frame that gives the designs a "sharp focus" razor – and is safe, for example, in the children's room. The frame profile is 16mm wide and 20mm deep. Each frame is unique because it is a natural living material."
The wooden frame is smooth to the touch and I love seeing the natural swirls of the wood as part of the frame design. I love the organic look of the frames and they look great with the Bauhaus series.
follow the poster
Be sure to follow Postery on Instagram at @posterycom and Pinterest at @posterycom!
See this post on Instagram