As they say, "home is where the heart is"- but your heart can't be full without a truly personalized decor that genuinely feels like, well, home.
That's why The Teen Magazine is bringing to you our Making it Home Edition: sharing some of the best items that will upgrade your room in a heartbeat, we just had to bring to you the top selection your room would thank you for- seriously. Featuring reliably quality and beautifully designed brands Tuft & Needle, Brooklinen, and Brightech, your room is soon to go into its biggest upgrade ever.
________________________________________________________________________
Sleep On The Clouds With Tuft & Needle
If you're having trouble falling asleep or have sore muscles after a long night of tossing and turning, your mattress might be the culprit of your nights being taken away.
Tuft & Needle brings to you the most flawlessly designed mattress ever: the Original. Consider this to be the holy grail to a dreamy night without any disturbances to your sleep- because if I've ever had a good sleep, it's with Tuft & Needle.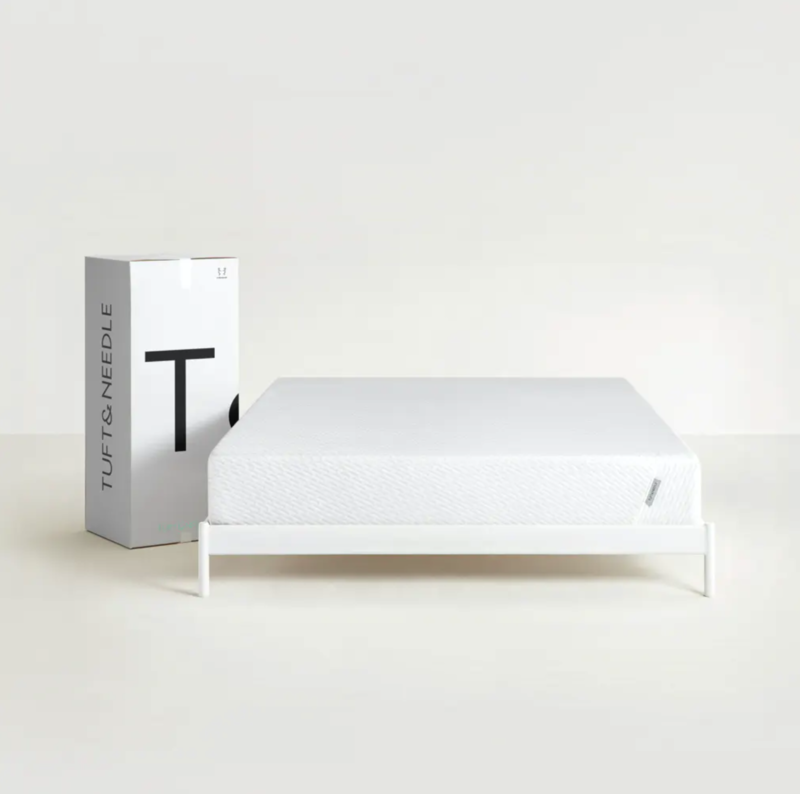 Meet The Original
Mattresses are tough to choose on. There's concern over fit, comfort, softness/plushness, height… but if there's one that checks all the boxes, it's the Original.
A go-to for all types of sleepers, this mattress is around 10 inches (ca. 25 centimeters) in height, this mattress is neither too plush nor too hard- just the right feel of medium-firm. The cover of the mattress itself is so light yet very durable. It's time for the overly thick stuffy mattress coverings to go- this one is it!
With the checkboxes of easy set-up, soft-and-no-too-hard, clean ingredient, quality all marked, if you could ever pinpoint the perfect mattress to ever exist, I'm very certain this is the one- a necessary must-have for a restful sleep.
The T&N Original Mattress is medium-firm in feel. It was designed to provide great pressure relief with the ideal support for a full night's sleep.

1- Cozy: Ultra-soft cover is also breathable.

2. Adaptive: Open-cell foam bounces back.

3. Universal feel: Made for all sleepers.

4. Heat-wicking: Graphite-infused foam is added to pull your body heat away.

5. Heat-trapping: Cooling gel is added to trap heat away from your body.

6. Durability: Mattress support that lasts.
Feels Like…
The covering of the mattress feels like nice and soft, without the sinking feeling you get with other gel mattresses. It tends to be a bit more on the firm side than plush, but I find it to be the perfect in-between of the two; I can get comfortable nights on a soft surface without it being too sinking and non-supporting. I did find that the mattress got softer and adjusted to my sleeping style, which I loved!
For those with a sensitive back, the Original Mattress will support you all the way. Sometimes, certain mattresses will leave you with muscle pain after sleeping, but with the Tuft & Needle Original Mattress, I haven't felt a single hurting cramp in my muscles. Additionally, no matter your size or weight, this will have your back, as there is an additional support layer added in the mattress.
What We Love
Say good-bye to the old days of waking up in cold sweat and feeling trapped in heat. The Original Mattress stays cool with their T&N Adaptive® foam- and is extremely breathable.
If you're one with "hot sleeping", this is the perfect match for you- the mattress feels cool to the touch without feeling cold. Also, if you're one with a fragile back, this mattress will not be bothering your spine!
I absolutely love how while the mattress stays true to its medium-firmness, it's not too overly hard nor soft. You won't sink completely with this mattress, and it will support you while still maintaining comfort.
Plus, the mattress stays reasonably priced with great military discounts and sales (one's happening right now!)- considering how effective it is for great sleep with its amazing quality, this one is a sure must-have for your home.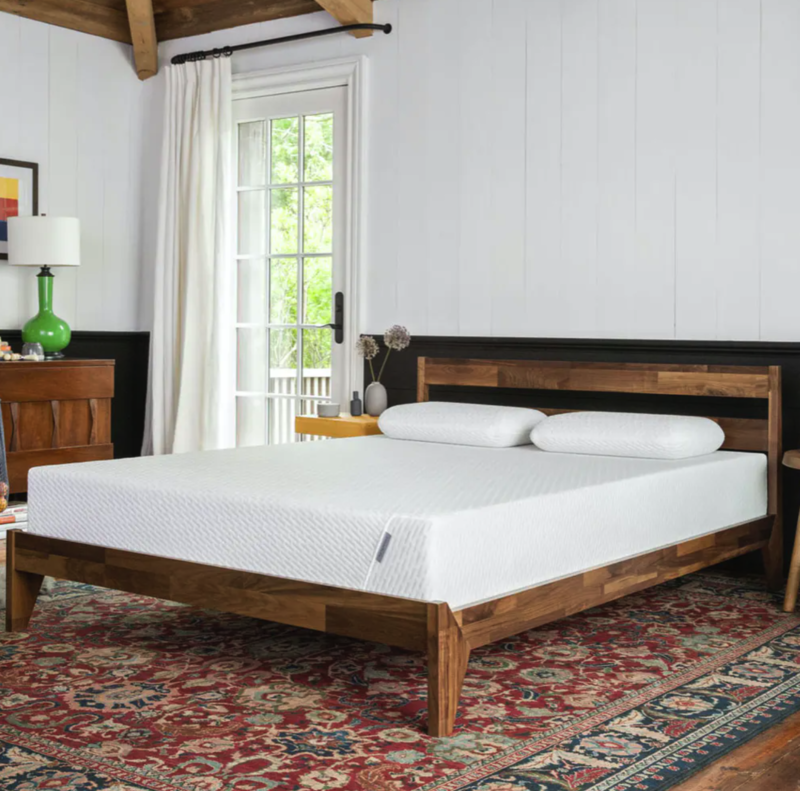 Clean Materials
Being around nasty chemicals and materials are bad… but sleeping in one for hours each night is certainly not good, either!
We absolutely love that Tuft & Needle mattresses are made of clean ingredients- different from your average mattresses with harsh no-no chemicals.
It's Going To Fit All Frames
Gone are the days hunting for a frame that will fit the mattress, and so are the headaches that come with it. The Tuft & Needle Original Mattress can fit all bed frames, ranging from "traditional frames, box springs, platform frames, slated frames, bunky boards, and adjustable frames."
Easy Set Up
The mattress comes in a well packaged box, and expands quickly after opening. The package has the mattress rolled in an incredibly air-tight setting inside a double box, which is a wonderful addition and a must.
The assembly process is additionally incredibly simple. All you have to do is roll out the mattress onto your bed frame!
Technology Infusion
Thousands are applauding Tuft & Needle- I myself included with a standing ovation- but technology is pointing the same way, too.
The Original Mattress is made with top materials such as graphite, ceramic gel, open-cell adapt foam, and T&N Adaptive® Foam.
Graphite: The addition of heat-absorbing graphite is designed to conduct heat through the bed, away from you.

Ceramic Gel: Cooling gel beads help wick away heat. When you lay down, the cooling beads create additional support for optimal comfort.

Open-cell support foam: Long-lasting, open-cell foam creates a breathable foundation.

T&N Adaptive® Foam: Invented by us alongside top American chemists, our foam is durable, breathable, and the perfect balance of flexible support.

Happy Nights… *Actually* Get A Rest!
I sincerely don't think I've ever much of a restful sleep until I came across Tuft & Needle's Original Mattress. This is perfect and comfortable for all sleeping positions- so yay to curling up during soundful snuggles!
Even Goldilocks would approve.
Shop Here
Looking to better, rested sleep every night? Look no further- to shop the Original Mattress, click here.
Also, psst… Tuft & Needle is hosting a 10% site wide sale you have to take on- it ends November 15th, so make sure to browse the brand before then!
Keep Up With Tuft & Needle
To follow Tuft & Needle on Instagram, find them here at @tuftandneedle— and be sure to tag them and use #mytnstory to be featured on their page.
Here's to your sweet dreams!
View this post on Instagram
________________________________________________________________________
Cozy and Comfy: Brooklinen's The Expert
Did you know we spend about 1/3 of our entire lives sleeping? That's a lot of time- that you need to be spending with the plushest bedding ever from Brooklinen.
Talk about breathable sleeping and durability! Linen's the first thing that comes to mind with those words. As linen is "temperature-regulating, anti-static, anti-bacterial and acts as a natural insulator", this is quite one of the most ideal bedding to have for a better sleep.
Linen Duvet Cover
The Brooklinen Linen Duvet Cover has it all: quality, little to no lint production, gorgeous coloring, hot-sleep-proof, and sustainable/clean ingredients- this is exactly what you need for your everyday sleep.
Made with 100% linen of Belgian and French Flax, this linen duvet cover is the key to having a restful sleep.
Our Linen Sheets and Duvets showcase effortless elegance and casual style. Light yet cozy, our Linen is perfect for warm days or cool nights.
The Haze Color
Whoa, whoa, whoa! Talk about a gorgeous color fit for any bedroom and anyone! The haze is the perfect in-between of gray and blue- although in person, the coloring is less dark, and a bit lighter.
I could say that the color is somewhat of a periwinkle. If you're wondering if this color would be a right fit for you, you've got no worries; this sets a beautifully calm and sleep-ready tone.
I loved how each linen was hand-dyed, giving it an individual characteristic and look, making it unique. Additionally, I appreciated that the hand-dyed linen was solid in color, giving it a finished look.
What We Love
I absolutely loved how it didn't feel too rough contrary to most linen- in fact, before a wash, the linen already felt incredibly soft, which came as a pleasant surprise!
After a wash, it felt so, so much softer. Linen is known to get softer with each wash- so I know Brooklinen's duvet cover will definitely be softer soon!
Linen sometimes gets lint, due to its weaved properties- but Brooklinen pleasantly surprised me with how the lint it produced- it wasn't too much, and way less than the typical linen bedding. That's most definitely an upside, as a good deal of linen bedding come with a lot of unexpected lint.
Additionally, this linen duvet cover is sustainable and made without leaving any footprint, while being a renewable resource and biodegradable.
No Harsh Chemicals
Sleeping in no-no ingredients possibly can't be good.
Brooklinen is here to assure you that they use no harsh ingredients and is OEKO-TEX® certified for chemical safety.

Shop Here
This gorgeous duvet cover can be shopped here. (There's a 10% sale going on right now as of publication… happy savings!)
To browse more, click brooklinen.com.
All-Season Down Comforter
This is the coziest comforter ever- without a single doubt- and is the most versatile comforter you'll come across.
Perfect for all seasons, whether it be hot summer or cold winter, the All-Season Down Comforter will keep you nice and cozy all times of the year.
Baffle Box Construction: Maintains an even distribution of fluffiness and warmth in your comforter

The Details: Loops on the corners of your comforter to ensure it never bunches inside your duvet.

Ultra-Soft Shell: Encased in a 400 thread-count, 100% Cotton Sateen shell for a silky-soft feel.

Canadian Duck Down
Hypoallergenic and made of 100% cotton sateen shell, the Brooklinen All-Season Down Comforter is of Canadian Duck Down with 700 Fill Powder.
This down comforter has been treated with Ultra-Fresh Antimicrobials- which helps keep away the nasty fungi, bacteria, and viruses from the blanket fibers.
However you sleep, we've got a comforter (new and improved, may we add) to match your needs. Snuggle up to varied levels of warmth and construction, each tucked within our ultra-soft, 100% long staple cotton shell.
How It Feels…
The duck down comforter isn't heavy at all- but will still lock in your body heat for the perfect snuggles in all weather, whether it be sunny, rainy, or snowy. The comforter itself is very lightweight and while not overly thick retains the perfect amount of fluffiness.
Additionally, it feels very cool to the touch. Goodbye, hot sweats at night!
What We Love
When we say it's meant for all seasons, we mean it. It fits all temperatures, which is a must; Brooklinen is here to kiss goodbye of the days of fidgety sleep. It doesn't matter what time of the year it is; winter or summer, this comforter will match it all!
It feels so comfortable and is the softest material ever- it feels like a giant marshmallow! Super fluffy and breathable, this comforter won't drag you down. This additionally holds the perfect amount of weight to cover you.
The comforter additionally comes in with loops perfect to secure to Linen Duvet Cover. Those two make the perfect essential match!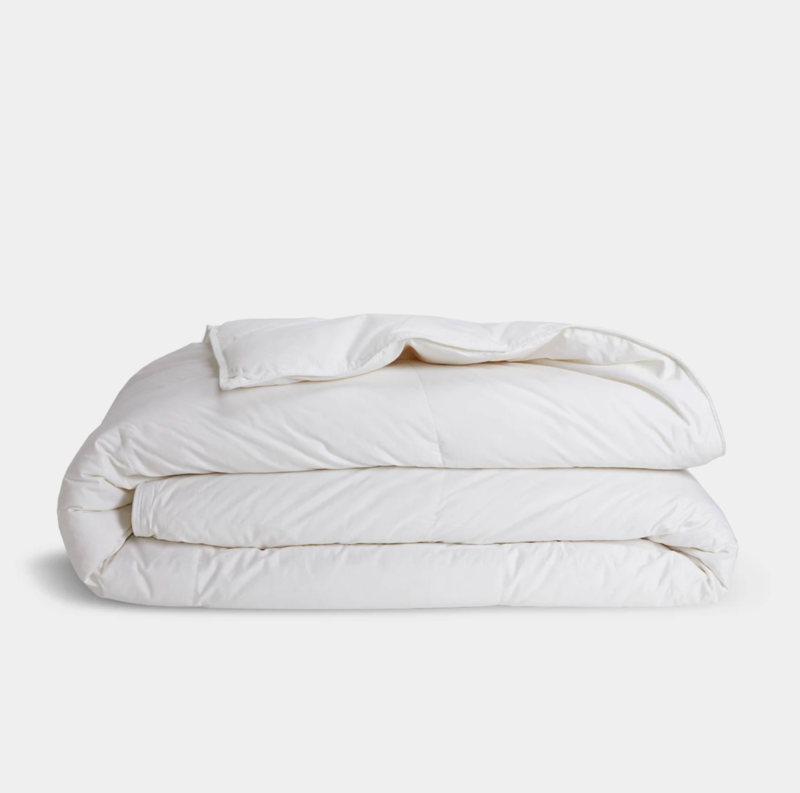 Shop Here
To get this snuggle-perfect down comforter, click here.
(There's a 10% sale going on… get your discount while it's open!)
Keep Up With Brooklinen
Filled with helpful bedding tips and gorgeous shots of Brooklinen items, find Brooklinen on Instagram here @brooklinen.
View this post on Instagram
________________________________________________________________________
Brightech Will Light Up Your World
Lighting is everything when it comes to the details of a home; you couldn't say it can get better than a brand like Brightech who happens to be luxurious, sturdy, and affordable- all in one. Yup, you heard that right; room decor with reasonable pricing can be a dream come true!
Make a statement with the Mason LED arc floor lamp. With its beautiful heavy marble base and unique double cylindrical shade, the Mason will surely become the centerpiece of any space.
Mason Arc Floor Lamp
Meet the Mason Arc Floor Lamp: classy and elegant, with the innovative designs that makes things easy for you. (When I say easy for you, I'm talking a foot switch- let's rejoice!)
Going onto the details of the lamp- let's dive right in:
Beautiful Design
The Mason Arc Floor Lamp holds two lampshades that are together to act as a large light source. Its curved core stretches far to give is a gorgeous reaching effect, allowing the light to reach further.
With a stunning height that well may near the ceiling more than the ground, its elegant arch completed with the shade at the end gives it the perfect classy look.
At the base of the lamp is a sturdy marbled stone bottom, which comes in two options of white or black marble. The marble base is very much heavy enough to support the entire lamp. The marble is very much gorgeous– with natural white and gray swirls, shiny, glittering embedment of stone, and cool to the touch, too! The base is additionally backed with velvet on the bottom to provide protection.
Amazing Quality
You won't have a single thing to worry about regarding quality with this lamp. Not only is it incredibly durable and sturdy, both the top and bottom areas are strongly supported. The pole didn't wobble a single bit during assembly and after the assembly- which was a delight, as many lighting stands see many issues with a wobbly pole.
The lamp shade is not too thick, which allows stronger light to travel through. The shades are a gorgeous shade of neutral white/creamy ivory with a strong backing. There may be a showing of the Velcro-connection of the two ends when the light is turned on, but it will be a simple fix of turning the lamp around to your liking. Absolutely no complaints!
At the bottom, the marble base is made of real stone, which explains the variation in pattern- and its weight is perfect to hold up the lamp while not straining your arms when moving the piece. Psst… it's much, much heavier than it looks!
Careful Packaging
The box was so well-packaged, with Styrofoam set-up for protection.
I absolutely loved that it came with the proper coverage for the beautiful lamp!
Simple Put-Together
I must say, I was a bit nervous regarding the assembly of the lamp; how would I be able to manage something so large? However, I was pleasantly surprised and delighted to find that the Mason Lamp was incredibly simple to put together.
I was able to assemble this in around 30 minutes or so.
I would personally recommend for this assembly to be a 2-person work, as the marble base is much heavier than one would expect. (I emphasize this… keep in mind the base is real marble stone, which is an incredible feature to fall in love with!)
This assembly is incredibly easy to do without any complications. Put-together is not an issue with this lamp!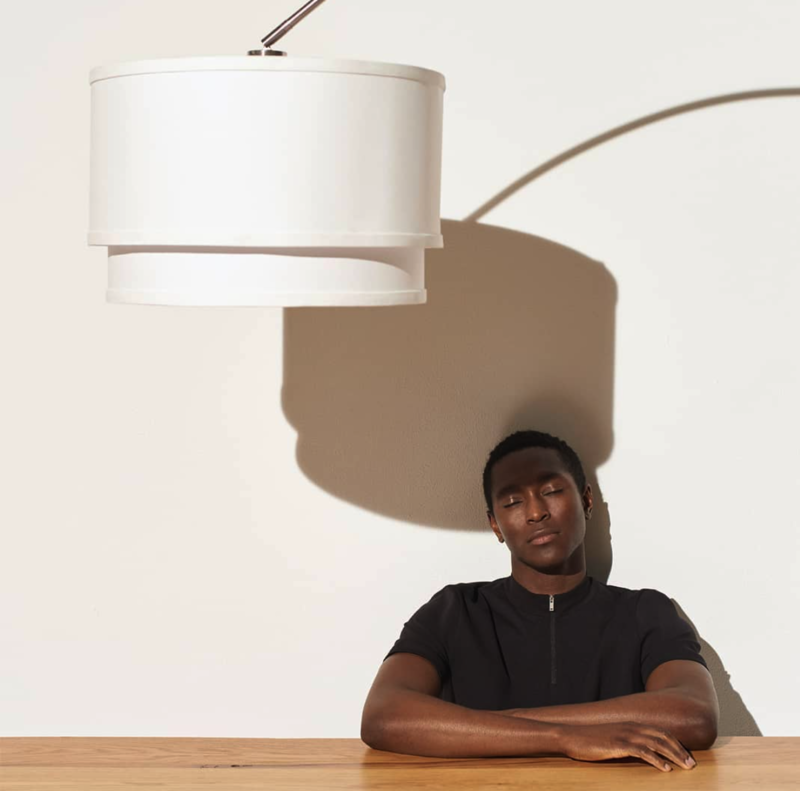 It's Got All You Need
Say goodbye to the days of purchasing lamps without the components you need- gone are those times.
Brightech will provide everything that you need- the light bulb, assembly instructions, assembly tools and gears, you name it!
The Center Piece You Need
Just one piece can brighten the entire atmosphere of the room- and if you're looking for one with reasonable pricing, Brightech is the one. This checks all the boxes in design, quality, easy assembly, thoughtful packaging, and durability.
I can personally attest to this- the lamp is quite large in size and gives a classic touch to any space.
The Mason Arc Floor Lamp will serve as the perfect accent piece for your home- and fits perfectly just about anywhere, whether it be a study, conversation room, or just a reading nook!

Shop Here
To shop this perfect combination of affordable luxury and elegant highlight piece, click here.
At just under $150.00 USD, this charming centerpiece is exactly what you need! (Let's talk affordable pricing… and so much worth it especially given the excellent quality and elegance!)
Keep Up
Find Brightech on Instagram @brightech- You'll fall in love with their beautiful shots of lighting!
To shop the brand, click here or see brightech.com- there's *gasp* even more reasonably priced, affordable designer lighting!
View this post on Instagram